Moving Experience: Michele's Move with AirVan North American and PODS
In the fall of 2022, Michele, her husband, and their one-year-old toddler moved from San Jose, California to Loveland, Colorado.
Michelle and her husband had been thinking about moving for nearly two years because they wanted to be closer to their families and take advantage of Colorado's relatively low cost of living.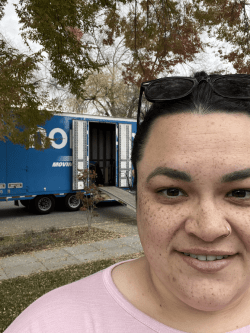 After getting quotes from a few companies on our Best Long-Distance Movers list, they booked their household goods move with AirVan North American and reserved a PODS container to move the contents of their woodshop.
AirVan North American and PODS are industry leaders, but long-distance moves require tons of planning, coordination, and execution. So did they deliver accurate quotes, effective communication, and top-notch service, or was Michele unimpressed with their performance?
To take advantage of a $500 relocation and help anyone planning a move like hers, Michelle participated in our Better Moves Project by sharing her moving experiences.
In this post, we'll look at what went well on Michele's move (spoiler alert: nearly everything did), what could have gone more smoothly, and what she learned during the moving process.
Move day takeaways for AirVan North American and PODS customers
Communication: AirVan communicated adequately throughout Michele's move, but there were a few instances where they could have been more proactive (she gave the company 4 out of 5 stars for communication)
Pricing accuracy and transparency: Michele's move ended up costing less than expected
Professionalism: Michele was impressed with AirVan's drivers, movers, and customer service representatives, and she had an all-around positive experience with PODS too
Timeliness: AirVan delivered Michele's household goods within the agreed-upon delivery window, and her PODS container showed up on schedule as well
Loss and damage: Nothing got lost on Michele's move, and nearly everything (except for a few pieces of fragile coral) arrived in good condition
Would Michele use AirVan North American and PODS again? Definitely
Michele needed help moving from California to Colorado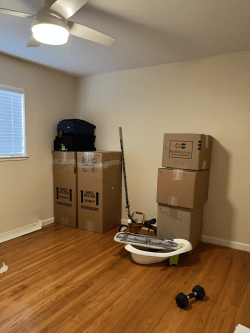 Moving more than 1,200 miles with a toddler can be daunting, but Michele was determined to keep costs low and minimize the stress on her family.
Michele refused to work with a fly-by-night mover, and she wisely chose not to move during the peak summer season when prices are high and service failures are relatively common.
After a fair amount of decluttering and downsizing, she whittled her shipment down to standard household items and approximately 40 boxes weighing between 8,000 and 9,000 pounds.
In addition, Michele and her husband needed to move a few pieces of valuable sports memorabilia, a 75″ flat-screen television, a Sleep Number Bed, and a woodshop full of specialty power tools. They decided to book a moving container with PODS for the woodshop.
Michele's move at a glance
| | |
| --- | --- |
| Moved from | San Jose, California |
| Moved to | Loveland, Colorado |
| Distance | 1,242 miles |
| Move date | November 1, 2022 |
| Move size | 3-bedroom home, about 1,400 square feet |
| Moving companies | AirVan North American and PODS |
| Moving quotes | AirVan – $12,206 / PODS – $4,000 |
| Total move cost | $13,462 |
Michele researched and vetted movers like a pro
After considering her finances and putting together a preliminary moving budget (our moving cost calculator is a great budgeting tool), Michele got down to brass tacks.
Luckily, she found moveBuddha and learned about our Better Moves Project while doing a few early Google searches. Michele loved how easy it was to compare multiple companies without jumping from site to site, and she decided to limit her search to the full-service movers on our Best Interstate Movers list.
To verify that our information was accurate and up-to-date, she perused each company's online reviews and checked their USDOT numbers with the Federal Motor Carrier Safety Administration (FMCSA) to ensure they were licensed, insured, and experienced.
Michele got quotes from four full-service movers (and PODS)
89% of users select this mover
Michele got online quotes from a few companies but called to schedule virtual surveys with others.
Here's how her quotes compared:
| Company/move type | Estimated weight/equipment type | Estimate amount |
| --- | --- | --- |
| JK Moving  (full-service) | 13,595 pounds | $22,743 |
| Allied Van Lines (full-service) | 8,500 pounds | $12,999 |
| AirVan North American (full-service) | 9,500 pounds | $12,206 |
| Safeway Moving (full-service) | 11,536 pounds | $10,751 |
| PODS (DIY container move) | 16-ft container | $4,000 |
Michele felt confident that each of the companies was experienced and capable of providing a positive moving experience, but she got the best overall vibe with AirVan, and she liked that they had a solid reputation and lots of positive online reviews.
AirVan's quote included the following:
Loading and unloading labor
Door-to-door transportation
Partial packing
Third-party crating and uncrating for the 75″ television
Third-party disassembly and reassembly for the Sleep Number Bed
$60,000 of Full-Value Replacement Coverage with no deductible (North American calls it Maximum Value Protection or MVP)
Michele based her decision to use AirVan on price and the professionalism of her sales and customer service representatives.
Michele's move details were falling into place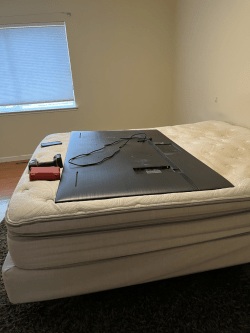 After Michele signed on the dotted line, AirVan scheduled a Zoom appointment to walk her through the moving process. The virtual meeting was beneficial because it established what the crew would do on moving day and what she and her husband would need to do before they arrived.
In the weeks leading up to her move, Michele prepared by getting organized, doing some of the packing herself, and removing items like televisions and pictures attached to walls.
The only complaint she had before moving day was that there was some minor miscommunication about when the packers and movers would arrive. Packing and moving were originally scheduled for two separate days, but they ended up being done on the same day.
It wasn't a big deal, but it would have been nice to know about the scheduling change in advance so she could have used the time to run errands and tie up loose ends.
Moving day was a walk in the park
89% of users select this mover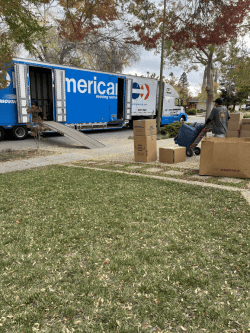 Michele's packers and movers arrived promptly at 7 AM on moving day.
After introducing themselves and taking a quick look around, they got down to business. While they worked, Michele took her son to daycare, tidied up, and hung out in the front yard to stay out of their way.
Michele was thrilled with how careful and efficient the crew from AirVan was, and the whole process took less than five hours.
Michele didn't have to pay for her move until just before delivery, but she gave the crew a cash tip for a job well done.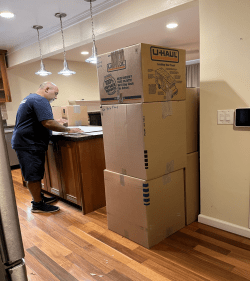 Delivery was relatively painless too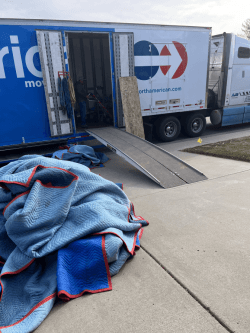 There wasn't much communication with AirVan while Michele's things were in transit, but it wasn't a problem because they'd already established a delivery window, and she could call for an update whenever the mood struck her.
She was surprised that nobody was in the office when she called one Sunday, but AirVan lived up to its service commitment and arrived at her new residence in Colorado on the last day of the delivery window.
After lowering the walk board onto Michele's driveway and taking a tour of her new home, the crew began unloading the truck. Michele checked each item off the inventory as it came in and told the crew knew where to put it.
Delivery day went as planned, and Michele didn't experience any surprises. A few pieces of fragile coral were slightly damaged, but everything else (including the big-screen TV and Sleep Number Bed) arrived in tip-top shape.
After they got settled into their new place, AirVan sent Michele a post-move survey.
The verdict – did Michele's service providers make the grade?
Yes, AirVan picked up, transported, and delivered Michele's household goods on time, on budget, and with only minimal damage (it was so minor that she didn't even file a claim).
She'd definitely use Air Van again, and she wouldn't hesitate to recommend them to family, friends, and coworkers.
Here's how she rated AirVan's performance on a scale of 1 to 5:
Communication – 4
Timeliness – 5
Quote accuracy – 5
Overall experience – 5
And by the way, Michele had 5-star experiences with PODS and moveBuddha too.
Talk about a storybook ending.
For anyone planning a long-distance move like hers, Michele suggests the following:
Being proactive by verifying service dates with providers
Using an asset-based moving company like AirVan instead of a broker
Before you go, take a moment to check out these helpful resources:
Not what you were looking for?
Check out other categories that can help you find the information you need!
See All
Hide All