North American Van Lines Review: Costs and Services
Here's the bottom line: North American Van Lines provides premium moving services that can be catered to suit any move. With quality moves at guaranteed prices that won't keep you guessing, North American Van Lines (NAVL) is one of the best moving companies.
89% of users select this mover
At moveBuddha, we've helped hundreds of people choose the best professional moving company for their move. Many happy customers have chosen North American Van Lines because of the ability to customize your move to include what you need and save you from paying for what you don't need. We'll discuss some of their experiences here.
We talked to Marcie about her move with NAVL from Los Angeles to Colorado Springs, Colorado. While North American Van Lines wasn't her first pick, she knew she wanted to hire a full-service moving company, and her top choice wasn't available for her move date.
North American Van Lines presented Marcie with the cheapest quote of the six full-service moving companies she researched, and she loved their tracking options and guaranteed pricing. Her move was overall a success, and she was glad she trusted NAVL.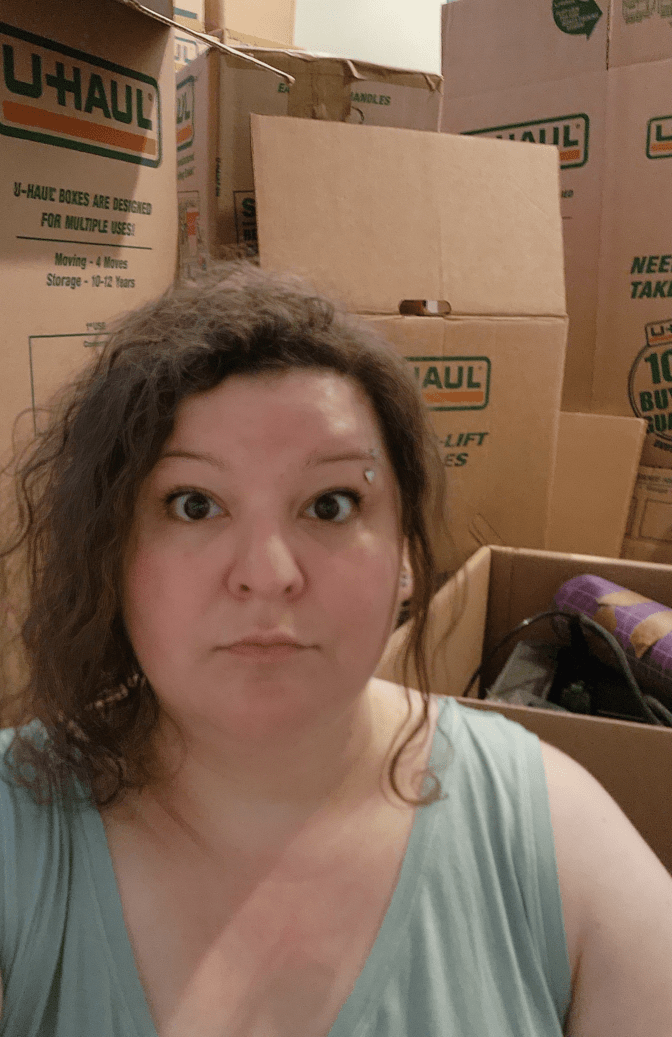 Recommended
Marcie's Move with North American Van Lines
After years in Los Angeles, Marcie and her husband were ready for a change by November 2022. With their hearts set on Colorado Springs over 1,000 miles away, Marcie got quotes from several companies on our Best Long Distance Movers list. Marcie's first choice was JK Moving. However, they didn't have a truck available on her move date, so she booked her move with North American Van Lines.
Read The Full Story
Think North American Van Lines might be the right choice for your move? Let's take a look at what you can expect when you move with North American Van Lines.
Pros & cons of moving with North American Van Lines
Provides full-service moving options, which include additional services like packing, unpacking, furniture disassembly, help loading the truck, and more.
You can get a free quote online from the company's website
Can assist with local moves, cross-country moves, and international moves
All moves are customizable, meaning if you don't need a service, you don't need to pay for it
State-of-the-art satellite shipment tracking means you can check in on your items anytime during your move
Custom crating options are available for specialty and fragile items
Offers corporate relocation options
They are both a moving broker and a direct carrier so experience can vary based on location.
Some customers report that customer service can be difficult to contact
Claims process can be difficult, based on some consumer feedback
Binding quotes require an in-home walkthrough
Key takeaways
North American Van Lines (USDOT#70851) provides full-service moving packages nationwide for both short and long-distance moves at competitive prices.
They offer everything you need to move from start to finish, from packing materials and furniture assembly to storage options and insurance.
They are also an option for those moving on a budget, as you can choose their self-packing option to cut moving costs.
Jump to the North American Van Lines info you're looking for:
North American Van Lines pricing: How much it costs to move
One of the best parts of using North American Van Lines is their free quotes and guaranteed pricing. While pricing varies depending on the services you choose for your move, once you sign a binding quote with NAVL, you can rest easy knowing there won't be any hidden costs coming back to surprise you later.
Licensed
Insured
Price
rating
4.25 / 5
Get A Quote
(844) 950-2963
93% of users select this mover
At A Glance
Over 74 years in business
More than 1,800 trucks in the fleet
1,500 local agents covering all 50 states
Top major moving company in the U.S.
Highest rated agent van line among moveBuddha customers
Get A Quote
(844) 950-2963
93% of users select this mover
In the winter of 2022, Marcie and her husband chose North American Van Lines to help them move from California to their new home in Colorado. After initially planning to book with JK Moving Services, they ultimately chose NAVL as their back-up choice because of their full-service options and the approximately $11,500 quote they received — the lowest price for a move of their parameters.
Marcie knew moving was stressful, and she wanted professional movers who could disassemble, load, and transport her items to her new home. She decided to save a little money by packing herself, but she did contract NAVL to protectively wrap all of her furniture before loading it in the truck.
The binding quote Marcie was given for $11,439 included every aspect of her move, plus insurance coverage for up to a $100,000 valuation (with a $500 deductible). Marcie chose NAVL because she wanted a mix of services, as well as to save a little money.
Marcie paid a slightly higher final price of $11,503 after the moving process but she noted that the extra $64 was worth it. She loved working with NAVL and would do so again.
While the North American Van Lines cost will vary from move to move, you can use our moving cost calculator to see if it might be an affordable option for your move.
North American Van Lines offers a wide variety of services
Like most full-service moving companies, NAVL has an extensive list of standard and add-on options, including:
89% of users select this mover
Household moving: North American Van Lines offers a wide variety of options for household moving. Household moves can include basic furniture disassembly and reassembly and loading and unloading services. Household moving is available for local and long-distance moves.
International moving: NAVL works with several partner companies to make your international move a success. Not all their service offerings are available for international moves, so you'll need to speak directly with a move coordinator to find out which options might be helpful to you.
Cross-country moving: NAVL offers residential and commercial interstate moves in all 50 U.S. states.
Packing and loading: North American Van Lines can provide contract labor for packing your belongings and loading them on shipping or storage containers. They even offer fragile-only packing to ensure your most valuable items arrive at your new home safely.
Corporate relocation: NAVL offers a wide variety of corporate moving packages with additional services like full-service packing or temporary storage units.
Storage services: Temporary and long-term storage options can be arranged when needed.
Vehicle transportation: Cars, boats, and other vehicles can be safely transported by a contract mover through NAVL.
Packing and supplies: Specialized supplies are available to transport large, fragile, or bulky items like mirrors and mattresses. You can purchase packing supplies even if you don't opt for packing services.
How North American Van Lines stacks up against the competition
There are many reasons movers choose North American Van Lines compared to other full-service moving companies like JK Moving and Safeway Moving, two of our best interstate moving companies.
NAVL vs. JK Moving
JK Moving and NAVL both have transparent pricing and many add-on service options to choose from when customizing your move. However, JK Moving is usually higher in price than NAVL.
Many customers who choose NAVL over JK Moving do so because of the price difference for similar moving experiences. It's important to note that JK Moving has a higher overall customer service rating than NAVL and customers report that it is very easy to get hold of a representative when working with JK Moving.
JK Moving is a moving carrier, however, and as a result they have a limited number of trucks available. Some customers want to choose JK Moving for their move, only to find their move dates aren't available. In these cases, NAVL is an excellent alternative.
NAVL vs. Safeway Moving
NAVL and Safeway Moving are similar because they are both long-distance movers that offer stress-free moving with add-on services like packing and unpacking. These two companies are also moving brokers, and offer competitive pricing, though customers report it can be difficult to find Safeway's pricing on their website.
While Safeway is higher-rated in customer service than NAVL for long-distance moves, Safeway has very limited availability for moves of 50 miles or less. Those making a local move should consider NAVL.
Safeway offers 30 days of free storage with every move. While NAVL does have storage options, they aren't free. If you need short-term storage with your long-distance move, you might get a better deal with Safeway.
How moving with North American Van Lines works
Every move is unique, and that's why North American Van Lines offers packages to fit any move. Let's take a look at how moving with NAVL might look.
Getting a quote
Movers can get a free quote from North American Van Lines on their website, however, this quote isn't binding until you call and speak with an agent. Oftentimes, NAVL will send local agents to your property to conduct a full walkthrough of your home and its contents. This helps ensure the quote you are given is exactly what you will pay for your move.
When you speak with your agent, be sure to discuss every piece of furniture you plan to move, as well as any additional services you require. This will allow NAVL to give you the most accurate quote possible so you don't exceed pricing come moving day.
NAVL has two types of quotes: one based on the weight of your items and another called "guaranteed not-to-exceed." If you book a quote based on the weight of your items, you will not know the exact price of your move until delivery, though the customer service agents will do their best to give you a quote that will be close.
If you book a guaranteed not-to-exceed quote (also called a binding quote) with NAVL, you will receive the exact cost of your move in advance and you won't be charged for a few extra pounds if your items happen to weigh more than expected.
All NAVL quotes include basic insurance coverage. If you need extra value protection for your household, it is easy and affordable to add additional coverage. Full service packages booked with NAVL automatically include this extra insurance at the package price.
How Much do Movers Cost?
Get instant ballpark pricing. No email or phone required. It's fast, free, and easy.
Booking and moving
Once you are sure you want to use NAVL for your move, you will sign a binding quote and make a deposit, which is typically 10% of your total moving cost. While NAVL sometimes handles moves directly, they are also a moving broker and may contract another party to help with some aspects of your move. NAVL frequently uses third parties for international moves, packing and unpacking, and vehicle transport.
After they receive your deposit, NAVL will give you an estimated arrival date and time. If you booked packing services, you won't need to do anything else prior to moving day. Otherwise, it is time to get packing!
Customers report that NAVL routinely arrives on time on their moving date. After helping you pack, movers will use checklists to inventory your belongings before loading them into the moving truck. When loading is completed, your items will begin their journey to your new home.
89% of users select this mover
Your items may share a truck with items belonging to another customer, and therefore, delivery dates are not guaranteed. You will likely be given a delivery range of three to five days. The day before they deliver, you will receive a call from the driver to let you know what time to expect the truck.
If at any point during your move you are curious about the location of your items, you can use NAVL's tracking app, which uses satellite technology, to check on the progress of your items. Just keep in mind that since your items may share a truck with another person's items, the driver might make stops in other states before arriving at your new home.
Marcie reports that her move with NAVL was 100% on time and she would give them an A+ rating. She especially loved that NAVL took time to protect the walls and floors of her new home before they began unloading her boxes and furniture. In Marcie's case, it took 12 days for her items to travel from California to Colorado. This is what she was quoted, so it was as expected!
Many of the online complaints about North American Van Lines are due to items broken during transit. Unfortunately, when you work with NAVL, unless you buy their unpacking and packing services, or additional insurance, anything you pack yourself isn't fully covered by their insurance policy.
One way to remedy this is to opt for NAVL's fragile-only plan in which they will pack only your most breakable and valuable items. This will ensure that if anything valuable is broken during transit, it will have been packed by NAVL, and their insurance will cover the replacement of the item if it is damaged in transit.
North American Van Lines is perfect for people who are moving cross-country and want transparent pricing
People making long-distance and cross-country moves who don't want to drive a moving truck and want help loading and unloading should consider North American Van Lines for their move.
NAVL is perfect for people who:
Are making a local, long-distance, or international move
Don't mind that they won't be given an exact delivery date
Want a full-service move or need help packing and unpacking
Want to be able to track their items during the move
Because North American Van Lines is both a carrier and a broker, they really can tailor any move to your exact specifications, either directly or through one of the many vetted companies within their nationwide network. Whether you are moving locally and want extra help or are moving out of the country, they offer competitive pricing for moves of all shapes and sizes.
Of course, NAVL isn't the right fit for every move. If you are looking for an exact delivery date or prefer to do more of the move yourself, another moving company might be better suited. Take a look at our best interstate movers to see if another company is a better fit for your move.
FAQ
Is North American Van Lines the same as American Van Lines?
North American Van Lines and American Van Lines are two different companies, although they both facilitate full-service long-distance and cross-country moves. If you are comparing quotes for your move, ensure you receive a quote from both companies.
What is North American Van Lines' cancellation policy?
Once you book your move and pay a 10% deposit, that deposit is non-refundable. This means that if you later decide to cancel your move, you will not receive your deposit back. In some cases, you may be able to reschedule your move without losing your deposit. The full price for your move will be charged within two days of your item pickup.
Who Owns North American Van Lines?
North American Van Lines is owned by the parent company SIRVA, which also owns Allied Van Lines.
Not what you were looking for?
Check out other categories that can help you find the information you need!
See All
Hide All