Moving Experience: Laurel's Move with Safeway
Fashion aficionado Laurel needed to move from Saratoga, California, to Austin, Texas. She and her husband already had the bulk of their stuff — including an impressive shoe and handbag collection — in storage in California.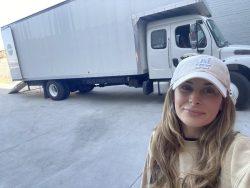 Laurel spent a week researching movers on the moveBuddha site before choosing Safeway Moving for their quality service and affordable pricing.
In exchange for a $500 moving stipend, Laurel agreed to share her personal experience working with Safeway as part of the moveBuddha Better Moves Project.
Check out this guide to see what Laurel thought about Safeway's service and what she would do differently for her next move.
89% of users select this mover
Move day takeaways for Safeway customers
Communication: Overall, Laurel had a great experience with Safeway's team, although there were some minor communication hiccups with Safeway's contracted delivery partner.
Pricing accuracy and transparency: Laurel's final price was double her initial estimate but that's because she got a phone estimate instead of an in-person one.
Professionalism: Safeway's moving coordinators and movers were the pinnacle of professionalism from start to finish.
Timeliness: Safeway showed up early on moving day and took just seven days to transport Laurel's belongings cross-country.
Loss and damage: Safeway successfully transported Laurel's handbags, shoes, fragile glassware, and Peloton bike without so much as a scratch.
Would Laurel use Safeway again? She would choose a different mover next time because of the pricing discrepancy but she still believes Safeway is a great deal if you get an accurate in-person quote.
Laurel needed help moving from Saratoga, California, to Austin, Texas
Laurel and her husband knew two years in advance that they wanted to relocate to the Lone Star State. They bought a 2,000-square-foot home in Austin, which was more than double the square footage of their 1,000-square-foot California condo.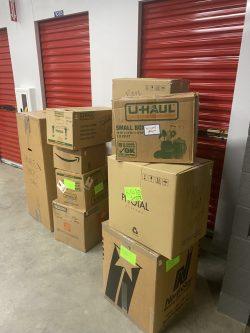 In anticipation of the move, Laurel moved her stuff into a self-storage facility a year ago. She estimated she had about 6,000 pounds, or 30 boxes (including four large wardrobe boxes), worth of stuff.
There were no specialty items, but she did have a large shoe and handbag collection that she wanted to keep in pristine condition.
Going into the move, Laurel's biggest priority was for everything to go smoothly. She wanted her furniture, Peloton bike, and fragile glassware to arrive undamaged and intact.
There was also the issue of moving out of the indoor storage facility. Laurel wasn't sure how moving everything out of the second-story storage unit would work, so she needed an experienced moving team that was up for the task.
Laurel's move at a glance
| | |
| --- | --- |
| Move date | September 14, 2023 |
| Moved from | Saratoga, California |
| Moved to | Austin |
| Distance | 1,729 miles |
| Move size | Two-bedroom condo (1,000 square feet) |
| Moving company | Safeway |
| Moving quote | $5,975 |
| Actual cost | $11,900 |
Laurel got quotes from three full-service moving companies
It took Laurel a week to find a mover. She simply Googled "moving quote" and found moveBuddha. She had a great experience using the site — actually, it was the only site she used to plan her move!
Laurel estimated the cost of her move with our moving cost calculator and checked out our best interstate moving companies guide to find a quality mover.
Through moveBuddha, Laurel shared details about her move and waited for the quotes to start rolling in.
Laurel chose Safeway for their solid reviews and affordable pricing
Safeway called Laurel to get more details for her estimate. She enjoyed chatting with the moving consultant, who explained the process thoroughly and gave her a detailed quote.
At $5,975, Safeway was the cheapest quote. Mayzlin offered to match that quote but said the service would normally cost around $8,500. Laurel loved Safeway's level of service and customer support, so she ultimately decided to go with them.

Licensed
Insured
Price
rating
4.5 / 5
Get A Quote
(855) 650-0657
93% of users select this mover
At A Glance
30 days of free storage on all interstate moves
Veteran owned
Long distance and cross country moves only
A portion of every move is donated to charity
read our full review
Get A Quote
(855) 650-0657
93% of users select this mover
She bought Safeway's white-glove pickup and delivery service, which included specialty packaging for her Peloton bike and $30,000 in moving insurance.
After booking, Safeway sent Laurel a welcome packet with a list of what to expect and some packing tips.
In the meantime, Laurel booked a flight from Texas to California to be present during pickup. She also paid for the move by putting down a deposit via ACH transfer.
The movers were friendly — and even arrived early!
Safeway called Laurel to confirm a September 19 delivery date with a window from 9–10 a.m. The quality assurance team also called Laurel to review her inventory in detail two days before the move.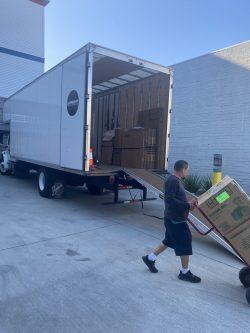 On September 19, the movers called Laurel around 7:30 a.m. to say they were coming. The movers arrived at 8:25 a.m. It was a little early, but Laurel didn't mind getting an early start.
The movers did a great job and handled her belongings with care, including her fragile boxes. While they worked, Laurel sat in a camping chair and worked on her computer, although she made herself available to answer the movers' questions.
After loading everything, Safeway told Laurel that the final cost would be significantly more than her estimate because she had more stuff than estimated. She paid the remainder of the final cost, which totaled $11,900.
That's a big jump from her $5,975 quote, but this can happen if you opt for a phone estimate instead of an in-person estimate.
Delivery was fast and efficient
Laurel received email updates while her items moved from California to Texas. Most Better Moves participants want more communication during transit, so this level of communication is pretty good.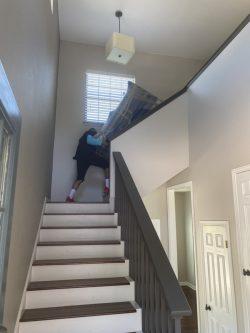 Safeway said the driver would call 24 hours before delivery but that didn't happen. Laurel noticed her items were close to delivery, so she contacted Safeway to confirm delivery would happen the next morning.
While it's understandable that Laurel wanted more of a heads-up, this mixup happened because Safeway contracted LA Transit to deliver her items. Lines crossed somewhere, which is why the driver didn't get in touch with Laurel.
Safeway also moved quickly to get Laurel's things to Austin on time. They gave her a window of four to 21 days, but managed to deliver everything in just a week. Safeway's speed impressed Laurel — and the fact that everything arrived undamaged was the icing on the cake.
When her things arrived, Laurel did a walkthrough of the house with the movers and told them where everything would go. They were pleasant and followed her instructions to a tee.
There was just one small issue: Laurel found two boxes that didn't belong to her. Safeway's moving partner, LA Moving, asked for photos of the boxes to reunite them with their owner.
Our take on the move
A lot went right with Laurel's move. Safeway communicated with her proactively, arrived on time, and handled her belongings with care.
Laurel also did a great job with her move. She flew back to California to supervise loading, which we always recommend. Being there allows you to answer the movers' questions and oversee the process.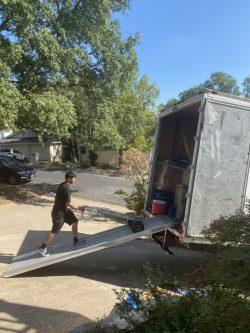 The only sticking point with this move was the difference between the estimate and the final cost. Going from $5,975 to $11,900 is a big jump, so we can see why Laurel wasn't thrilled.
This happened because Laurel got a phone estimate instead of scheduling an in-person walkthrough of her home. Unless you move often, you probably don't know how much stuff you have. Moving companies can only take you at your word with a phone estimate, and if you miss a few things (or a lot of things), there will be a discrepancy.
Always get an in-person estimate for the most accurate pricing. If in-person isn't an option, text the moving company lots of pictures or set up a virtual home walkthrough.
On Safeway's side, their moving coordinator and quality assurance team could have asked more pointed questions or requested photos of Laurel's things. But again, they take you at your word, so visuals are the best way to get an accurate estimate.
The verdict
Overall, Laurel's move went as expected. The only thing she wished went differently was the pricing.
Knowing what she knows now, Laurel would have made a more detailed inventory list and requested an in-person estimate. Although she wouldn't use Safeway again because of the pricing issue, she still thinks it's a good moving company if you opt for an in-person estimate and get an accurate quote.
Here's how Laurel rated Safeway's performance on a scale of 1 to 5:
Communication – 5
Timeliness – 5
Quote accuracy – 3
Overall experience – 4
Do you have an upcoming move? Share your moving story with the Better Moves Project to earn a $500 stipend. Sign up now
Check out these helpful resources before signing off:
Not what you were looking for?
Check out other categories that can help you find the information you need!
See All
Hide All