Moving Experience: Joshua's Move with Safeway Moving
In June of 2023, Jersey boy Joshua planned to reunite with his partner in New Orleans — over 1,300 miles away. After an intense three-day search, Joshua hired Safeway Moving for his relocation.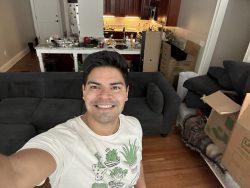 So, how did Safeway stack up? Joshua agreed to participate in the moveBuddha Better Moves Project to share the ups and downs of his cross-country relocation in exchange for a $500 moving stipend.
Check out this guide to see how Joshua's Safeway move went down — and his advice for anyone planning a big move.
89% of users select this mover
Move day takeaways for Safeway Moving customers
Communication: Joshua had great communication with Safeway's sales team, but communication with the actual mover, All City Van Lines, was spotty. As a moving broker and carrier, Safeway doesn't handle all moves directly. Instead, it often works with vetted partners across the country to provide moving services.
Pricing accuracy and transparency: Joshua miscalculated his square footage and added more items on moving day, so he paid more than the original estimate.
Professionalism: Safeway's team was friendly, professional, and helpful.
Timeliness: Safeway's partner movers, All City Van Lines, arrived right on time. It took 16 days to transport Joshua's stuff, which was well within the 30-day time frame in his contract.
Loss and damage: The move damaged a candle holder and drawer legs. Joshua submitted a claim for the damage.
Would Joshua use Safeway Moving again? Although his experience was positive overall, Joshua would choose to work directly with a mover next time instead of with a broker.
Joshua needed help moving from Jersey City to New Orleans
Joshua needed to relocate from Jersey City to New Orleans to reunite with his partner, who just started a medical residency program in New Orleans.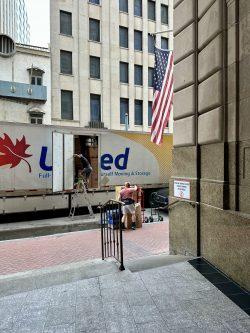 Joshua knew for more than four years that he would eventually make this move, so he was mentally prepared for a fresh start in The Big Easy. It didn't hurt that he was upgrading from a 675-square-foot, one-bedroom apartment to a two-bedroom, 1,350-square-foot apartment.
Joshua estimated he would have 19 boxes, or 2,500 pounds of stuff. He also needed to move several boxes of specialty art, paintings, and photos.
Going into this move, Joshua cared most about clear communication. He also wanted to find professional movers who would treat him—and his belongings—with care.
Joshua's move at a glance
| | |
| --- | --- |
| Move date | June 28, 2023 |
| Moved from | Jersey City |
| Moved to | New Orleans |
| Distance | 1,303 miles |
| Move size | One-bedroom, one-bathroom apartment |
| Moving company | Safeway Moving |
| Moving quote | $4,300 |
| Actual cost | $5,100 |
Joshua got quotes from five full-service moving companies
Joshua started looking for movers on Google, where he quickly found the moveBuddha site. He loved that he could submit his information in one place without making tons of phone calls. moveBuddha gave Joshua several great options but he also found a few on his own via Google.
Soon after submitting his information, movers inundated Joshua with phone calls. Safeway stood out from the pack because they considered moveBuddha's recommendations, texting him before calling to set up an appointment. Joshua's a busy guy, so this helped him clear time in his schedule to have a proper chat.
A friendly Safeway sales rep called Joshua and gave him an estimate over the phone. They also offered Joshua $400 off his estimate if he went ahead and booked on the phone, which he was more than happy to take advantage of.
| Company | Estimated volume/weight | Estimated cost |
| --- | --- | --- |
| Safeway | 2,500 pounds | $4,300 |
| Top Rated Moving Van Lines | 2,500 pounds | $1,620 |
| US Relocation | 2,500 pounds | $3,100 |
| Jersey Moving Pro | 2,500 pounds | $5,200 |
| American Van Lines | 2,500 pounds | $5,800 |
Joshua chose Safeway because of their reputation and level of service
After comparing quotes, Joshua learned that moving companies offer different service levels. Sure, Top Rated Moving Van Lines only quoted him $1,620, but he didn't get a lot for the money.

Licensed
Insured
Price
rating
4.5 / 5
Get A Quote
(855) 650-0657
93% of users select this mover
At A Glance
30 days of free storage on all interstate moves
Veteran owned
Long distance and cross country moves only
A portion of every move is donated to charity
read our full review
Get A Quote
(855) 650-0657
93% of users select this mover
Joshua went with Safeway because they had the most competitive rate for companies with acceptable Better Business Bureau (BBB) ratings. The $4,300 estimate was more than Joshua expected, but he knew he was getting the best of the best for the money.
Joshua paid a $1,500 deposit via ACH to book these Safeway services:
Partial packing for large furniture
Disassembly of a glass-top dining table
Moving
Delivery
The quote also included $10,000 in moving insurance coverage.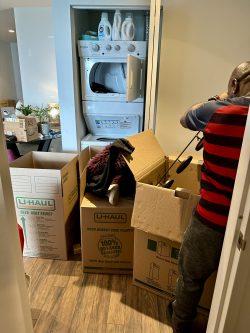 Safeway reached out twice after booking to check in. Joshua wanted more touchpoints, but it's normal not to hear much from your mover leading up to moving day — especially if you move in peak moving season, like Joshua did.
After booking, Joshua discovered that Safeway acted as a broker for his move and All City Van Lines would actually execute the move. As a licensed and insured carrier and broker, Safeway handles some moves directly but coordinates others through local professional movers within its nationwide network.
Safeway told Joshua to pack all his boxes before moving day and to reserve his apartment building's elevator ahead of moving day. They also asked for his building's contact information for delivery.
Joshua packed over two weekends, taking great care to wrap his breakable items carefully. He also reserved his building's freight elevator.
Moving day was fast and efficient
All City Van Lines called Joshua on June 26 to tell him they would arrive at noon on June 27. He wanted a little more of a heads up, but this is common if you move during peak season. Safeway manages hundreds of moves a day, so it's important to be as flexible as you can.
The crew arrived right on time the next day. They were thoughtful and handled his items with care.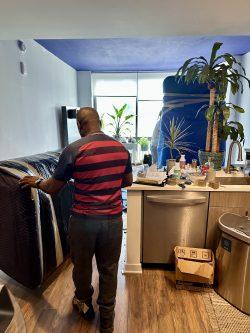 Joshua stepped out briefly for a work call but, other than that, he made himself available to the movers. That turned out to be a great idea because the movers had plenty of questions for Joshua. We always recommend making yourself available to the movers. This gives you more control over how they handle your stuff. So, bravo, Joshua!
All City Van Lines had to increase the price by $969 because Joshua added several items at the last minute. His original quote also underestimated the space and weight of his items. This can happen with phone quotes, so we always recommend scheduling an in-person or video estimate for the most accurate quote possible.
It took three hours to load Joshua's belongings, and he paid All City Van Lines 50% of the remaining balance in cash.
Delivery went quickly but there was some damage
It took 16 days for Joshua's stuff to arrive in New Orleans. While the sales reps told Joshua it would be more like seven days, his Safeway contract was actually for 30 days.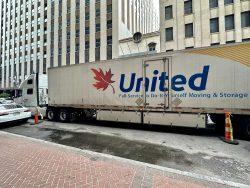 So, while he felt his stuff should have arrived sooner, Safeway was well within the agreed delivery window.
Joshua got automated notifications saying his things were in transit, although he would have appreciated real-time updates. Several moveBuddha Better Moves Project participants recommend packing an Apple AirTag in one of your boxes because movers' tracking links often don't update in real time.
There was a miscommunication when Joshua's things arrived in New Orleans. All City Van Lines assured Joshua they wouldn't deliver his things on an 18-wheeler but they actually did. Joshua had to persuade his apartment building to allow them to park and unload in the limited space. Once they finally agreed, it took no time at all to unload his things.
Unfortunately, one box was missing and one had severe damage. Joshua lost a wall candleholder and the move damaged the legs on a chest of drawers. Joshua immediately submitted an online claim with Safeway, which they're reviewing.
Our take on the move
Joshua initially had sticker shock over the price, but the $4,300 quote was in line with other 1,300-mile moves like his. Joshua understandably didn't like the $969 increase in price, but this happens when you add items at the last minute.
Joshua also did a phone estimate, which requires you to estimate your own cubic footage and weight. Unless you move frequently, you'll probably undershoot this number and get an inaccurate estimate. When in doubt, take a little more time to request an in-person or video quote to get a more accurate estimate.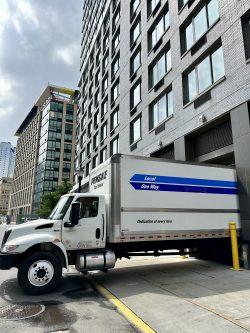 Joshua also wanted more communication between booking and moving day and while his things were in transit. But it's very normal not to hear from your mover during this time because there's not much to share! It's also more common during peak season, when movers handle hundreds of moves every day.
Joshua did a great job making himself available during the loading process. Some Better Moves Project participants leave the house or shut themselves away in another room. But being available to answer the movers' questions gives you more control over the move, so try to be available if you can.
It took 16 days for Joshua's stuff to arrive, which isn't bad. Sure, the salesperson said it would be more like nine days, but you shouldn't base your expectations on what the sales reps tell you.
Safeway's contract stipulated 30 days to deliver his stuff, so they were well within the delivery window. Always read your contract and take your sales rep's estimate with a grain of salt.
The verdict
Looking back on his move, Joshua had a positive experience with Safeway's sales team and All City Van Lines' movers. Most of the issues in his move came down to a tricky handoff between Safeway and All City Van Lines, so the process didn't go quite as he expected.
Joshua wanted more communication but his move actually went pretty smoothly for peak moving season. Safeway will make things right with his damage claim, too.
Joshua didn't realize Safeway was acting as a broker until after he booked. This is something that most people don't realize they need to ask but it can happen for certain moves. If it's important to you, ask the moving company if they're fulfilling the move or if they're contracting it out during the quote process.
Joshua recommends adding at least 50 cubic feet to your estimates when you get quotes. Or, better yet, opt for in-person or video estimates so the pros can get a better sense of your belongings and home size and layout.
The more challenging parts of Joshua's move largely came down to All City Van Lines, not Safeway. The miscommunications between the broker and the mover caused some issues for Joshua, so next time, he would choose to work directly with a mover instead of a broker.
Here's how Joshua rated Safeway Moving's performance on a scale of 1 to 5:
Communication – 4
Timeliness – 4
Quote accuracy – 4
Overall experience – 4
Do you have an upcoming move? Share your moving story with the Better Moves Project to earn a $500 stipend. Sign up now.
Check out these helpful resources before signing off:
Not what you were looking for?
Check out other categories that can help you find the information you need!
See All
Hide All