JK Moving Services Review: Costs, Services, and Reputation
Here's the bottom line: JK Moving Services is the crème de la crème of the moving industry. Whether you are moving to a new home nearby or across a long distance, this company is sure to make your moving date stress-free.

Licensed
Insured
Price
rating
4.25 / 5
Get A Quote
(703) 972-1772
93% of users select this mover
At A Glance
Guaranteed pick up and delivery dates
Low deposit requirement of $250 for interstate moves
Easy and fast AI-powered in-home estimate tool
Over 40k moves in the past 3 years
Available Financing as low as 0% Interest for low monthly payments
Extremely responsive customer service
Get A Quote
(703) 972-1772
93% of users select this mover
Jose, a Better Moves Project participant, told us that hiring a hassle-free moving service was his utmost priority. After two weeks of careful research, he was blown away by JK Moving Services' online reputation and impressive suite of additional services.
We agree with him, which is how it ended up as one of our best interstate moving companies across the entire industry.
Jose's two-bedroom, four-bathroom, four-car garage contained more than 20,000 pounds of household goods, and he needed to take all of it from Herriman, Utah, to his new home in Lake Mary, Florida.
He wanted full service from start to finish because he was eager to move into his new home in Florida without any delays. Throughout his research, he learned that JK Moving Services had a long list of delighted past customers, which swayed his decision in the company's favor.
For nearly 40 years, JK Moving Services has provided full-service moving, relocation, and storage services in the residential, commercial, and governmental markets. During this time, they've honed their expertise and wowed customers consistently.
Thanks to this, JK movers have the skills to handle local, long-distance, and international moving projects easily. Keep reading to find out if JK Moving Services is a good fit for your next move.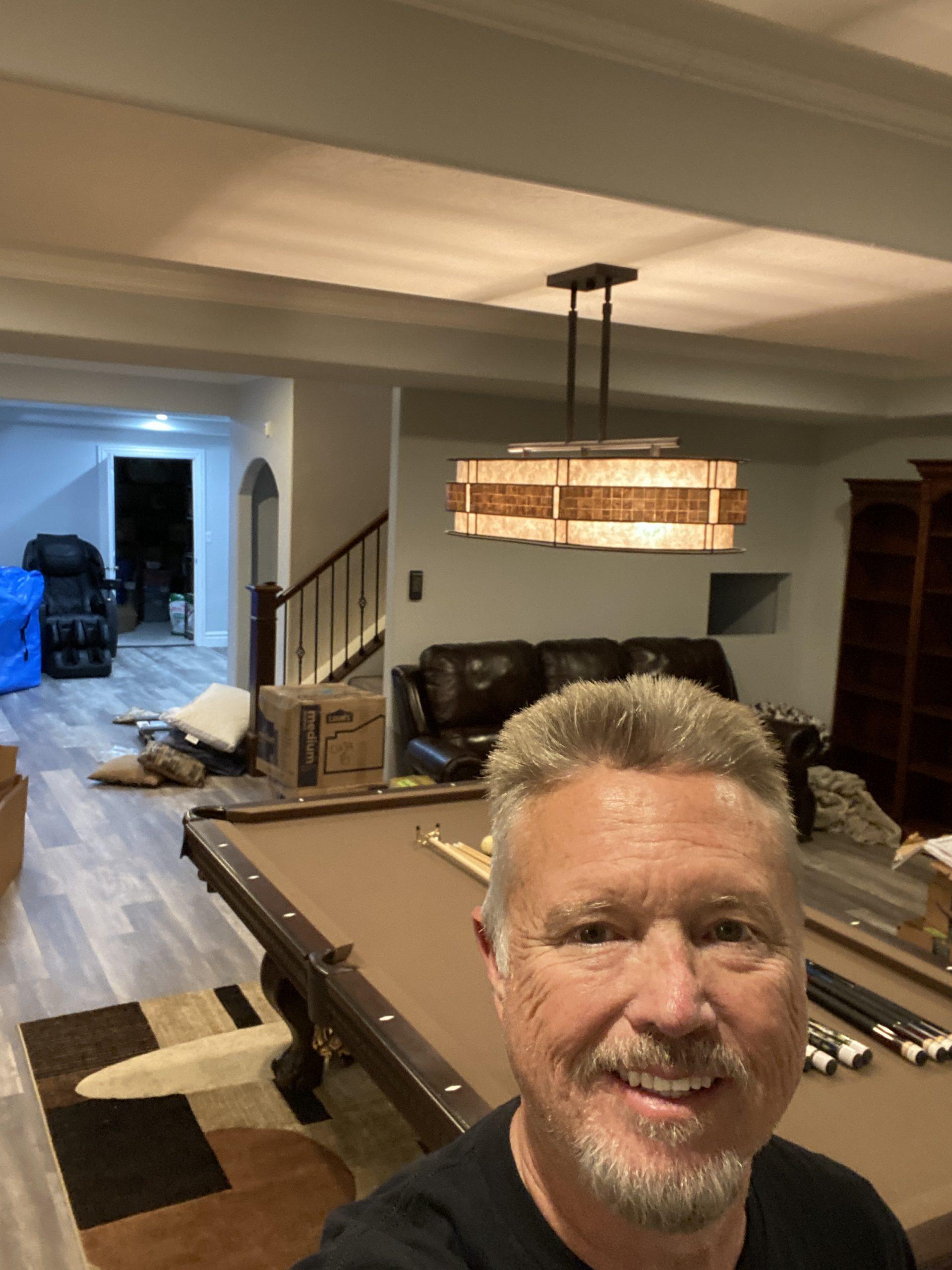 Recommended
Jose's Move with JK Moving
In June 2023, Jose needed to relocate from Herriman, Utah to be closer to his family in Florida. Jose spent two weeks researching his options before ultimately deciding on JK Moving. He was impressed by their reputation, and knew white-glove service was what he needed. Not only did the move come in under budget, but the team managed to safely move well over 20,000 pounds of stuff — including a piano and a pool table.
Read The Full Story
Pros & cons of moving with JK Moving Services
Offers local, long-distance, and international moves
Low-interest third-party financing is available for those meeting credit requirements
All moving staff is background checked and drug-screened
Phone app uses AI technology
24/7 customer support available
The organization is firmly committed to recycling materials to reduce the volume going into landfills.
Pricing tends to be in the moderate to higher range
Some customers complained that the valuation (insurance) claim process moved slowly
Key takeaways
JK Moving Services (USDOT#1065394) is not a cheap moving company, but its high-quality services and stellar customer reviews justify its price tag.
JK Moving Services has a long track record of professionalism through its unmatched moving team that prioritizes your needs at every move.
The company has received various awards from the Washington Business Journal and the American Moving and Storage Association for excellence in moving, safety, and its role as a major employer.
89% of users select this mover
Jump to the JK Moving Services review section that you're looking for:
JK Moving Services pricing: How much it costs to move
You can complete the online estimator form, and a representative will contact you for a quote. The company doesn't offer free online quotes because there are a lot of factors that affect the cost of your move.
Jose requested quotes from JK Moving, American Van Lines, and Safeway Moving when researching companies. His JK quote was the highest, but he had more than 150 boxes, 12 rooms of belongings, a grand piano, and a pool table to account for.
You can compare JK's pricing against its competitors below.
You can request a moving quote in three ways:
Virtual self-survey: You use Yembo, Artificial Intelligence (AI)-supported technology, for do-it-yourself remote estimates
In-home consultation: A Move Consultant representative provides an on-site estimate at your home.
Virtual consultation: The Move Consultant assists with the estimating process remotely
89% of users select this mover
Jose chose a virtual consultation over Facetime. He was originally quoted about $27,000, but the price jumped when he mentioned he had a pool table and grand piano. While these prices may seem sky-high, Jose was relieved. He estimated his move would cost him about $30,000, so JK Moving was competitive for his price range.
It's important to note that JK Moving is one of the few moving companies to promote low-interest financing options through Enhancify. This offering can make JK Moving Services more accessible to a broader audience.
Estimate types include:
Non-binding: They bill customers according to the final weight of the belongings they are transporting. The quote is a "rough" approximation.
Binding: The customer is obligated to pay the quoted price regardless of the weight or if the number of moved items decreases
Not-to-exceed: Customers may either pay the quoted (estimated) price or the actual price based on weight (whichever is lower)
On his moving day, Jose paid $27,453 — nearly $2,000 less than his original estimate —because he had a non-binding estimate. His quote included loading, transportation, unloading, and disassembly services for his piano and pool table.
JK Moving Services offers two kinds of moving insurance, also known as valuation. Jose added full replacement value coverage to his move because he didn't want to take any chances.
Everything was in excellent condition when his items arrived, except for a few scuffs on his couch, which he intended to file a claim on.
Valuation (Insurance):
Option A: Carrier Standard liability protection is included and provides either $0.60 per pound per item or $50 per article of coverage with an applicable $100 deductible.
Option B: Replacement Value or full-replacement cost coverage is available and offers at least $6 per pound per item. The tiered deductibles are $0, $100, $250, or $500.
You can contact the JK Moving Services team to get a quote. When you do, compare it against other estimates from our moving cost calculator. Remember, be thoughtful about the value of your services. Don't just look for the cheapest option.
How Much do Movers Cost?
Get instant ballpark pricing. No email or phone required. It's fast, free, and easy.
JK Moving Services offers a wide variety of services
Jose connected with JK Services because he loved their premium white glove service. Because he was moving more than 2,300 miles away, he knew he wanted a full-service moving company that made the process easy.
Check out JK Moving Services' suite of offerings below:
Local moving: JK Moving offers local residential moving services in Virginia, including Leesburg, Annapolis, and Arlington. They also serve Maryland areas, including Baltimore, Bethesda, and D.C., with a personally assigned move coordinator.
Interstate moving: For residential customers, customizable long-distance moving services are offered from coast to coast.
International moving: International relocation and freight forwarding services are available through the company's global network.
Third-party furniture assembly and disassembly: JK Moving Services works with CSNS Relocation Services to provide a white-glove experience that starts by taking apart and protecting your furniture and ends with it fully assembled in its new home.
Storage services: Residential customers can store their belongings in the secure company's warehouse facilities featuring video surveillance, motion detectors, fire-control systems, and option climate-controlled units.
Full-service packing services: If you're looking for professional packers, they provide specialized packing and unpacking services.
Financing: Low-interest financing is available for qualified customers through Enhancify.
Employee relocations: JK Moving services local, long-distance, or international moving projects for corporations.
Vehicle transport: Car shipping is available using Montway Auto Transport.
Commercial moving, storage, and relocation services: The company provides moving services for businesses of all sizes. Other options include secured short- or long-term commercial storage and reconfiguration and decommissioning of company assets. Archival, scanning, data/document storage, and inventory management services are available.
Valuation coverage: Standard and extended insurance plans are available to protect customer belongings.
How JK Moving Services stacks up against the competition
| | | | | | |
| --- | --- | --- | --- | --- | --- |
| Price | | | | | |
| Rating | | | | | |
| Minimum Shipping Size | 1+ bedrooms | 1+ bedrooms | 1+ bedrooms | 1+ bedrooms | 2+ bedrooms |
| Storage | | | | | |
| Booking Deposit | | | | | |
| Cancellation Policy | varies | 7 days prior to pickup | 7 days | varies | N/A |
| Quote | Get A Quote | Get A Quote | Get A Quote | Get A Quote | Get A Quote |
| | Quote | Price | Rating | Minimum Shipping Size | Storage | Booking Deposit | Cancellation Policy |
| --- | --- | --- | --- | --- | --- | --- | --- |
| | Get A Quote | | | 1+ bedrooms | | | varies |
| | Get A Quote | | | 1+ bedrooms | | | 7 days prior to pickup |
| | Get A Quote | | | 1+ bedrooms | | | 7 days |
| | Get A Quote | | | 1+ bedrooms | | | varies |
| | Get A Quote | | | 2+ bedrooms | | | N/A |
JK Moving Services has an excellent industry reputation and a huge volume of positive reviews.
The company's headquarters in Sterling, VA, has a prominent Google listing with a 4.5-star rating based on more than 1,200 reviews.
The Better Business Bureau (BBB) has given JK Moving an A+ rating. More than 53 customers have left reviews, the overwhelming majority of which are positive. Several reviewers note they've been loyal return customers who won't work with other moving companies anymore.
The most common review themes indicate customers receive exceptional service, careful loading, and great communication throughout the moving process.
There have been 28 complaints in the last three years, but company representatives take the time to respond with specifics and resolve issues wherever they can.
Here's a breakdown of the types of complaints JK Moving has received:
| | |
| --- | --- |
| BBB Complaint Types | Number |
| Sales or Advertising | 1 |
| Collections or Billing | 1 |
| Delivery Issues | 4 |
| Product or Service Problems | 17 |
The company has roughly 355 customer reviews on Yelp, with an overall rating of 3 out of 5 stars.


How moving with JK Moving Services works
JK movers offer a smooth moving experience that you can customize to meet your needs. From the time you reach out for an initial quote, you'll have access to customer support that streamlines the moving process.
To minimize surprises, all quotes require a survey of your belongings. You can survey yourself with the mobile app, schedule an in-home estimate, or complete a virtual consultation. Jose felt most comfortable with the virtual consultation, where he could disclose his specialty items, request assembly/disassembly, and add moving insurance.
Leading up to moving day, JK Moving Services will send reminders and tips to help you prepare. Jose received several calls and emails that set his expectations accordingly.
You'll also have an off-site coordinator who will provide updates and address any concerns you have on moving day. If there are any delays, you'll be alerted as needed. Jose's moving team arrived later than expected, but he was satisfied with the level of communication.
During the quote process, the moving team estimated it would take two days to pack Jose's items, but the sheer amount of stuff he had stretched into a third day. Movers realized they'd need more time a week before moving day and shared their insight with Jose.
89% of users select this mover
Jose had a tight schedule and had to fly out to Florida before the team had finished loading, but he appreciated that they didn't rush and continued to handle his items with care.
We recommend all movers leave some flexibility in their schedule to accommodate the unexpected. Moving has a lot of moving parts no matter how skilled and prepared you are, so it's always good to give yourself more time than you think you need.
JK Moving brought in their partner, CSNS Relocation Services, for Jose's specialty items because they required special crates and disassembly to ensure safe transport.
It took Jose's belongings 11 days to make it to Lake Mary, and the delivery went without a hitch. The team thought they had misplaced some boxes upon arrival, but everything had been accounted for by the end of the move.
Jose labeled everything before the team loaded it, so upon arrival, they could take it to the correct room.
All in all, Jose's moving experience couldn't have gone better, in his opinion.
JK Moving Services is perfect for people who don't mind paying top dollar for reliable and well-reviewed moving services
We recommend JK Moving Services to customers who aren't hesitant to splurge on quality.
JK Moving Services is a truly full-service provider. The company serves the residential and commercial markets locally, nationwide, and internationally and has decades of experience, with customer reviews to back it up. In addition to the typical loading and unloading services, they offer packing, storage, white-glove handling, and vehicle transport.
Due to JK Moving's wide range of services, the company has the facilities to handle even complex moves.
They actively promote their low-interest financing options, which can mitigate some of the high cost for exceptional service.
Although not the most affordable option, JK Moving Services has proven to be a viable moving company focused on quality. They employ the latest technology while still offering real-time online chat and personal 24/7 customer support.
Don't pass over JK Moving Services for your next move.
Compare your moving options by checking out our moving cost calculator.
89% of users select this mover
FAQ
Is JK Moving legit?
Yes, JK Moving is legit. It has thousands of positive customer reviews, and it's regarded across the moving industry for its high-quality service. It holds BBB accreditation, more than the bare minimum insurance, and its moving services go above and beyond the typical full-service provider.
Can I cancel a move with JK Moving Services?
To cancel a move with JK Moving Services, contact the company directly by phone or email for more information. The company doesn't advertise its cancellation policy.
Is a moving truck cheaper than JK Moving Services?
Yes, a moving truck is cheaper than JK Moving Services, but cost efficiency doesn't often equate to time saved. With JK Moving Services, you can access a five-star experience, including, but not limited to, auto transport, packing, loading, professional driving, unloading, and assembly.
You get what you pay for, so cheaper isn't always better.
Does JK Moving Services offer insurance coverage?
JK movers carry valuation coverage, a kind of insurance used in the moving industry. It automatically covers household goods at $0.60 per pound, but you can upgrade to full-value replacement coverage.
Your homeowners' or renters' insurance policy may also offer recourse if movers damage your household goods in transit.
Not what you were looking for?
Check out other categories that can help you find the information you need!
See All
Hide All