Moving Experience: Adam's Move with JK Moving
Adam recently moved from Austin, Texas to Stockbridge, Massachusetts to be closer to his family.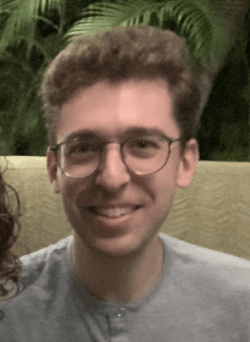 In addition to moving over Christmas and the New Year, truck access was limited at Adam's old and new homes, and he had fragile antiques that needed special attention.
After contacting three companies on our Best Interstate Movers list, Adam booked his long-distance relocation with Virginia-based JK Moving Services.
With more than four decades of industry experience and a reputation for top-notch service, JK Moving is now the largest independent mover in the United States. So did JK exceed Adam's expectations, or does he regret not going with a less expensive option?
To take advantage of a $500 relocation stipend and to help anyone planning a move like his, Adam participated in our Better Moves Project by sharing his experiences with JK Moving.
In this post, we'll look at what went well on Adam's move, where improvements could have been made, and what he learned along the way.

89% of users select this mover
Move day takeaways for JK Moving customers
Communication: JK's staff communicated adequately throughout Adam's move, but he felt there was some room for improvement
Quote accuracy and transparency: Adam paid 30% more than the original quote (his things had to be put into short-term storage due to the timing and last-minute nature of his move)
Professionalism: Adam gave JK's drivers and movers high marks for professionalism and efficiency
Timeliness: JK picked up and delivered Adam's household goods on time
Loss and damage: Nothing got lost or damaged on Adam's move
Would Adam use JK Moving Services again? Adam gave JK Moving 4 out of 5 stars for overall experience, but he'd probably use a different company in the future (more on this shortly)
Adam needed help moving from Texas to Massachusetts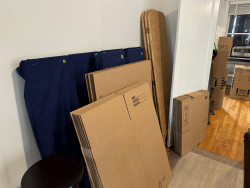 With the 2022 holiday season less than a month away, Adam bought a home in Massachusetts near his childhood stomping grounds.
Being back in familiar surroundings near friends and family was an exciting prospect, but with four moves in five years, he knew that lots could go wrong on his complex long-distance move.
In addition to antiques, Adam needed to move the contents of a six-bedroom home that included about 40 boxes and miscellaneous furniture that weighed approximately 5,000 pounds. Price was an issue (our Moving Cost Calculator is a great budgeting tool), but Adam was willing to pay extra for an experienced company that could manage every facet of his move from beginning to end.
That said, he worried that he'd pay top dollar for mediocre service and that his antiques would get damaged during the moving process.
Adam's move at a glance
| | |
| --- | --- |
| Move date | December 24, 2022 |
| Moved from |  Austin, Texas |
| Moved to |  Stockbridge, Massachusetts |
| Distance |  1,900 miles |
| Move size | 3-bedroom home (2,000 square feet) |
| Moving company |  JK Moving Services |
| Moving quote | $11,175 |
| Actual cost | $15,960 |
Adam found his mover of choice in just one day


Adam planned on getting quotes from three or four movers, but a timely email from moveBuddha streamlined the process.
He initially submitted quote requests through moveBuddha.com, but JK's sales representative got back to him first, reviewed his move details via phone, and explained how to use the company's 3D visualization app to inventory the contents of his home.
The following table shows the results of Adam's expedited quote process:
The data is incomplete because Adam got such a good vibe from JK Moving that he informed the other companies that he'd selected another mover before they'd submitted estimates. $11,175 was slightly more than he wanted to spend, but JK's quote seemed reasonable based on the size, timing, and complexity of his move.
There were a few unknown variables on Adam's move

Licensed
Insured
Price
rating
4.25 / 5
Get A Quote
(703) 972-1772
93% of users select this mover
At A Glance
Guaranteed pick up and delivery dates
Low deposit requirement of $250 for interstate moves
Easy and fast AI-powered in-home estimate tool
Over 40k moves in the past 3 years
Available Financing as low as 0% Interest for low monthly payments
Extremely responsive customer service
read our full review
Get A Quote
(703) 972-1772
93% of users select this mover
JK's non-binding estimate included the following:
Full packing
Origin and destination shuttles
Loading and unloading labor
Door-to-door transportation
Custom crating for three particularly fragile items
Partial unpacking (mattress and mirror cartons only)
Full-value replacement coverage with no deductible
A fuel surcharge
Adam's quote didn't include storage, but estimated storage charges were listed in a separate section titled Additional Services. This is important because even though it wasn't a certainty, JK would likely have to store Adam's items temporarily because he moved on short notice over the holiday season.
With his move just around the corner, Adam paid a $250 deposit, began discarding and donating unwanted items, and setting aside the things he planned on taking with him.  He also got multiple phone calls to confirm his move details and several emails that included helpful tips and reminders.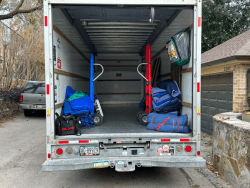 Moving day went smoothly
JK's crew showed up early to coordinate the shuttle since Adam's driveway was too narrow to accommodate the tractor-trailer.
Adam would have preferred a text or call before they arrived, but he was impressed by their professionalism, care, and efficiency. In fact, they provided just the kind of white-glove service he'd been hoping for, particularly in regard to wrapping and crating his fragile antiques.
Adam spent most of the day in his office attending virtual meetings, but he periodically checked in with the movers and answered questions as they arose. All told, the crew worked for about eight hours, and Adam tipped them for a job well done before they pulled away.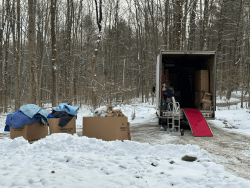 The weather didn't cooperate on delivery day
Adam's household goods arrived in Stockbridge, Massachusetts 20 days later.
Nobody likes being without their things over the holiday season, but JK delivered Adam's things within the agreed-upon window. On the downside, the crew had lots of wintery precipitation to contend with, but Adam hired a snow removal company to clear his driveway and lay down sand.
Adam was impressed that the crew took great care protecting his floors with rug runners, moving pads, and cardboard before getting down to the task at hand. Loading went surprisingly quickly despite the snow and ice, and Adam was thrilled that nothing had been lost or damaged between Texas and Massachusetts.
The verdict – did JK Moving make the grade?
89% of users select this mover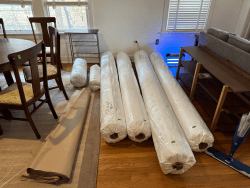 To recap, JK Moving picked up and delivered Adam's household goods on time, without loss or damage,  and in bad weather over Christmas and the New Year.
This is an impressive fete, but Adam paid more than he wanted to because his items had to be put into short-term storage. Adam wasn't crazy about the additional storage charges, but they probably didn't come as a huge surprise since they were listed (if not actually included) on the original estimate.
Adam wishes that JK would have found a way to accommodate his move dates without putting his things into storage, but he admits that it was largely unavoidable due to the timing and the last-minute nature of his move.
In hindsight, he regrets not getting quotes from the other companies and not placing more of an emphasis on guaranteed delivery dates without the need for storage. However, Adam felt like he got his money's worth because other than the cost increase, his move was relatively free of stress and service issues.
With his move in the rearview mirror, here's how Adam rated JK moving on a scale of 1 to 5:
Communication – 3
Timeliness – 5
Quote accuracy – 1
Overall experience – 4
Before signing off, check out these helpful resources:
Not what you were looking for?
Check out other categories that can help you find the information you need!
See All
Hide All