Moving Experiences: Isabel's Move with Safeway
In March of 2022, Isabel and her boyfriend moved from San Francisco to New York.
Since their new apartment in Manhattan was about a third the size of their place in California, downsizing was a priority.
Isabel found moveBuddha while searching the internet for long-distance movers. She participated in our Better Moves Project and a first-hand account of her experience using Safeway Moving.
Shortly after submitting multiple estimate requests, she got three long-distance move quotes.
In the end, Isabel chose Safeway for the company's professionalism and low quote.
With her coast-to-coast move in the rearview mirror, she couldn't be happier with her decision.
In this post, we'll take a look at what went well, where improvements could have been made, and share a few helpful moving tips Isabel learned along the way.
Takeaways Safeway Movers customers should know on moving day
89% of users select this mover
Communication: (Safeway Moving) communicated adequately and professionally before and during her cross-country move
Pricing: Isabel's final charges were exactly what she was quoted
Delays: Due to weekend moving restrictions in New York, Isabel had to wait for a Monday delivery even though the truck arrived on Friday
Would Isabel use these companies again? Yes, Isabel had great experiences
Isabel needed help moving from San Francisco to New York
Cross-country DIY moves aren't for everybody.
Since Isabel was more interested in professional service and peace of mind than saving a few bucks, she decided to hire full-service movers.
Because she was starting a new job in Brooklyn and had to find a suitable apartment nearby, timing and logistics were big concerns.
After diligently downsizing their belongings, Isabel and her boyfriend were left with approximately 20 boxes and some miscellaneous furniture that collectively weighed about 2,000 pounds.
They didn't move any specialty or high-value items like antiques or artwork.
Isabel's move at a glance
| | |
| --- | --- |
| Moving From | San Francisco, California 94109 |
| Moving to | New York, New York 10014 |
| Distance | 2,911 miles |
| Moving Company | Safeway Moving |
| Moving quote | $5,425 |
| Actual cost | $5,425 |
Isabel was impressed with Safeway's pricing and professionalism

Licensed
Insured
Price
rating
4.5 / 5
Get A Quote
(855) 650-0657
93% of users select this mover
At A Glance
30 days of free storage on all interstate moves
Veteran owned
Long distance and cross country moves only
A portion of every move is donated to charity
read our full review
Get A Quote
(855) 650-0657
93% of users select this mover
When it came to hiring a full-service mover, Isabel wanted:
To work with an experienced, ethical company with verified online reviews
Good communication
Accurate and transparent pricing
Prompt delivery
No damaged items
That said, she was worried that the movers wouldn't load her items on the assigned date and that they'd deliver everything to New York later than promised.
In addition to booking flights, Isabel would stay with family while the truck was en route, so good planning was paramount.
Isabel knew about the move for nearly six months, but she didn't book Safeway Movers until she found a new apartment in New York.
Safeway communicated effectively throughout the move process
Isabel let her customer service representative at Safeway know that she needed help with packing and unpacking and that the movers would have a few flights of stairs to contend with.
After giving her a verbal quote, Isabel's representative sent her a formal estimate that included a breakdown of all the costs associated with her move.
Based on 345 cubic feet and 2,400 pounds, Safeways price came in at $5,425. Since it was what she expected, Isabel booked her move almost immediately.
Because the crew would handle the packing, Isabel focused on discarding things movers can't move and donating items with a little life left in them.
Instead of purchasing additional moving insurance, she opted for Safeway's basic free valuation. It was a wise choice since nothing got damaged.
As move day drew near, Isabel received multiple emails, phone calls, and texts from Safeway confirming the details of her move.
Moving day went smoothly
89% of users select this mover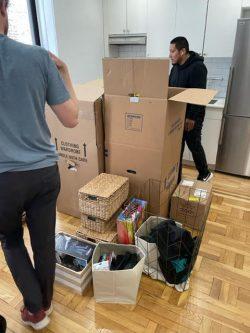 After weeks of planning and communication, it was finally moving day – Sunday, March 20.
That morning Isabel got a call when the crew was on the way. They arrived on time at 10:30 am and immediately put Isabel at ease with their professionalism and attention to detail.
While the movers were hard at work, she relaxed, answered their questions, and said goodbye to family and friends.
It took the crew 2 1/2 hours to pack everything into boxes, and another 45 minutes to load the truck.
Before the crew and truck pulled away, she paid via Zelle.
There was one minor setback at delivery (but it wasn't the mover's fault)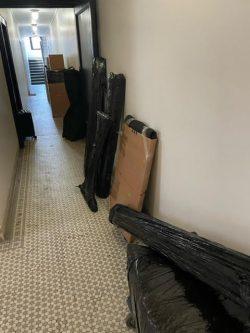 Isabel's household goods were in transit for 15 days.
Five days before delivery, Safeway called to confirm the delivery date and time.
The truck arrived in New York on Thursday, but Isabel's flight didn't land until Friday night. In most other cities this wouldn't have been a big deal, but New York has strict weekend moving restrictions.
As a result, delivery had to be postponed until the following Monday.
On move-in day, the crew staged Isabel's items inside the lobby before moving them up to her apartment on the elevator.
Isabel checked everything off the inventory as it came in, and the crew put each item where she wanted it.
in the end, things couldn't have gone more smoothly.
A few things could have gone differently
Isabel's movers gave her a multi-hour window for when the truck would arrive in the morning. She was told to expect the crew between 8 and 11 am the day before.
She could have run a few errands if the window had been smaller.
She wasn't thrilled with New York's ban on weekend moves either, but as they say – you can't fight city hall.
Lastly, Isabel recommends hiring full-service movers when peace of mind is as important as pricing. For her, it was well worth it.
Want to learn more about Safeway and get a moving quote? Check out these posts:
Not what you were looking for?
Check out other categories that can help you find the information you need!
See All
Hide All