Moving Experience: Kathy's Move with American Van Lines
Kathy recently moved household goods from a storage unit in Washington D.C. to an apartment in St. Louis.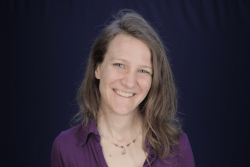 Her move was unique because her items had been in storage for over two years and she coordinated everything from Missouri.
Kathy got quotes from several companies on our best long-distance movers list. American Van Lines (AVL) came through with the services she needed for a price she could afford.
Founded in Miami over five decades ago, AVL now has a large national hauling fleet and offices in multiple states. So did AVL leverage its experience and resources to give Kathy a world-class move? Or was she underwhelmed by the company's performance?
To take advantage of a $500 relocation stipend and help anyone planning a move like hers, Kathy participated in our Better Moves Project by documenting her experiences with American Van Lines. In this post, we'll look at what went well on her move, where improvements could have been made, and what she learned along the way.
Move day takeaways for American Van Lines customers
Communication: Kathy gave AVL high marks for communication throughout her move. She loved that she had one point of contact from beginning to end
Pricing accuracy and transparency: Kathy's move cost about 20% more than expected, but she moved a few extra items and required packing services that weren't included in the original estimate
Professionalism: AVL's office staff and moving crews were polite, helpful, and professional
Timeliness: Kathy's household goods were picked up two days late, but everything arrived in St. Louis within the agreed-upon delivery window
Loss and damage: The company didn't lose or damage anything on Kathy's move
Would Kathy use American Van Lines again? Yes, AVL communicated effectively and delivered a solid value on Kathy's long-distance move
Kathy needed help moving from Washington D.C. to Missouri
Kathy stored her household goods in Washington D.C. and moved back to St. Louis during the COVID pandemic. The move was supposed to be temporary, but she found a new apartment and decided to make it permanent in late 2022. Unfortunately, her stuff was still more than 800 miles away.
She couldn't remember exactly what she had since she hadn't seen everything in so long. She estimated that her shipment included about 50 boxes and miscellaneous furniture that weighed approximately 3,000 pounds. Kathy wasn't moving any bulky or fragile items, but she had a guitar that she vaguely remembered packing in a wardrobe carton years before.
Instead of driving or flying back to Washington to meet the movers herself, Kathy decided to coordinate everything from afar, She gave a local friend power of attorney to act on her behalf. She hoped dealing with the movers wouldn't be an undue burden on her friend. She couldn't shake the sinking feeling that something would go wrong at the last minute and that her moving budget wouldn't be adequate.
Kathy's move details
| | |
| --- | --- |
| Move date | January 15, 2023 |
| Moved from | Washington D.C. |
| Moved to | St. Louis, Missouri |
| Distance | 831 miles |
| Move size | The contents of a 500-square-foot, one-bedroom apartment (in a storage unit) |
| Moving company |  American Van Lines |
| Moving quote | $3,332 |
| Actual cost | $4,074 |
Kathy spent a week researching movers
After signing a lease on a new apartment, Kathy had plenty of time to find a mover.
The process seemed relatively straightforward, but she was bombarded by calls and emails from high-pressure sales representatives. This happened after she entered her personal information on an online estimate request form that she thought would go directly to one particular moving company.
Kathy answered numerous phone calls before realizing that her information had been distributed (or probably sold) to other companies. They were now employing sleazy sales tactics to pressure her into signing a moving contract before she'd had time to consider her options. All before she could compare multiple estimates and have her questions answered.
Kathy got seven quotes before choosing American Van Lines

Luckily, a timely email from moveBuddha introduced Kathy to our Better Moves Project and provided an alternative to shady movers.
Kathy asked friends, family members, and coworkers for referrals too. She eventually limited her search to the companies on our Best Long-Distance Movers list because doing side-by-side comparisons on moveBuddha.com was so easy.
With AVL, Kathy filled out an online form (they kept her information private) and had a follow-up call with a helpful representative. He prepared an inventory and an estimate and walked her through the moving process.
Here's how Kathy's quotes compared:
| Company/service type | Estimated weight/volume | Cost estimate |
| --- | --- | --- |
| American Van Lines (full service) | 2,982 pounds | $3,332 |
| Safeway Relocation Services (full service) | 2,331 pounds/333 cubic feet | $2,048 |
| Alliance Van Lines (full service) | Undisclosed | $2,201 |
| Roadway Van Lines (full service) | Undisclosed | $2,572 |
| Mayzlin Relocation (full service) | 5,600 pounds/800 cubic feet | $4,900 |
| International Van Lines (full service) | 3,542 pounds/506 cubic feet | $5,410 |
| Safeway Moving (full service) | 5,600 pounds/800 cubic feet | $5,510 |
AVL's quote included the following:
Loading and unloading labor
Door-to-door transportation
A stair carry charge for Kathy's third-floor apartment in St. Louis
Assembly of standard items like beds and tables
Released-value coverage of .60 cents per pound per item (Kathy chose not to purchase additional coverage)
All applicable taxes and fees
A fuel surcharge
AVL's price was more than Kathy wanted to spend, but she admitted to having unreasonable expectations because the brokers she'd dealt with early on had given her unrealistically low quotes.
Things were falling into place on Kathy's move
Kathy signed AVL's moving contract and paid a small deposit to lock in loading dates between January 11th and 13th.
As her move date approached, she also received several helpful calls and emails from Liz (her move coordinator at AVL) to ensure no detail had been overlooked. Kathy appreciated Liz's professionalism and proactive communication. Since everything was already packed in the storage unit in Washington, there wasn't much to do other than make sure her friend had power of attorney and knew when to meet the movers.
Kathy was informed a few days out that the truck that had been assigned to her move had broken down and that her shipment had been reassigned to a partner company. This wasn't a huge deal, but the new company (Suddath Relocation) wouldn't be able to pick up Kathy's things until the 15th.
Moving day was quick and easy
Liz told Kathy that the movers would meet her friend at the storage unit between 8 AM and noon on the 15th.
The crew arrived on time at 10:30 AM as Kathy nervously monitored the situation from St. Louis. Despite the distance, she was in constant contact with her friend. She assured her that everything was going smoothly and that the crew was polite, professional, and efficient. After getting the truck situated, it took the movers just 90 minutes to prepare an inventory, pack a few last-minute boxes, protect loose items with quilted moving blankets, and move everything onto the trailer.
Kathy was eager to take possession of her things as early as possible. Liz was only able to tell her that they were working on scheduling and that she'd get at least 24 hours of notice before delivery.
Delivery went smoothly too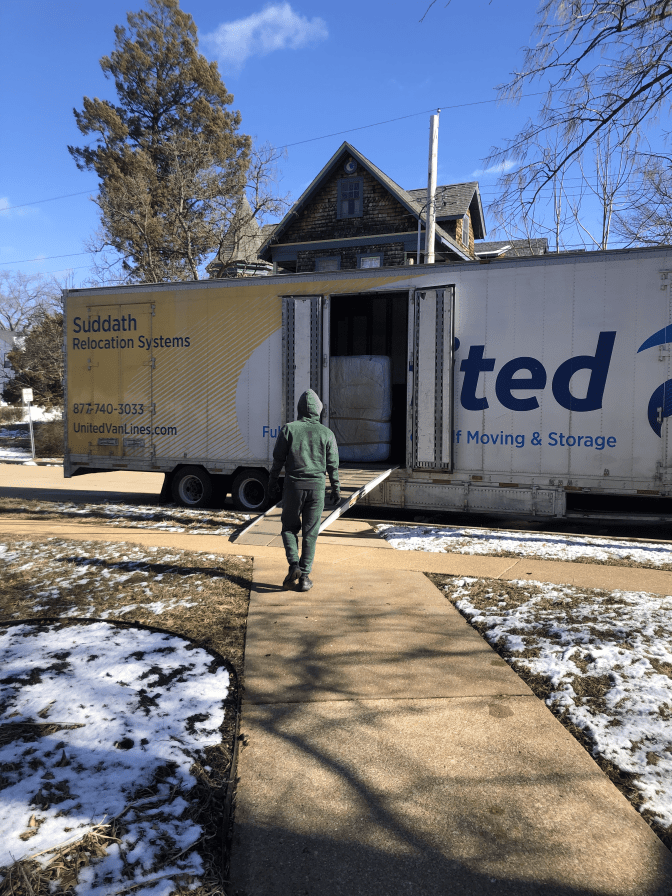 Kathy got a text the day before the truck arrived confirming delivery for the 26th and letting her know the balance she'd need to pay before the crew began unloading. This was helpful because it gave her time to get a Post Office money order.
The crew arrived on schedule on the 26th and took a quick look around. They began moving Kathy's boxes and furniture from the truck up to her third-floor apartment. While they worked, Kathy hung out in the kitchen, answered their questions, and just tried to stay out of the way. Even with the stairs, the crew had everything into Kathy's apartment and set up in about two hours. Best of all, nothing had been lost or damaged between Washington D.C. and St. Louis.
The driver went over the paperwork with Kathy and answered a few final questions before driving away. Liz called to make sure everything had gone according to plan.
The verdict – did American Van Lines make the grade?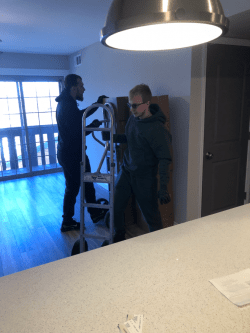 Suddath Relocation picked up Kathy's household goods a few days late, but everything made it to St. Louis within the agreed-upon delivery window without loss or damage.
One minor complaint was that at one point Liz had suggested that Kathy's things might arrive in as little as two days. When this didn't materialize it made the wait seem longer because Kathy had gotten her hopes up.
We hear about delivery window issues from Better Moves Project participants all the time. The truth is that companies sometimes give customers unreasonable delivery expectations. On the other hand, many customers incorrectly assume that they'll get their things on the first or second day of the delivery window. Either way, Kathy thought communication with AVL was generally good, and Liz always addressed and resolved issues promptly.
And last, Kathy's move cost more than expected. This wasn't a surprise because the movers moved a few extra items and did some packing that wasn't included in the original estimate.
With her move in the record books, Kathy would consider using AVL on a future move.
Here's how she rated American Van Lines on a scale of 1 to 5:
Communication – 4
Timeliness – 3
Quote accuracy – 4
Overall experience – 4
Kathy's advice for anyone planning a move like hers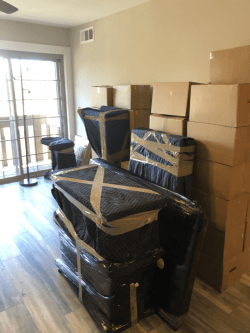 Be prepared for your move (and delivery) to take longer than expected
Make your inventory as detailed as possible or do a virtual survey with an experienced estimator to get the most accurate quotes possible
Use your best judgment when requesting online estimates and be prepared for a deluge of unsolicited calls and emails from pushy salespeople
Know whether the companies you're considering are carriers or brokers by checking their USDOT numbers with the Federal Motor Carrier Safety Administration
Before signing off, check out these helpful posts:
Not what you were looking for?
Check out other categories that can help you find the information you need!