How to Check a USDOT Number
Planning to move to a new place, whether locally or interstate, involves a lot of heavy lifting and coordination. That's where a top-rated interstate carrier or moving company comes in.
With so many options, how do you know which transportation company to trust? To ensure a smooth and stress-free move, do your homework and research the background and history of any company you're considering. One way to do this is by using the United States Department of Transportation USDOT number lookup.
What is a USDOT number and how do you look it up? moveBuddha has years of experience and will walk you through the process in this post, so keep reading!
What the process involves
A USDOT number lookup is important to any person looking for someone to help them move across state lines — or locally in the same city. This USDOT number is essential for commercial motor vehicle operation and company information.
It's a code assigned by the Federal Motor Carrier Safety Administration (FMCSA) that identifies the business as a legitimate carrier and enables the FMCSA to track the company's safety records and performance by doing regular audits. 
DOT numbers are assigned to motor carriers by the FMCSA, similar to car license plates. Providers sign up for the number and safety permit through the unified registration system (UCR). When you search for a USDOT number, you can view information about the associated motor carrier:
Their operating status,

Contact information,

Insurance coverage.

Accident record,

Inspection history,

Safety information and rating,

Carrier registration dates,

If they can transport hazardous materials

If they comply with federal regulations.
This is especially helpful if you're considering hiring a motor carrier to transport goods when moving. 
What is a USDOT Number?
A DOT number is a unique identifier assigned to each motor carrier that transports people (buses) and freight (trucks) across state lines. 
Most moving companies list their DOT numbers on their estimates, websites, and sales material, and they must also display them on commercial vehicles in their fleets. 
Did You Know…
While the FMCSA only oversees carriers that travel across state lines, over 30 states mandate that businesses involved in intrastate commerce must also comply with the regulations of the operating authority.
Checking a carrier's US Department of Transportation (USDOT or DOT) number is one of the best ways to do it.
The Federal Motor Carrier Safety Administration (FMCSA) requires trucking companies that meet certain criteria (based on gross vehicle weight ratings/gross combination weight, operating area, and transportation type) to have a DOT number. 
And here's the good news – 
You can use the FMCSA website to do a free check on any moving company in just a few minutes. 
It's as easy as typing a few numbers into a box and clicking SEARCH. 
Stick around; we'll show you how.
Why US DOT Numbers Are Important
Perhaps more than most industries, the moving business has its fair share of nefarious companies intent on scamming unwitting consumers. They do this by passing themselves off as something they're not. 
This is done using fake DOT numbers because they know few people will take the time to check. 
Moving companies transporting household goods from one state to another must have a DOT identification number. Not only are they important for carriers, but they're great tools for customers intent on protecting themselves against hiring a mover that operates illegally, doesn't have insurance, or has an unsatisfactory safety rating.
It's Important to Note –
US DOT numbers identify carriers engaged in interstate commerce.
MC (Motor Carrier) numbers identify carriers transporting regulated commodities in intrastate commerce.
Since most movers provide interstate and intrastate moving services, they should have DOT and MC numbers, which can be verified on the FMCSA's website.
How to Check a USDOT Number
Checking a motor carrier's DOT number and FMCSA registration using the FMCSA's SAFER database is fast, easy, and free. This is also how you'd perform an MC Number lookup.
First, go to the FMCSA's website.
Once there, you'll see this –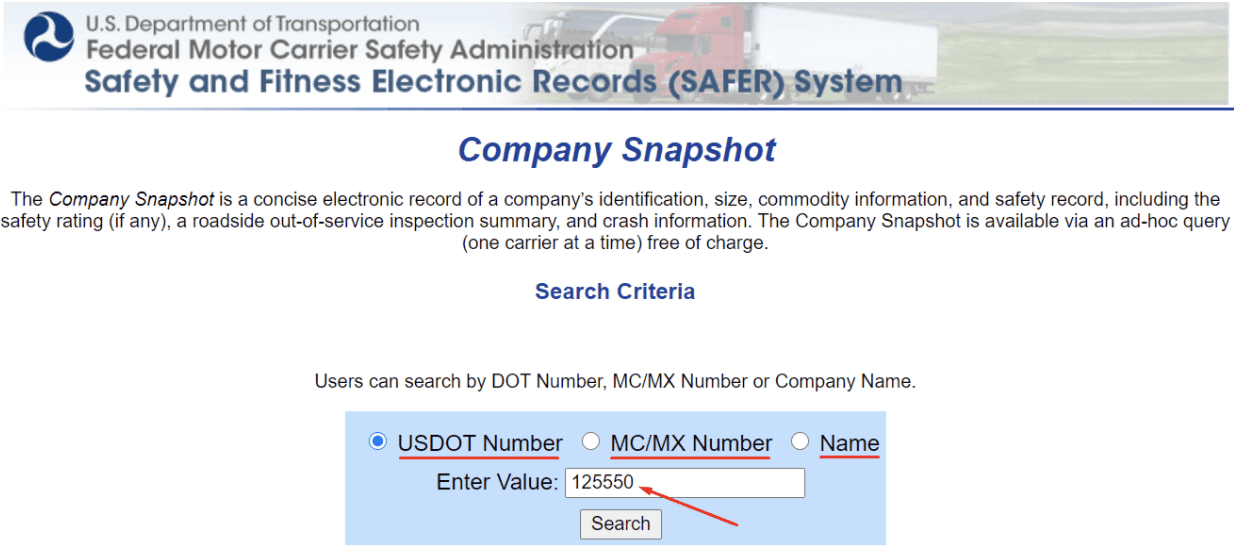 For illustration purposes, we've entered the USDOT number for Atlas Van Lines.
For illustration purposes, we've entered the USDOT number for Atlas Van Lines. 
You'll see at the top of the blue box (underlined in red) that you can use their name or MC number if you don't know a mover's USDOT number instead. When you've entered the information, click SEARCH.
What to Look For
Once you've clicked SEARCH, you'll see the following: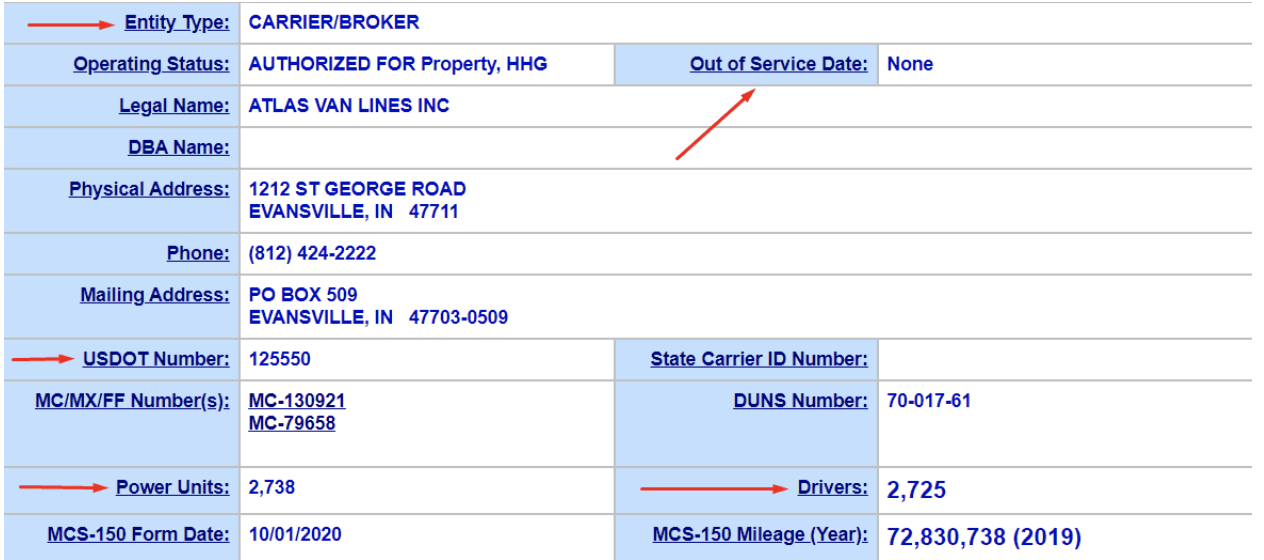 This is the top of a long page that includes all of the company's relevant information. 
Individual sections can be accessed by scrolling up or down or clicking the links at the top.
The first portion provides basic information that includes: 
Entity Type –

in this case, carrier and broker

USDOT Number –

125550

Number of Power Units –

2,738

Out of Service Date –

NONE (this means they're in good standing)

Number of Drivers –

2,725
You'll see Operation Classification, Carrier Operation, and Cargo Carried sections when you scroll down.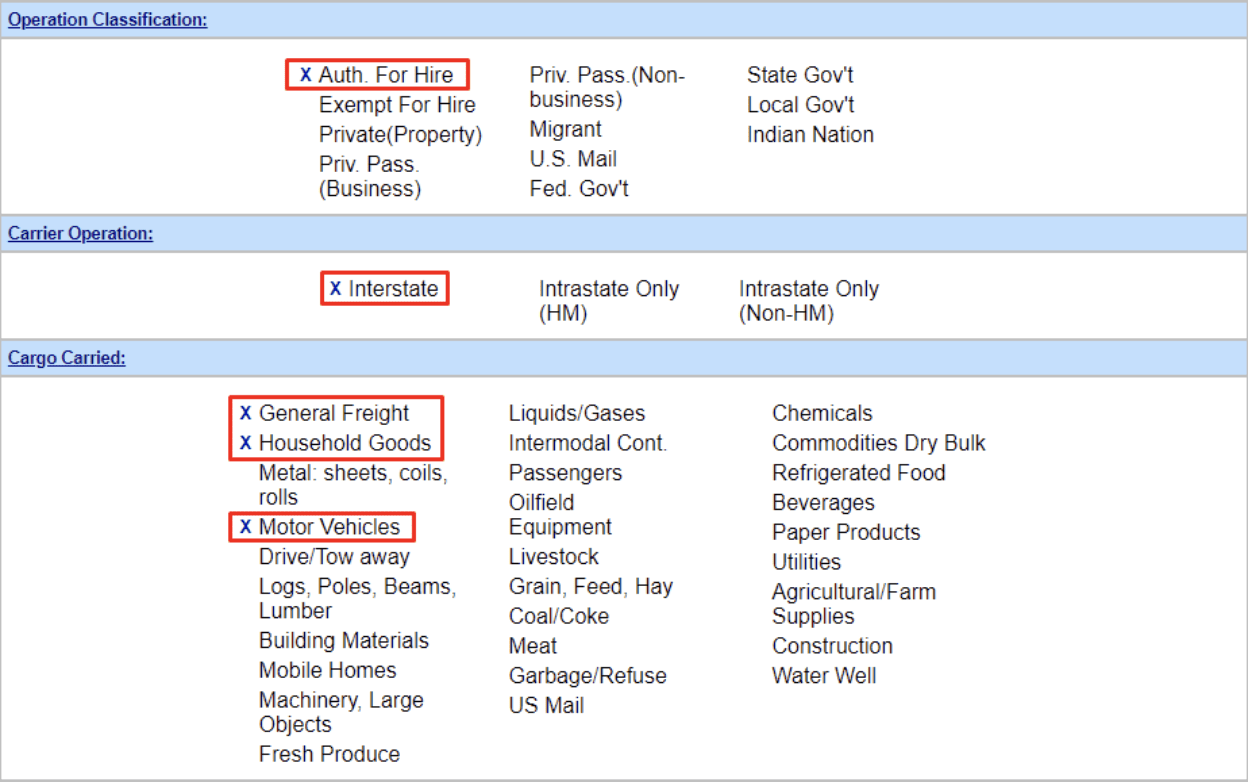 In Atlas' case, they're a for-hire carrier engaged in interstate commerce authorized to haul general freight, household goods, and motor vehicles.
How to Check for Crashes and Inspections
To find crash and inspection information, you can either scroll down to the section with the heading Inspections/Crashes in the US or click the link with the same name in the upper left-hand corner of the search results screen.
Records include reports from states for the previous two years. They also show how the carrier compares to national averages in each category, like Inspection and Out of Service violations for vehicles and drivers.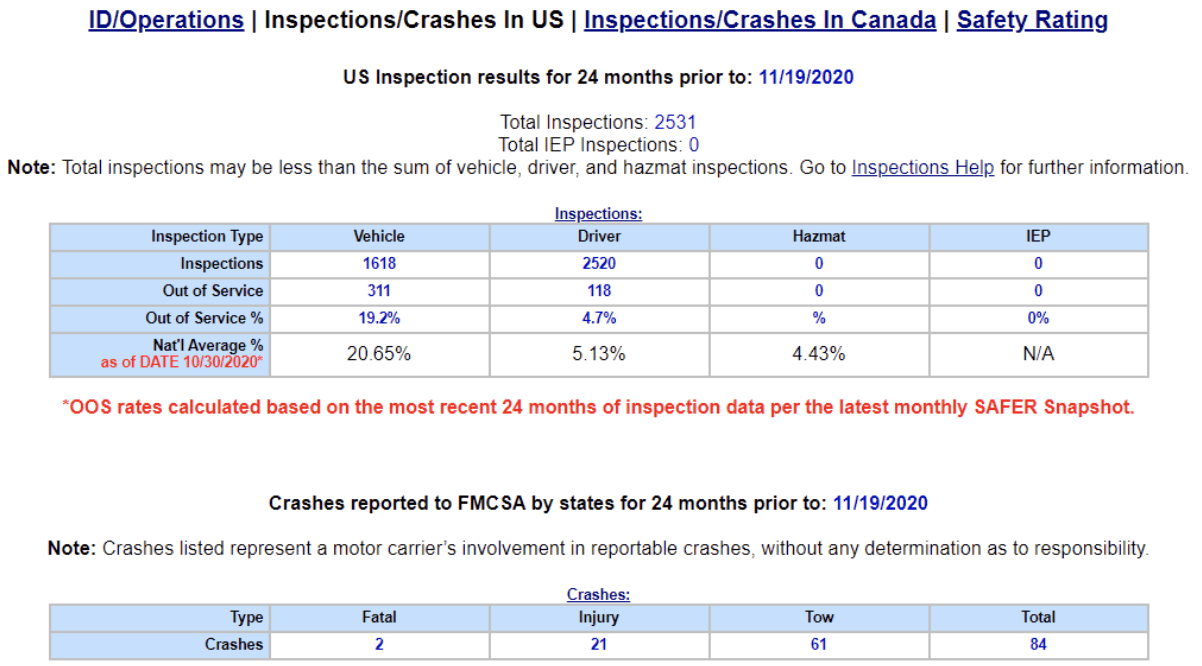 The bottom chart shows statistics for reportable accidents that resulted in an injury, fatality, or vehicle being towed. 
They include figures for accidents involving the carrier's trucks, even if they weren't at fault.
How to Check the Company's Safety Rating
A company's safety rating is important because it clearly indicates whether it operates according to DOT and FMCSA regulations. 
You can check by clicking the link at the top of the search results page, scrolling to the Safety Rating page, or clicking the Safety Rating link at the right side of each heading (next to Inspections/Crashes in Canada).

Moving companies can be rated in three ways: 
Satisfactory

is the highest rating possible and means the company is in good standing with the DOT and FMCSA.

Conditional –

with a conditional rating, a company may be out of compliance with one or more regulations that aren't serious enough to warrant disqualifying them as a motor carrier.

Unsatisfactory –

this is the lowest rating and means that there are substantial compliance issues.
How to Check Insurance
Information about a motor carrier's insurance can be accessed through the FMCSA's website.
You'll be taken to a Licensing and Insurance Public page by clicking the links indicated by the red arrows below.
You can search there using DOT, MC numbers, or company names. 

Though it's worth checking out, searches will only tell you whether the company's insurance is up to date, has been revoked, or if any actions are pending.
Checking for Complaints
It's important to note that the DOT and FMCSA's primary focuses are compliance and public safety. As a result, they're not the watchdog organizations most people think they are, especially when it comes to complaints made against carriers. 
Insider's Tip: When vetting moving companies, ask for personal references from friends, family, and coworkers, and spend ample time online checking out websites with verified customer reviews like Google and Yelp rather than just results from DOT compliance reviews.
Checking for Fraud
Though there's no "Fraud" section, you can determine whether a company is on the up and up by comparing the information on their paperwork and website with what's in the FMCSA's database. 
Suppose their DOT or MC numbers aren't the same. If they have an unsatisfactory safety rating or their insurance has been revoked, you're better off dismissing them and moving on to other companies. 
Also, check things like: 
Do they have an MC or State Carrier ID number to permit them to do local and intrastate moves?
Is their operating status listed as

ACTIVE

,

OUT OF SERVICE

, or

NOT AUTHORIZED

? If it's either of the last two, they have problems.
Frequently Asked Questions – FAQ
1. What's an MC Number?
MC numbers identify intrastate carriers that transport regulated commodities like household goods.
2. Who needs to get a USDOT Number?
USDOT Numbers are required by companies that:
Provide interstate transportation services for compensation,

Operate vehicles over 10,000 pounds GVWR,

Transport between 9 and 15 passengers, including the driver. 
3. How do I search for a DOT Number?
You can search for a DOT Number on the FMCSA's website; if you don't have one, you can use the company's name or MC Number. 
4. Is it hard to do a DOT check?
No, you can do one for free online in less than 5 minutes. 
5. What's the difference between DOT and MC numbers?
According to nd.gov – 
"A USDOT number identifies carriers operating in interstate commerce while an MC number identifies a carrier who transports regulated commodities for hire in interstate commerce."
Insider's Tip:
Scam movers have a million and one excuses why the information they gave you doesn't match what you found online, but in almost every instance, it means they're not a company you want to do business with. 
Choose a reputable interstate moving company instead.
Not what you were looking for?
Check out other categories that can help you find the information you need!
See All
Hide All