Moving Experience – Marcie's Move with North American Van Lines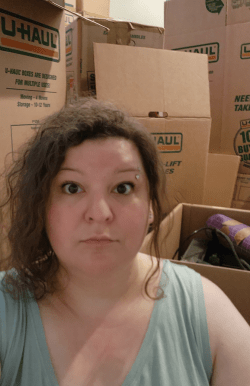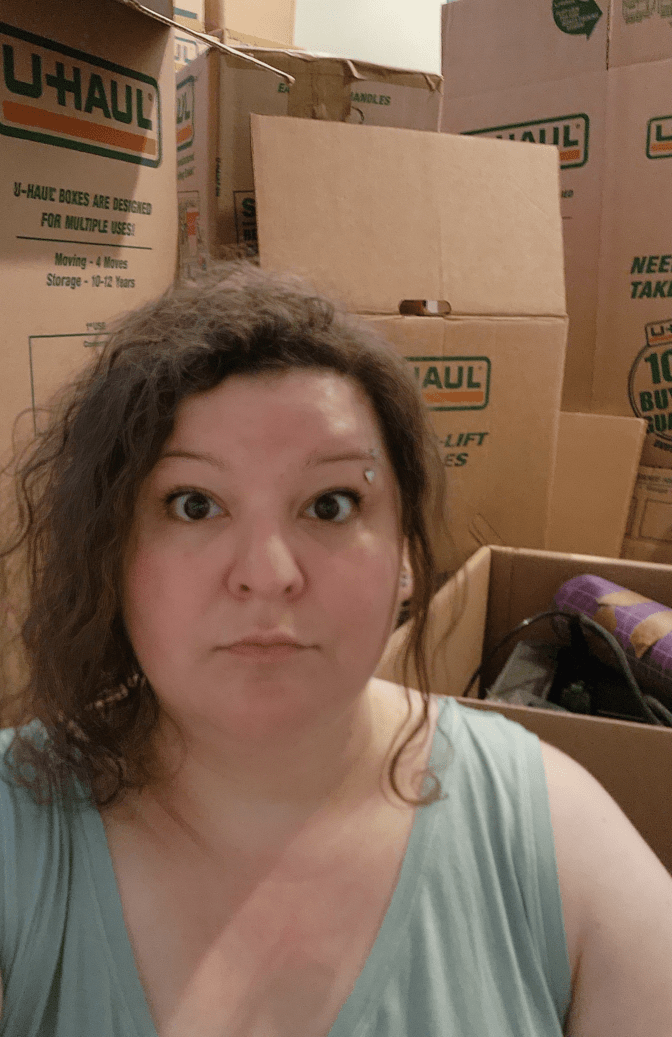 After years in Los Angeles, Marcie and her husband were ready for a change by November 2022.
With their hearts set on Colorado Springs over 1,000 miles away, Marcie got quotes from several companies on our Best Long Distance Movers list.
Marcie's first choice was JK Moving. However, they didn't have a truck available on her move date, so she booked her move with North American Van Lines.
With nearly a century of experience and more than 500 agents nationwide, North American is one of the most respected names in the industry.
89% of users select this mover
To help anyone planning a move like hers and to cash in on a $500 relocation stipend, Marcie participated in our Better Moves Project by sharing her experiences with North American.
In this post, we'll look at what went well on Marcie's move, where improvements could have been made, and what she learned along the way.
Move day takeaways for North American Van Lines customers
Communication: Communication was adequate throughout Marcie's move. Some of the customer service representatives could have been more proactive and returned her calls more quickly. On a positive note, they usually responded to her emails promptly
Pricing accuracy and transparency: Marcie paid about $60 more than the price she was quoted (this is amazingly accurate on an $11,000+ move)
Professionalism: North American delivered a top-notch experience from start to finish
Timeliness: Marcie's household goods arrived in Colorado within the agreed-upon delivery window
Loss and damage: The movers did not lose anything on Marcie's move. A few glass vases got broken, but Marcie takes full responsibility for the damage because she didn't pack them well enough
Would Marcie use North American again? Yes, North American hit Marcie's move out of the park
Marcie needed help moving from California to Colorado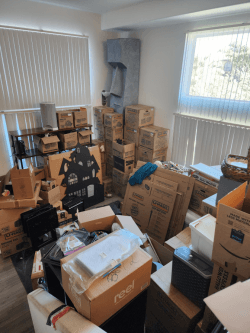 Marcie planned her move for November to avoid peak season service issues. She ruled out moving containers because she wanted a full-service experience.
Her move was pretty straightforward, but with more than 100 boxes and miscellaneous household items that weighed about 14,000 pounds, it was larger than most. In addition to breakables and fragile musical equipment, Marcie had a large paper mache Easter Island statue replica (in the back corner of the image on the left) that needed special attention.
Marcie was determined to keep her moving costs low (our moving cost calculator is a great budgeting tool), but she wanted timely service without loss and damage too. 
She focused on finding a reputable and experienced service provider, but the process was unnerving because she'd had bad experiences with movers in the past.
Marcie's move details
| | |
| --- | --- |
| Move date | November 18, 2022 |
| Moved from | Van Nuys, California |
| Moved to | Colorado Springs, Colorado |
| Distance | 1,089 miles |
| Move size | 3 bedrooms, 2.5 baths (about 1,650 square feet) |
| Moving company | North American Van Lines |
| Moving quote | $11,439 |
| Actual cost | $11,503 |
Marcie got quotes from top-notch movers
Marcie and her husband had been planning their move for years, but the last few pieces of the puzzle didn't fall into place until about a month before their move date. They knew that planning and execution were key, and they weren't willing to work with an inexperienced company just to save a few bucks.
Marcie began by Googling long-distance movers. She got lots of search results to weed through, but moveBuddha made the process easier because she could easily compare companies side-by-side. That said, she verified that our information was accurate and up-to-date by checking each company's ratings with Consumer Affairs and the Better Business Bureau.
With a list of potential movers, she requested online quotes and did virtual surveys with various companies.
Here's how Marcie's full-service moving quotes compared:
| Company | Estimated weight | Estimate amount |
| --- | --- | --- |
| North American (full service) | 14,770 pounds | $11,439 |
| International Van Lines (full service) | 11,270 pounds | $11,620 |
| Mayflower (full service) | 13,990 pounds | $13,985 |
| JK Moving (full service) | 14,000 pounds | $14,580 |
| Safeway Moving (full service) | 16,751 pounds | $14,667 |
Marcie chose North American for reputation and affordability
The quotes were slightly higher than Marcie expected, but she got the best vibe from JK Moving. Unfortunately, they couldn't come up with a truck when she needed one, so she booked her move with North American instead.
89% of users select this mover
After requesting an online quote from North American, Marcie did a virtual survey with a sales representative who provided a competitive quote that included the following:
Loading and unloading labor
Disassembly and reassembly of standard items like beds and tables
Protective wrapping of all furniture
Door-to-door transportation
$100,000 Maximum Value Protection (full-value replacement coverage) with a $500 deductible
All applicable fees and surcharges
Licensed
Insured
Price
rating
4.25 / 5
Get A Quote
(844) 950-2963
93% of users select this mover
At A Glance
Over 74 years in business
More than 1,800 trucks in the fleet
1,500 local agents covering all 50 states
Top major moving company in the U.S.
Highest rated agent van line among moveBuddha customers
read our full review
Get A Quote
(844) 950-2963
93% of users select this mover
Marcie liked that North American provided a guaranteed-not-to-exceed estimate and that her move cost would be reduced if the actual weight was less than what was estimated.
Marcie and her husband did the packing themselves to save money.
Things were falling into place on Marcie's move
Marcie sometimes found that the customer service representatives at Robb & Messer (the local North American agent she booked her move with) didn't return her calls or answer her text messages as quickly as she would have liked.
On the other hand, they usually responded to her emails more promptly, which is exactly what she'd been told to expect. She would have preferred better communication by phone when she had questions that needed to be answered quickly. Emails are great for non-pressing issues because they provide a written record of all communication.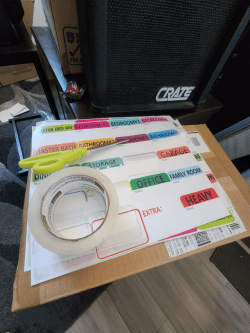 As her move date drew near, her coordinator touched base to go over the valuation. He also reminded her to get a parking permit for the moving van.
Marcie packed diligently, labeled each box carefully, and wrapped her guitars and keyboards in bubble wrap before packing them in a wardrobe box. In addition, she decluttered and downsized, disconnected her appliances, and dealt with various housing issues.
The day before her move, Marcie got a call from the driver to let her know what time he and the crew would arrive.
Moving day couldn't have gone more smoothly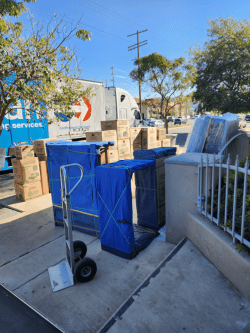 North American's driver arrived promptly at 7:50 AM on Friday, November 18, about ten minutes earlier than expected.
After introducing themselves and taking a look around, the crew began protecting Marcie's floors and walls. They also wrapped loose items in quilted moving blankets while the driver prepared a detailed inventory.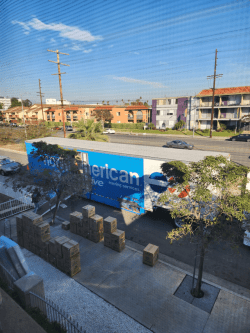 Marcie tidied up and packed last-minute items while they worked. She made sure they padded her Easter Island statue replica adequately before it was loaded onto the truck.
Loading took about seven hours. Marcie was impressed with the crew's thoroughness, care, and professionalism.
Marcie gave the movers a cash tip, but she didn't have to pay North American until her things arrived in Colorado.
While her things were in transit, she received an email confirming delivery and letting her know what her total move charges were.
Delivery was quick and efficient
Marcie's household goods arrived in Colorado on time 12 days after they were loaded in California.
Again, the driver and crew protected her floors, doorways, and walls with moving blankets, fabric mats, and flattened cardboard boxes. Then they began bringing everything inside while Marcie checked each item off the inventory. Unloading went as expected and took slightly less time than loading.
Marcie's final move cost was $11,503 and change. This was $64 higher than the price she'd been quoted, but she might have been inadvertently charged for mattress cartons that never got used. In her post-move survey, Marcie mentioned that she'd eventually get around to calling Rob and Messer to see if the charges were accurate.
89% of users select this mover
In addition, Marcie's household goods weighed about 500 pounds more than estimated. She wasn't charged for the additional weight because she had a guaranteed not-to-exceed estimate.
While unpacking, Marcie only found one box with damaged contents. She wasn't happy to find broken vases, but she blames herself because she didn't use enough packing paper for cushioning.
Marcie's advice for anyone planning a move like hers
For anyone considering a move like hers, Marcie suggests starting the estimate process at least two months out for the following reasons:
It can take weeks to research companies by checking online reviews and verifying that they have valid USDOT numbers
Getting online quotes and scheduling in-home or virtual surveys can take longer than expected
You'll need to spend lots of time reviewing quotes and asking about insurance options, cancelation policies, payment methods, and the claims process
Many moving companies reach maximum capacity more than a month in advance during the peak summer season
Marcie also suggests asking for guaranteed not-to-exceed estimates, just saying "no" to big deposits, and having a backup plan in case your mover can't come up with a truck when you need one.
Final thoughts
Marcie's move with North American was a success by nearly every measure.
That said, she'd make the following changes if she could do it all over again:
She'd clean her refrigerator more thoroughly (even spotless fridges can start to stink after being closed up in a moving van)
She'd start packing sooner (she still had more boxes to pack when the movers showed up)
She wishes she had known exactly how much to tip the movers (we're sure her tip was more than adequate)
The verdict – did North American make the cut?
89% of users select this mover
Here's how Marcie rated North American on a scale of 1 to 5:
Communication – 4
Timeliness of your move – 4
Quote accuracy – 5
Overall experience – 5
Marcie gave North American a solid 4 for communication despite the aforementioned issues. However, we're surprised that she gave them a 4 for timeliness because delivery was made within the agreed-upon window.
12 days is a reasonable delivery window on a 1,100-mile move, but we all want our stuff as soon as possible when we move, so we definitely see Marcie's point.
So would Marcie use North American and recommend them to her friends, family members, and coworkers?
Yes, and yes.
Before signing off, check out these helpful posts:
Not what you were looking for?
Check out other categories that can help you find the information you need!
See All
Hide All