Mayflower Transit Company Review
Overall Opinion: Mayflower Transit uses the van lines business model that involves local independent moving-company agents in a co-op with corporate (national) operations, marketing, and customer service support. The majority of customer feedback is based on the service provided by local Mayflower agents, rather than the company itself.
Compare Mayflower Moving Company to the moving companies on our list of best interstate moving companies.
Jump to the Mayflower Transit Moving review section that you're looking for:
Mayflower: Moving Services Available:
The organization was founded in 1927 in Indianapolis as Mayflower Transit. In 1995, they joined UniGroup Inc, and now together with United Van Lines has formed one of the largest companies in the U.S. moving and storage industry.
Long-Distance Moving: They handle interstate moves nationwide. The full-service moving package includes a designated move coordinator, bed frame assembly, and basic placement of furniture.
Small Moves: Mayflower offers a Snapmoves program for those moving from one or two-bedroom apartments or small homes. Add-on services such as packing, unpacking, and car transports are extra. The Snapmoves option offers a quick and easy quote process.
Local Moves: All intrastate moves are classified as local and Mayflower acts as a broker to connect you with a local moving agency. Customers are encouraged to use Handled.com for the quote process. Handled.com operates in more than 60 metro areas across approximately 27 U.S. states.
International Moving: Residential and corporate customers can use Mayflower for international moving projects. The organization is experienced in customs clearance and shipments can be tracked online throughout the transport process.
Corporate Moves: Companies that are moving or relocating can customize the process to include full or partial packing, crating of large items, or trash and debris removal. Storage-In-Transport (SIT) services involve loading a trailer or storage unit and holding it for delivery later, which is ideal for companies who are awaiting furniture or carpet installation at the destination. Large, national companies may establish a transportation agreement with a single representative that handles the business account.
Auto Transportation: Vehicle transportation is available door-to-door, terminal-to-terminal, and dock-to-dock. The most economical option involves transporting the vehicle in an open trailer. Those with a high-end or collectible car may choose to upgrade to transport using a fully-enclosed trailer for maximum protection. Depending on the distance, this process may take 8 to 10 business days.
Military Moves: Mayflower has assisted military members with both temporary and Permanent Change of Station (PCS) moving projects for decades. They have obtained approval from the U.S. General Services Administration (GSA).
Packing & Unpacking: Customers may choose partial or full packing and unpacking services. Custom crating services are available for large fragile items that create a damage-proof enclosure. They are also now promoting an electronics service that includes the disconnection of the system, safe transport, and installation at your new home.
Storage Services: Residential customers may consider short or long-term storage options. Commercial customers can store equipment, office furniture, and other items during renovation projects and have delivery when completed.
Home Cleaning Services: The company offers a service that cleans the home after the belongings have been moved.
Trans Advantage Program: The Trans Advantage division of the organization sells and finances trucks, tractors, and trailers. They have also formed a buying group that provides the industry with uniforms, equipment rental, roadside emergency service, and more.
Full-Service Moving Packages
| | | |
| --- | --- | --- |
| $5,000 in Additional Protection | $25,000 in Additional Protection | $25,000 in Additional Protection |
| Claim Assistance | Claim Assistance | Claim Assistance |
| Identity Theft Protection | Identity Theft Protection | Identity Theft Protection |
| | | Additional Delay Payment Coverage |
| | Add One of the Following: | Add Two of the Following: |
| | Debris Pickup | Debris Pickup |
| | Computer & Network Disassembly | Computer & Network Disassembly |
| | Computer & Network Setup | Computer & Network Setup |
| | Home Theater Disassembly | Home Theater Disassembly |
| | Home Theater Wall Mount Disassembly | Home Theater Wall Mount Disassembly |
| | Home Theater Wall Mount Install | Home Theater Wall Mount Install |
| | | Move-Out Cleaning Service |
Mayflower: Pros and Cons Summary:
The Good: Nationwide Coverage and Customized Full-Service Options
Mayflower acts as an "umbrella" company that is generally the initial point of contact through its website. They have local agents in most U.S. states and offer an impressive variety of optional services. These options include international moving service, corporate relocations, short and long-term storage, and much more.
The Bad: Local Contracted Agent Companies Provide Inconsistent Quality Service
Mayflower had evolved into a national brand that handles only the marketing, customer service, and logistical support. The actual moves are the responsibility of contracted agents that are close to the origin and destination locations. Customer feedback has shown that trailers are sometimes loaded in a careless manner that results in damaged belongings.
---
Pros:
Have implemented some changes in response to the COVID-19 pandemic. These include the Virtual Survey process for safely obtaining quotes and compliance with all guidelines from the Centers for Disease Control and Prevention (CDC) and World Health Organization (WHO)
Customers can track shipments in real-time by simply entering their order number and last name through the website tool
They are offering commercial customers specialized transportation service of the booths, equipment, and supplies used in tradeshows and exhibitions
They have a host of useful checklists and tools available for reference, which includes a video library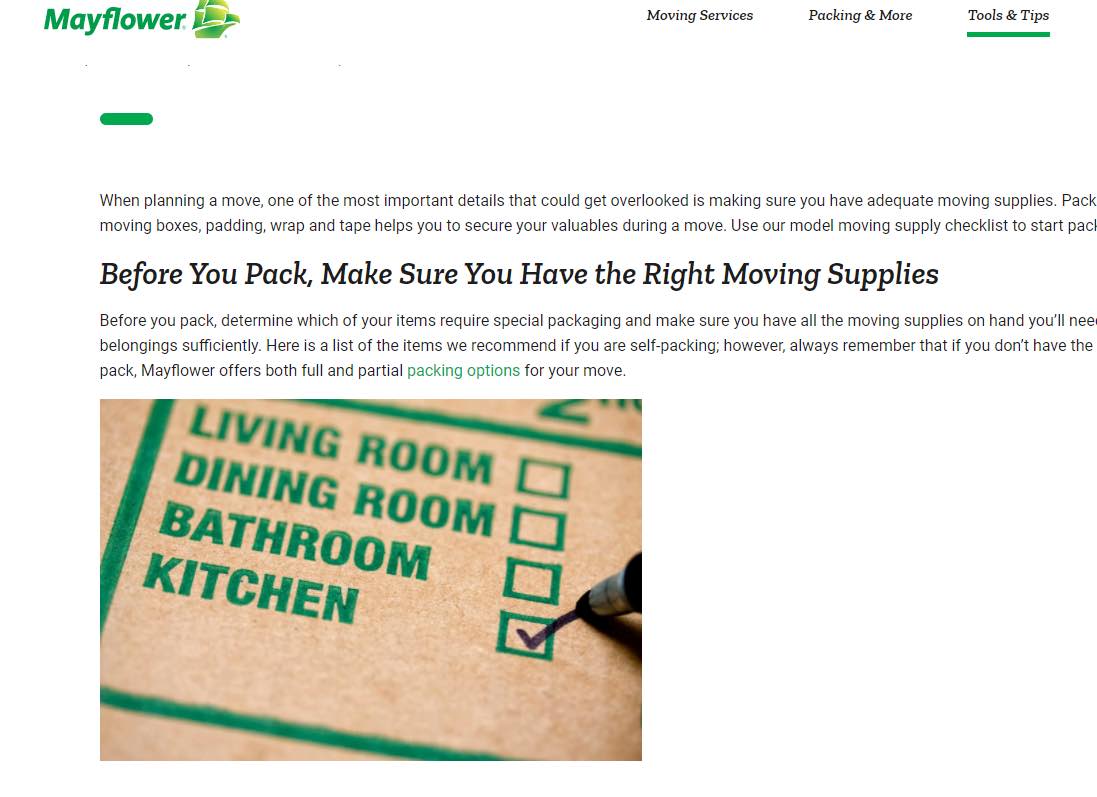 Cons:
Despite offering a tremendous amount of information regarding moving supplies and proper packaging, they do not sell moving or packaging supplies directly
Far too many customers have complaints regarding damaged items
Even "ballpark" estimates typically require speaking with a representative and can't be calculated automatically on their website
Customers should recognize the difference between "instant ballpark" quotes and formal estimates. Instant ballpark quotes are rough estimations based on some basic information the customer provides. A detailed moving quote or estimate may be provided on-site or by a virtual walk-through conducted by a Mayflower (agency) representative.
Full Value Protection vs Moving Insurance:
The Full Value Protection Option is included on all estimates. It compensates the customer at a rate of $6.00 per pound based on the item's weight. Those who choose this option must complete a High-Value Inventory Form that contains a list of all items that exceed $100 in value.
Moving insurance is an available option that increases the recoverable compensation provided by the Full Value Protection Option. The price is based on the level of coverage selected.
Those who decline the Full Value Protection program are only able to receive compensation equal to .60 (cents) per pound based on the item's weight. This is the minimum coverage that is required of all transportation companies in this industry.
Customer Reviews & Feedback
On Google, Mayflower Movers of St. Louis had the most feedback, with a rating of 4.3 of 5 based on more than 140 reviews. The majority of negative reviews involved items being damaged during the moving process. A company representative does respond to each complaint individually to encourage contact with the customer service department.
The main Yelp page for the headquarters in Fenton, Missouri has a very mediocre rating of 2.5 of 5. Many of the dissatisfied customers had items that did not arrive at the destination. In many cases, the items were located and then shipped to the customer. This problem suggests that shipments of different customers are being either transported or stored together and becoming intermingled.
The Better Business Bureau (BBB) rating is an A+ for Mayflower Transit (UniGroup). UniGroup customer feedback for both United Van Lines and Mayflower are together in the BBB listing. Most of the customer reviews were negative, citing problems with damaged belongings and miscommunications on long-distance moving projects.
Should You Consider Mayflower for a Move?
Customers of Mayflower may be attracted to their "household name" recognition and excellent website resources. The reality is that the outcome of each move depends on the performance of an independent local agency mover that is often mediocre.
See our list of the top moving companies in the nation.