United Van Lines Moving Review: Moving Costs, Service Options, and More
Overall Opinion
United Van Lines is a national moving company and broker with locations across the country
They have over 100 years of experience in the moving industry and offer an extensive list of services
The company has taken an extra step to help customers understand the moving process.
The moving carrier has issues meeting delivery times due to worker shortages in the moving industry.
Best for: customers moving from state to state with multi-room houses
Not recommended for: customers looking for a last-minute move or those needing their belongings immediately.
For more top movers, check out our list of the best interstate moving companies. 
How does United Van Lines compare to other professional movers?
Jump to the United Van Lines review section that you're looking for:
About United Van Lines
United Van Lines (U.S. DOT# 077949) is a national moving company with their headquarters in Fenton, Missouri. Established in 1917 according to their Better Business Bureau (BBB) file, this company has a storied history in the industry. UniGroup is the parent company of United Van Lines, and controls other well-established moving companies such as Mayflower and Alliegent Move Management.
United Van Lines primarily works as a shipping carrier for long distance moves. The company also works with local carriers as a broker for smaller or local moves. They have a substantial operation, with over 4,000 trucks and tractors logging 111 million miles in 2019.
The shipping carrier is capable of several services in addition to long-distance and local moves. United Van Lines ships cross-country, including Hawaii and Alaska, and can even ship internationally. Additionally, the company has the capability to handle corporate, government, and military moves.
Working with the government requires approval from the General Service Administration (GSA). United Van Lines has approval from the GSA to work with the government and military.
Offer long-distance and international moves.
Has the proper allowance to work with the government and military.
Holds an accreditation with the BBB and maintains an A+ rating.
Over 100 years of experience in the moving industry.
Might broker your residential move to a local shipping carrier.
Issues with meeting delivery deadlines due to worker shortage.
United Van Lines offers a wide range of services
With over 4,000 trucks and trailers, United Van Lines has the capability to offer a long list of services to its customers. Here's what the company can provide:
Local Moves: United Van Lines works with trusted local carriers to schedule residential moves within the same city or within 50 miles.
Long Distance Moves: The shipping carrier has a long history of transporting customers across the country. They can walk customers through federally required paperwork and documentation, ensuring a seamless move through an otherwise complicated process.
International Moves: Customers will work with United Van Lines' international moving specialists to create a custom plan when moving out of the United States. With experience transporting goods to over 150 countries, the company knows how to personalize every move, and offers global property protection.
Corporate Moves: The shipping carrier offers a full-service corporate package, handling everything from packing and storage to realtor acquisition.
Government and Military Moves: United Van Lines is a GSA-approved company trusted to transport goods for the government or military. This includes moving military families for temporary duty or a Permanent Change of Station.
Packing and Unpacking: The company offers full service and customized packing. They can pack and unpack, sell packing material, and even offer packing tutorial videos on their Youtube.
Long and Short-Term Storage: United Van Lines offers a variety of storage solutions for every customer. For residential and long-distance moves, the shipping carrier has the capability to store goods short-term. For those moving out of the country, United can store items for a longer period of time.
Auto Transportation: The carrier has the ability to transport customers' vehicles along with their household goods door-to-door. In case their trailer in incapable of meeting customers at their house, the company will work to establish a dropoff point in the local area.
United Van Lines offers full-value protection, which comes included in every quote. The protection covers customers on the estimated weight of their items at $6 per pound. They also cover high-value items separately for items such as artwork or jewelry that may be lost or damaged during the move process.
How much does United Van Lines charge?
Open Road has stated that their large database of moving companies recommends "valuable discounts" when using their services. As such, their moves tend to be 34% lower than the industry average.
While the company does not offer a free online quote, customers can call a customer representative to receive a basic estimate. Open Road calculates their pricing based off:
Location size you are moving,
Moving company availability, and
Distance
For interstate moves, the company breaks down their payments into three installments. Customers will pay the first installment as a deposit, the second at the pickup location, and the third at the delivery location.
To get a quote on your move and to find out about the best movers in your area, check out our moving cost calculator.
How is United Van Lines customer service?
Customers can contact Open Road Monday through Friday 9 a.m. to 5 p.m. and Saturday 10 a.m. to 2 p.m. The company is closed on Sundays. You can reach them using their website's contact information, including phone and email.
The company also offers a pricing guarantee. When comparing prices among other reputable brokers and with a similar volume quote, Open Road Moving and Storage will match prices. They have tried to offer the best service in their area, and their relationship with their customers testifies to that.
Booking an appointment can be done quickly by calling the phone number listed on their website. Their hotline is clean and easy to understand, and reaching a customer representative is stress-free. You can reach out to them before, during, or after a call, keeping communication about your move open and up-to-date.
Is United Van Lines licensed?
The moving industry uses a collection of databases to collect information about the various moving companies. When assessing a moving company, we check five databases to see what information is registered and whether the company has claimed its profile.
| | |
| --- | --- |
| DATABASE | Are they listed? |
| AI FMCSA | Yes |
| SAFER FMCSA | Yes |
| Licensing Insurance FMCSA | Yes |
| Better Business Bureau (BBB) | Listed but not accredited |
The services and information claimed by Open Road Moving and Services on their website are accurate compared to the information provided through these databases. They directly state that they are a moving broker and not a carrier and inform customers of the exact service they provide.
How is United Van Line's online reputation?
Open Road Moving and Storage have earned its quality reputation. When searching the company on Google, they hold a business review of 3.7 with over 200 reviews. The company is proud of its quality assurance and has even posted a link on their website to My Moving Reviews, showing a similar rating.
Many customers have stated having a pleasant and stress-free experience when working with customer service representatives. While some moves do not go perfectly, the company makes a concerted effort to reach out to customers regarding their issues. Many problems are resolved, and Open Road tends to receive few complaints.
While Open Road Moving and Services is not accredited with the BBB, they maintain an overall rating of A+ for their relationships with their customers.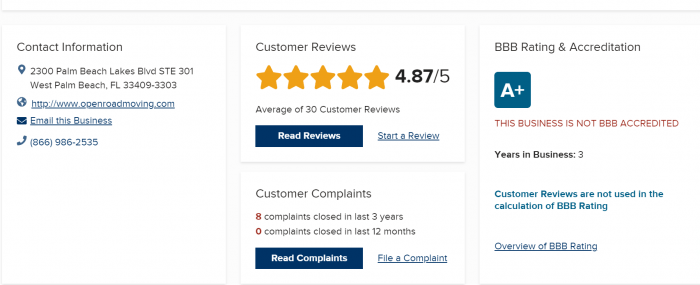 The company is not BBB accredited but has closed only eight complaints in the last three years. Here is a breakdown of the categories of the complaints.
| | |
| --- | --- |
| BBB Complaint Types | Number |
| Sales or Advertising | 2 |
| Collections or Billing | 0 |
| Deliver-Related Concerns | 2 |
| Warranty or Guarantee | 0 |
| Product or Service Problems | 4 |
While boasting good reviews on Google and BBB, the company has a 1.5-star rating on Yelp. Many customers on the platform explain the difficulty with inaccurate estimates and late arrival times. In addition, some customers share frustrations reaching the broker once the move is in process. However, it claims the owners reach out to poor customer experiences with compensation as a sign of goodwill.
The company does not have a social media presence, although they seem to have been setting up a Facebook and Youtube account in the past. Their website is concise and easy to navigate, although it lacks detailed information on their services.
The information on the company's website is brief, and they could provide more quality to their customers by introducing the owners and their experiences in the moving industry. Elaborating on the broker's role in the moving process would go a long way in relieving the miscommunication they have with some of their customers.
Should you choose United Van Lines?
Open Road Moving and Storage is a cut-and-dry moving broker that will help customers schedule a value move on a tight budget. Despite negative reviews on Yelp, it seems the company has worked toward clearly stating what they do while bridging relationships with their customers.
The company has many years of experience moving goods cross-country, and the exhaustive list of services provided testifies to their capability. While doing your research is beneficial in choosing the right moving service for your needs, Open Road tends to have the knowledge backed up by good testimonies to get the job done.
For more help choosing the right moving company and to get a free moving quote, check our picks of the top-rated interstate moving companies.
Not what you were looking for?
Check out other categories that can help you find the information you need!
See All
Hide All