Moving Experience: Amy's Move with United Van Lines
In late September of 2022, Amy moved from Rochester, New York to Mineral Wells, Texas.
Amy had a number of concerns about the moving process because she'd never coordinated a long-distance relocation, and the posts she read about shady movers and moving scams didn't help.
She spent nearly two weeks budgeting (our moving cost calculator helped) and researching full-service movers, but ultimately chose to work with United Van Lines and local agent Corrigan Moving Systems.
As the country's largest corporate and residential mover, United is one of the most well-respected names in the industry. United's quote wasn't the lowest, but Amy felt comfortable working with such a reputable company and appreciated her representative's professionalism and attention to detail.
To promote transparency and help anyone planning a move like hers, Amy participated in our Better Moves Project by sharing her experiences with United and Corrigan.
In this post, we'll look at what went well on Amy's move (nearly everything did), where improvements could have been made, and what she'd do differently if she could do it all over again.
Takeaways for anyone considering United Van Lines
Communication: Corrigan communicated proactively throughout Amy's move
Pricing accuracy and transparency: Amy's quote was accurate down to the last penny
Timeliness: Corrigan delivered Amy's household goods earlier than expected
Professionalism: Amy gave United and Corrigan top marks for professionalism across the board
Loss and damage: Nothing got lost on Amy's move, but a few items were damaged (Corrigan handled the claim quickly and professionally)
Would Amy use United and Corrigan again? Yes, Amy's move was a success by nearly every measure
Amy needed help moving from New York to Texas
Amy was determined to keep costs in check on her work-related move, but she wasn't willing to skimp on quality.
Long-distance moves during the peak summer season are never cheap, but Amy's move was relatively small considering the size of her home in Rochester.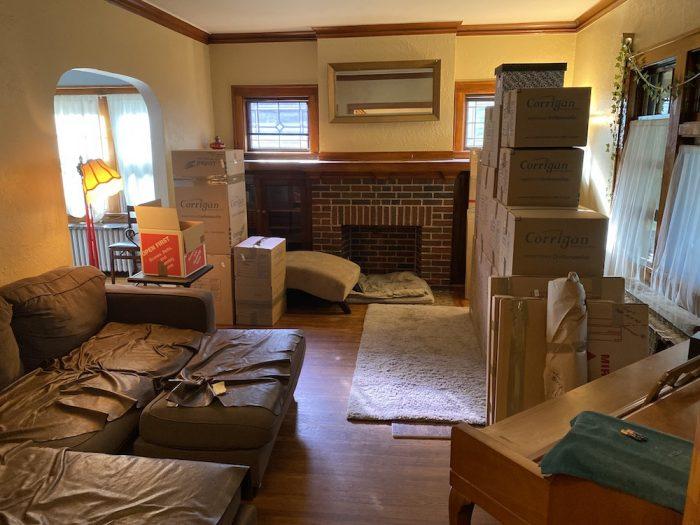 Her shipment consisted of about 60 boxes and standard household furniture that weighed approximately 5,100 pounds. She was also moving a vintage arcade game that needed special attention and a vehicle that she ended up shipping with another company.
Because Amy wanted a full-service experience, she ruled out doing a hybrid move with moving containers or a rental truck. Dollars and cents aside, Amy's biggest priorities were working with an experienced company that communicated effectively and could pick up and deliver her items on time without loss or damage.
Amy's move details
| | |
| --- | --- |
| Move Date | September 20, 2022 |
| Moved from | Rochester, New York |
| Moved to | Mineral Wells, Texas |
| Distance | 1,500 miles |
| Move size | 3-bedroom home, 2,000 square feet |
| Moving company | United Van Lines (Corrigan Moving Systems) |
| Moving quote | $8,425.74 |
| Actual cost | $8,425.74 |
Amy got multiple quotes before choosing United Van Lines
Amy knew about her move three months in advance, but it only took her two weeks to vet prospective movers. She found moveBuddha while researching companies on consumereports.org, after which she got a few quotes online and scheduled a number of in-home surveys.
Since Corrigan Moving Systems has an office in Rochester, they sent a representative to physically survey Amy's home. After the walk-through, the representative answered Amy's questions, provided a quote, and left a folder containing helpful information regarding:
How to inspect and prepare outdoor items to prevent the spread of gypsy moths
Amy only got quotes from full-service movers, and all were based on weights that ranged from 4,100 to 5,100 pounds.
Here's how they compared:
| | | |
| --- | --- | --- |
| Company | Estimate amount | Move Size |
| Mayzlin Relocation | $4,500 | 4100-4800 lbs |
| National Van Lines | $4,600 | 4100-4800 lbs |
| Allied Van Lines | $4,600 | 4100-4800 lbs |
| Colonial Van Lines | $5,200 | 4100-4800 lbs |
| American Van Lines | $7,500 | 4100-4800 lbs |
| United Van Lines | $8,425 | 4100-4800 lbs |
| JK Moving Services | $9,500 | 4100-4800 lbs |
United's quote included the following:
Packing and unpacking
Loading and unloading labor
Transportation between New York and Texas
All applicable fees and a fuel surcharge
Full-value replacement coverage (Amy opted to pay extra for this instead of going with the free .60 cents per pound per item coverage)
Amy chose United Van Lines for reputation and peace of mind
Amy initially decided to use another company that came through with a lower quote (she didn't say which one), but she changed her mind after they called her nearly a dozen times to pressure her into signing a moving contract. It's worth noting that this type of behavior is a huge red flag. As far as we're concerned, Amy did the right thing by selecting another service provider.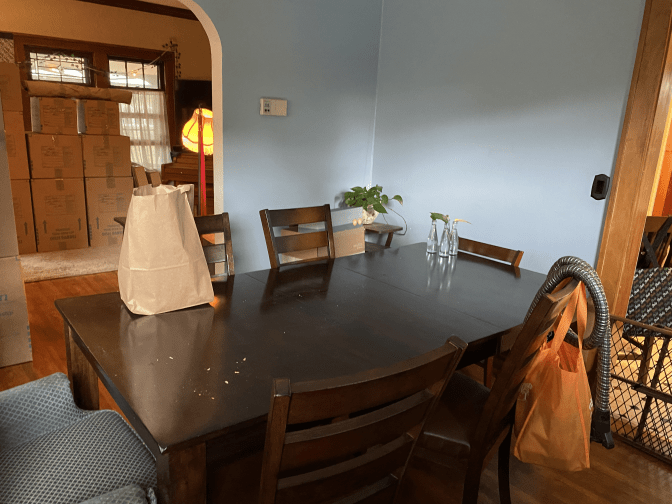 After considering her options, Amy booked her move with United Van Lines (her second choice) because she liked the company's solid reputation and got a good vibe from Corrigan's representatives. Corrigan confirmed Amy's move details multiple times before her move date, and she prepared by downsizing, decluttering, and getting organized.
Moving day couldn't have gone more smoothly
Amy's Corrigan driver arrived at 8:30 AM on moving day, and his two helpers showed up 30 minutes later. After a brief meet-and-greet, they got to work inventorying, padding, and loading everything onto the truck.
Amy particularly liked that:
The crewmembers were professional and regularly assured her that everything was going according to plan
Her full-size arcade came was carefully wrapped and packed in a custom box
She got two calls from Corrigan to verify that she was satisfied with the crew's performance
While the crew worked, Amy answered their questions, tidied up, and packed last-minute personal items. Loading took about seven hours, and in hindsight, Amy wouldn't change a thing about her moving day experience. While her household goods were in transit, Corrigan stayed in contact via email let her know where the truck was and when she could expect delivery.
United (Corrigan) delivered Amy's household goods quickly and safely
Corrigan's driver called Amy the day before delivery to tell her that he'd be there the following morning between 8:00 and 9:00.

This was a pleasant surprise because it was early in the delivery window and just nine days after her items had been picked up in Rochester. Nine days may seem like a long time, but it's a quick turnaround time on a 1,500-mile move at the tail end of the peak summer moving season. 
The driver and crew arrived on time, took a quick look around to see where everything went, and got down to business. Again, Amy was pleased with how careful, professional, and respectful they were of her, her home, and her possessions.
Amy checked them off on the inventory as the crew brought items inside. Thankfully, everything was accounted for. A few items did have minor damage, but Amy took photos and submitted them with the claim form she filled out online. The following day she received an email informing her that a check had been issued and that she should receive it within ten days.
Amy's experience with moveBuddha
Amy had already begun researching and vetting full-service movers when she found moveBuddha and learned about our Better Moves Project. Jumping from website to website was tedious and time-consuming, but moveBuddha allowed her to do nearly everything in one convenient location.
During the screening process, she checked out some of the companies on our Best Long-Distance Movers list and used our moving cost calculator to prepare a preliminary budget.
Amy also thinks that if she hadn't found alternatives on moveBuddha, she may have gone with the company that gave her the high-pressure sales pitch, and there's no telling how that would have turned out.
How Amy rated her move with United/Corrigan
Amy gave United and Corrigan five out of five stars for communication, timeliness, pricing accuracy, and overall experience. Other than minor damage (which the company handled quickly and professionally), things couldn't have gone any better.
Amy particularly liked that Corrigan had different representatives for each step of the moving process and that she could contact the driver directly by phone. Amy would definitely use United and Corrigan again, and she's already recommended them to acquaintances planning moves like hers.
What Amy learned along the way
Amy wishes she'd shipped her car with United instead of with another company. United has a fleet of dedicated car haulers, but in some cases, vehicles can be shipped on moving vans with household goods. Either way, it would have been easier to communicate with one company instead of two.
And lastly, she probably should have packed another box of personal items to hold her over while her household goods were in transit.
Besides that, she's thrilled with how her move turned out, and we're delighted that she had such a positive experience with United Van Lines and Corrigan Moving Systems.
Before signing off, check out these helpful posts:
Not what you were looking for?
Check out other categories that can help you find the information you need!