Bold Moving and Storage Company Review
Overall Opinion
Bold Moving and Storage (BMS) is a regional mover located in Richmond, Virginia
The company services residential and commercial customers along the East Coast
BMS offers various full-service moving solutions, including packing, storage, and cleaning
Customers generally appreciate the carrier's communication, attention to detail, and overall value
The company is accredited by the Better Business Bureau and maintains an A+ rating
Best for: anyone moving on the East Coast
Not recommended for: those located in other parts of the country
For more long-distance moving options, check out our list of the top interstate moving companies
How does Bold Moving and Storage compare to other professional movers?
Jump to the Bold Moving and Storage review section that you're looking for:
About Bold Moving and Storage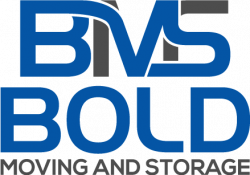 Bold Moving and Storage (U.S. DOT# 3139358) is a regional carrier headquartered in Richmond, Virginia. The carrier handles and transports household goods along the East Coast and is widely regarded as one of the most reputable moving companies in the region. The company's service area includes Virginia, Maryland, and Washington DC.
The company's four co-founders bring years of experience to Bold Moving and Storage. In the past four years, the company has built a solid reputation and expanded its fleet to include 15 vehicles that collectively logged 1.3 million miles in 2021.
The carrier can handle both local and long-distance shipments. They work with residential and commercial customers providing a full array of moving services for household goods, specialty items, and vehicles.
Bold Moving and Storage focuses exclusively on East Coast clients. The company stays regional to provide fast and accurate deliveries. This results in a high degree of customer service and quality.
Fast, accurate deliveries
Warehouses up and down the east coast
Virtual estimates
BBB accreditation with an A+ rating
Only service east coast moves
Not a good option for small moves
Bold Moving and Storage offers a broad range of services
Bold Moving and Storage uses its extensive East Coast moving experience to provide its customers with a full list of services.
Local moves: Bold Moving and Storage works with customers to provide local and regional moving services in Virginia, Maryland, and Washington DC. This includes handling and transportation and all additional services
Long-distance moves: The carrier helps residential and commercial customers move anywhere in the country, excluding Hawaii and Alaska
Corporate relocation: BMS has experience moving companies and their employees. In addition to packing, handling, and transporting household goods and office contents, the company focuses on minimizing downtime during relocations
Packing and unpacking: The carrier offers complete and customized packing services. They provide all the packing materials necessary to safely transport kitchen supplies, wardrobes, and unique and fragile items
Short and long-term storage: The company has storage facilities up and down the East Coast. Regardless of how long storage is needed, BMS can store items in standard or climate-controlled units
Cleaning services: Bold Moving and Storage takes its services to the next level by offering specialized cleaning services. The carrier has the proper equipment to clean homes and apartments to leave them spotless for the owner or tenant
Auto transport: In addition to moving personal or corporate belongings, BMS can ship vehicles right to their customer's front doors. When this isn't possible, they'll find a suitable drop-off location nearby
Bold Moving and Storage is modernizing its services, offering virtual estimates for customers that are conscious of social distancing. Contact a customer service representative to set up your free estimate.
How much does Bold Moving and Storage charge?
Since "ballpark" pricing can be inaccurate, those interested in working with Bold Moving and Storage should contact the company directly to request a more in-depth estimate.
To get a free web quote, customers can enter the following information into a simple form on the website:
Pick-up and drop-off locations
Move type and estimated size
Telephone number and email address
Customers can also inquire about free quotes using the phone number listed on the website. As an added benefit, Bold Moving and Storage allows its customers to schedule virtual estimates.
Bold Moving and Storage provides most customers with binding estimates that lock in charges as long as items haven't been added and the move scope hasn't changed.
Factors that affect move cost include:
Date and seasonality
Distance
Size of home or apartment
Weight of belongings
Moving add-ons like custom crating and appliance services
Packing and unpacking
Storage
Moving valuation
Bold Moving and Storage makes it easy for customers to pay for their deposit and the rest of their move. The carrier accepts nearly every form of payment, including cash, cashier's checks, money orders, and all major credit cards.
To get a quote on your move and find out about the best movers in your area, check out our moving cost calculator.
How is Bold Moving and Storage's customer service?
Despite the company's youth, Bold Moving and Storage works hard to provide top-notch customer service. The company is open all week long, with hours from 8:00 a.m. to 9:00 p.m. Monday through Friday and 9:00 a.m. to 8:00 p.m. Saturday and Sunday.
Customers can request a free quote or book an appointment using the phone number provided on the company's website. Customer service representatives guide customers throughout the moving process from scheduling to delivery.
Bold Moving and Storage offers a pricing guarantee. The carrier is confident in its services and will match the price of its competitors. Let this company show you why it's one of the highest-rated moving companies on the East Coast.
Bold Moving and Storage also provides its customers with an on-time delivery guarantee. For an extra fee, customers can have their shipments prioritized and delivered on a specific date, regardless of the distance. Nonetheless, the shipping carrier uses its focused, regional experience to deliver your possessions on time.
Customers seem to recognize the shipping carrier's dedication to quality customer service. Many people mention clear communication and professional handling. Those that used the virtual estimate option are particularly impressed.
Does Bold Moving and Storage have a good online reputation?
The shipping carrier maintains a good reputation with its customers. When searched for on Google Business, Bold Moving and Storage holds a four out or 5-start rating with 65 reviews. Customers feel they received quality service for the price, and the company makes an effort to appreciate every review.
The carrier also performs well on government and official databases. Bold Moving and Storage holds accreditation with the Better Business Bureau and maintains an A+ rating.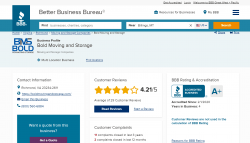 The company holds a 4.21 out of 5-star rating on the BBB with 29 reviews. Customers are impressed with the quality of the movers handling their belongings and believe they received a fair price for the service. Bold Moving and Storage responds to every review.
The carrier received 11 complaints in the last three years, two of them in the previous 12 months. This is relatively low for companies in the moving industry, a testament to the quality of work provided.
Below is a breakdown of Bold Moving and Storage's complaints in the last three years.
| | |
| --- | --- |
| BBB Complaint Types | Number |
| Sales or Advertising | 0 |
| Collections or Billing | 1 |
| Deliver-Related Concerns | 4 |
| Warranty or Guarantee | 0 |
| Product or Service Problems | 6 |
BMS continues to perform well on public review sites. Bold Moving and Storage maintains a 4.8 out of 5-star rating on My Moving Reviews with 48 reviews. Customers appreciate the fair price and professional moving crew.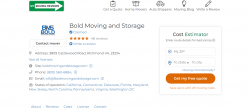 Bold Moving and Storage's website is simple but covers the basics. Customers can learn a brief history of the company on the front page. It is also clear how to request a free quote or find a list of services.
Currently, the company isn't active on social media.
Is Bold Moving and Storage licensed and insured?
The moving industry uses databases to collect information about moving companies. When assessing a moving business, we check four databases to see what information is registered and whether the company has claimed its profile.
These databases are compared alongside company websites, social media pages, and review sites (such as Yelp) to determine the moving business's credibility and transparency.
| | |
| --- | --- |
| Database | Listed (Y/N) |
| AI FMCSA? | Yes |
| SAFER FMCSA? | Yes |
| Licensing Insurance FMCSA? | Yes |
| Better Business Bureau (BBB) | Listed and accredited |
The services and information stated on Bold Moving and Storage's website are consistent with the information on these government databases. The carrier is fully licensed and registered, and its 15 fleet vehicles traveled approximately 1.3 million miles in 2021.
For more information on moving company regulations and why we look at these databases, check out our post on how moving companies are regulated.
Should you consider Bold Moving and Storage for a move?
Bold Moving and Storage is a regional carrier located in Virginia. They serve customers on the East Coast by providing local and long-distance shipping options. They use their exclusive regional experience to provide quick and detailed moving services.
The carrier provides a free quote on their website. The company even offers virtual estimates for the convenience and safety of its customers. They use binding estimates to ensure their quotes don't change from the original price.
The company takes customer service seriously. Offices are open every day to make it easy for customers to contact them. Customers appreciate their efforts, praising the company for its constant communication and attention to detail.
Overall, we highly recommend Bold Moving and Storage for East Coast moves. Those in this region will have to work hard to find a company that provides better moving services.
For more help choosing the right moving company and getting free moving quotes, check out our picks for the top-rated interstate moving companies.
Not what you were looking for?
Check out other categories that can help you find the information you need!
See All
Hide All