Moving Experience: Daniel's Move with Bold Moving and Storage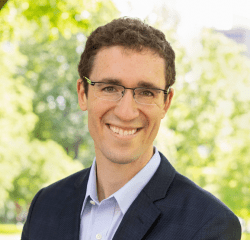 In early 2022, Daniel got an exciting new job offer in Cambridge, Massachusetts, almost 450 miles away from Washington, D.C., where he and his wife lived.
Thankfully, the new job didn't start until the summer, so he had plenty of time to research long-distance movers and consider other options like moving containers. After getting multiple estimates, Daniel hired Richmond, Virginia-based Bold Moving and Storage (BMS).
Daniel liked that BMS specialized in interstate moves up and down the East Coast and had an A+ rating with the Better Business Bureau. With a competitive quote and confidence-inspiring customer service, BMS seemed like a perfect match. That said, state-to-state moves during the peak summer season can be tricky, and Daniel needed temporary storage until he found a suitable home in Cambridge.
To take advantage of a $500 relocation stipend and help anyone planning a move like his, Daniel participated in our Better Moves Project by sharing his experiences with BMS. Spoiler alert: Daniel's move was a resounding success.
Move day takeaways for anyone considering Bold Moving and Storage
89% of users select this mover
Communication: Daniel wouldn't change a thing about how BMS communicated throughout his move
Pricing accuracy and transparency: Daniel paid about $450 less than the original quote
Timeliness: BMS delivered Daniel's household goods on the day he requested (this is almost unheard of on interstate moves during the summer)
Professionalism: Daniel's drivers, movers, and customer service representatives were friendly, helpful, and professional
Loss and damage: Nothing got lost or damaged on Daniel's move
Would Daniel use Bold Moving and Storage again? Absolutely. He gave them five out of five stars for overall value.
Daniel needed help with a regional move in the summer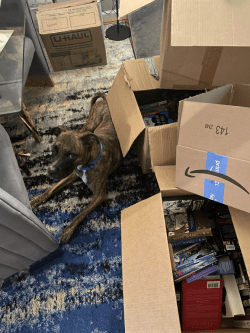 Daniel, his wife, and their dog weren't interested in driving a rental truck from Washington to Cambridge or loading and unloading furniture and boxes. They could have saved a few bucks by hiring labor, booking a moving container, and putting together a hybrid move, but they focused on finding an affordable full-service moving company instead.
They weren't moving any specialty items like pianos or hot tubs, but they had a few family heirlooms and glass table tops that needed special attention. Their priorities included having everything moved safely and efficiently while avoiding service issues, delays, and unexpected price increases.
Daniel's move in a nutshell
| | |
| --- | --- |
| Move date | July 29, 2022 |
| Moved from | Washington, D.C. |
| Moved to | Cambridge, Massachusetts |
| Distance | 440 miles |
| Move size | 2-bedroom, 2-bathroom townhome (about 1,300 square feet) |
| Moving company | Bold Moving and Storage |
| Moving quote | $5,670 |
| Actual cost | About $5,200 |
Daniel got multiple quotes before selecting BMS
Daniel began the vetting process by searching Google and Yelp, asking friends, family members, and coworkers for referrals, and using our moving cost calculator to prepare a preliminary budget. Once he had a list of candidates, he researched each by checking their Better Business Bureau reviews and verifying that they had valid USDOT numbers.
In the end, Daniel got almost ten quotes from several well-known national van lines and a few companies from our Best Interstate Movers list.
BMS's quote wasn't the lowest, but Daniel was impressed with the following:
That his estimate included one month of free storage
How easy communication was via phone, text, and email
That the company was fully licensed and insured and had lots of positive reviews
That they specialized in interstate moves along the eastern seaboard
That they used their own trucks instead of subcontracting moves to agents or outside carriers (Daniel and his wife wanted to know who they'd be dealing with throughout their move)
Daniel didn't purchase moving insurance through BMS or a third-party insurer because his household goods were covered by his renter's policy.
How Daniel and his wife prepared for their move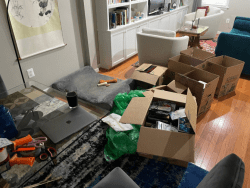 After booking his move and paying a deposit, BMS sent Daniel helpful information regarding what to expect on move day, how to pack boxes properly, and how and where his items would be stored. Because parking in Washington, D.C., can be an issue, Daniel also reached out to the local government to get a permit for the moving truck.
Daniel and his wife prepared for the big day by decluttering, downsizing, packing, and staying organized. They were optimistic that things would go well, but they knew delays and other service issues were relatively common on summer moves.
BMS's movers were top-notch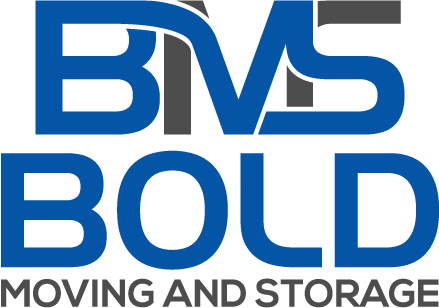 Licensed
Insured
Price
rating
4.45 / 5
Get A Quote
(804) 531-6854
93% of users select this mover
At A Glance
Fast, accurate deliveries
No subcontracting
Warehouses up and down the east coast
Virtual estimates available
read our full review
Get A Quote
(804) 531-6854
93% of users select this mover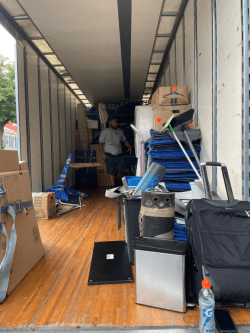 BMS's office staff and movers communicated effectively with Daniel via phone and text on moving day. The crew arrived on schedule at about 1 o'clock, and each team member was efficient and professional.
Fragile items like glass table tops were carefully wrapped in bubble wrap and cardboard, and unboxed items were protected with moving blankets. The crew even took the time to let Daniel and his wife know how they would load certain things and why.
While the movers worked, they tidied up, packed last-minute items, and loaded the car with the things they were taking with them. Loading took about six hours, and Daniel made an additional payment before the crew pulled away.
BMS delivered Daniel's household goods on time and without loss or damage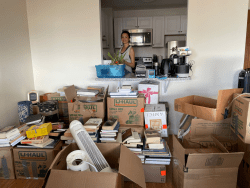 Daniel's items arrived in Cambridge one month after they left Washington, D.C.
Delivery would have been sooner, but Daniel needed short-term storage while he looked for a new place in Massachusetts. He stayed in regular contact with BMS, and whenever he called in, his customer service representatives were responsive and helpful.
The crew arrived on time on move-in day and began staging furniture and boxes near the elevator before moving them up to Daniel's new apartment. Unfortunately, other tenants were moving into and out of the building that day, so the elevator wasn't always available. Despite this unforeseeable setback, the team worked efficiently and assembled furniture in the apartment when they were at a standstill.
All told, move-in day went as expected. 
The verdict – Daniel's move with BMS couldn't have gone more smoothly
89% of users select this mover
Daniel gave BMS five out of five stars for communication, timeliness, and overall value.
To recap, Bold Moving and Storage came through with the following:
A competitive and transparent quote (Daniel paid less than expected)
On-time pick-up and delivery
Free storage for a month
A seamless move with no loss or damage
His only complaint was that a few boxes ended up in the wrong rooms because they weren't labeled clearly. Needless to say, Daniel recommends BMS for anyone planning a state-to-state move along the east coast. He also suggests researching multiple moving companies, prioritizing ones that use their own trucks, and using moveBuddha to compare movers and get quotes.
And while we're on the topic, Ross also had a positive experience with BMS on a recent move from Pennsylvania to Tennessee.
Moving to another state? Check out these helpful resources:
Not what you were looking for?
Check out other categories that can help you find the information you need!
See All
Hide All