Moving Experience: Cindy's Move with Bold Moving and Storage
In the fall of 2022, Cindy and Alan made a 370-mile move from Fairfax, Virginia, to Wilmington, North Carolina.
After getting quotes from two companies on our list of the Best Long-Distance Movers, they chose to work with Richmond, Virginia-based Bold Moving and Storage. Cindy and Alan liked how Bold communicated during the quote process and that the company specialized in interstate moves up and down the East Coast.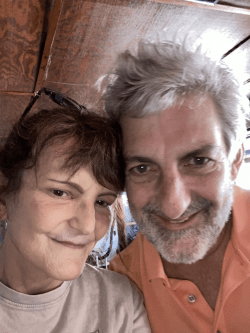 That said, Cindy and Alan's move was challenging because they were relocating the contents of a 4,500-square-foot home that included antiques, specialty tools, and nearly 100 boxes.
To help anyone planning a similar move and to cash in on a $500 relocation stipend, Cindy participated in our Better Moves Project by documenting and sharing her experiences with Bold Moving and Storage.
In this post, we'll look at what Cindy and Alan liked about working with Bold, where improvements could have been made, and what they learned along the way.
Move day takeaways for Bold Moving and Storage customers
89% of users select this mover
Communication: Cindy gave Bold top marks for communication throughout her move
Pricing accuracy and transparency: Bold's estimate was right on the money
Professionalism: Cindy and Alan were impressed with the professionalism of Bold's driver, movers, and customer service representatives
Timeliness: Cindy's household goods were delivered on schedule the day after they were loaded
Loss and damage: Cindy only experienced minor damage on her move, and she didn't file a claim
Would Cindy use Bold Moving and Storage again? Cindy hopes she never has to move again, but she'd definitely use Bold again if she does
Adios Virginia, hello, North Carolina
Cindy and Alan (and their happy cat in the egg box) had plenty of time to plan for their move because they knew about it nearly two years in advance. As recent retirees, they were eager to take advantage of North Carolina's relatively low cost of living and to save money by downsizing and decluttering before the big day.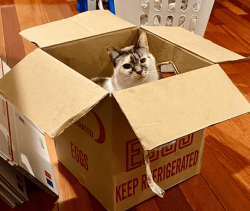 Keeping costs low was important (our moving cost calculator is an excellent pre-move budgeting tool). Still, they weren't willing to work with an inexperienced company and risk loss, damage, and missed service dates to save a few bucks.
Cindy and Alan ruled out DIY moves, hybrid moves, and moving containers and got quotes from full-service movers exclusively. Even so, they knew that planning and organization were the keys to a successful and stress-free move.
Cindy's move details
| | |
| --- | --- |
| Move date | November 10, 2022 |
| Moved from | Fairfax, Virginia |
| Moved to | Wilmington, North Carolina |
| Distance |  370 miles |
| Move size |  4,500 square foot home (14 total rooms) |
| Moving company |  Bold Moving and Storage |
| Moving quote |  $7,500 |
| Total move cost |  $7,500 |
Cindy got three quotes before choosing Bold Moving and Storage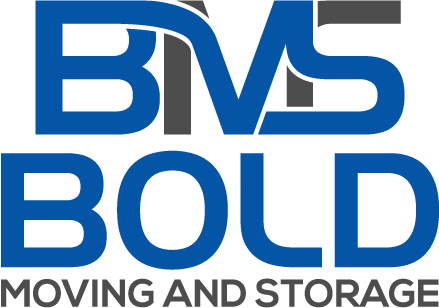 Licensed
Insured
Price
rating
4.45 / 5
Get A Quote
(804) 531-6854
93% of users select this mover
At A Glance
Fast, accurate deliveries
No subcontracting
Warehouses up and down the east coast
Virtual estimates available
read our full review
Get A Quote
(804) 531-6854
93% of users select this mover
Cindy began looking for the perfect mover by doing various Google searches.
The process was relatively tedious initially because there was so much information to weed through. Thankfully, it got easier when she stumbled onto moveBuddha because she could compare multiple companies without jumping from website to website. It only took Cindy a week to research and interview three different movers, schedule virtual surveys and get quotes.
Cindy's full-service moving quotes were based on about 9,000 and 12,000 pounds of household goods. Here's how they compared:
| | | |
| --- | --- | --- |
| Company | Move size | Estimated cost |
| Mayzlin Relocation | 8,000lbs |  $6,000 |
| Two Men and a Truck | 903 cu ft | $6,100 |
| Bold Moving and Storage | 11,900 lbs | $7,500 |
Each quote included the following:
Door-to-door transportation
Loading and unloading labor
Minimal (or no) packing
Basic released-value coverage (.60 cents per pound per item)
All applicable fees, taxes, and surcharges
89% of users select this mover
The quotes were higher than expected, even though Cindy and Alan were moving less than 400 miles and doing nearly all of the packing themselves.
Bold's quote was the highest, but Cindy's sales representative was helpful and professional. She liked that her items would be on a dedicated truck, delivered the day after they were loade and that there'd be a four-person crew to get the job done quickly and efficiently.
With her move date approaching, Cindy booked her move with Bold and paid a deposit by credit card. Bold contacted Cindy multiple times to confirm her service dates and other essential move details. Cindy and Alan prepared by packing boxes, getting rid of items they couldn't move or no longer needed, and staying organized.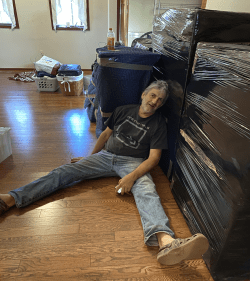 Moving day went according to plan.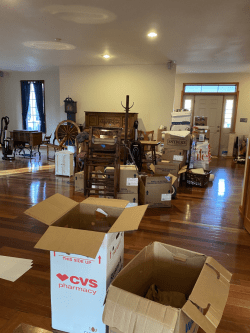 Bold Moving and Storage crew arrived at noon on the appointed day.
Before getting down to business, they quickly looked around and reviewed the bill of lading and other critical moving documents with Cindy and Alan.
Cindy was impressed with how experienced and efficient the crew was, and she particularly liked how they wrapped her antiques in quilted pads and taped them tightly. As they worked, she and Alan packed last-minute items, tidied up, and answered their questions.
Loading took about 8 hours, and though it was a long day, Cindy wouldn't have changed a thing about moving day.
Delivery was the following day.
Unlike on most interstate moves, Cindy and Alan knew that when the truck pulled away from their home in Virginia, they'd see it in North Carolina the following day.
This quick turnaround time was possible because they didn't move during the peak summer season and because their items were moved on a dedicated truck instead of on one that contained other people's "stuff."
Again, Bold's movers worked quickly and carefully, followed Cindy and Alan's instructions to a T, put everything where it belonged, and reassembled items like beds and tables. Unloading took far less time than loading had, but on the downside, some of their more oversized items wouldn't fit through their new home's narrow doors, which is why we always suggest measuring first if possible.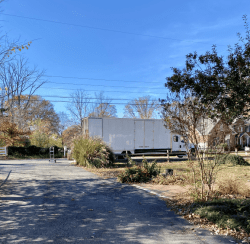 They paid for their move in full before the truck pulled away and set about getting unpacked and settled in.
How Cindy rated Bold's performance
89% of users select this mover
Cindy couldn't have been happier with Bold Moving and Storage's service. In fact, she gave the company 5 out of 5 stars for communication, timeliness, pricing accuracy, and overall experience.
And while we're on the topic, Ross (another Better Moves Project participant) also had a positive experience with Bold recently.
To recap, Bold came through with an accurate quote and fast and efficient service, and perhaps more importantly, they communicated well and were easy to work with from beginning to end. Unsurprisingly, Cindy and Alan would use Bold again on a future move and recommends the company to anyone planning a move like theirs.
What Cindy learned on her move from Virginia to North Carolina
Cindy's move was exhausting because it was larger than most, and pick-up and delivery were on consecutive days with a 370-mile drive in between. Despite a few challenges, Cindy and Alan's move went off without a hitch, except for the few items that wouldn't fit into their new home.
In hindsight, Cindy wishes she would have labeled some of her boxes more clearly and gotten rid of more items because her new (and much smaller) home is bursting at the seams.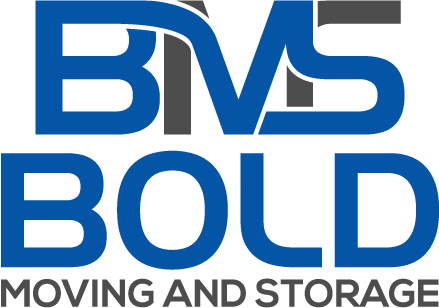 Licensed
Insured
Price
rating
4.45 / 5
Get A Quote
(804) 531-6854
93% of users select this mover
At A Glance
Fast, accurate deliveries
No subcontracting
Warehouses up and down the east coast
Virtual estimates available
read our full review
Get A Quote
(804) 531-6854
93% of users select this mover
Before you go, check out these helpful moving resources:
Not what you were looking for?
Check out other categories that can help you find the information you need!
See All
Hide All