10 Important Moving Documents
Moving can be an overwhelming experience.
Especially when moving from one state to another, planning ahead, staying organized, and learning industry terms and procedures are key to reducing stress and lessening the likelihood of having a bad move.
You'll also want to familiarize yourself with these 10 Important Moving Documents:
Cube sheet
Estimate
Order for service
Bill of lading
Valuation
Your Rights and Responsibilities When You Move
Driver's descriptive inventory
Change order
Freight bill
IRS Form 3903
Sadly, most are so chock full of unfamiliar terminology that understanding them can be difficult.
To avoid any funny business when your belongings are at stake, hire a reputable moving company.
That said, by getting yourself up to speed early you'll be in a great position to tackle moving head-on as an informed consumer.
We'll help.
1. Initial Inventory (Cube Sheet)
Other than sales material the cube sheet will be the first of many documents you'll receive from your moving company representative.
Though cube sheets were once done on paper, it's now more common for estimators to use phones or tablet computers.
Assuming they've come to your residence to do an in-home survey, they'll walk around with you and make a detailed list of the things you'd like moved in each room including furniture, appliances, and loose items like floor lamps and suitcases.
Each room's inventory section should also include:
How many boxes of various sizes their crew will need to pack if you're having them do some or all of the packing – these are called 'Carrier Packed' or CP boxes
How many boxes you'll pack yourself – these are called 'Packed by Owner' or PBO boxes
When you and your estimator have finished the walk-through they should print you a copy of the cube sheet.
Your cube sheet is important because it'll be the basis for your estimate, so make sure you keep a copy for your records.
The estimator may ask you to sign the cube sheet on the spot- but don't.
Instead, after he or she has left, take some time to walk around to each room and check that they haven't left anything out.
Did You Know?
When preparing your cube sheet your representative will list items that won't be moved too. If you add things that weren't supposed to go later on, they may use the cube sheet to justify increasing the price if your weight goes up.
---
2. Moving Estimate
After your moving company representative has done an in-home or video survey, he or she will provide an estimate based on what they've seen and the services you've requested.
To make sure you're comparing apples to apples, be consistent with each surveyor so they include the same things on their estimates.
Moving estimates should be itemized and include the following –
Transportation charges (often called linehaul on interstate moves)
Fuel surcharge
Packing, unpacking, and custom crating
Accessorial charges for shuttles, long carries, and bulky items like hot tubs
3rd-party services like washer and dryer disconnects/reconnects
Additional labor for disassembling and reassembling playground equipment or home gyms
Like with cube sheets, your representative should print a copy of the estimate and review it with you before leaving.
Just remember that estimates should always be free, and you're under no obligation to use any mover's services just because they've given you one.
Types of Interstate Move Estimates
Non-binding estimates – With non-binding estimates your final charges may go up or down depending on the actual weight of your shipment, how many cartons the movers packed, and whether or not the services you requested cost more or less than estimated.
Paying more than the estimated charges is a scary prospect for many customers, but if you're unsure of what you will and will not take, how much packing you'll get done yourself, and what time of the year you'll be moving, non-binding estimates may be your only option.
Binding estimates – As the name implies, the charges for binding estimates are fixed and therefore shouldn't go up or down.
But there's a catch.
If the mover can prove that you added items that weren't originally included on the estimate, or that you didn't do what you said you would (like packing everything yourself) they're legally permitted to increase the price to reflect those additions.
In most cases, moving companies will only give binding estimates on moves where everything is cut and dry.
Not-to-exceed estimates – Not-to-exceed estimates are the best of both worlds because final costs may come down, but they shouldn't go up.
If you haven't added items or services and the actual weight of your shipment turns out to be higher than estimated you won't pay extra.
On the other hand, if weight and services are less than estimated your price will decrease.
Here's a full article on what to look for on a moving estimate.
---
3. Order for Service
When you've committed to using a particular moving company they'll provide you with an order for service.
An order for service is an acknowledgment that you're hiring them to provide specific services, and as such, it should list which services you're ordering as well as other vital information like –
The estimated weight of your shipment
Origin and destination addresses
Pick up and delivery dates
Your insurance (valuation) options
Costs for packing, crating, and accessorial services
Storage (if you'll need it)
Acceptable payment methods
Once you've reviewed and agreed to the document's contents you and your moving representative will sign the order.
Insider's Tip: Many interstate move estimates also serve as orders for service. If so, at the top it'll say "Estimate – Order for Service." This means that when you've officially booked your move the original estimate will become the order for service, and you won't need a separate document.
---
4. Bill of Lading
A bill of lading is a document issued by the carrier (the mover) to the shipper (you) to acknowledge receipt of goods for transportation.
But though bills of lading contain much of the same information as orders for service, there's one big difference –
A bill of lading is a binding contract, and an order for service isn't.
For this reason, your bill of lading is among the most important of all moving documents.
---
5. Valuation Options
On interstate moves, movers are required to offer a number of insurance options which are collectively called valuation.
Released value – With this free valuation you'll only be covered up to .60 cents per pound per item, which means that if a television weighing 60 pounds is destroyed or lost you'd be reimbursed $36 dollars – 60 pounds x .60 cents = $36.
If this sounds woefully inadequate you'll have the option of upgrading – for an additional cost.
Full-value replacement coverage – If you've opted for full-value replacement coverage, in the previous example you'd be reimbursed what it'd cost to replace the television with an identical or similar new one, minus any deductible.
Most interstate movers offer plans with $0, $250 and $500 deductibles.
Valuation options are usually included on your estimate – order for service and bill of lading, but make sure your representative explains each and read the fine print carefully.
Before loading on move day, your driver will ask you to sing for the option you've chosen on both documents.
---
6. Your Rights and Responsibilities When You Move
In 1999, the Federal Motor Carrier Safety Administration (FMCSA) was created as a distinct entity within the US Department of Transportation (USDOT)
The FMCSA's primary objective is to reduce crashes and fatalities involving commercial vehicles, but it's also tasked with regulating some aspects of the moving and storage industry.
FMCSA regulations state that –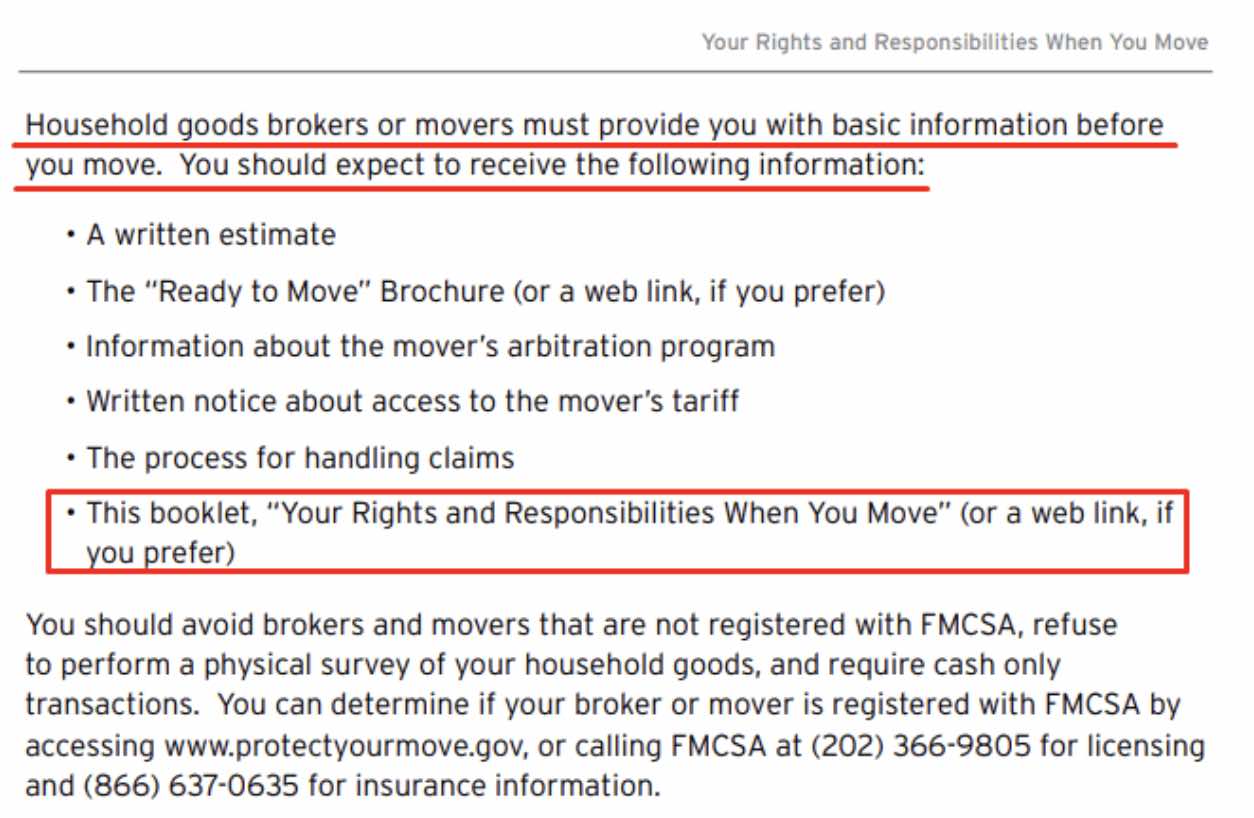 Instead of waiting for your mover to give you a copy, download "Your Rights and Responsibilities When You Move" here and familiarize yourself with it before getting estimates.
It's full of helpful information like –
An in-depth explanation of valuation
What to do if you've been the victim of moving fraud
You can also download your "Ready to Move" brochure here.
---
7. Driver's Descriptive Inventory
During the move process, you'll receive two distinct inventories, both of which are equally important.
The first is the cube sheet that'll be done by the surveyor before providing an estimate.
The second is the driver's descriptive inventory, which he or she will make before anything is loaded onto the truck.
When preparing the descriptive inventory the driver will put a sticker on each item and box in your home and note of what it is, which room it came from, and if it has pre-existing damage like scratches, dents or tears.
This descriptive inventory will be used to determine the legitimacy of any claims filed after the move, and whether you've added items that weren't originally supposed to go.
Did You Know?
On the descriptive inventory drivers use shorthand symbols instead of words to describe damage.
For example – Dresser Z @ 4, 10, 5, 3 means –
Your dresser is cracked at the front, top, left corner.
---
8. Change Order
If on move day the driver determines that you've added items that weren't originally supposed to be moved or didn't get around to packing like you said you would, either he or your moving company representative will provide you with a change order.
A change order is a form by which you acknowledge that you'll need more services than originally requested, and it should include an estimated cost for each.
If you feel your situation doesn't warrant a change order, don't sign it.
---
9. Freight Bill (Statement of Services)
In lay terms, a statement of service is the final bill you'll receive after your move.
Once your shipment has been weighed, all services tallied, and the truck is at your new home you'll be presented with a statement of services.
Remember, unless you've made arrangements to pay via credit card, your mover will likely require full payment before delivering your items.
Though most customers would rather take delivery first and pay later, that's rarely how it works.
---
10. IRS Form 3903 – Tax Deductible Moving Expenses
If you're relocating for work your moving expenses may be tax-deductible.
According to the IRS you can –

Download your Form 3903 here.
Download instructions for how to use Form 3903 here.
Insider's Tip: Donating household goods and clothes to a charity prior to moving may also entitle you to tax deductions, so ask for a form when dropping items off.
Frequently Asked Questions – FAQ
1. What's a PBO carton?
PBO stands for "packed by owner" which is how cartons you've packed are described on both inventories.
PBO cartons may also be labeled as CU which stands for "contents unknown."
2. What's a CP carton?
CP stands for "carrier packed," or a box that the packers have packed.
3. What's a tariff?
A tariff is a legal document published by a moving company that lists all the services it offers and the price for each.
It's a little known fact that most interstate movers use the same tariff, though they may opt to change rates for some services.
4. What's the 10% Rule?
In short, the 10% Rule states that for written non-binding estimates, moving companies cannot demand payment greater than 110% of the original estimate before delivering your household goods.
5. How do I officially change my address?
It's easy, just fill out this form on the USPS website.
Check out our full change of address guide.
6. How do I enroll my kids in a new school?
Generally, all you need are official transcripts, old report cards, immunization records, and proof of residency in your new city or town.
Not what you were looking for?
Check out other categories that can help you find the information you need!
See All
Hide All