Moving Experience: April's Experience with Bold Moving and Storage
In early 2023, April knew she needed a change of scenery. She decided to pick up stakes in Glenside, Pennsylvania, and relocate closer to family in Webster, Florida.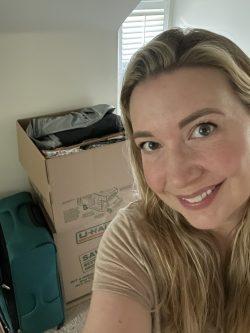 She spent two weeks carefully looking at mover reviews. She needed to find a mover to carefully transport her antiques more than 1,000 miles to her new home. After checking out a few moveBuddha reviews, April chose Bold Moving and Storage.
April applied to the Better Moves Project to share her honest experience working with Bold Moving and Storage. In exchange for a $500 stipend, she documented the process of finding a mover, gathering quotes, and working with Bold Moving.
89% of users select this mover
Curious to see how they stacked up? Read on to see how Bold Moving and Storage handled April's big relocation.
Move day takeaways for Bold Moving and Storage customers
Communication: April moved during peak season, so she didn't hear from Bold Moving as much as she wanted.
Pricing accuracy and transparency: Bold Moving quoted April $5,211 and she paid $6,345 total, which was in line with what she expected.
Professionalism: Bold Moving's drivers and moving teams impressed April with their friendliness and communication.
Timeliness: Bold Moving arrived when they said they would, although some communication hiccups rushed the delivery.
Loss and damage: Bold Moving transported April's fragile antiques without so much as a scratch, although some of her other items had minor dents.
Would April use Bold Moving again? While Bold delivered all items on time and successfully transported antiques, April would choose a different moving service next time, focusing on a company that offers more frequent communications.
April needed help moving from Glenside, Pennsylvania, to Webster, Florida
April's son graduated and moved to college, leaving April an empty-nester with two pets. Eager to live closer to family, she spent six months planning her move from Pennsylvania to sunny Florida and researching the best interstate moving companies.
April accumulated a lot of stuff — she had eight rooms' worth of things, or 150 boxes, to move. She wanted to find a moving company that would transport her belongings with zero damage, on budget, and on time.
However, April's biggest worry was moving her collection of antiques. She owns irreplaceable family heirlooms and needed a moving company that knew how to move antiques.
April's move at a glance
| | |
| --- | --- |
| Move date | July 27, 2023 |
| Moved from | Glenside, Pennsylvania |
| Moved to | Webster, Florida |
| Distance | 1,082 miles |
| Move size | Four-bedroom, three-bathroom home (2,600 square feet) |
| Moving company | Bold Moving and Storage |
| Moving quote | $5,211 |
| Actual cost | $6,345 |
April got quotes from four full-service moving companies
Like all Better Moves Project participants, April started searching for movers on Google. She quickly found moveBuddha and read through dozens of Better Moves moving reviews.
April spent two weeks comparing movers on moveBuddha and checking their reviews with the Better Business Bureau. After narrowing it down to the best-rated companies, she requested quotes from four full-service moving companies.
| Company | Estimated volume/weight | Estimated cost |
| --- | --- | --- |
| Bold Moving and Storage | 6,500 pounds | $5,211 |
| Safeway Moving | 6,500 pounds | $6,753 |
| International Van Lines | 6,500 pounds | $6,709 |
| American Van Lines | 6,500 pounds | $3,285 |
April chose Bold Moving and Storage because they don't contract moves
Bold Moving and Storage wasn't the cheapest or most expensive — their pricing was right in the middle, which April appreciated. She liked that Bold Moving had great reviews on moveBuddha, but the real selling point was that they don't contract out their moves to third-party companies.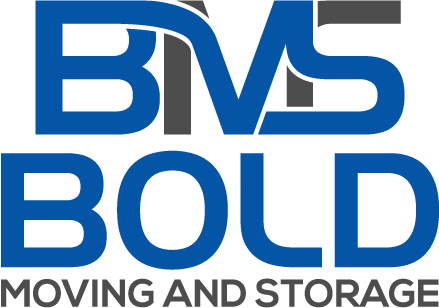 Licensed
Insured
Price
rating
4.45 / 5
Get A Quote
(804) 531-6854
93% of users select this mover
At A Glance
Fast, accurate deliveries
No subcontracting
Warehouses up and down the east coast
Virtual estimates available
read our full review
Get A Quote
(804) 531-6854
93% of users select this mover
April reached out to Bold Moving to set up service. She purchased:
Loading and transportation
Packing of bulky items, pictures, and mirrors
April wishes she had more communication with Bold Moving before moving day, but it's normal not to hear from your mover until they have a reason to reach out to you.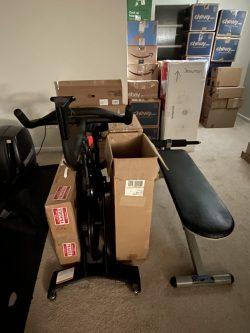 Bold Moving and Storage told April to prepare for the move by taking apart her Peloton bike. They said they would reach out before the move to give her a window for pickup and delivery.
To prepare for the move, April became a one-woman packing machine. To save time, she donated and sold items she didn't want to pack.
Moving day was efficient
Bold Moving called April on July 26 to verify the delivery window, inventory, and pricing. They said the driver would be there on July 27 sometime between 11 a.m. and 1 p.m. The moving crew arrived a little after 1 p.m., which was good enough for April.
She was happy with the moving crew, which stayed in contact with her throughout the loading process. Because April disassembled items and packed up her belongings, the moving team did forget small items, like the screws to her bed. She grabbed small parts like this and ensured they made it to the truck.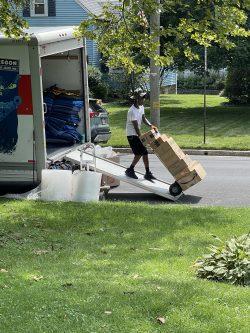 While the movers loaded, April moved boxes from the second floor and basement to the first floor for the movers. But she felt a little weird sitting there and doing nothing, so afterward, she worked online and played with the cat while the movers loaded.
When all was said and done, loading took seven hours. April paid half the estimated amount with a personal check, and Bold Moving began transporting her items to Florida.
Delivery was a little chaotic
April wanted more communication from Bold Moving while her belongings were in transit. It's normal not to hear from a mover during transportation, but April called Bold Moving regularly for updates. A few calls went unanswered, which isn't unusual when you move during peak season, but it made April anxious.
It took two weeks for April's items to arrive in Florida — right on schedule. While pickup was efficient, delivery wasn't quite as smooth.
Bold Moving said they would give April proper notice before delivering her items but, instead, they called her at 6 p.m. asking if she would be home within the hour for delivery. She was out of the house then and rescheduled delivery for the following day.
89% of users select this mover
The Bold Moving and Storage delivery crew was the picture of professionalism, although there were a few miscommunications.
Because April moved to a rural area, she warned Bold that an 18-wheeler wouldn't fit on the dirt road. She paid extra for a shuttle to ferry items from the truck to her home. But when Bold showed up, no shuttle was in sight. They decided to unload her items on the paved county road instead.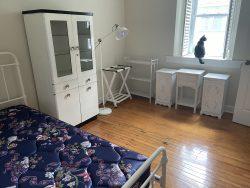 They unloaded a third of her belongings and briefly thought the rest of her items were on a different truck. As it turns out, Bold separated her items behind a wall on the truck — everything was present and accounted for!
April spotted some minor scratches and dents to her items, but the move didn't damage anything beyond repair. She noticed the mattresses didn't have covers, which the loading crew should have provided.
This is a prime example of why staying involved throughout the loading process is important. You'll likely catch something that the loading crew forgot.
Fortunately, Bold Moving carefully wrapped April's irreplaceable heirlooms, which arrived at her new home unscathed.
The unloading process was more hectic than she expected, but in the end, April's items successfully arrived at her new home. She appreciated how hard the delivery crew worked in the hot Florida sun to make move-in day a little less stressful.
Our take on the move
April was very proactive during her move, and we salute her for that. While Bold Moving had a few communication hiccups on their end, they still executed a great move for April. Transporting fragile heirlooms over 1,000 miles is a huge undertaking!
For her part, we love that April requested four quotes. We always recommend gathering at least three quotes before choosing a full-service mover so you get a better idea of pricing.
89% of users select this mover
April wanted constant communication from Bold Moving, but that just isn't realistic, especially when you're moving during peak season.
The moving company won't reach out between booking and moving day unless it's necessary. Of course, if you have questions, it's fine to reach out to your representative, which is exactly what April did.
April found a few odds and ends the movers almost forgot to pack, which can happen when you disassemble furniture yourself. The movers didn't notice the little plastic bag of hardware because they didn't know it was there. Good on April for getting involved and noticing!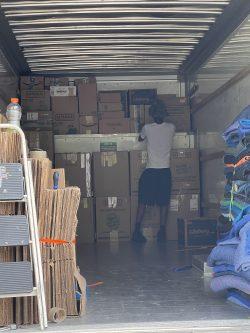 We know that staying engaged for seven hours is tough, but April could have kept her mattresses clean if she engaged with the movers during the entire loading process. Sure, Bold Moving's crew should have added the mattress covers, but it's also on April to oversee the process and make sure the crew prepares everything correctly.
Bold Moving did have communication issues between the drivers and office, which is likely why they didn't provide a shuttle on unloading day. Bold Moving handles hundreds of moves every day across the country in the summertime, so if you want to avoid miscommunications like this, move during the off-season, if possible.
How Much do Movers Cost?
Get instant ballpark pricing. No email or phone required. It's fast, free, and easy.
The verdict
Bold Moving quoted April $5,211, and the final cost was $6,345. That's within the 20% range you should expect with moving quotes, so Bold Moving did a great job quoting April's move.
In hindsight, April wanted more communication while her belongings were in transit. The last-minute delivery notice was stressful, too.
Because of the communication issues, she'll likely go with a different mover next time. She recommends anyone planning a move read up on a mover's communication during the moving process, not just their communication during the quoting process.
April does acknowledge that Bold Moving's drivers and loading crews worked unbelievably hard, and she appreciates the dedication and care they gave to her belongings.
Here's how April rated Bold Moving and Storage's performance on a scale of 1 to 5:
Communication – 3
Timeliness – 4
Quote accuracy – 5
Overall experience – 4
Do you have an upcoming move? Share your moving story with the Better Moves Project to earn a $500 stipend. Sign up now.
Check out these helpful resources before signing off:
Not what you were looking for?
Check out other categories that can help you find the information you need!
See All
Hide All