Moving can be stressful and time-consuming, even when your furniture and household goods aren't particularly old, delicate, or pricey.
Now, take the typical moving scenario and add family heirlooms and valuables like high-dollar Shaker antiques, original artwork, and vases from the Ming Dynasty. Things can get even more complicated and unsettling.
Thankfully, getting these items moved safely doesn't involve reinventing the wheel.
This is especially true when hiring a reputable moving company, who knows what they're doing.

In fact, by following a few simple tips, it can all be well within a day's work, whether you're doing it yourself or letting professional movers handle it.

Let's take it step-by-step and show you how to about packing your treasures in preparation for a big move.
Assess Your Situation
Growing up, remember when mom said –
"Don't bite off more than you can chew!"
Well, she was onto something, and it applies to moving too.
Here's the point…
If you've spent thousands (or millions) of dollars collecting one-of-a-kind antiques, moving them yourself with your teenage nephews is unwise.
Consider –
Your age and physical health
How much moving experience you have
The value of your items
The likelihood of damaging them
The overall cost of a DIY move vs. hiring professionals
Remember, reputable professional movers have experience moving antique items cross country and long distances. They will also have knowledgeable sales consultants and crews, the right equipment for the job, and they'll offer you several insurance agents or (valuation) options to cover damage or breakage that may occur during the move to a new location.
Before Getting Started
Before lifting an antique end table or wrapping a crystal goblet, you'll want to get organized.
Start by –
1. Inspecting and Cleaning Each Piece
Giving each piece, you intend to move a quick once-over, and wipedown is a great first step because it'll force you to look at them closely.
Not only will you note the item's condition, but in some instances, you may decide that it's something you can live without, in which case you can sell it, donate it, or give it to a friend or family member before moving.
Insider's Tip
Avoid using chemical and oil-based cleaners and polishes on valuable antique furniture immediately before a move. These products can cause furniture pads to stick to wood furniture surfaces when inside the tight confines of a hot moving van.
2. Taking Inventory
If your move consists of just a few pieces, taking an inventory may not be necessary.
On the other hand, if you're moving collections or the contents of a home, inventorying each item will –
Give you an idea of the scope of your move and how long it'll take
Allow you to determine your items' approximate value
Provide a supplement to the driver's inventory (if you're hiring movers)
On many moves, making your own inventory is well worth the investment of time. Just make sure to start the process well in advance of your actual move date.
Insider's Tip
Your inventory can act as a supplement to the one the driver will make if you're hiring professional movers. This will help check items off at delivery and determine if anything has been damaged, but remember that your inventory is not an official moving document, unlike the moving company.
3. Considering Your Insurance Options
In some instances, homeowners' insurance policies may cover your items during the moving process.
Before moving, it's best to call your insurance company and tell them –
If you're moving locally or out of state
Whether you're hiring professional movers or doing it yourself
The approximate number and value of the items you're moving
The current condition of the valuable items you are moving
If you're hiring pros, consider purchasing their Full-Value Replacement Coverage valuation.
It's relatively inexpensive and will make things easier down the road if you experience loss or damage on your move.
4. Having Your Items Appraised
If the items you're moving are extraordinarily valuable, chances are you've already had them appraised.
If not, you can probably forego this step if you're moving yourself.
If you're going the full-service moving route, the company you hire will want to know your items' approximate value during the pre-move consultation.
Appraisals aren't cheap, but they'll help protect you during the move if things don't go off without a hitch.
Get Your Packing Material and Moving Supplies
We've said it a million times. Moving is all about planning – especially if you're doing it yourself.
Gathering packing and moving supplies long before you'll actually need them will ensure that they'll be on-hand when it's time to get started.
Make a 'shopping list' before heading out, but resist the urge to overspend on things you probably won't need.
For now, stick to the following basics –
Packing Material You'll Need
Tape
White newsprint
Brown paper pads
Bubble wrap (if you have particularly delicate items)
Soft packing material such as blankets or cushions
Moving Supplies You'll Need
Clean, grit-free moving blankets
Box, appliance, and 4-wheel dollies
Plastic-wrap (shrink-wrap) for wrapping upholstered furniture
Optional: Boxes or custom crates that you've made specifically for the items
Did You Know?
Glassine is translucent paper (similar to wax paper) that's partially resistant to air, water, and grease. It's often used to provide extra protection for oil paintings, historical documents, and antique wooden clocks before moving them or putting them into storage.
How to Pack Antiques Properly
The following small antiques will need to be packed properly before moving them –
Clocks
Vases
Paintings
Figurines
Table lamps
China and other glassware
Step One – Get the Right Boxes for the Job
Though you'll want to get boxes in a variety of sizes, for small antique pieces and collectibles, you should mainly use dish cartons (dish-packs).
They're more expensive, but high-quality dish cartons are typically 1 ½ times thicker than standard cartons, which means more protection for the items inside.
For large framed pictures, artwork and glass tabletops, you'll need mirror cartons and large sheets of multi-layered brown packing paper for extra care.
Insider's Tip
Especially during the non-peak fall and winter months, moving companies often sell perfectly good used packing material that can be as much as 75% cheaper than it is new.
Step Two – Pack Like the Pros
Start by making a 'bed' of crumpled paper at the carton's bottom before packing it.
Then wrap each item thoroughly with white or brown paper before placing it inside.
For flat items like small pictures, plates, and saucers –
Wrap them individually
Bundle them together
Place them in the box vertically – never lay them flat
As you're packing, there will inevitably be gaps between items.
To ensure that everything is snug and has adequately cushioning, fill these spaces with crumpled paper, hand towels, or other soft items that'll provide extra protection.
For large pictures and paintings, wrap each with at least one large brown paper pad before slipping them into the picture box.
The corners of pictures and artwork tend to get damaged during moves, so consider adding additional cardboard or foam corner protectors before boxing and moving them.
Insider's Tip
If you're unsure how to pack fragile items and glassware properly, check out a YouTube video or two from experienced moving company packers.
Step Three – Label the Boxes
Labeling your boxes can be just as important as packing them.
Make sure each box includes the following information –
What's inside
Which room it came from
Whether it needs to be kept upright
If it's going to your new home or storage (on split moves)
Did You Know?
Most movers will prepare a special "High-Value Inventory" for items with a value over $100 per pound, but if you pack these items yourself, the moving company probably won't cover them if they get damaged unless there's damage to the outside of the box.
Protecting Antique Furniture on DIY Moves
1. Step One – Disassembly
You'll need to disassemble antique beds, tables, and dressers with mirrors before moving them.
However, for larger items like hutches, chests of drawers, wardrobes, and desks, disassembly probably won't be required.
To prevent needless damage, just remove drawers as well as exposed knobs, handles, and casters if you can easily do so.
Wrap these items and the hardware individually, label them, and pack them into a 'parts box' before moving.
Insider's Tip
If major disassembly is required, label each part with a pencil or color-coded stickers, or better yet, take pictures with your phone to expedite reassembly later on.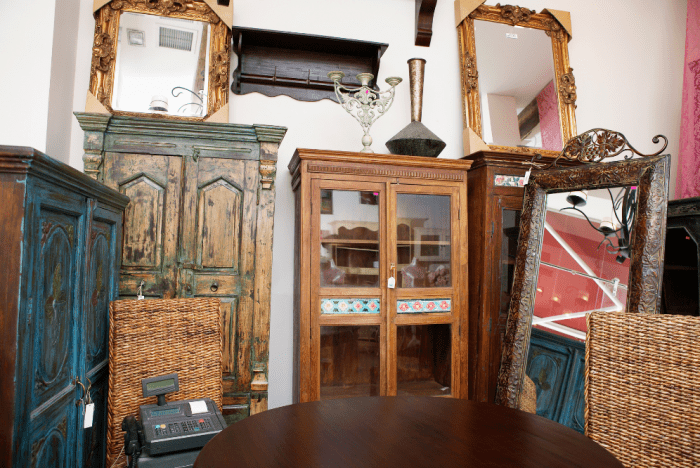 2. Step Two – Padding and Wrapping
Completely wrapping each item or component (like tabletop and legs) is key to preventing dings, scrapes, and gouges during a move.
You can use rubber bands, packing tape, or stretch-wrap to hold moving blankets in place.
Just remember…
You should never apply tape and stretch-wrap directly to wooden surfaces or veneers.
Both can permanently adhere to finished surfaces in hot and humid environments, causing severe damage when they're removed.
In other words, they should only be applied over moving pads, which will allow the wood beneath to "breath."
3. Step Three – Carrying and Loading
When your antiques are disassembled and padded, it'll be time to move them from your home or apartment into the truck.
For heavy and bulky items like dressers, sideboards, and armoires, this will require multiple people and possibly using an appliance or 4-wheel dolly.
If you're not familiar with them or carrying heavy items safely, do yourself a favor and hire a professional moving company. Professional moving services know how to take the utmost care while packing items, loading them onto a moving truck, and preparing them for transit.
Before moving, make sure you have a clear path free from obstructions that might cause you to trip.
Then, for tall items, use the "high-low" method, where the piece is tipped over so one person can grab it from the top while the other grabs it from the bottom.
When going up or downstairs, the person holding the upper portion should always be above the person they're working with.
Inside the truck, try your best to build consistent tiers.
Use heavy furniture as the base and progressively lighter and smaller items like night tables, boxes, and chars as you go higher.
Insider's Tip
On antiques, China cabinets, glass fronts, and shelves should be removed and packed before moving. If they're built-in, it's a good idea to wrap a cardboard layer (like an old mattress carton) over the moving blanket after the item has been padded and always load the glass area against a flat surface like the wall of the truck.
Last-Minute Tips
When in doubt, hiring professional movers is almost always the way to go.
You'll pay more, but reputable movers with experienced crews are worth their weight in gold.
If you hire professionals, do it at least a month before your move date, and consider moving boxes containing extraordinarily valuable or irreplaceable items yourself.
You may need custom crating for especially large and fragile items like marble tabletops, statues, or one-of-a-kind artwork.
Again, it's pricey, but it's often necessary to get these items from one location to the next in one piece.
Find out exactly how much you can expect to pay when moving, antiques and all, using our handy moving cost calculator. 
Not what you were looking for?
Check out other categories that can help you find the information you need!
See All
Hide All