Moving Experience: Tetiana's Move with New Leaf Moving Group
Tetiana and her husband moved from the Windy City to Houston in December 2022 because they'd had it with Chicago's brutal winters.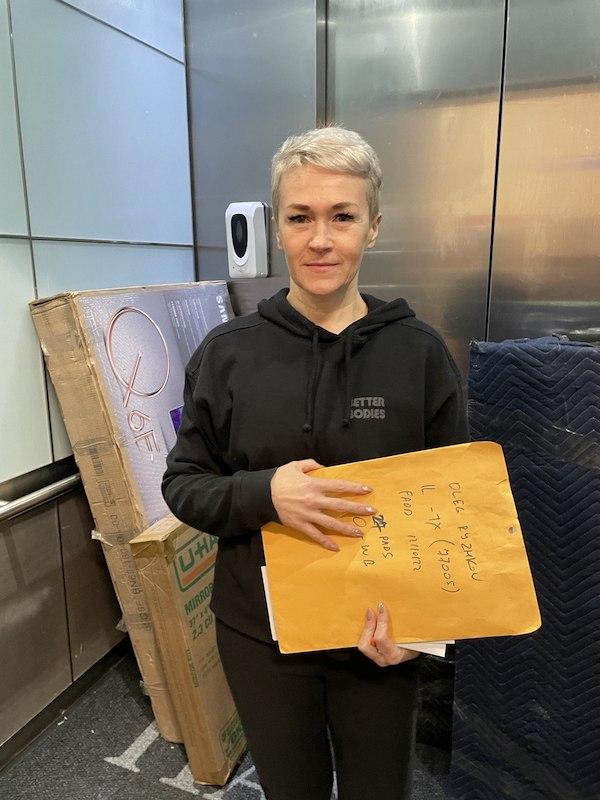 They spent three weeks getting quotes from companies on our Best Moving Container and Best Long-Distance Mover lists. In the end, they hired Florida-based moving broker New Leaf Moving Group.
Tetiana liked New Leaf's reasonable quote and the attentiveness and professionalism of her sales representative Rob. That said, Tetiana had a few fragile items that needed special attention, and she and her husband didn't have much to spend on their move.
To take advantage of a $500 relocation stipend and to help anyone planning a move like hers, Tetiana participated in our Better Moves Project by documenting and sharing her experiences with New Leaf Moving Group.
In this post, we'll look at what went well on Tetiana's move (spoiler alert: she had a pretty negative experience), what didn't, and whether she'd use New Leaf again.
Takeaways for New Leaf Moving Group customers
Communication: Communication with New Leaf was prompt and professional early on, but things deteriorated as Tetiana's move progressed
Pricing accuracy and transparency: Tetiana paid slightly less than the price they quoted her but New Leaf provided no help at delivery. Tetiana and her family had to unload everything
Professionalism: New Leaf failed to provide moving labor at delivery, a huge miss and extremely unprofessional
Timeliness: New Leaf delivered Tetiana's household goods about a week later than expected
Loss and damage: A few fragile items were damaged and one box got lost
Would Tetiana use New Leaf Moving Group again? No, Tetiana wouldn't use New Leaf Moving Group again. She didn't feel that the broker or carrier lived up to their commitments
Tetiana needed help moving from Chicago to Houston
Having their things picked up and delivered on time, on budget, and without loss or damage were big priorities for Tetiana and her husband.
Finding a suitable service provider was no easy task. Nearly every company they considered had less-than-flattering reviews. They had several breakables like heavy marble vases and handmade ornamental pieces that needed special attention — and a few of them hadn't faired so well on previous moves.
Thankfully, their shipment only included about 30 boxes and standard household items that weighed approximately 4,000 pounds. They wisely planned their move outside the peak summer season to avoid delays and other service issues that are common between May and September.
Their move was pretty typical, but Tetiana knew that a million things could go wrong.
Tetiana's move at a glance
| | |
| --- | --- |
| Move date | December 5, 2022 |
| Moved from | Chicago, Illinois |
| Moved to | Houston, Texas |
| Distance | About 1,100 miles |
| Move size | One-bedroom apartment, 880 square feet |
| Moving company | New Leaf Moving Group |
| Moving quote | $4,484 |
| Actual cost | $4,422 |
Tetiana got eight quotes before choosing New Leaf Moving Group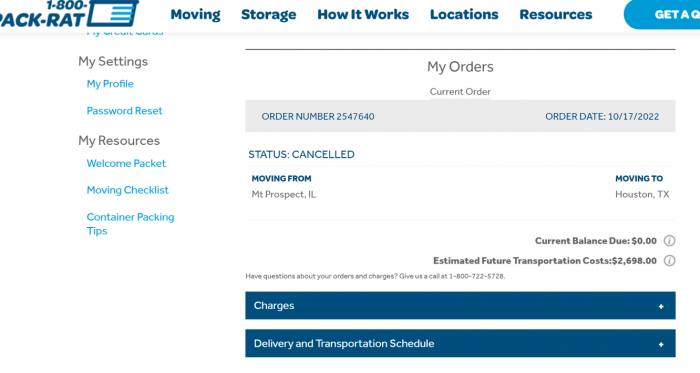 Tetiana and her husband knew about their move months in advance. They researched movers and got all the quotes they needed in about three weeks. Though the price was a big concern (our moving cost calculator is a great budgeting tool), they refused to work with a fly-by-night mover just to save a few bucks.
How Much do Movers Cost?
Get instant ballpark pricing. No email or phone required. It's fast, free, and easy.
Tetiana did several Google searches, sent dozens of emails, and spent hours on the phone doing virtual surveys with eager sales representatives. Every time she thought she'd found the right service provider, she second-guessed her decision and had to start over. The process was far more tedious and time-consuming than she thought it would be. However, being able to compare companies and read long-distance moving posts on moveBuddha helped.
When the dust settled, Tetiana and her husband had the following estimates:
| Company/service type | Equipment type/ estimated weight | Cost estimate |
| --- | --- | --- |
| Moving Place (freight trailer) | 6 feet of floor space on a moving trailer | $1,400 |
| 1-800-PACK-RAT (moving container) | Container size undisclosed | $2,698 |
| Guardian Van Lines (full-service) | About 4,000 pounds | $3,253 |
| Mayzlin Relocation (full-service) | About 4,000 pounds | $3,286 |
| American Van Lines (full-service) | 3,794 pounds | $3,893 |
| Safeway Moving (full-service) | About 4,000 pounds | $3,942 |
| New Leaf Moving Group (full-service) | 4,179 pounds (597 cubic feet) | $4,484 |
| Hollander Storage & Moving Co./United Van Lines (full-service) | 3,878 pounds | $6,084 |
Safeway's $3,942 quote included the following:
Packing labor and materials
Disassembly and reassembly of standard items like beds and tables
Loading and unloading
One free month of storage
Basic released-value insurance of $0.60 cents per pound per item
Expedited delivery was also available. However, it wasn't an option for Tetiana because the cost was prohibitively expensive.
Tetiana chose New Leaf for affordability and peace of mind
Tetiana and her husband considered each company carefully. Some employed pushy sales tactics. One didn't accept credit card payments. Another seemed uninterested in doing their move altogether. Tetiana's first choice was United Van Lines because she loved Hollander's customer service representative. Unfortunately, their quote was too high even without packing
Their second choice was 1-800-PACK-RAT so they made a reservation. They then discovered that moving containers weren't permitted at their old apartment in Chicago or their new one in Houston. That meant they had to cancel their reservation. After all this, they crunched the numbers and determined that hiring a full-service mover made the most sense when it came to price and convenience.
See how New Leaf compares to top movers:
Company
Quote
Rating
Price

Safeway Moving

Best Overall Value

Get A Quote

American Van Lines

Best industry reputation

Get A Quote

International Van Lines

Best customer service

Get A Quote
Tetiana was wary of brokers at first. She and her husband spent hours on the phone with Rob at New Leaf, going over their quote and looking at their move from every angle.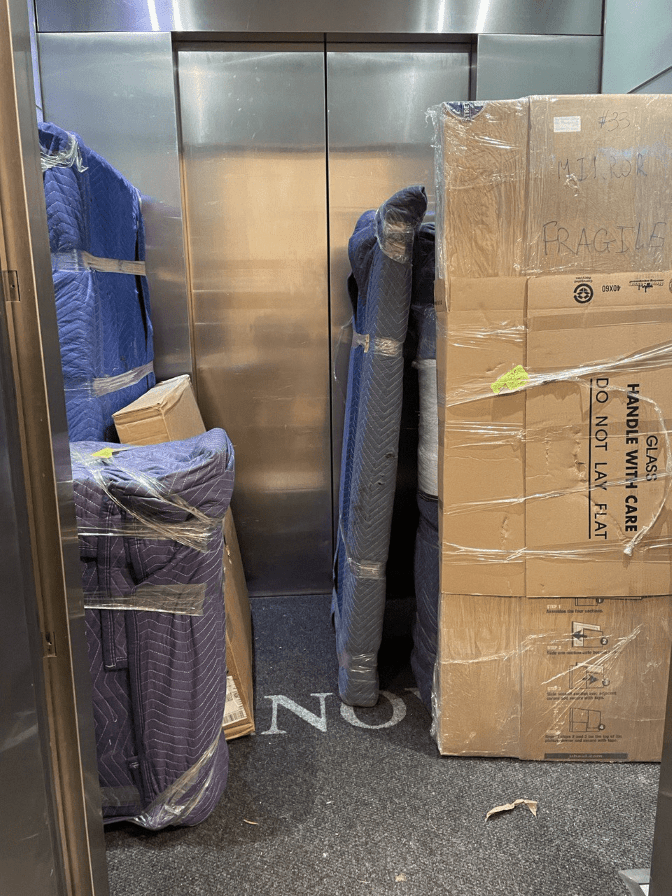 They liked that Rob was upfront that New Leaf is a broker (not an asset-based mover). He assured them that he'd be their primary contact from start to finish.
In the end, Tetiana felt that Rob had their best interests at heart. Choosing New Leaf wasn't such a leap of faith because she already knew that even traditional van lines and independent movers use agents and subcontractors almost exclusively on long-distance moves.
With her move date drawing near, Tetiana signed New Leaf's estimate and paid a deposit by credit card.
Things seemed to be falling into place on Tetiana's move
Tetiana's husband was taking things in stride, but she couldn't help but feel tense. Thankfully, she found productive outlets for her nervous energy — staying organized, downsizing, and decluttering. She also took care of reserving the elevator for the moving crew and dealing with utility companies in Chicago and Houston.
Up until then, communication with New Leaf had been great. However, a few weeks out, the carrier assigned to Tetiana's move sent a new estimate and bill of lading that didn't match the one provided by New Leaf.
Rob told Tetiana to ignore it. Together they reviewed the original estimate and removed the packing charges since Tetiana and her husband had taken care of it already.
Then about a week before her move, a new carrier — ABN Moving — was assigned to Tetiana's move. She found this a little disconcerting, but it wasn't a huge deal because she always had an open line to Rob when she had questions or concerns.
New Leaf reached out on December 4th to let Tetiana know that her truck and crew would be there the following day between 10 AM and noon. They also said that her household goods would likely arrive in Houston on the 12th or 13th.
There were a few issues on moving day
ABN's driver texted Tetiana on December 5th to let her know that they were on the way. He and the crew arrived on schedule just before noon. Tetiana worried that elevator access would be a problem because she'd reserved it for that morning, but it wasn't an issue.
Tetiana was pleased with the crew's care and professionalism. Shortly into the loading process, the driver informed her of a problem. The total volume of her shipment would be closer to 800 cubic feet than the 600 cubic feet New Leaf had estimated.
At $4.25 per cubic foot, this meant that her move cost was about to increase by more than $800. The movers also said there'd be additional charges for the elevator and packing material. This differed from what was in her contract with New Leaf.
Tetiana found it frustrating that the estimated volume was so far off. She'd taken the time to measure everything for Rob so he could prepare an accurate inventory and estimate. After a lengthy phone negotiation, Tetiana and New Leaf agreed to a more modest $100 price increase to account for the difference.
Everything was on the truck by about three o'clock. At this point, Tetiana was informed that ABN didn't accept credit card payments. This was frustrating since she'd been told that they would.
Tetiana agreed to pay via Zelle. The remainder (which was due at delivery) would have to be paid by cash or USPS money order. Tetiana and her husband didn't have a bunch of cash on hand, so this last-minute change was a big inconvenience.
Delivery could have gone more smoothly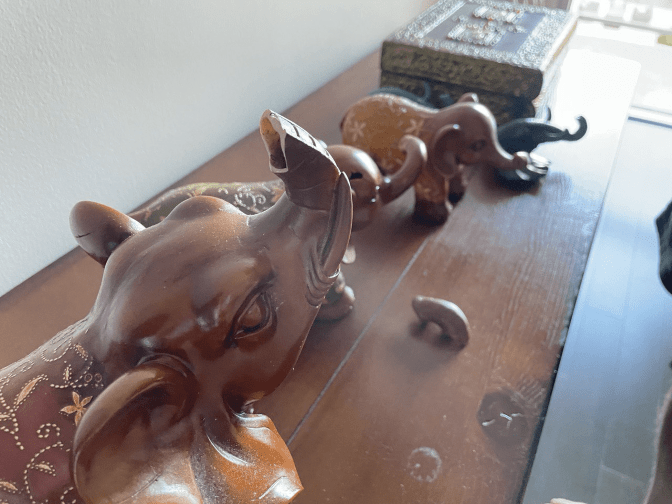 Tetiana began calling New Leaf regularly when it became obvious that her things wouldn't be delivered on the 12th or 13th.
While the New Leaf representatives were very responsive, they were only able to give her vague assurances that they were doing everything they could. This lack of concrete information was frustrating. Tetiana's household goods arrived in Houston about a week later than expected.
In addition, the driver wasn't an ABN employee. He was an independent trucker who'd borrowed a friend's rig to make extra money for the holidays. Worse yet, he didn't have helpers or tools with him. That meant that Tetiana, her husband, and their son had to do nearly all the heavy lifting. Plus they had to reassemble their furniture by themselves.
Again, this was frustrating because these services had been included in New Leaf's quote.
The driver also attempted to charge them extra for the excessive distance between the elevator and the apartment. He relented when Tetiana reminded him that she and her family were doing most of the work themselves.
Unloading didn't take that long. When they began unpacking boxes, they found that a number of decorative pieces and a pressure cooker had been damaged beyond repair. Tetiana called New Leaf and ABN to find out how she could file a claim. However, she wasn't confident that her damage was a priority for either company.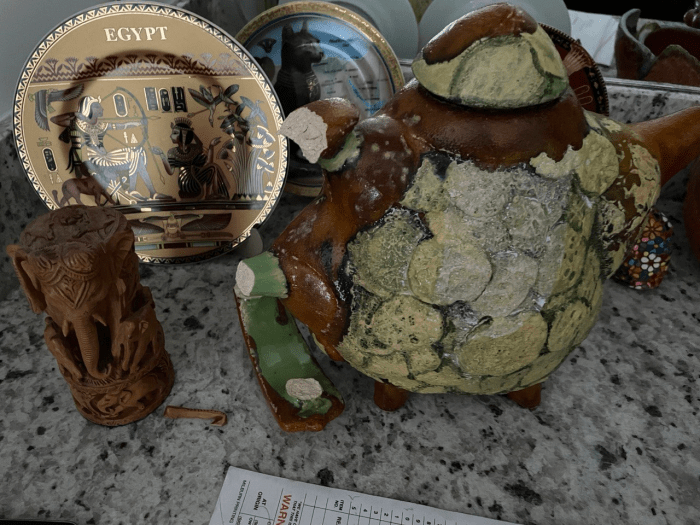 The verdict – did New Leaf Moving Group make the grade?
Tetiana's move was far from perfect. Her things were delivered later than expected. Despite paying for a full-service move, they had to do nearly all of the loading and reassembly themselves because the delivery driver didn't bring tools or helpers. She did end up paying less than the quoted amount because she and her husband did nearly all of the packing themselves.
Our take on the late delivery is that a 14-day window on a small long-distance move like Tetiana's seems reasonable. However, it appears that she was led to believe that her things would "probably" be delivered a week earlier on the 12th or 13th.
We're not sure why there was a miscommunication about which methods of payment were acceptable. These issues might have been avoided altogether if they'd been addressed in writing on the estimate and order for service. This is precisely why it's so important to familiarize yourself with important moving documents before signing a contract.
In hindsight, the thing Tetiana found most unnerving was that New Leaf (the broker) and ABN Moving (the carrier) just couldn't seem to communicate effectively with one another. Sadly, this made Tetiana's move far more tedious than it might have otherwise been.
Now without further ado, here's how Tetiana rated her experience with New Leaf Moving Group on a scale of 1 to 5:
Communication – 3
Timeliness – 2
Quote accuracy – 3
Overall experience – 2
Final thoughts
If she had to do it all over again, Tetiana would only move the things that were near and dear to her heart. As for her furniture and items of no sentimental value, she'd sell, discard or donate them to make the move simpler. She'd just replace them when she got to her new residence.
With her move in the rearview mirror, Tetiana wishes she'd hired a traditional mover instead of a broker. She also wishes she'd done a better job researching prospective companies by checking their status with the US Department of Transportation.
It would have also been a big help if she'd gotten a more accurate delivery window. The two companies could also have made communication with her and each other a bigger priority.
For anyone planning a move like hers, Tetiana suggests the following:
Trust your instincts and take everything you're told with a grain of salt
Get everything in writing
Before signing off, check out these helpful posts:
Not what you were looking for?
Check out other categories that can help you find the information you need!