There are approximately 7,000 licensed, active movers in the U.S. and another 1,000 in Canada. Of these, about 3,600 are members of at least one moving association, and about 2,700 are local agents of a national van line. Many are relatively small independent players, but others are large corporations with vast resources and extensive coverage areas.
Here are the largest moving companies in the country, based on the number of trucks in their fleet.
For this list, franchise locations are counted individually and not as one large, national company. For example, Two Men and a Truck, PODS, All My Sons Moving & Storage, and College Hunks Hauling Junk will not be listed as a whole because they have dozens of subsidiary franchises. However, an individual owner could be listed if they have a large enough fleet.
| Rank | Moving Company | Trucks | HQ City |
| --- | --- | --- | --- |
| 1 | United Van Lines LLC | 7,510 | Fenton, MO |
| 2 | ABF U-Pack | 3,848 | Fort Smith, AR |
| 3 | Atlas Van Lines Inc. | 3,759 | Evansville, IN |
| 4 | Mayflower Transit LLC | 3,128 | Fenton, MO |
| 5 | Allied Van Lines, Inc. | 2,199 | Fort Wayne, IN |
| 6 | North American Van Lines, Inc. | 1,694 | Fort Wayne, IN |
| 7 | Wheaton Van Lines Inc. | 961 | Indianapolis, IN |
| 8 | Bekins Van Lines LLC | 956 | Hillside, IL |
| 9 | Graebel Van Lines, Inc. | 828 | Aurora, CO |
| 10 | Arpin Van Lines Inc. | 645 | West Warwick, RI |
| 11 | Stevens Van Lines Inc. | 623 | Saginaw, MI |
| 12 | AMJ Campbell | 600 | Markham, ON |
| 13 | Suddath Relocation Systems | 561 | Jacksonville, FL |
| 14 | Covan World-Wide Moving Inc. | 498 | Midland City, AL |
| 15 | Armstrong Relocation Co | 487 | Memphis, TN |
Our recommendations
Themoving industry is huge, generating billions of dollars each year — yet no two moving experiences are exactly alike. The best moving company for you will depend on the type of moveyou're planning and your unique circumstances.
Many people look to the largest moving companies because those are what show up first in an online search. Larger companies also have a vast network and a wealth of experience, as well as more customer reviews you can read to help you feel better about the moving process. But even among the largest moving companies, there are several different types of movers you should consider before you get a quote.
A quick look at different moving company options
Due to their reach, van lines will always be an option no matter where you're moving. However, if you'll be moving within the same state, their resources could be overkill, and you may end up overpaying for a routine move.
That's why we recommend reputable independent moving companies for local or short-distance moves. Many of the top moving companies have reasonable prices and good reviews without the added expenses of a full-service van line.
For cross-country and international moves, the nationwide (and even international) resources and reach of van lines can help make your move as seamless as possible, so we recommend working with them.
If you're moving out of state on a budget, try looking into moving container companies, which are often cheaper than van lines (although you'll have to pack everything yourself).
Finally, if you're moving locally and would prefer to do so by yourself, a rental truck is your best option.
We'll dive into the largest moving companies for each of these types of movers below.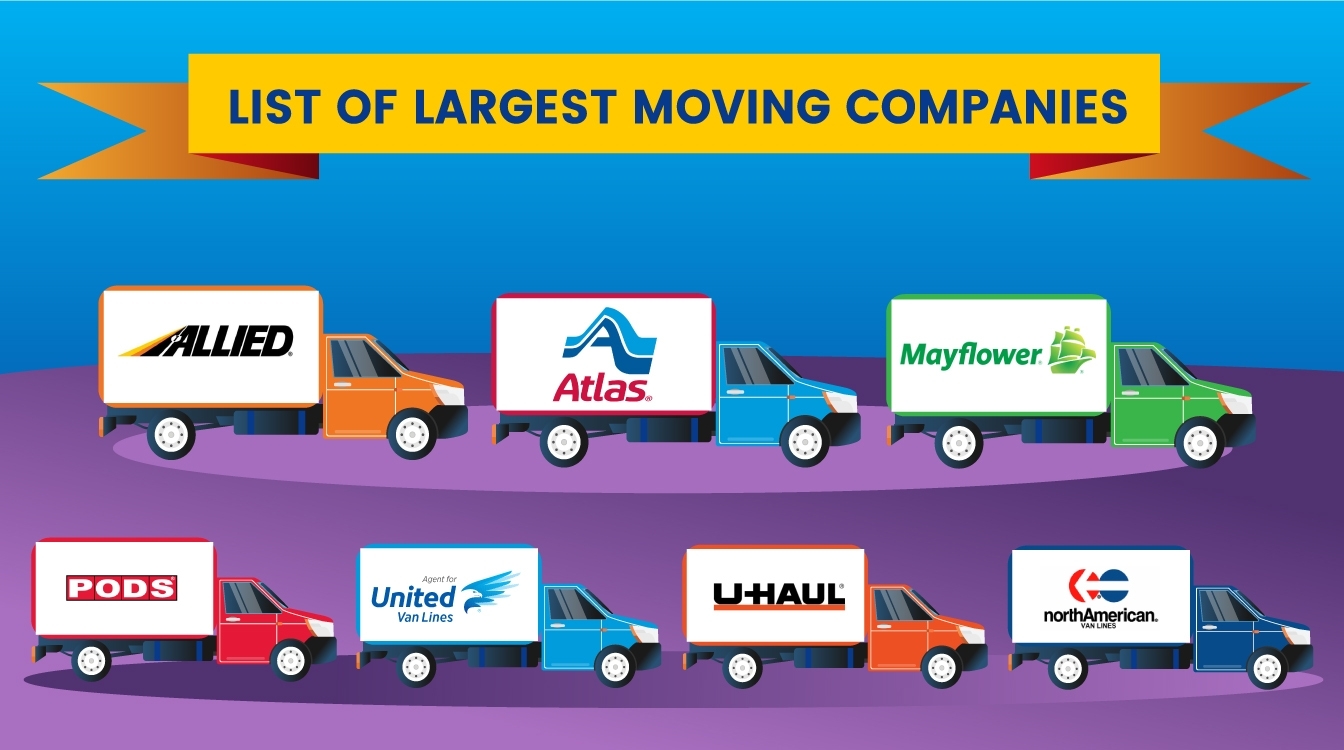 Van lines
Van lines are large, multi-state networks of moving companies that operate under well-known national brands.
The van line model has been around for more than a century but really came into its own in the mid-20th century as Americans became more mobile due to the development of the interstate highway system.
Van lines can be ranked based on a number of factors, including revenue, number of trucks, and the size of their agency network. In the past few decades, some of the industry's largest companies have merged to create the largest relocation service powerhouses in the United States, which is why several of the ones below are listed together.
Wheaton World Wide, Bekins Van Lines, and Stevens Van Lines
Arpin Van Lines
National Van Lines
Suddath
American Red Ball Movers
New World Van Lines
Want to know what it's like to move with some of the top van lines in the country? We have you covered with our first-person reviews and moving grants — real life experiences from movers like you that used these services and gave us feedback on how everything went. Check out our United Van Lines reviewand get insight into what the moving experience from quote to moving day looks like with this post on Amy's move with UVL from New York to Texas.
Don't miss ourMayflower reviewwhere we break down their services and costs or ourAllied Van Lines Reviewto decide which provider is the best choice for you.
Dive deeper into the offerings with ourNorth American Van Lines reviewand get inside info on what the moving experience is like fromMarcie's experience using the service to move from California to Colorado.
Moving franchises
franchises tend to focus on local and regional moves.
In many ways, moving franchises offer the best of both worlds. They're independently owned and operated, but they allow customers many of the benefits of working with a national company (as long as your move is within their service area). They're a great choice if you're looking for a local mover.
Here are some of the largest full-service mover franchises:
Starving Students
EkoMovers
Thinking about using one of these companies for your next move? Know what to expect thanks to our Two Men and a Truck review v and get insight on actual moving experiences with College Hunks by reading Tessa's moving experience from Michigan to Kansas.
Moving container companies
Though moving container companies are usually lumped in with other DIY move options, they differ in that moving container companies provide the transportation between your old and new homes, which is a big plus for consumers who'd rather not drive a clunky moving truck.
Moving container companies bring an empty container to your home or business and give you a few days to load it. Once you're done, they pick it up and deliver it to your new address, where you unload it. You pay a flat rate based on the number of containers you use for your move.
Moving containers are available for both local and long-distance moves, offering a convenient, flexible, and often relatively inexpensive alternative to a full-service company.
The biggest container moving companies include:
Truck rental companies
Truck rental companies have been the mainstays of the DIY moving and storage business for decades.
They're popular options for both local and long-distance moves, but due to economic factors like migration trends and supply and demand, they can sometimes be nearly as expensive as professional movers — especially if you choose add-on services and materials such as packing supplies.
For that reason, it's always wise to consider comparing your potential truck rental expenses against quotes from the best movers.
The largest truck rental companies are:
Self-storage companies
Whether you're storing a boat for the winter, moving into a smaller home, or simply in need of a space to keep your stuff before your new home is ready, storage services will probably be a necessity.
There are thousands of storage facilities in nearly every city and town across the country. They offer a variety of storage options, including climate-controlled, outdoor, and drive-up storage to fit most needs and budgets. Both short-term and long-term storage contracts are available at most facilities. However, the types of storage solutions available can vary based on your location.
Competition tends to keep prices reasonable, but be warned: Hidden charges sometimes lurk in the fine print of storage contracts. Don't sign the dotted line until you've read your contract thoroughly.
The largest self-storage companies are:
Moving labor companies
Back in the day, customers were limited to either using a full-service moving company or doing everything themselves. Now, however, there are hybrid options that allow families to choose the services they want and combine them into one unique, efficient, and reasonably-priced package.
Whether you're renting a truck and moving across the country or hiring a container moving company and moving to the other side of the state, moving labor providers are perfect—especially if you'd rather not be responsible for packing/unpacking or lugging heavy furniture and appliances up and down stairs and into and out of trucks. These companies can provide as much (or as little) help as you need to make moving day run smoothly.
The largest moving labor companies are:
Simple Moving Labor (SML)
Dolly
Are the largest moving companies your best option?
One of the most important parts of your pre-moving checklist is to decide which type of move is best suited to your needs and which moving company is your best option.
Starting your search with the largest moving companies can be a good choice because of the wide range of services offered and the ease of finding information and getting online quotes. However, there's nothing wrong with looking at local residential moving services.
What ultimately matters most is that you choose a company you can trust. Keeping costs down is important, but you should also be able to trust that your company will show up on the move date and provide the agreed-upon services without hidden fees or mishaps.
Narrow down your options to a few reputable movers available in your area (big or small), then request quotes from your top three so you can select the best option and approach moving day with confidence.
FAQs on Largest Moving Companies
1. What are the best options for an international move?
Due to their abundant resources, expertise, and global reach, it's usually best to use a large national van line if you're moving to a different country.
2. Are moving containers OK for local moves, or is it better to rent a truck?
Moving containers can be used for local moves, but they tend to be more expensive than renting a moving truck and driving it yourself. However, they're a good option for those who don't feel comfortable driving a truck.
3. Why are moving costs and truck rental prices so high in California and New York?
It all comes down to supply and demand. Places with large populations (and large numbers of people coming and going) have more demand for moving services and trucks. As a result, prices tend to be higher in these areas. Prices also tend to be higher during the "peak" moving seasons of spring and summer.
4. What's the best way to handle a corporate relocation?
If you're relocating for work, it's always a good idea to ask about or negotiate a relocation package with your company before accepting the position. They might cover some or all of your moving costs, and in some cases, they may even hire the movers directly.
5. How can I be sure I'm using a reputable company?
There are lots of great resources to help you vet the companies you're considering working with, like the Better Business Bureau (BBB) and the American Moving & Storage Association (AMSA), a trade organization for movers of household goods. Of course, you can also find plenty of online reviews for the largest moving companies on sites like Google and Yelp.
6. How can I get a free quote?
Whether you're looking for a storage company or a transportation services provider, getting a moving quote doesn't have to be a hassle. Most of the largest moving companies can provide a ballpark estimate for your move online.
However, to obtain a binding estimate with exact, upfront costs for your move, you'll likely need to schedule an inventorying visit (either in-person or online) with someone from the moving company.
If you're trying to get a rough idea of how much your move will cost without calling any specific companies, our moving cost calculator is a great place to start.
Not what you were looking for?
Check out other categories that can help you find the information you need!
See All
Hide All