Life Storage Company Review
Overall Opinion of Life Storage: Life Storage Inc. is an organization that manages self-storage properties nationwide that was founded back in 1982 and operated as Uncle Bob's Self Storage until 2017. The current company headquarters is in Buffalo, New York, and has more than 2,000 employees and 900 storage locations across 30+ states. The majority of the facilities are meeting or exceeding customer expectations.

Jump to the Life Storage review section that you're looking for:
Life Storage: Moving Services Available:
The company has multiple locations in many major metropolitan areas. The following is a summary of the services offered.
Self-Storage Unit Rental: The storage units are classified as small, medium, or large (see illustration below for sizing). Customer access is permitted daily during hours that vary based on the location. Customers may authorize others such as friends or family members to access the storage unit upon request.
Drive-Up Units: Many locations offer the option of drive-up storage units that are commonly used for vehicle storage and allow easy access for moving large or heavy items. Drive-up units are typically not climate-controlled.
Climate-Controlled Units: This option is generally used for storing items such as electronics, wood furniture, or other items that are susceptible to extreme heat or cold. These units are heated, cooled, or dehumidified based on the conditions.
Security: All LifeStore facilities have access control measures including password protected points of entry, digital cameras for surveillance, and sufficient lighting throughout the property.
Package Delivery: Customers may have deliveries sent via UPS or Fed Ex to their storage facility.
Vehicle Storage: Vehicles including cars, boats, motorcycles, and recreation vehicles (RVs) may be stored. Parking may be outdoors, outdoors with overhead coverage, or indoors. Any non-running vehicles must be placed on a trailer and customers are required to show written documentation that proves ownership. The vehicle storage units or spaces are typically 10×15, 10×20, or 10×30 feet.
Truck Rental: The company offers complimentary truck and van rentals for self-storage customers at many locations that must be redeemed within 14 days of confirming a storage rental. These vehicles are equipped with automatic transmission, power steering, and air conditioning. Customers may opt for a Collision Damage Waiver for $19.95 and a refundable $100 deposit is required.
Business Storage: Businesses often use self-storage for seasonal items, excess inventory, trade show equipment, and more. LifeStorage encourages business customers to compare the prices per square foot for their storage units to that of traditional commercial space. Regional and national companies have multi-site storage options that are billed under one centralized account.
Specialized Programs: Commercial customers may consider using the Warehouse Anywhere program, which provides real-time inventory management. Items are scanned before being placed in the inventory. Many locations are also now offering office, retail & warehouse space for customers involved in e-commerce, contractors, and others.
Wine Storage: Many locations offer wine storage units for personal collections or restaurants. These units are secured with keypad entry and are properly controlled for temperature, light, and humidity.
Moving & Packing Supplies: New self-storage rental customers receive a 20% discount on moving and packaging supplies that are available at most locations and are available for online purchase. They sell moving boxes, packaging tape, protective covers, and much more. Free shipping is included for online orders of $25 or more and most shipments arrive within 48 hours.
Self-Storage Size Overview

Life Storage: Pros and Cons Summary:
The Good: Excellent Overall Customer Satisfaction
The overwhelming majority of customers are satisfied with the overall experience. When customers leave negative reviews, someone from the organization typically addresses the concerns and works toward a resolution.
The Bad: Some Locations Have Maintenance Issues and Pest Concerns
Some of the complaints have resulted from water problems within the storage facilities and several sites had significant pest control problems (rodent infestation).
---
Pros:
The company has responded to the COVID-19 pandemic by establishing a set of best practices that reflects the recommendations of the Centers for Disease Control and the World Health Organization. These measures include social distancing, use of personal protective equipment, and "100% contact-free rentals." LifeStorage has also temporarily suspending truck and van rentals.
New storage customers are eligible for a complimentary moving truck or van that includes 20 free miles.
Most self-storage rental agreements are month-to-month without lengthy commitments.
In most cases, the organization is very responsive to customer complaints and concerns
Cons:
Reservations should be made 7 to 21 days in advance.
Customers must have a compatible lock or purchase one from LifeStorage.
They currently do not have locations in Alaska, Arkansas, Delaware, Hawaii, Idaho, Indiana, Iowa, Kansas, Minnesota, North Dakota, South Dakota, Utah, or Vermont.
Some locations have maintenance and pest control concerns
Monthly rental payments may be made in cash, check, or through a major credit card. The company does not insure stored items and requires that customers have a renter or homeowner's policy in place. LifeStorage does offer basic protection plans that are priced as low as $12 per month for $3,000 of coverage.
Online Storage Pricing
| Size | Los Angeles (90011) | Austin (78745) | Atlanta (30329) | Baltimore (21224) |
| --- | --- | --- | --- | --- |
| 5 x 5' | $106 | $36 to $39 | $40 to $46* (*Climate Controlled) | $35 |
| 5 x 10' | $116 to $136 | $55 to $59 | $63 to $96* | $54 |
| 10 x 10' | $168 | 86 to $95 | $86 to $110* | $83 to $100 |
| Vehicle | – | $99 to $114 (30' Outdoor) | $145 (20' Outdoor) | $194 (20' Outdoor) |
Customer Reviews & Feedback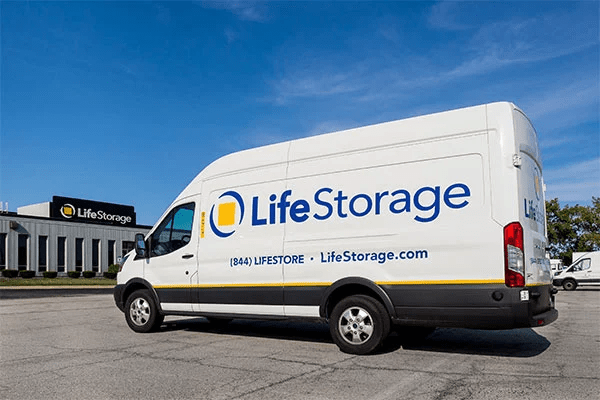 They have a location near their headquarters in Buffalo, New York, with an overall good rating of 4.9 of 5 on Google. Among the few dissatisfied customers, complaints included being unable to access the unit because of too much snow and some damage to stored items from rodents.
A Los Angeles-area location (90011) had nearly 500 reviews with an overall rating of 4.8 of 5 on Google. The majority of the reviews are positive. Several complaints involved a lack of parking space for loading and unloading and some minor cleaning concerns.
The location in Bedford, Ohio, had an overall poor rating on Yelp. The problem seemed to exclusively involve rodent infestation.
The Better Business Bureau (BBB) page for the Buffalo headquarters lists them as having been BBB accredited since 2013. There were more than 200 complaints over the past three years. As is typical for the self-storage industry, many of the complaints stem from annual prices increases for those with existing rental agreements.
Other complaints were related to the poor maintenance of the storage facility. These problems include units that had water intrusion and others where rodents had accessed the belongings and created damage. It should be noted LifeStorage has a paralegal that responds to each BBB complaint, and the majority of them are resolved.
Should You Choose Life Storage for Self-Storage Services?
The organization has a proven business model and allows new self-storage customers to use a moving truck or van at no charge as long as they don't exceed 20 miles, which is a unique perk. Existing customers will have annual increases in monthly rates and a few locations have had significant maintenance concerns and pest control problems. Overall customer satisfaction levels are high.
Not what you were looking for?
Check out other categories that can help you find the information you need!
See All
Hide All