iStorage Review: Services, Cost and Customer Experience
Here's the bottom line: iStorage offers numerous storage unit sizes that accommodate various customer needs, including business supplies and equipment and household goods.
The company often buys existing smaller local or regional storage companies, so their facilities vary considerably in terms of layout, accessibility, and amenities. Still, the company maintains consistently high-security standards and has a user-friendly website for choosing a unit and making a reservation.
But customer reviews often mention difficulty with contacting customer service and higher-than-average prices.
Keep reading to find out if iStorage is the right fit for your upcoming move or storage needs.
Pros & cons of iStorage
Top-notch security features like real-time surveillance, tamper-proof locking mechanisms, perimeter fencing, enhanced exterior lighting, and keypad entry
Month-to-month leases with no hidden add-on costs or fees
Military discounts available
Onsite manager to ensure facilities run smoothly
Donates to charity by sponsoring storage for non-profits and contributing to Feeding America
Regularly sprays for pests
Limited availability (only in 23 states)
Higher prices than competitors
Key takeaways
iStorage is a Florida-based storage company with locations in 23 states. The company typically buys and operates previously defunct storage facilities.
Customer reviews frequently cite difficulty contacting the storage facility, plus conflicting information from site managers.
According to our research, iStorage's prices are up to 40% more than comparable storage facilities.
Jump to the iStorage info you're looking for:
iStorage pricing: How much it costs for self-storage
Storage unit prices with iStorage depends largely on what size unit you need and where you're located.
The chart below shows monthly Online Rate pricing for five different locations. The exterior storage units have drive-up access.
| Location | 5 X 5' | 5 X 10' | 10 X 10' | Parking (10 X 20') |
| --- | --- | --- | --- | --- |
| Atlanta, GA | $51 interior | $74 interior | $127 interior | $294 |
| Tampa, FL | $29 interior | $39 exterior / $47 interior | $84 exterior / $72 interior | N/A |
| Chicago, IL | $34 interior | $54 interior | $139 interior | $89 |
| Houston, TX | $19 exterior / $17 interior | $29 exterior | $39 exterior / $35 interior | $89–$149 |
| Trenton, NJ | $49 interior | $99 interior | $199 exterior | N/A |
iStorage cost factors
A few other factors impact the cost of iStorage's services:
Online vs. in-person bookings: Online reservations are more competitively priced than in-person reservations.
Climate-control: Climate-controlled facilities cost more than other storage units.
Taxes and insurance: iStorage doesn't include taxes, fees, and insurance in the original quote.
iStorage offers a wide variety of services
iStorage offers a suite of storage solutions to meet the needs of individuals, families, and businesses.
Self-storage: Renting a unit from iStorage is pretty simple, particularly when placing a reservation online and choosing an electronic payment method.
Vehicle storage: iStorage facilities will accommodate vehicles, including cars, motorcycles, recreational vehicles (RVs), and boats. The company's short-term leasing options may appeal to customers who use their cars seasonally. The majority of vehicle spaces are outdoors, with indoor spaces available at some locations.
Indoor units: Elevator access is typically available in multi-floor indoor storage facilities. The exterior storage units with drive-up access are predominately not climate-controlled, as they are usually positioned indoors.
Outdoor units: Outdoor or exterior storage units commonly allow customer drive-up access and feature "garage-style" security doors. As a result, the rental prices for outdoor units are often lower than for indoor units.
Climate-controlled units: Those with sensitive storage items often choose climate-controlled units where the temperatures remain stable without extremes — typically 55 to 80 degrees. Items commonly stored in these units include art, paper or fabric materials, electronics, and wood furniture.
Short-term storage: You can rent units on a month-to-month basis. iStorage is appealing to those seeking options without signing a long-term contractual commitment.
Long-term storage: iStorage offers rental periods of one year or more.
Commercial storage: Businesses often store seasonal furnishings, trade show equipment, office furniture, and commercial vehicles in these units. Small or mid-sized contractors rent these units to store tools and equipment they use infrequently.
Business storage services: Customers may receive package deliveries (UPS, FedEx, etc.) at the facility during office hours. The manager will place the package in the appropriate storage unit. Some facilities even offer "pack and ship" services for items in storage that you want to ship. They may also accommodate truck deliveries, such as palletized shipments, at their loading docks.
Truck rental: Many locations now offer moving truck rentals as an option.
iStorage Unit Size Guide
iStorage's 5 x 5' storage unit is comparable to a small closet space, which may house one dresser, bookshelf, and several small or medium-sized boxes.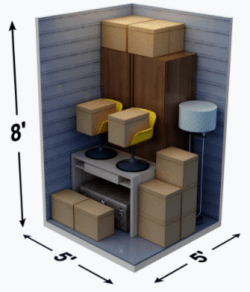 The 5 x 10' unit is comparable to a small walk-in closet and accommodates a studio or one-bedroom apartment.
A 5 x 15' unit is about the size of a larger-style walk-in closet and will generally hold the contents of a two-bedroom apartment.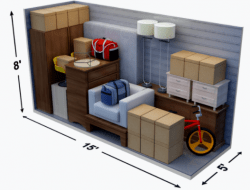 The 10 x 20' unit resembles a single-car garage, accommodating a three-bedroom apartment or small house.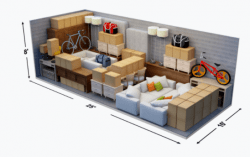 How iStorage stacks up against the competition
iStorage may be able to fulfill a wide variety of customer needs, but it's not the only player in the self-storage game. In fact, we'd recommend 1-800-PACK-RAT and U-Haul over iStorage in most cases.
iStorage vs. 1-800-PACK-RAT
1-800-PACK-RAT's quote process is one of the most accurate in the industry. Unlike iStorage, which provides customers with a rigid quote, 1-800-PACK-RAT allows customers to negotiate if they find a more competitive price elsewhere.
89% of users select this mover
Like iStorage, 1-800-PACK-RAT offers an impressive variety of container sizes to accommodate small and large moving projects. 1-800-PACK-RAT is arguably more convenient because the container will be dropped off and picked up at your home directly, whereas iStorage requires you to make those arrangements on your own.
iStorage vs. U-Haul
U-Haul is one of the most recognizable names in the entire moving and storage industry. If you value the convenience of locations in almost every corner of the globe and virtually untapped resources to meet your moving needs even at the last minute, U-Haul might be a better option.
89% of users select this mover
While U-Haul's self-storage doesn't provide the same logistic simplicity as 1-800-PACK-RAT'S pick up and drop off, it does offer some assistance. As with iStorage, you can use one of U-Haul's rental trucks or hire a third party to transport your belongings to storage.
It's important to note that U-Haul's customer reviews are all over the place, so we recommend shopping around, even within the company, until you find a location that gives you the best feeling.
| Company | BBB score | State availability | Services |
| --- | --- | --- | --- |
| iStorage | C | 23 | Vehicle storage, self-storage, climate control, commercial |
| 1-800-PACK-RAT | A+ | 33 (plus Washington, D.C.) | Moving containers and self-storage |
| U-Haul | A+ | 50 | Self-storage; moving truck rental |
Haven't found what you're looking for yet? Take a look at our best self-storage companies for more options.
How self-storage with iStorage works
iStorage's process isn't much different than that of the rest of the storage industry, but the company maintains a blog of helpful resources with step-by-step insight into the moving and storage process.
You can expect the following steps with iStorage:
Request a quote online or in person
Choose your storage unit size and any insurance add-ons
Agree to the terms and conditions and pay the initial fee
Organize and pack your items for storage
Deliver your items or hire a moving company to handle the process
From here, you'll pay month-to-month fees without a contract, so you can cancel and remove your items at any time
iStorage is perfect for people who need storage facilities with convenient access and strong security
iStorage can be a worthwhile consideration for customers who want 24/7 access to their belongings via a convenient keypad. But it may not be the best option for price-conscious consumers or those who want frequent contact with an actual person.
Customer reviews have cited difficulty getting in contact with customer service and onsite managers, as well as unexpectedly high prices compared to other quotes they received. That said, they may be a good option if you have a vehicle because they offer various enclosed and open parking solutions.
If you're temporarily relocating out of the state, using a self-storage facility can allow you to hold onto your belongings without paying excess rent for a living space you don't need. Instead, you can store your belongings until you're ready to use them again.
Planning an upcoming move? Consult our best moving companies guide to find a service provider that meets your budget and other moving needs.
FAQ
Does iStorage have RV storage?
Yes, iStorage has RV storage. Its storage units are large enough to accommodate anything from a compact car to a recreational vehicle.
iStorage offers the following vehicle storage unit sizes:
10 x 20 x 8 ft. (indoor garage)
10 x 20 ft. (outdoor covered parking spot)
10 x 20 ft. (outdoor uncovered parking spot)
10 x 30 ft. (indoor garage, no height listed)
10 x 40 ft. (indoor garage, no height listed)
What are the benefits of renting a self-storage unit?
There are numerous benefits of renting a self-storage unit, including:
Safely holding items between housing
Providing secure storage for heirlooms and collectibles
Giving protection from the elements and harsh weather conditions
Acting as an overflow for seasonal decor
When you use a self-storage facility, you can trust that your items are secure without taking up precious space in your home.
What is the difference between a climate-controlled unit and a non-climate-controlled unit?
Non-climate-controlled storage units are the default option. They're similar to a garage, which can be pretty bare bones. Climate-controlled units have heating, cooling, and dehumidifier systems to protect your items from elemental damage.
Not what you were looking for?
Check out other categories that can help you find the information you need!
See All
Hide All