iStorage Review: Services, Cost and Customer Experience
Overall Opinion: iStorage offers a good variety of storage unit sizes for accommodating differing customer needs. Because the organization often buys existing smaller local or regional storage companies, their facilities vary considerably in terms of layout, accessibility, and amenities.However, the company maintains consistently good security standards, has a user-friendly website for choosing a unit and making a reservation. In addition, their pricing generally remains competitive among the alternatives in each local market.If you're considering storage, here are some other links that might be helpful:
Top Moving Container Companies: If you need storage for a more extended period or want to transport your items, consider a moving container.
Storage Units vs. Moving Containers: Unsure if you need a storage unit or container? Learn the difference between the two.
Moving Cost Calculator: If you're moving soon and want to find out the best options for moving, storing, or transporting your items, get a free cost breakdown of your options based on the date of your move.
Pros
Cons

Excellent security features exist at each storage facility, including real-time surveillance, tamper-proof locking mechanisms, perimeter fencing, enhanced exterior lighting, and keypad entry systems.
Customers remain free from long-term contracts through month-to-month leases with no hidden add-on costs or fees.
Active military members may receive a 5% discount, with some local facilities extending this to 10%.

Only have locations in 21 states.
A one-time administrative fee generally applies for all rentals
The company's iShield insurance and protection plan excludes vehicles you are storing.
How does iStorage compare to other self-storage companies?
| | | | | | |
| --- | --- | --- | --- | --- | --- |
| Company | BBB Rating | # of U.S. States | Total U.S. Facilities | | Total Square Feet Owned |
| iStorage | F | 21 | 56,000+ | | 4,500,000 |
| Public Storage | A+ | 39 | 2,700+ | | 183,000,000 |
| Life Storage | A+ | 26 | 563 | | 40,390,216 |
| CubeSmart Self Storage | D- | 25 | 524 | | 36,735,000 |
Jump to the iStorage review section that you're looking for:
About iStorage

iStorage represents one of more than 12 brands owned by National Storage Affiliates (NSA Brands) operating in the U.S. self-storage facility market. Other brands within the NSA family include Blue Sky Self Storage, Guardian Storage Centers, and Hide-Away Storage Services. The organization supports various charitable causes across the many local communities that operate.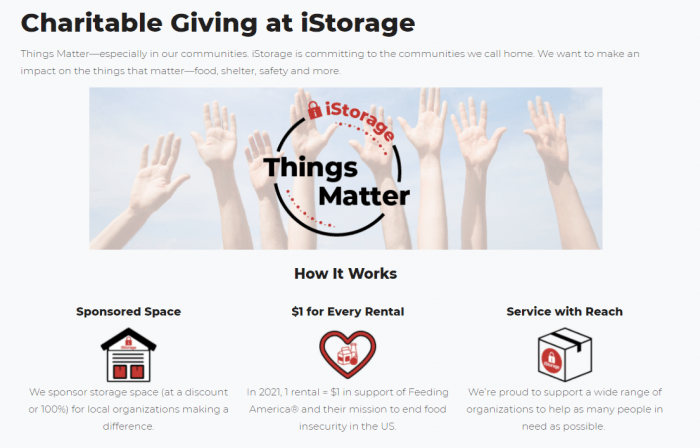 iStorage offers a wide range of storage services
Self-storage: The process of renting a unit from iStorage is pretty simple, particularly when placing the reservation online and choosing an electronic method of payment.
Vehicle storage: iStorage facilities will accommodate vehicles including cars, motorcycles, recreational vehicles (RVs), and boats. The company's short-term leasing options may appeal to customers who use their cars seasonally. The majority of vehicle spaces are outdoors, with indoor spaces available at some locations.
Indoor units: Elevator access is typically available in multi-floor indoor storage facilities. The exterior storage units with drive-up access are predominately not climate controlled, as they typically position these units indoors.
Outdoor units: Outdoor or exterior storage units commonly allow customer drive-up access and feature "garage-style" security doors. As a result, the rental prices for outdoor units are often lower compared to indoor units.
Climate-controlled units: Those with sensitive storage items often choose climate-controlled units where the temperatures remain stable without extremes—typically 55 to 80 degrees. Items commonly stored in these units include art, paper or fabric materials, electronics, wood furniture, and more.
Short-term storage: You can rent short-term units on a month-to-month basis. iStorage is an appealing option for those seeking options without signing a long-term contractual commitment.
Long-term storage: Refers to rental periods of one year or more.
Commercial storage: Businesses often will store seasonal furnishings, trade show equipment, office furniture, and commercial vehicles in these units. Small or mid-sized contractors often rent these units for storing tools and equipment that they use infrequently.
Business storage services: Customers may receive package deliveries (UPS, FedEx, etc.) at the facility during office hours. The manager will place the package in the appropriate storage unit. Some facilities even offer "pack and ship" services for items in storage that you want to ship. They may also accommodate truck deliveries at their loading docks, such as for palletized shipments.
Truck Rental: Many of the locations now offer moving truck rentals as an option.
iStorage Unit Size Guide
Their 5 x 5' storage unit is comparable to a small closet space, which may house one dresser, bookshelf, and several small or medium-sized boxes.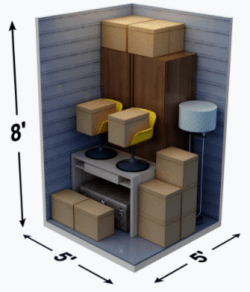 The 5 x 10' unit is comparable to a small walk-in closet and suitable for accommodating a studio or one-bedroom apartment.
A 5 x 15' unit is comparable to a larger-style walk-in closet and will generally hold the contents of a two-bedroom apartment.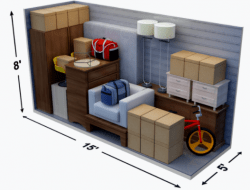 The 10 x 20' unit appears similar in size to a single-car garage, accommodating a three-bedroom apartment or small house.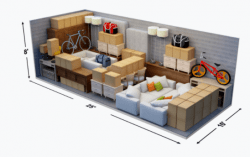 How much does iStorage charge?
iStorage promotes itself as competitively priced; however, it generally emphasizes having a good variety of storage options and great customer service.
The chart below shows monthly Online Rate pricing for five different locations. The exterior storage units have drive-up access.
| | | | | |
| --- | --- | --- | --- | --- |
| Location | 5 x 5' | 5 x 10' | 10 x 10' | Parking (10 x 20') |
| Atlanta, GA | $51 Interior | $74 Interior | $127 Interior | $294 |
| Tampa, FL | $29 Interior | $39 Exterior / $47 Interior | $84 Exterior / $72 Interior | N/A |
| Chicago, IL | $34 Interior | $54 Interior | $139 Interior | $89 |
| Houston, TX | $19 Exterior / $17 Interior | $29 Exterior | $39 Exterior / $35 Interior | $89 to $149 |
| Trenton, NJ | $49 Interior | $99 Interior | $199 Exterior | N/A |
What is iStorage's Customer Experience like?
The self-service storage units will typically maintain open access hours from 6:00 a.m. to 10:00 p.m., where current customers may gain entry.
Don't confuse access hours with office hours, meaning that a staff representative is available for receiving payments, sales of boxes and packing supplies, and other administrative duties. Keep in mind that both the access and office hours may vary across the different locations.
Customers may call the service and support department 7 days a week and speak with a live representative. Customers may purchase a lock from iStorage or provide their own compatible device. The organization recommends purchasing a durable disk or cylinder model that includes a corrosion warranty for maximum security and durability. All facilities receive regular treatment for pests such as bugs or rodents; however, they prohibit storing any food or other perishables that often attract pests.
Renters must present a government-issued photo ID such as a driver's license or passport. Customers may choose the automatic payment method for their monthly rent using a credit card. During office hours, customers may pay the rent in person using cash, check, or credit card.
One of the downsides of iStorage is that they're not as widely available across the US as some other public storage facilities. Here's a map of the state's they're available in: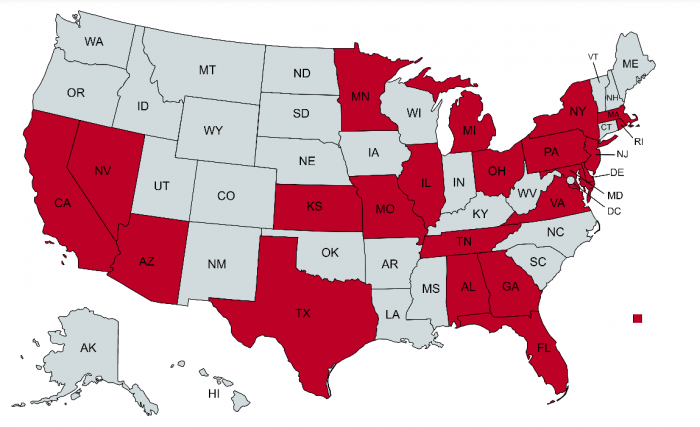 Is iStorage Licensed and Insured?
The parent company, National Storage Affiliates (NSA), is a registered organization in good standing with the Colorado Secretary of State (#20131351990).
All renters must maintain insurance coverage in case of loss, damage, theft, etc. Check with your homeowner's or rental insurance policy to determine if the coverage extends to storage units. The protection plan available for purchase through iStorage, known as iShield and ranges from roughly $12 to $33 per month (vehicle coverage excluded).
Does iStorage have a good online reputation?
Their Better Business Bureau (BBB) page shows they lack BBB accreditation and currently hold an F rating.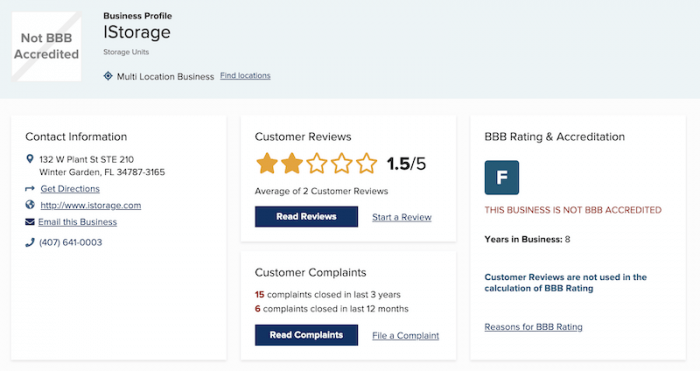 The BBB received roughly 4 complaints regarding iStorage over the last three years and 5 complaints in the past year. The following chart contains a summary of complaints.
| | |
| --- | --- |
| BBB Complaint Types | Number |
| Sales or Advertising | 0 |
| Collections or Billing | 3 |
| Deliver-Related Concerns | 1 |
| Warranty or Guarantee | 0 |
| Product or Service Problems | 11 |
Each iStorage facility maintains an individual business profile on Google and Yelp. Company representatives typically respond when customers post criticism on these platforms and pursue a resolution.
Should you consider iStorage?
Although considered a national brand, they lack any presence in more than 20 states, particularly in the country's northwestern region. However, they maintain an excellent online reservation platform with very transparent pricing. iStorage represents a good overall option in today's self-storage market.
Looking for more storage options? Check out some of our other personal storage reviews:
Not what you were looking for?
Check out other categories that can help you find the information you need!