Extra Space Storage Company Review
Overall Opinion of Extra Space Storage: Since 1977, Extra Storage Space has grown to become a well-established national company in the personal and business self-storage market. They are among the top self-storage companies with enhanced security, a commitment to maintaining clean facilities, and many sizes of storage units.

Jump to the Extra Space review section that you're looking for:
Extra Space Storage: Storage Services Available:
Headquartered in Salt Lake City, they have approximately 700,000 storage units totaling more than 80 million square feet across 39 U.S. states. Those that are excluded include North Dakota, South Dakota, Montana, Wyoming, Maine, Alaska, Vermont, and Arkansas. Many states have multiple locations, such as more than 30 sites in both California and Florida.
Extra Space Storage maintains units in sizes ranging from 2 feet x 2 feet up to 10 feet x 40 feet. The ceiling height is typically 8 feet and the most common unit sizes are 5 feet x 10 feet and 10 feet by 20 feet.
Self-Storage: Self-storage units are often rented month-to-month and allow the customer to access the unit. Extra Space Storage emphasizes having very clean and secure options for customers. The two primary types of units are outdoor (drive-up) accessible storage units that resemble a garage or indoor walk-in units within a building.
Vehicle Storage: Those seeking to store a car will need a storage unit that is at least 10 feet x 15 feet and must have a valid registration and license plates. The three primary options for vehicle storage include indoor, outdoor, and covered. Those who are storing a recreational vehicle (RV) will typically choose outdoor storage, which may be covered. Many customers also choose to store motorcycles or boats for the short or long-term.
Business Storage: Commercial customers may store equipment, furniture, inventory, company vehicles, and more. Some storage sites now offer small office space rentals. Often retail businesses will rent storage units as a more cost-effective option to traditional warehouse space. Business customers are encouraged to ask about "extended" access hours or possible 24-hour access that is available at some locations.
Climate-Controlled Units: These units are maintained at temperatures between 55 and 80 degrees to protect your belongings by using heat, air-cooling, or humidity reduction methods. The units effectively protect electrical items and prevent mold, mildew, and potential infestation from pests. Wooden furniture is protected from cracking or otherwise warping. Metal items are less likely to rust or corrode.
Moving Supplies: Through a partnership with Supply Side USA, customers may purchase moving supplies online. Products include boxes, packing materials, locks, and much more. Most orders include free shipping throughout the U.S.
Extra Space Storage: Pros and Cons Summary:
The Good: Has a Tremendous Variety of Storage Options
Extra Space Storage offers storage solutions of all sizes for individuals and businesses across the country. Customers appreciate the flexibility in choosing from many sizes and features including climate control, drive-up access, and availability of moving supplies.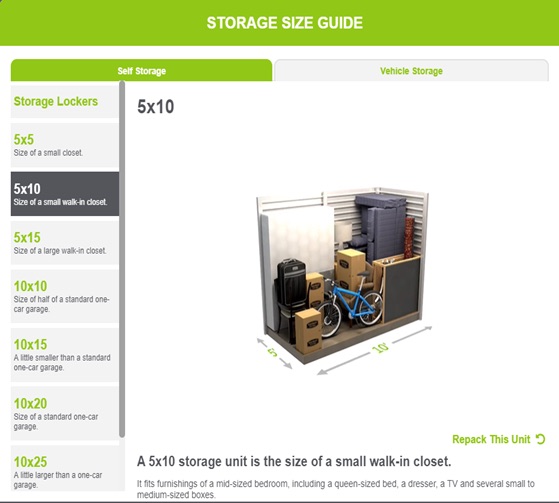 The Bad: Prices Increase After Initial Promotions or Incentives
As is common in many industries, the company offers special incentive rates to attract new customers. Problems may arise when the reduced promotional prices expire and monthly rates are routinely increased on existing customers. The terms of the rental agreement likely contain "fine print" that disclose this; however, some customers do not read the terms that closely.
---
Pros:
Maintains a national call center for customer service
Excellent three-dimensional storage unit website tool (see image)
New best practices for COVID-19 have been established that begins with regular cleaning and sanitation schedules.
They installed plexiglass barriers based on proper social distancing guidelines. "Touchless" process of completing leasing paperwork using an electronic signature. Employees are provided with facial coverings, gloves, and personal protective equipment.
For security purposes, the storage sites have good lighting, electronic surveillance, and controlled gate access.
Many storage facilities also have an on-site manager and specialized alarm systems.
Offers customers a discount of truck rentals through a partnership agreement with Budget Truck Rental
The facilities are treated each month to repel rodents and other pests
Unlike many self-storage providers, a credit card is not required for a rental
Now offers a wide variety of moving supplies available for online purchase with free domestic delivery
Cons:
Some customers complain of having difficulty reaching the property manager by phone
Despite security efforts, storage units are susceptible to theft
Existing customers may experience regular price increases that reduce the overall perception of value
Discounts Available and Affordability
The following table contains the monthly "web rate" prices for non-climate-controlled units using the Extra Space Storage online rental tool:
| Location | Small 6' x 13' | Medium 8' x 20' | Large 10' x 20' | Outdoor Uncovered Vehicle |
| --- | --- | --- | --- | --- |
| Cleveland, Ohio 44102 | $21 | $45 | $41 | $52 |
| Atlanta, GA 30307 | n/a | $41 | $46 | $59 |
| Los Angeles, CA 90011 | $79 | $102 | $222 | $257 |
Climate-controlled unit pricing varies based on many factors, but you can expect approximately a 30% increase.
Extra Space Storage routinely offers discounts and other incentives such as a free first month of storage. They have established a partnership with Budget Truck Rental that allows customers a 20% discount of trucks when needed for moving projects. Those who complete an online rental may be eligible for a 10% discount.
Customers can make monthly payments on-site, online, by mail, or by calling 888-STORAGE. Automated monthly checking account payments can be established and they also accept credit cards, check, and cash.
Customer Reviews & Feedback
The headquarters location in Salt Lake City on Google has an overall 4.8 out of 5 ratings based on more than 240 reviews. The majority of customer reviews were positive. One dissatisfied customer stated that their storage unit was broken into. A couple of customers explained that they repeatedly have been unable to reach the site manager when calling the location.
The location in Farmington, Michigan has more than 450 Google reviews with a 4.9 out of 5 overall ratings. The only negative feedback that I found was that they have been increasing their monthly storage prices. Many customers praised the professionalism of the staff and the cleanliness of the premises.
The Yelp page for the Salt Lake City headquarters location has only a few customer reviews and these are largely positive will mostly minor concerns. For example, one customer complained that their temporary security code was not working.
The headquarters location has an A+ rating with the Better Business Bureau. This perfect rating is not consistent with the feedback from more than 120 customers that was rated as 1.5 out of 5 overall. Many of the complaints involved inaccurate credit card charges and difficulties obtaining refunds. It should be noted that the organization is very responsive to customer reviews, particularly on Google and BBB.
Should You Consider Extra Space Storage?
The online reviews posted by Extra Space Storage customers suggest that overall satisfaction levels are high. The organization has also introduced a variety of additional features and amenities to attract more small businesses and corporate customers. Some examples include offering office space and warehousing options for e-commerce companies.
Their website tools for customers to obtain pricing and determine the best-sized unit for their needs are exceptional. Extra Space Storage is also well-suited to accommodate vehicles of all sizes. Space is available for cars, motorcycles, boats, and RVs that is indoor, outdoor, or outside with a roof covering, which is very appealing in areas with harsh weather conditions.
Not what you were looking for?
Check out other categories that can help you find the information you need!