College Hunks Hauling Junk & Moving Company Review
Overall Opinion
The company was founded by a small group of college students in 2003 and now has three corporately-owned locations and more than 120 franchises across the U.S. and Canada.
The organization uses the acronym HUNKS to describe what their customers can always expect as "Honest, Uniformed, Nice, Knowledgeable, and Service."
Further, the management team outlines a set of specific Core Values that include "building leaders, always branding, creating a fun and enthusiastic team environment, and listening, fulfilling, and delighting customers."
For moving services, they are a great option for local and intrastate destinations. Most locations don't offer interstate moving services and they will instead act as a broker for these projects using their network of transport providers.
They are among the industry leaders in junk removal and hauling services for both residential and commercial customers.
College Hunks has more than 100 independent franchise locations, which is an indicator that they've developed a solid business model.
Jump to the College Hunks review section that you're looking for:
College Hunks Hauling Junk & Moving: Moving Services Available:
The company headquarters is located in Tampa, Florida with independent franchise opportunities throughout North America. The organization does an excellent job of promoting and marketing their brand and image. College Hunks does an excellent job of reinforcing a commitment to environmental concerns and assisting community-based non-profit organizations.

Local and Long Distance Moving: Local and regional in-state moving are their primary services. Interstate moving projects are typically brokered, meaning that contracted drivers and laborers are used for all or a portion of the project. The pricing for long-distance moves is mostly based on the overall weight of the shipment.
Junk Removal, Recycling, and Disposal: Both residential and commercial customers can benefit from junk removal and hauling services. They specialize in cleaning out estates and office relocations. Some of the other related services include basement cleanouts, carpet or appliance removal, hauling away construction debris, hot tub removal, and more. They encourage customers to consider their services as an alternative to renting a dumpster or scrap container.
Donation Pickups and Drop-offs: Emphasis is placed on being "environmentally friendly" by ensuring that items are safely disposed of and recycled whenever possible. For example, old furniture is often taken to a local Goodwill, Habitat for Humanity Store, or other charity where it can be used again. Each location also has designated processes for discarding of tires, electronics, and other others that require eco-friendly disposal.
Packing and Unpacking: Customers may purchase customized packing and unpacking services as needed. For example, those with an oversized furniture set may choose to have the staff professionally package it for safe transport.
Office Moving: They are available to serve small and large businesses throughout the U.S. and Canada. The staff is experienced in professionally handling office equipment, commercial office furniture, and supplies.
Storage: Many of the individual locations maintain local storage facilities. They also have a national partnership to offer storage space to customers of locations that lack such facilities. They offer indoor, outdoor, drive-up, and climate-controlled storage units.
Moving Boxes and Supplies: Boxes, tape, labels, wrap, and other supplies are available for purchase. They offer many customized supplies including mattress bags, wardrobe box units with bars, and boxes for televisions, mirrors, and pictures.
Light Demolition: Examples include removal of patios, decks, cabinetry, and flooring.
Hourly Moving and General Labor: College Hunks offers trained labor available on a per-hour basis. These individuals can assist with many different assignments including:
-Loading and unloading of trailers and storage units
-Furniture staging, packaging, and rearrangement
-Lifting or otherwise transporting large or heavy items or equipment
-Transporting loads to recycling facilities or charitable donation centers
-Labor is properly insured and available on short notice
Those who need services on short notice may enjoy the same-day and next-day service options that are often available
A designated Moving Consultant serves as a central point of contact for most projects
Has established policies in response to COVID-19 that include providing all staff with personal protective equipment
Management is very responsive to customer complaints and makes efforts to reach a mutually acceptable solution
Have an impressive number of strategic partnerships that ensure eco-friendly disposal and recycling of unwanted items and materials
Interstate moves are generally completed using contracted drivers and labor
Does not currently offer vehicle removal services (junk cars etc.)
Some locations have shown a tendency to arrive late
Most locations don't own storage facilities but do have partnerships to provide storage solutions
We've reviewed the company closely to identify the most evident strengths and weaknesses that exist.
The Good: Offers a Wide-Variety of Services
The company offers services that include moving, hauling, junk removal, packing, unpacking, general hourly labor, and more. Both residential and commercial customers will appreciate the versatility of options that are offered to complete any project including specialty services. For example, they often assist home sellers and real estate agents in property "staging" projects that involve repositioning furniture for presentational purposes.
The Bad: Limited Interstate Moving Services
While College Hunks offers many services, interstate (long-distance) moving services is not one of them. Long-distance moves are contracted out to a third-party moving company. They also don't offer international transportation services except for those in or out of Canada.
Cost and Affordability
College Hunks doesn't post specific rates on its website, as customers are encouraged to have a representative provide an on-site assessment at your home or business. Those seeking an estimate can also do so using the online request form or over the phone. The organization does not promote that they offer the lowest prices; however, they claim to provide value by delivering "more bang for your buck"
They strive to provide upfront prices without hidden add-on costs or fees. For example, the estimates provided do include fuel costs and equipment such as dollies. Hourly labor rates are generally charged in 15-minute increments.
Customer Reviews & Feedback
The Google listing for their headquarters located in Tampa has a nearly-perfect rating of 4.8 of 5 based on over 700 reviews. The majority of the negative feedback involved crews arriving later than expected and some miscommunications with customer service. Company management does personally respond to most of the posted complaints in efforts to resolve the problem.
Their Yelp page listed under moving companies in Tampa has a rating of 4 of 5 stars resulting from 27 reviews. Most of the customers were satisfied. Complaints were minimal and included a television that was damaged during transport and billing discrepancies.
The Better Business Bureau (BBB) listing in Tampa has a C- rating. The main complaints involved damage to property during the moving process and arriving later than originally scheduled for the job. In all cases, the company responded to complaints and attempted to resolve the concerns.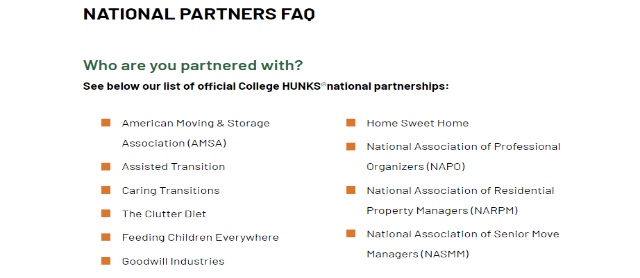 Should You Consider College Hunks Hauling Junk & Moving for a Move?
This company is a good option for local moving projects, home or business cleanouts, and hauling away junk. Hourly labor is available for moving, hauling, commercial office furniture disassembly, "light demolition" projects, and much more. Feedback suggests that most customers are satisfied with the services provided.
Not what you were looking for?
Check out other categories that can help you find the information you need!
See All
Hide All