Two Men and a Truck Company Review
Overall Opinion
Two brothers with a pickup truck started the company more than 30 years ago.
In the years since the company has added more than 300 franchise locations and they boast an impressive 96% customer referral rate, which indicates that they are meeting and exceeding consumer expectations.
Overall customer feedback is positive.
How does Two Men and a Truck compare to other professional movers?
Jump to the Two Men and A Truck review section that you're looking for:
Two Men and a Truck: Moving Services Available:
The company is headquartered in Lansing, Michigan. The organization has a national presence with locations in more than 40 U.S. states with among the only exceptions including Alaska, Hawaii, Rhode Island, and Vermont. The company has adopted a "Movers Who Care" motto that reflects a commitment to charitable giving and community service.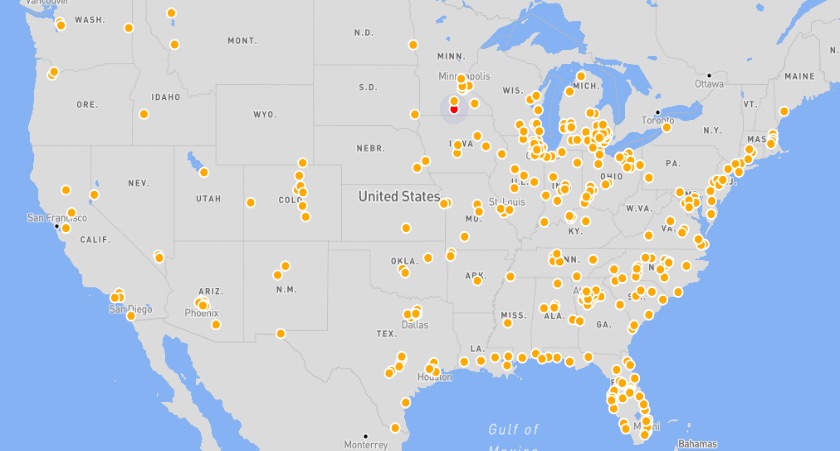 Local Moving: Two Men and a Truck handle local moves for apartments, retirement communities, campus housing, and more. Moves are completed using cleaned and sanitized 26-foot trucks that are well-equipped with the materials and equipment needed to protect items during the process. The staff is professionally trained and background checked. Packing and unpacking services and short or long-term storage options are available.
Long-Distance Moving: Moves to destinations that exceed 50 miles are considered to be long-distance. The two service options in this category are Expedited Long Distance and Value Flex.*
Residential Customer Storage: Short-term storage options are ideal for those who have a delay before they can move into their new home or those completing renovation projects. These secured storage areas range from basic warehouse space to climate-controlled units.
Junk Removal: Those looking to remove unwanted items from attics, basement, or garages can consider the junk removal service. The company ensures that all items are properly disposed of according to safety and environmental standards. Items including gasoline, propane, asbestos, wet paint, and other hazardous materials may not be removed using this service.
Packing and Unpacking: Professional packing services are available that are typically charged using a per-hour rate. Items are packed according to standards that ensure they are protected from damage.
Moving Supplies: Boxes, wrapping, tape, and other moving and packaging supplies are available for purchase. Some of the specialized options include boxes for your wardrobe, dishes, and television. Their website has a calculator that estimates the supplies needed for a move based on total square feet.
Delivery: Local pickup and delivery services are available for moving heavy or bulky items such as appliances or furniture.
Labor for Loading and Unloading: Most locations offer a Carry Crew service option. Laborers are professionally trained and subject to background checks and drug screening.
Business Moving: Commercial companies can simplify a moving or relocation project while minimizing downtime by using their services. Nationwide companies can be established as a national account that gives these organizations customized discounts. A centralized manager assumes responsibility for overseeing these accounts.
Business Storage: Small and large organizations can use Two Men and a Truck for customized short or long-term secured storage. Some of their clients need space for old files and documents, office furniture and equipment, and excess inventory or supplies.
Commercial customers are encouraged to consider mobile and portable storage options. There are a 5-foot x 7.5-foot option and a larger 16-foot container also. These units are designed to temporarily store items that are unable to currently fit into the business location.
*Expedited Long Distance is a premium service that provides the customer with a dedicated truck(s) and a moving crew that proceeds directly to the destination without delay. Customers can easily track the location of their transport via GPS tracking.
Value Flex is a more economical long-distance option for customers that have some flexibility on the date of the move. The customer is given a 48-hour "window" of time for arrival. All belongings are loaded in a 16-foot portable container that is shipped on a long-haul container with those of other customers as it is routed to the destination. This is an excellent option for those residing in apartments or smaller homes that are willing to wait a few days for the arrival of their belongings.
The following chart proves a comparison summary of the Value Flex program for long-distance moves.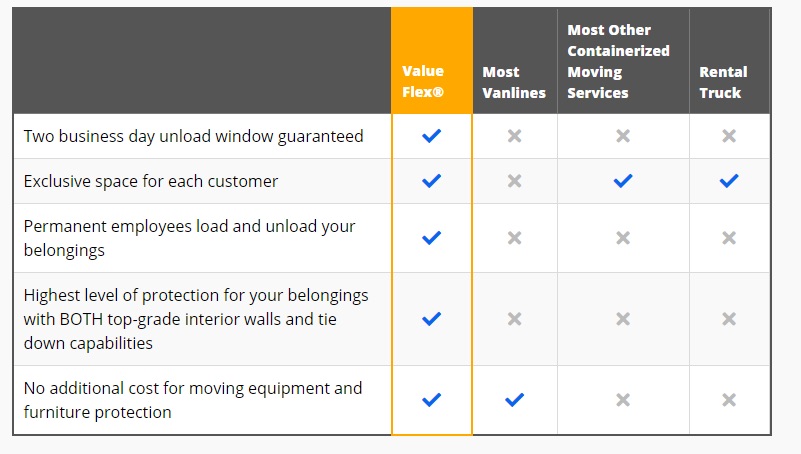 Movetrac is a free resource application they developed that is available online to assist customers with the moving process. A customized timeline is created with a list of reminders that guides you through the process.
The organization has implemented a series of new practices in response to COVID-19 that includes regular disinfection of trucks and equipment and ensuring that all staff is provided with proper personal protective equipment.
The company has many years of experience in moving pianos and oversized equipment
Each location can assist with custom storage solutions for households or businesses
Community Service and Support: Two Men and a Truck made charitable contributions that totaled nearly $3 million in 2019. One example is the Movers for Military program that is held during the week of Veteran's Day each year.
Military veterans receive deliveries of essential care items through a partnership with local schools and businesses.
Based on the franchise business model, pricing can vary significantly among the locations
Some locations don't consistently have high-quality staff
Some local franchises have limited interstate and other long-distance moving services
The Good: A Truly "Full-Service" Moving Company with Convenient Locations in Most Metropolitan Areas
The management team has been successful in expanding its available services to include junk removal, storage options, delivery, and more. There are more than 300 franchise locations across the country; therefore, chances are that a location exists nearby.
The Bad: Inconsistent Pricing and Quality of Staff
Based on their franchise model, the pricing and quality of their movers tend to vary by location.
Two Men and a Truck can provide customers with pricing estimates over the phone for smaller projects. An in-home estimate by a company representative is generally required for projects involving properties that are more than 1,500 square feet, involve specialty items such as safes or pianos, or other factors.
Insurance (Valuation): The company does not sell insurance; however, will explain your options for coverage through valuation based on the policies available in that specific state.
Customers are encouraged to first consult their homeowner's insurance policy to see if moving coverage is provided. All items of significant value should be specified before a move.
Customer Reviews & Feedback
The Lansing, Michigan headquarters location is rated as 4.6 of 5 across roughly 200 reviews on Google. Many customers praised the movers for their professionalism. Most of the few negative comments related to items that were damaged during the moving process.
Customers on Yelp rated the company as 3.5 of 5. The majority of complaints resulted from those who had items damaged during the move and some pricing discrepancies. A representative of the location typically responds personally to any negative feedback.
The Des Plaines, Illinois location was among those with significant customer feedback to the Better Business Bureau (BBB). Despite an overall A rating, some complaints were reported. Some of these customers felt that they were initially given a reasonable estimated price that later increased. It seems that many of these customers were unaware of the potential for additional charges caused by either a lack of communication or failure to read the fine print.
Should You Consider Two Men and a Truck for a Move?
This is a company that is committed to maintaining high levels of customer satisfaction and a positive reputation. Employees are professionally trained and background checked. They are a good overall option for residential and commercial full-service moving services.
Not what you were looking for?
Check out other categories that can help you find the information you need!