Two Men And A Truck Review: Costs, Services, & Reputation
Here's the bottom line: Two Men And A Truck's franchise model allows it to offer a compelling suite of services outside the typical realm of full-service moving companies, but the quality and availability can vary depending on the location.
Two Men And A Truck is a veteran of the moving industry, and its witty name often precedes itself. While it doesn't have the strongest rating from the Better Business Bureau, individual franchise locations boast more personalized reviews from satisfied customers.
The company offers a wide range of services, including packing help and supplies, junk removal, storage options, and even in-home moving services for small projects.
Its pricing is competitive compared to other similar moving companies, but the overall quote process is clunky due to a number of checks and balances, like phone calls and in-home estimates. However, these checks and balances can maintain pricing accuracy and ensure you know what to expect leading up to your moving day.
Keep reading to uncover the need-to-know details about Two Men And A Truck, so you can make an informed decision that meets your needs.
Pros & cons of moving with Two Men And A Truck
Free online resource creates a customized timeline, including a list of reminders
Flexible cancellation policy
Sells packing supplies, including packing tape, specialty boxes, and bubble wrap
Experience moving specialty items like pianos and oversized equipment
Each location can assist with custom storage solutions for households or businesses
30+ years of experience in the moving industry
Long history of charitable contributions, including Movers for Moms, Movers for Military, and Truckload of Warmth
Services more than 300 locations nationwide
Valuation coverage for damaged items
Pricing not finalized until day of the move
Doesn't confirm quotes online
Based on the franchise business model, pricing can vary significantly among locations
Some locations don't consistently have high-quality staff, according to customer reviews
Some local franchises have limited interstate and other long-distance moving services
No franchise locations in some states, including Alaska, Hawaii, and West Virginia
Poor Better Business Bureau (BBB) rating
Key takeaways
Two Men And A Truck (USDOT#1209512) offers competitive pricing for a wide range of moving services, including small in-home projects, junk removal, packing, loading, and storage solutions.
Overall, the company maintains a more than 96% referral rate from previous customers, but moving experiences can vary depending on the franchise location.
Two Men and A Truck vets its professional movers by performing drug tests and background checks, so movers can feel confident trusting them with their household goods and valuables.
Looking for the best moving trucks? Check out our guide to the best interstate movers to get your belongings where you need them.
Learn More
Jump to the Two Men And A Truck info you're looking for:
Two Men And A Truck pricing: How much it costs to move
Two Men And A Truck's costs aren't standardized — they'll depend on your unique situation.
Two Men And A Truck can provide customers with pricing estimates over the phone for smaller projects. The company generally requires an in-home estimate for more complex moving services.
The following factors can affect your moving quote:
How many flights of stairs are at your origin and destination locations
The distance from truck to door at both locations
The total loading and unloading time/hourly rate for professional movers
The total driving time
Any add-on services you opt for
Your total cost may increase if you have several large pieces of furniture or decide to purchase packing supplies from Two Men And A Truck.
You can compare your quote to other full-service providers using our moving cost calculator.
How Much do Movers Cost?
Get instant ballpark pricing. No email or phone required. It's fast, free, and easy.
Two Men And A Truck offers a wide variety of services
The company is headquartered in Lansing, Michigan, but its franchise model operates in 47 U.S. states, excluding Alaska, Hawaii, and West Virginia.
The company has adopted a "Movers Who Care" motto that reflects a commitment to charitable giving and community service, so a portion of its proceeds for all services go to sustaining these initiatives.
All moving staff are professionally trained and background-checked.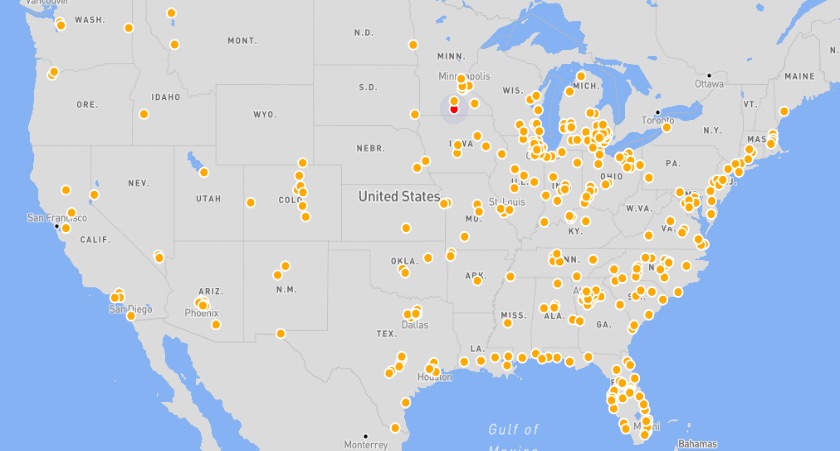 Two Men And A Truck's services include the following:
In-home moving: You can hire laborers for small in-home projects, such as moving a dresser or other bulk items you can't do alone.
Local moving: Two Men And A Truck handles local moves for apartments, retirement communities, campus housing, and more. Moves are completed using cleaned and sanitized 26-foot trucks equipped with the materials and equipment needed to protect items during the process. Packing and unpacking services and short- or long-term storage options are available.
Long-distance moving: Two Men And A Truck offers two options for moves over 400 miles: Expedited Long Distance and Value Flex. As its name suggests, Expedited Long Distance is a premium service that speeds up the moving process and gives you the exact moving date you need. If you're flexible on your move date and want to save a little money, Value Flex is a more economical choice. Two Men And A Truck gives you a 48-hour arrival window. Your belongings will be loaded in a 16-foot portable container and shipped with other customers' items.
Residential customer storage: Two Men And A Truck offers secure facilities for short- and long-term storage, including climate-controlled units.
Junk removal: Two Men And A Truck can haul unwanted items from attics, basements, or garages and dispose of them according to safety and environmental standards.
Packing and unpacking: Professional packing services are available that are typically charged at a per-hour rate. Two Men And A Truck will pack your Items according to standards to help ensure they are protected from damage during transit.
Moving supplies: Boxes, wrapping, tape, and other packaging supplies are available for purchase. Some specialized options include boxes for your wardrobe, dishes, and television. Two Men And A Truck's website includes a calculator that estimates the supplies needed based on total square footage.
Delivery: Local pickup and delivery services are available for moving heavy or bulky items, such as appliances or furniture.
Loading and unloading labor: Most locations offer a Carry Crew service option. Laborers are professionally trained and subject to background checks and drug screening.
Business moving: Companies can simplify a moving or relocation project while minimizing downtime using business moving services. Nationwide companies can establish national accounts with Two Men And A Truck that give them customized discounts.
Business storage: If your business needs space for old files and documents, office furniture and equipment, and excess inventory or supplies, you can use Two Men And A Truck for customized short- or long-term secured storage services.
Portable storage options: Some locations offer a 5-foot x 7.5-foot and a larger 16-foot container. These units are designed to temporarily store items that cannot fit into the business location.
Contents protection: Two Men And A Truck offers valuation coverage to help compensate you for any damaged, broken, or lost items. Customers will need to have an inventory list with all items of significant value to claim damages after the move.
How Two Men And A Truck stacks up against the competition
Two Men And A Truck is a full-service moving company –– meaning it provides labor, driving, and other professional services to streamline the moving process. Its service offerings are similar to highly rated moving companies, Allied Van Lines and Safeway Moving.
Two Men And A Truck vs. Allied Van Lines
Allied Van Lines (AVL) provides virtually every service movers need, including local, long-distance, and international moves, corporate relocations, packing supplies, and labor. It even facilitates vehicle shipping, portable storage containers, and monthly storage.
Two Men And A Truck offers comparable services, but Allied Van Lines edges it out by offering international relocation and vehicle shipping services. However, Two Men And A Truck aids in small in-home projects and junk removal, whereas AVL doesn't.
Allied Van Lines' pricing tends to be higher on average, but we recommend requesting quotes from both companies for local and long-distance moves. If you're particularly nervous about tracking your belongings in transit, AVL may earn your favor thanks to its GPS tracking availability.
Two Men And A Truck vs. Safeway Moving
Safeway Moving is another competitively-priced full-service moving company, and it can be an especially good fit for movers with a lot of anxiety around Two Men And A Truck's pricing structure. After a virtual walk-through, Safeway Moving sets a flat fee for its services, whereas Two Men And A Truck waits to finalize pricing until the moving date.
89% of users select this mover
Overall, Two Men And A Truck and Safeway provide comparable services with one big exception –– Safeway has very limited availability for local moves. Safeway's stand-out service is its custom crating, which can be especially useful for heavy pieces of furniture or specialty items you're worried about damaging.
Safeway's pricing is particularly flexible because it matches its competitors' prices. If you request a quote from Two Men And A Truck and it's cheaper than Safeway Moving, Safeway will match it.
To get a better feel for the providers on the market, take a look at our best moving companies or best interstate movers to compare quotes and service offerings.
How moving with Two Men And A Truck works
Moving experiences can vary tremendously based on the franchise location, but the booking process is similar. You can start the quote form online or you can call the company hotline at 888-602-2306 to be matched with your local franchise.
Regardless of the quote option, you'll need to provide your origin and destination locations, desired moving date, moving services, and contact information, including your phone number and email address. You can build out your inventory list online to better understand how many boxes you'll need.
From there, a representative will estimate your quote. The company may require an in-home estimate to confirm your pricing if you have a more complicated move. Generally, local moves are priced by the hour and amount of labor, while long-distance moves are priced by distance and the volume of your belongings.
On the day of your move, a moving truck and two laborers will arrive. Customer reviews note that this process generally happens efficiently and far quicker than they imagined. If you have any additions or subtractions from your original estimate, you can adjust your quote at this time. This flexibility can be a perk but can also cause some anxiety around your final price.
After your belongings are loaded into the moving truck, they'll be transported to your next location. You can call the team to request updates as needed.
Two Men And A Truck is perfect for people who want to work with a considerate team of movers
Customer reviews routinely rave about Two Men And A Truck's professionalism and careful handling when moving household goods for people nationwide. Backed by a brand with decades of moving experience, Two Men And A Truck franchises offer a competitive range of services designed to fit a broad audience.
It can also be a good fit for customers who want to work with a socially conscious moving company. Through its various initiatives, Two Men And A Truck supports military members, single moms, and unhoused individuals.
Overall, it presents a good value and wide breadth of service offerings, so we recommend anyone who lives near a Two Men And A Truck franchise location request a quote to compare against any other provider they're considering.
Use our moving cost calculator to compare quotes for various movers who can meet your unique needs.
FAQ
Do you tip Two Men And A Truck Movers?
While you're not required to tip Two Men And A Truck Movers, you're encouraged to tip whatever you think is fair. Movers shouldn't solicit or hint at tips but can accept them for exemplary service.
How do I cancel a move with Two Men And A Truck?
You can cancel a move with Two Men And A Truck by contacting the location through which you booked. Each location has a different policy, but you can generally cancel up to a few days before your scheduled service.
How many boxes should I buy for my move?
You can calculate how many boxes you should buy for your move by using Two Men And A Truck's online tool or you can estimate on your own.
Here's a table of moving box estimates based on the size of your home:
| Home size | Number of boxes |
| --- | --- |
| Studio apartment | 10–20 |
| 1–2 bedroom | 20–60 |
| 2–3 bedroom | 80–100 |
| 3–4 bedroom | 100–120 |
| 4+ bedroom | 120+ |
Not what you were looking for?
Check out other categories that can help you find the information you need!
See All
Hide All