Enterprise Truck Rental: Full 2022 Review
Overall Opinion: Enterprise Truck Rental offers the widest selection of vehicles in the market, with nearly twice as many options as other popular competitors, making them a good choice for local rentals.

The company also positions itself in the market as a leader in customer service–not as the most economical or "value-priced" option.

Helpful links: 
Pros

Cons

Free pickup
24-hour roadside assistance
They established a Covid Complete Clean Pledge as part of a Safer Today Alliance with Clorox that provides renters with disinfecting wipes and other enhanced cleaning measures.
Has the widest variety of truck and van models/types

One-way rentals are generally not available through Enterprise
Very few locations offer storage
Has fewer discounts than most competitors
Estimates for box truck rentals usually require calling the individual location(s)
How does Enterprise compare to other truck rental companies?
| | | | | | |
| --- | --- | --- | --- | --- | --- |
| Company | Prices | # of North American Locations | # of Vehicle Options | Storage | Deposit Required? |
| Enterprise Truck Rental   | $$ | 350+ | 14 | No | Yes, except in NY and CT |
| Penske | $$ | 2,400+ | 5 | Yes | Yes. |
| U-Haul | $ | 15,000+ | 7 | Yes | Yes. Only for online reservations. |
| Budget | $ | 2,500+ | 3 | Partnership with Extra Space Storage | Yes |
Jump to the Enterprise Truck Rental review section that you're looking for:
About Enterprise Truck Rental
Formed in 1999, Enterprise Truck Rental is part of Enterprise Holdings, Inc., which is best known for its Enterprise Rent-A-Car company that dominates the U.S. car rental market with roughly a 40% share.  The company, headquartered in St. Louis, MO, now employs more than 10,000 people.
Enterprise Truck Rental explains that its goals include offering commercial-quality trucks, excellent customer service, competitive pricing, and empowering its employees. In addition to trucks, they now provide pickup trucks, cargo vans, and other types of vehicles.
Renters can choose a daily, weekly, or monthly rental period.  Choices include 3/4 to 1-ton pickup trucks and straight trucks, and stakebed trucks ranging in size from 16 to 26 feet, which have proven well-suited for rugged commercial activity.
The Truck Rental and Leasing Association (TRALA) represents the premier national trade association in the commercial and consumer truck renting and leasing industries. Mike Pugh, the company's Corporate Vice President, serves on the Board of Directors for TRALA through 2022.
Enterprise Truck Rental Offers a Broad Range of Services
Personal use rentals:  All vehicles include automatic transmission, air-conditioning, and power steering

Box trucks: 20′ with a lift gate and 26′ and seating for a minimum of three passengers
Pickup trucks: They offer 1/2, 3/4, and 1-ton options. Many locations provide extended and crew cab models. Towing package availability now exists for pickup truck rentals in the U.S. and Puerto Rico. An additional fee applies for towing, and renters must be 25 years of age.
Flat decks: Customers can rent 9′ and 12′ options; both include seating for at least three passengers.
Cargo vans: All cargo vans include seating for two passengers. The sizes include Compact (6.10M cargo capacity), Standard (7.34 M cargo capacity), Heavy Duty (6.32 M cargo capacity), and XL Heavy Duty (7.16 M cargo capacity). Many locations offer high-roof models.
Cube vans:  The 12′ and 16′ models include pull-out ramps and seating for two passengers

Business use rentals: Include all vehicle options for personal use (above). Commercial customers will appreciate the availability of customized billing options based on individual needs. In addition, many companies with an existing fleet of owned or leased vehicles will supplement their inventory using rentals.

Geotab Telematics: Companies may choose customized telematics that includes real-time information. The program enables enhanced driver safety, ELD compliance, GPS technology, and a Driver Vehicle Inspection Report (DVIR).

Long-term rentals:  The long-term rental option involves periods ranging from a minimum of 30 days to a maximum of six months.
Vehicle sales:  They also sell used vehicles throughout the U.S. at more than 40 locations. All vehicles undergo a 90-point service inspection by a licensed technician and include a 30-day or 3,000-mile limited powertrain warranty. Customers have 7 days to return a purchased car, and only a cleaning and documentation fee applies.  Enterprise uses various financing companies for customers. Vehicle service contracts options exist for a maximum period of 36 months or 150,000 miles.
Canadian rentals: Enterprise has significantly expanded its presence across Canada with locations in Alberta, British Columbia, Manitoba, New Brunswick, Nova Scotia, Quebec, Ontario, Saskatchewan, and other regions.
Fuel management program: The organization partnered with WEX to promote the WEX Fuel Management Card Program. Currently, the acceptance rate in the U.S. is roughly 90% among retail fuel stations.
Despite having the fewest locations among their large competitors, they have a presence in most major U.S. cities (see image below).
How Much Does Enterprise Truck Rental Charge?
Online Pricing Estimates:
Chicago, IL: 3/4 Ton Pickup Truck $165/day; 1-Ton Pickup Truck $170/day
Los Angeles, CA: 1/2 Ton Pickup Truck $135/day; 3/4 Ton Pickup Truck $147.99/day
Orlando, FL:  3/4 Ton Pickup Truck $75/day; All Cargo Vans $80/day; 16′ Cabover Truck $95/day
Dallas, TX: 3/4 Ton Pickup Truck $210.91/day; Compact Cargo Van $130/day; Heavy-Duty XL Cargo Van $140/day
St. Louis, MO: 3/4 Ton Pickup Truck $275.99/day (150 miles included); Heavy-Duty Cargo Van $209.99; 15′ Parcel Van $229.99/day; 16′ Cabover Truck $209/day

Damage waiver (DW) for the St. Louis branch ranges between 21.99 and 32.99 USD per day
Personal Accident Insurance (PAI) for the St. Louis branch is 3.50 USD per day
Supplemental Liability Protection (SLP) for the St. Louis branch is $22.42 per day
Towing is available on 3/4 ton and 1-ton pickup trucks for an additional towing charge of $15.00 per day at the St. Louis location
Members of USAA members may receive a 5% discount, and customers of Progressive may receive a 10% discount.
Note: Enterprise Plus Points are not redeemable through Enterprise Truck Rental
What is Enterprise Truck Rental's Customer Service Like?
The online reservation system is somewhat disappointing, as you generally must call the individual location to obtain an estimate. (see image)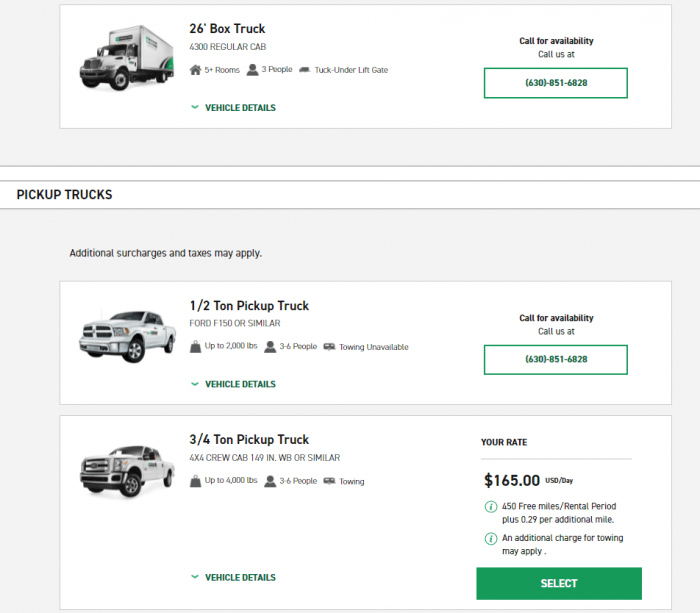 Customers may use the 800# to call a service and support representative or submit a request electronically through the online form. In addition, customers may easily make changes for an existing reservation through the website's View/Modify/Cancel Reservation option.
Does Enterprise Truck Rental Have a Good Online Reputation?
Enterprise Truck Rental's Better Business Bureau (BBB) page contains very little feedback, with only two complaints in the past three years. The organization remains unaccredited with the BBB.  The BBB page for the parent company of Enterprise Holdings Inc. reveals an A rating, but the company also lacks accreditation.
The following is a summary of the categories (nature) of the complaints received.
| | |
| --- | --- |
| BBB Complaint Types | Number |
| Sales or Advertising | 0 |
| Collections or Billing | 2 |
| Deliver-Related Concerns | 0 |
| Warranty or Guarantee | 0 |
| Product or Service Problems | 0 |
Each location typically has a business listing on Google and Yelp, with minimal overall activity.
Is Enterprise Truck Rental Licensed and Insured?
According to the Rental Truck Safety Study Report to Congress, the Secretary of the U.S. Department of Transportation (DOT) gathers limited information regarding trucks with gross vehicle weight ratings (GVWR) between 10,000 and 26,000 pounds available for rent by rental truck companies. And, the Federal Motor Carrier Safety Administration (FMCSA) tracks all truck-related crashes in the MCMIS; however, those associated with daily rental trucks generally remain unidentifiable and simply contain the driver's name.
The FMCSA completed a safety study regarding the safety of operation among the largest rental truck companies, including Enterprise, Penske, and U-Haul; however, the most recent data compiled was from 2012 and thus would largely be irrelevant a decade later.
| | |
| --- | --- |
| Database | Listed (Y/N) |
| AI FMCSA? | No (N/A) |
| SAFER FMCSA? | No (N/A) |
| Licensing Insurance FMCSA? |  N/A |
| Better Business Bureau (BBB) | Listed (Not Accredited) |
For more information on why we choose to look at these databases, check out our post on how moving companies are regulated. 
Types of protection you can get from Enterprise 
Damage Waiver: Frees the renter from responsibility for damage that occurs to the rental vehicle
Roadside Assistance: They include 24/7 roadside assistance at no charge. Typical services provided include flat tires, lost keys, jumpstarting dead batteries, etc.
Personal Accident Insurance: PAI is available for purchase and covers medical expenses, ambulance transportation, and more.
Supplemental Liability Protection: SLP is available for purchase and provides a maximum of $300,000 of liability coverage for third-party injury claims.
Should You Consider Enterprise Truck Rental for a Move?
In their first 20 years in this market, Enterprise Truck Rental has grown significantly and they currently maintain more than 300 locations in North America. Enterprise Truck Rental currently requires customers to return trucks to the original rental location; therefore, those seeking one-way rentals must consider another company. Overall, they represent a viable option with a nice variety of vehicles.
For more help choosing the right company and for a free quote, check our picks of the top-rated rental truck companies.
Check out other reviews of some of the best rental truck companies:
Not what you were looking for?
Check out other categories that can help you find the information you need!
See All
Hide All