Moving Experiences: Tessa's Move with College Hunks
In the spring of 2022, Tessa moved from Kalamazoo, Michigan to Manhattan, Kansas to start a specialty veterinary internship.
Tessa used her father's truck and trailer to transport her items, but she hired movers to provide labor for loading and unloading.
In Michigan she worked with College Hunks Hauling Junk & Moving, while in Kansas she used Flint Hills Moving.
Thankfully, Tessa's move was a resounding success by nearly every measure.
In this post we'll cover what went well, what didn't go so well, and whether she'd use College Hunks and Flint Hills Moving again.
Takeaways – how did College Hunks and Flint Hills Moving stack up?
Communication: Both companies communicated adequately, but Tessa experienced some unprofessional interaction with the staff at Flint Hills Moving
Punctuality: The College Hunks crew showed up on time, while the crew from Flint Hills Moving arrived ten minutes early
Move day performance: Crews from both companies were professional, efficient, and finished earlier than expected
Pricing accuracy and transparency: College Hunks' quote was right on the money, while Flint Hills Moving's costs were about $35 higher than quoted because taxes hadn't been factored in
Delays: No. Tessa did the driving herself
Would Tessa use College Hunks and Flint Hills Moving again? Tessa would use College Hunks again, but in light of the aforementioned communication and final charge issues, she'd consider companies other than Flint Hills Moving
For Tessa, a smooth move wasn't a certainty
Last-minute veterinary internships are stressful enough without having to worry about moving.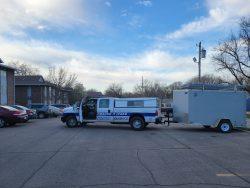 In addition, Tessa had multiple pets, budgetary concerns, and a 750-mile drive to think about.
To make matters worse, her younger sister had a horrible moving experience just a few weeks before. Thanks to an inefficient crew, she ended up paying three times more than the price she'd been quoted.
Needless to say, Tessa was eager to avoid the same fate.
Tessa's move at a glance
| | |
| --- | --- |
| Moving From | Kalamazoo, Michigan 49001 |
| Moving to | Manhattan, Kansas 66506 |
| Distance | 749 miles |
| Moving Companies | College Hunks and Flint Hills Moving |
| Moving quote | $596 ($250 for College Hunks + $346 for Flint Hills Moving) |
| Actual cost* | $631 ($250 for College Hunks + $381 for Flint Hills Moving) |
Because Flint Hills Moving's estimate didn't include taxes, Tessa's move costs went over by about $35.
In addition, she spent:
$452.20 on gas
$115.44 on lodging
Tessa wanted transparent pricing and good communication from her movers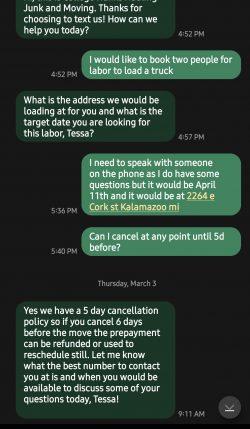 Keeping costs low was important, but skimping on service just wasn't an option.
Of the companies she contacted, two didn't service her area, a few never returned her calls, and one full-service mover's estimate exceeded $6,000.
Tessa decided to use her dad's truck and trailer and do the driving herself, but she needed to hire movers to provide labor for loading and unloading.
Tessa's initial Google searches weren't particularly helpful. However, she compiled a list of movers using U-Pack and U-Haul's websites,  after which she cross-referenced what she found with Yelp reviews for companies in her origin and destination cities.
Throughout the screening process, Tessa was generally happy with the quotes and communication from College Hunks and Flint Hills Moving.
Thanks to local advertising, Tessa was already familiar with College Hunks, and her representatives were friendlier and more professional than those at other companies.
Loading day with College Hunks was quick and efficient
Not one to procrastinate, Tessa spent the weeks before her move organizing, decluttering, and packing at least one box per day. She also prepared a moving day "to do" list that included draining and packing her fish tank and disassembling her Ikea bed frame.
On move day Tessa's crew from College Hunks showed up right on time at 8:45 AM.
The personable and efficient crew immediately started shrinkwrapping loose items and moving things into the truck and trailer.
Her only complaint was that nobody had told her that shrinkwrapping had been included in the moving quote. If she'd known, she could have saved herself the time and expense of doing much of the wrapping herself. Nonetheless, she was happy to have the extra protection.
While the crew was working, Tessa took care of the fish tank and attended to her pets.
College Hunks originally estimated that loading would take two hours, but the crew finished 30 minutes early.
In Kansas, Tessa discovered that some of the wheels on her desk were broken, but she was confident that College Hunks had done everything they could to protect them.
Delivery with Flint Hills Moving had a few minor hiccups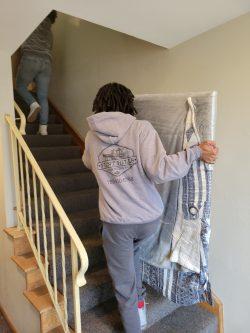 The crew from Flint Hills Moving also arrived on time on delivery day. A few of the crewmembers were young and forgetful, but the unloading process was quick and efficient.
Tessa's biggest complaint with Flint Hills Moving was a lack of transparency in regard to pricing.
She had been informed that unloading would cost approximately $350 and that she'd have to make a $300 deposit. However, she was never told how many people were coming, how long unloading would take, or exactly how her final charges would be calculated.
Tessa found this frustrating because it prevented her from budgeting and scheduling other activities for the day.
Thankfully the 6-man crew wrapped the job up in just 15 minutes and put everything where she wanted it in her new residence.
Tessa also noted that to her knowledge, nothing was mishandled or damaged.
A few things that could have gone better
Tessa was surprised that a few moving companies she'd contacted never got back to her.
In addition, she'd never even heard of moving insurance (valuation) until she filled out our questionnaire.
Though insurance probably wouldn't have been available since she hired the movers to provide labor only, she would have appreciated the chance to discuss it with a company representative.
In the end, the wheels on Tessa's desk were damaged, but she said she may have been at least partly responsible.
It's worth noting that wheels and casters should be removed from furniture whenever possible.
Other than some unprofessional communication and a moderate cost overrun with Flint Hills Moving, Tessa's move went surprisingly well from beginning to end.
Would Tessa use College Hunks and Flint Hills Moving again?
From friendly customer service reps to efficient and courteous crews, Tessa couldn't have been happier with College Hunks.
In fact, she'd use College Hunks again "in a heartbeat."
Tessa was generally happy with Flint Hills Moving too, but she felt that their prices were a bit on the high side, and she would have liked to know about the taxes on the front end.
In the end, she might not use Flint Hills Moving again if she had a safer and less expensive option.
Things to consider when hiring moving labor only
On her questionnaire, Tessa mentioned that neither company brought up moving insurance (valuation).
This omission was probably due to the fact that moving companies don't offer valuation when they've only been hired to provide loading or unloading labor.
Generally, valuation is only available on full-service moves.
Even when hiring labor only, getting written estimates from each company is imperative.
Make sure each includes:
The cost (rate) per crewmember
Additional travel time charge
Fuel surcharge
Charges for extra materials like boxes, tape, and shrinkwrap
And remember, though stretch-wrap may be included on some "labor-only" moves, moving companies generally only provide quilted furniture pads on full-service relocations.
To share your moving experience and qualify for a $500 moving stipend, check out our Better Moves Project.
Not what you were looking for?
Check out other categories that can help you find the information you need!
See All
Hide All