Overall Opinion
SMARTBOX Solutions, Inc. began providing mobile storage and moving containers in 2002 for residential and business customers.
They are among the most affordable options in the portable storage container market for those who don't need any extra "full-service" offerings.
The containers sometimes arrive in below-average condition and are vulnerable to water damage.
Jump to the SMARTBOX review section that you're looking for:
SMARTBOX: Moving Services Available:
The company boasts having provided services for more than 60 million customers and now has more than 100 locations across the U.S.
Their mobile containers have a vinyl exterior that is water and weather-resistant and hold up to a maximum of 3,000 pounds. The containers are put in place using a forklift and come in a standard size that measures eight-feet long, seven-feet tall, and five feet wide.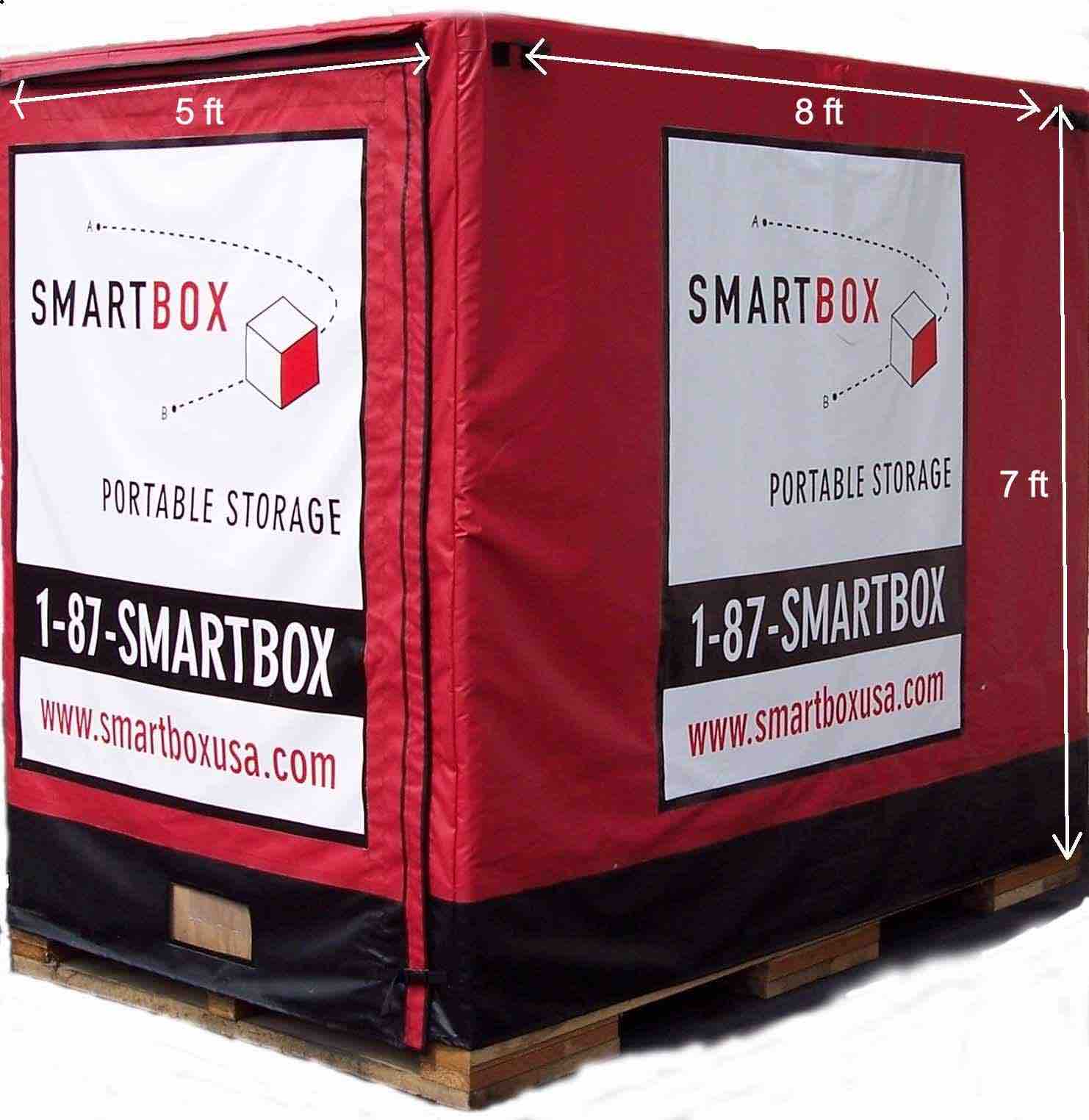 Local: Customers are encouraged to use the company website to contact a convenient SMARTBOX location to order containers. The container can be loaded at your convenience (no rush) and will be picked up when ready. Some homeowners will order a storage container to store household items during remodeling or renovation projects.
Long Distance: Professional moving consultants and coordinators will coordinate the transport of the containers to local or long-distance destinations by a licensed and bonded shipper. SMARTBOX has locations in roughly 25 states and will likely continue to expand.
DIY: The Do-It-Yourself option refers to customers who will load and unload their containers without assistance. SMARTBOX provides excellent tips and best practices for properly loading containers to ensure that the contents are not damaged during transport. Many locations do not offer labor to assist with packing, loading, etc.
Corporate Relocation: Employees that are relocating to a new location may appreciate the affordability of using SMARTBOX for moving from their current home or apartment.
Commercial: Small and large businesses use mobile units to transport or store equipment, furniture, excess inventory, and more. Some businesses use the containers for storing seasonal items or booths and equipment used for annual tradeshow events.
Military Moving Program: SMARTBOX provides services for government, military, and Personal Procured Moves (PPM). Active military members are also eligible for a special discount.
Construction Companies: Companies working on construction projects are encouraged to have containers from SMARTBOX delivered to the job site to store equipment, tools, material, and other supplies.
Storage: SMARTBOX will transport containers to their temperature-controlled facilities for short or long-term storage. Up to eight individual containers can be transported in a single trip.
Moving Supplies: Customers can order supplies through the SMARTBOX site that links to uboxes.com. Products available include protective wrapping, moving boxes, tape, and kit packages that are based on the number of rooms being moved.
SMARTBOX is now offering a special discount for college students that need storage and transport services
In response to the recent COVID-19 pandemic, the company is taking action to clean and sanitize their storage containers
Customers can benefit from the Real Estate Rewards program that offers discounts and cost credits through a partnership with SIRVA
Unlike a moving truck, the container can be loaded from the ground level without using dangerous ramps
The website has a storage calculator that estimates the number of containers that will be needed for a move (see chart below)
The interior of the containers is made of wood, which may present concerns if not properly maintained. For example, mold could develop from prolonged exposure to water, and cracks can develop that compromise the durability of the structure
The containers have a fixed base made of wood without wheels (casters)
Only one size of the container is currently available and those with two or more bedrooms should expect to need multiple containers
Insurance (valuation) options are limited; however, individual locations may have established more robust programs
Not all locations assist with loading, unloading, and other "full-service" offerings
| Number of Bedrooms | Range: Square Feet | Number of Smart boxes Needed |
| --- | --- | --- |
| Studio Apartment | Less Than 600 | 1 |
| One Bedroom | 600 to 1000 | 1 to 2 |
| Two Bedroom | 1000 to 1500 | 2 to 3 |
| Three Bedroom | 1500 to 2000 | 3 to 4 |
| Four Bedroom | 2000 to 2800 | 5 to 6 |
The Good: Affordability
SMARTBOX constructs their containers using wood, which is typically more affordable compared to vinyl, steel, and many composite materials. The company actively promotes itself as a budget-friendly option and offers a price match guarantee.
The Bad: Many Locations Have Inconsistent Container Quality and Service Concerns
In reviewing customer feedback from multiple locations, it is obvious that many are struggling to deliver customer satisfaction. Common problems include poorly maintained containers and delays in delivery.
SMARTBOX containers are affordably constructed of wood, which allows them to actively promote being a value-priced option for those on a tight budget. They also emphasize a commitment to price transparency, no hidden fees, and a price match guarantee. The company will always present customers with a detailed quote before the delivery of any containers.
Online Pricing Estimates
Los Angeles, CALas Vegas, NV2
$1,749**
| Origin Location | Destination | Number of Containers | Estimated Price |
| --- | --- | --- | --- |
| Cleveland, OH | Atlanta, GA | 1 | $1,479 |
| Atlanta, GA | Charlotte, NC | 1 | $1,174 |
| Los Angeles, CA | Las Vegas, NV | 1 | $1,499** |
**They are currently offering labor for loading at a rate of $120 per hour with a three-hour minimum
Insurance and Valuation
**Included in the price is $5,000 in moving protection for belongings damaged during the transport. The SMARTBOX website currently does not advertise any insurance or valuation programs.
Customer Reviews & Feedback
The location in Rancho Dominguez (Los Angeles County) has a rating of 4.0 of 5 on Google based on more than 25 reviews. The primary issue of concern was the poor condition of the storage containers. Complaints included having gaps within the wooden frame that present a risk of allowing water inside and create security concerns.
The North Chesterfield, Virginia location has a rating of 4.7 of 5 on Google. The feedback was largely very positive, as customers explained that the staff was very professional and customer service was responsive.
The SMARTBOX location in San Francisco was rated as 3.5 of 5 on Yelp. Many of these posts confirmed that SMARTBOX was lower priced compared to most of the competition. The problems are mostly the result of poor-quality service and customer support. For example, delays in receiving delivery of storage containers varied from one day to several weeks despite being booked by customers several weeks in advance.
The Better Business Bureau (BBB) page for the Richmond, VA (headquarters) location had an overall rating of A+. Four posted complaints resulted from delays in container delivery and some minor billing mistakes or errors. A company representative did personally respond to each complaint in efforts to resolve the problems.
Should You Consider SMARTBOX for a Move?
SMARTBOX maintains a business model designed to be economical and very straightforward. The wooden storage containers are often delivered in below-average condition and are potentially susceptible to water damage and may be vulnerable to theft. They are a viable option for those seeking a great value that can handle the loading and unloading work themselves.
Not what you were looking for?
Check out other categories that can help you find the information you need!
See All
Hide All