Smartbox vs PODS: Which container is the best deal?
Overall opinion: Smartbox and PODS are both solid container companies, but we're going with PODS in this case. Its great national coverage and experience in the industry give us a lot of confidence, and while Smartbox has competitive prices and great customer service, PODS has better containers and allows you more flexibility as you plan your move. This was a close one, but in this head-to-head, PODS is the winner.

If you haven't yet, be sure to check out our list of the best moving container companies to see how we rate a number of different container moving solutions.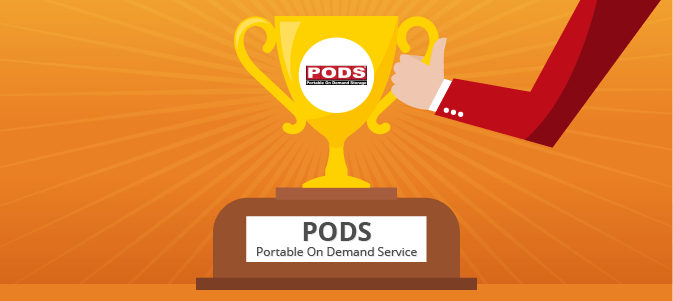 This is an interesting comparison. On one hand, we have PODS, the literal pioneer of the container moving and storage industry that's been in business since 1998. On the other, we have Smartbox moving and storage, a smaller company and relative newcomer to the industry that's making waves for having competitive pricing models and great customer service.
Overall, this was a lot closer than we expected it to be. Both these companies are well worth your consideration when you're choosing a moving company, and we would encourage you to seek out personalized quotes from both of them before making a decision on who you're going to hire to handle your move.
Read on for all the pros and cons, as well as comparisons of services, availability, containers, prices, and more. We've got all the details that should help you decide whether Smartbox or PODS is a better fit for your move.
Have a look at our best moving pod companies list to see a number of containerized moving solutions compared side-by-side.
Smartbox vs PODS: Pros and Cons
Let's dive right in with the pros and cons of each company. It's a good place to start to get an overview of what each company has to offer, as well as their differences in services, prices, and more. Here's what we love and hate about each of these companies, and after the pros and cons, read on for more comprehensive reviews and comparisons of everything they offer.
Smartbox Pros and Cons
What we love: If you're trying to make your move on a budget, Smartbox is definitely a company you'll want to get in touch with. They're super transparent about their prices, and offer price matching if you find a better deal on the same service elsewhere. We also love their customer service, which is always friendly and helpful.
What we hate: Smartbox has a couple of big downsides that would make us hesitate to book a move with them. Their website is pretty buggy, and while it offers instant online quotes, the tool often doesn't work correctly. Some reviews have also reported discrepancies between what customer service representatives tell them on the phone and what's actually written in their contract. If you do book with Smartbox, make sure everything they promise you makes it into writing so you can back it up later if there's any confusion.
Smartbox Pros
Smartbox Cons

Generally less expensive than full-service movers
Transparent pricing, price matching, and online quotes that you can "lock in"
Onsite storage available
You pack and someone else drives
Great customer service
Locks are free for long-distance moves

No online reservations
Website can be glitchy
Only one container size, and they're made of wood, not metal
Strict cancelation policy could mean steep fees if your plans change
Prices vary a lot depending on scheduling and specific needs
PODS Pros and Cons
Read our full, comprehensive review of PODS here.
Also, check out our breakdown of PODS pricing.
What we love: One of the best things about PODS is how flexible your reservation can be, which helps relieve a lot of stress during a move. Reservations are a minimum of 30 days, so you can really take your time packing and unpacking — you're allowed to keep the moving PODS on your property as long as you want to. You can store your stuff onsite or at a storage facility. And if you need to change or cancel your reservation, you can do so up until the day before your containers are scheduled to be dropped off and still get a full refund.
What we hate: Since we love PODS' service, our least favorite thing about this company is how hard it can be to use it. PODS doesn't have locations in all 50 states, and since the company is so popular, its containers tend to be booked out pretty far in advance — as much as six months out for peak times of the year. Unless you have a ton of lead time and are really on the ball planning your move, you may not even be able to score a reservation with PODS.
PODS Pros
PODS Cons

Generally less expensive than full-service movers
Flexible change and cancelation policy with full refunds available
Long moving window that can be extended as needed
Moving and storage available
Online quoting and booking
Onsite storage available
Unlimited loading/unloading time
Multiple container sizes
You pack and someone else drives
Pretty good nationwide availability, and some international availability
30 days of storage included
Various levels of insurance coverage available
Online shipment tracking
Military discounts

Website is missing some important information
Some quotes require calling in, rather than using their online quote tool
Most bookings can't be made online, so you'll have to call when you're ready to make a reservation
Often sold out, so it's best to make reservations far in advance
Smartbox vs PODS: Services and Availability
Smartbox and PODS are both container moving and storage companies, which means at a basic level, what they offer their customers is very similar.
For the uninitiated, here's how it works: You place your order for the container(s) to be dropped off at your old address. You pack and load them yourself, and then schedule a day and time for them to be picked back up. They can be put in storage (or just kept on your property to be used as storage) until you're ready to move in at your new address, at which time the company ships them there and drops them off so you can unload them. When you're done, the containers get picked back up.
Container moving companies have been around since the late '90s, when PODS, this industry's pioneer, first started in the business. Now, they're an extremely popular way to move, since they offer prices that are pretty comparable to DIY moving, but without you having to haul a trailer or drive a large, rented truck.
Smartbox and PODS definitely have some similarities in their services, but check out our comparison below to see how their offerings really stack up.
Smartbox
PODS
Moving
✔
✔
Storage at a Facility
✔
✔
Storage on Your Property
✔
✔
Storage Between Destinations During a Move
✔
✔
Delivery and Pickup of Containers
✔
✔
You Pack the Containers
✔
✔
Professionals Pack the Containers
Available as an add-on service in some areas
Limited Time to Pack Containers
Shipment of Containers to New Address
✔
✔
Insurance Included
✔
Insurance Available to Purchase
Additional coverage is offered for purchase if the included insurance isn't enough
✔
Free Cancelation or Modification
✔

(Up to three business days before your move)

✔

(Up to the day before your move)
Smartbox vs PODS: Are These Moving Companies Near You?
While PODS has locations in most U.S. states, we've already mentioned that their availability can be limited because they tend to sell out far in advance. So what about Smartbox's availability? Will you be able to book their containers when you want them?
While Smartbox does claim online that it now delivers to all 50 states, it actually has very limited locations. That means that while you probably can book with Smartbox even if you don't live near one of their locations, you might end up paying more for containers to get delivered from a further distance. It's something to keep an eye on as you get quotes and compare prices.
| | | |
| --- | --- | --- |
| | Smartbox | PODS |
| Available in the U.S.? | In all 50 states | In 44 states |
| Available in Canada? | Sometimes* | Yes |
| Available internationally? | Sometimes* | Yes, in Australia |
*To increase its coverage area, Smartbox sometimes partners with local moving companies, so whether international moves are available can vary by location — sometimes those local partners do offer international moves, and sometimes they don't. To see what's available in your area, you'll have to find your nearest Smartbox location and reach out directly.
Smartbox vs PODS: Who Has Better Containers?
The actual containers a company uses are an important factor to consider. After all, that's where your stuff will be packed and transported, and you have to feel confident that the containers will keep it all safe along the journey.
The containers are where we start to see one company really pull ahead of the other here. The industry standard for moving and shipping containers is for them to be made out of metal, which is the most durable and weatherproof material you could use. Most competitive companies in this industry use metal containers, but Smartbox provides wood containers with canvas covers to help protect them from the elements. Plus, PODS offers multiple different container sizes, while Smartbox only has one — and it's small.
Here's how the containers compare, and why we think PODS is the clear winner in this category.
Smartbox
PODS
How many container sizes available?
1
3
What are the container sizes?
8-foot
7-foot

12-foot

16-foot

Storage available for all container sizes?
Yes
Yes
Cubic footage available?
231 cf
390-1,008 cf
Container material?
Wood with a canvas cover
Metal
Smartbox vs PODS: How Much Do They Cost?
The cost is one area where it's tough to compare these two. It's hard to compare costs for any moving companies unless you get your own personalized quote, because so many factors — distance traveled, starting and ending zip codes, gas prices, the time of year, how much stuff you have to move, etc., etc. — go into pricing a move. Finding the cheapest pods moving company can be tricky, and you shouldn't choose your mover based on price alone, anyway.
With Smartbox, we found that prices vary a ton — more than with most moving companies. There's just a lot of variance in their prices depending on the particulars of your move. However, with their price matching offer, you may be able to save money if another company gives you a better deal.
We did our best to gather some average prices for different types of moves so you can get an idea of what they might cost. But keep in mind that these do not reflect the specifics of your own move, and whatever quote you get might be within these ranges, or it might not. You should never compare moving companies on the basis of cost until you've received personalized quotes from all of them.
You can also use our moving cost estimate tool to get a better idea for pricing on a number of different options.
Cost for a Local Move
| | | |
| --- | --- | --- |
| | Smartbox cost | PODS cost |
| 1 bedroom | $200 – $400 | $200 – $400 |
| 2-3 bedrooms | $300 – $700 | $300 – $650 |
| 4-5 bedrooms | $400 – $1,000 | $300 – $800 |
Cost for a Move < 250 Miles
| | | |
| --- | --- | --- |
| | Smartbox cost | PODS cost |
| 1 bedroom | $400 – $1,000 | $450 – $800 |
| 2-3 bedrooms | $650 – $2,000 | $750 – $1,900 |
| 4-5 bedrooms | $1,000 – $2,500 | $900 – $2,100 |
Cost for a Cross-Country Move
| | | |
| --- | --- | --- |
| | Smartbox cost | PODS cost |
| 1 bedroom | $2,500 – $5,000 | $2,000 – $4,000 |
| 2-3 bedrooms | $3,000 – $6,000 | $3,000 – $4,900 |
| 4-5 bedrooms | $4,000 – $8,000 | $5,500 – $7,600 |
Smartbox vs PODS: Which Container Moving Company Is Right For You?
Just because we think PODS is the better pick here doesn't mean it'll necessarily be the right choice for your move. It's important to note that every move has unique needs, so only you can decide what company can best meet them at a price point you're comfortable with. Hopefully, this article helped you learn more about both Smartbox and PODS so you can feel more confident making that choice.
Check out more PODS competitors here.
Before booking a moving company, you should compare as many as possible. With MoveBuddha, you can get instant quotes for multiple trustworthy moving companies all in one place. Why not start your search there?
Not what you were looking for?
Check out other categories that can help you find the information you need!
See All
Hide All