Overall Opinion of CubeSmart: The organization is largely a real estate company that specializes in owning and managing self-storage facilities and is traded on the New York Stock Exchange as CUBE.

They have more than 1,000 locations across the U.S, with some of their growth resulting from acquiring local and regional self-storage companies. Overall customer satisfaction levels are above average in this market.

Jump to the CubeSmart review section that you're looking for:
CubeSmart: Moving Services Available:
The organization is headquartered in Malvern, Pennsylvania, and began as U-Store-It Trust in 2004. The following is a summary of services:
Household and Personal Storage: They offer indoor storage units that are generally house in multi-level buildings with elevators and outdoor units that tend to be in one-story buildings. Drive-up units are housed on the ground level and may be indoors or outdoors. Most locations have certain units that are climate controlled, which are maintained between 55 and 80 degrees. Customers are responsible for insurance on their belongings that are in storage and can purchase a coverage option from CubeSmart.
Business Storage: Businesses both small and large can use their self-storage options. Some of the types of businesses that they serve include those in need of warehouse storage, excess inventory, and contractors who store tools and materials. Companies with multi-state storage needs may establish a national account, which includes dedicated support from account representatives.
CubeSmart Services (Business): The company is expanding into offering add-on services for business customers.
Logistics: Customers can have packages shipped and accepted at their storage facility and have items from their storage inventory retrieved and prepared for pickup or shipping.
Office Amenities: The majority of these services are exclusively available at CubeSmart Superstore locations. Examples include the use of office workstations with WIFI and printing, copying, and shredding services.
Moving: Includes moving trucks and labor to assist with loading, unloading, etc.
Organization: Includes assistance with maximizing storage space and supplies such as boxes, tape, and packing materials.
Custom Storage: Specialized options include furnishing the storage area with shelving, camera (video) monitoring, access to electricity, and remotely-controlled entry.
Car, RV, Motorcycle, and Boat Storage: Most vehicles can be stored for short or long-terms. Vehicle storage may be outdoor, indoor, or covered outdoor for protection from sun and weather conditions.
Military Storage: Military members with proper identification are eligible for a 10% discount.
Packing Supplies: The majority of locations sell packing and moving supplies that include complete kits.
Property Management: For more than 10 years, they have offered third-party property management services that provide self-storage companies with a consultant to assist with operations, marketing, management, and more.
Storage Unit Sizes Available
| Small | Medium | Large | Vehicle |
| --- | --- | --- | --- |
| Locker (4' Tall) | 10' x 10' | 10' x 20' | 15' |
| 5' x 5' | 10' x 15' | 10' x 25' | 20' |
| 5' x 10' | – | 10' x 30' | 26' |
| 5' x 15' | – | – | 30' |
U.S. State Location Map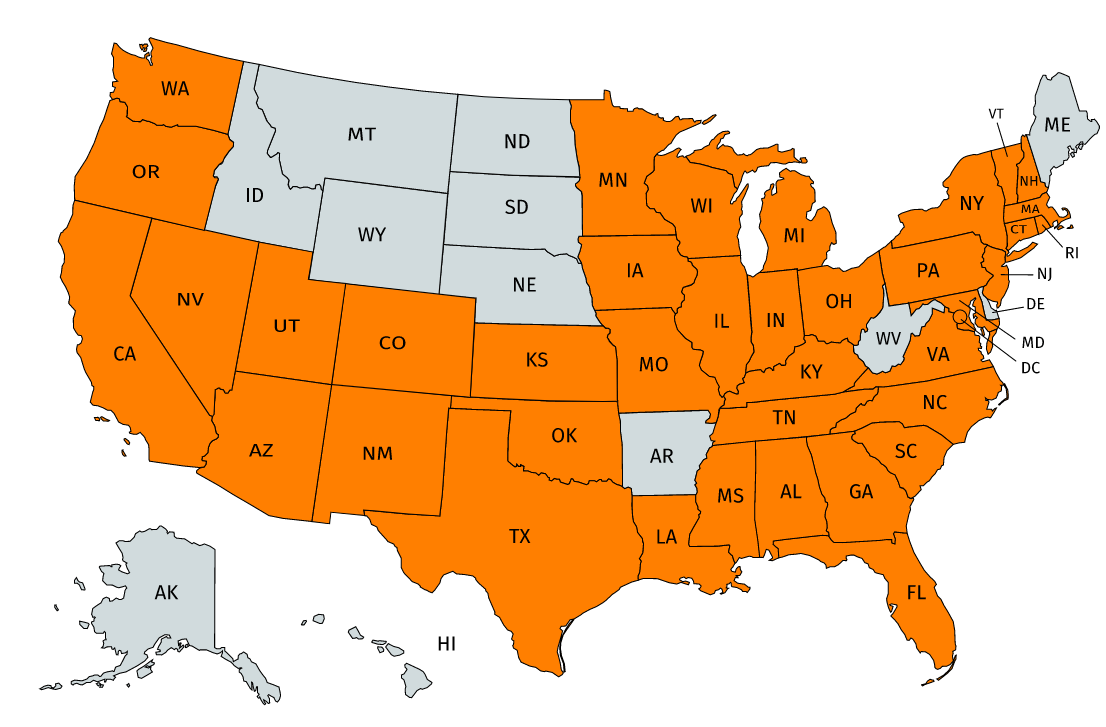 CubeSmart: Pros and Cons Summary:
The Good: Plenty of Locations and Storage Options in Most Metropolitan Areas
This organization has grown to more than 1,000 locations nationwide. Customers who are unable to find a vacant unit that meets their needs at the closest location will likely find another site with availability that is still conveniently located.
The Bad: Price Increases Frustrate Existing Customers
Existing customers find it discouraging as their monthly rates continue to increase while new customers are offered lower introductory promotional prices. This is a common problem throughout this and many other industries.
---
Pros:
Currently has locations in roughly 80% of U.S. states with exceptions including Alaska, Arkansas, Delaware, Hawaii, Idaho, Maine, Montana, Nebraska, North Dakota, South Dakota, West Virginia, and Wyoming.
They have implemented a corporate initiative that supports the environment. Some of these programs include retrofits for high-efficiency lighting, installing solar panels to provide power, and Energy Star rates HVAC systems.
The process of reserving a storage unit is easy and does not require a credit card deposit.
Cons:
Certain items that are prohibited for storage include weapons, ammunition, and perishable items.
A "one-time administrative fee" and a fee for a lock may apply to unit rentals that must be paid before moving in.
Be prepared for annual price increases that exceed 10%.
Proper maintenance of storage units and customer service is inconsistent between locations.
The company website regularly offers promotional incentives (deals). Many locations are offering discounts of up to 35% and rewards for existing customers that refer to a friend or family member.
CubeSmart is offering several "add-on" services that have resulted from establishing partnerships with other companies that operate in related industries. Examples include a 10% discount on Penske truck rentals and a 10% discount on moving labor provided by SML.
Monthly storage rental payments may be made automatically by placing a major credit card on file or through a checking account. Customers may also pay in person at the location via cash, check, etc. A one-time administrative setup fee of roughly $25 may apply. The following chart contains online monthly pricing estimates.
| Size | Los Angeles (90064) | Denver (80204) | Chicago (60616) | Boston (02129) |
| --- | --- | --- | --- | --- |
| 5 x 5' | $130.65 | $40.80 | $53.30 | $83.20 |
| 5 x 10' | $211.35 | $53.55 | $91.00 | $116.35 |
| 10 x 15' | $518.05 | $115.60 | $165.75 | $341.25 |
| Vehicle (16' Outdoor) | $236.30 | N/A | $125.80 | $312.80 |
Insurance coverage is available for purchase and may vary based on location. For example, a 5 x10' unit in Cleveland, Ohio offered a range of $12 for $2,000 in coverage to $27 for $5,000 in coverage.
Customer Reviews & Feedback
The headquarters location in Malvern, Pennsylvania has a rating of 4.6 of 5 on Google. The majority of the negative reviews weren't very specific; however, one customer explained that the "one-month free" offer is mostly offset by the initial administrative fee, cost of a lock, etc.
They have a location in Chicago that has 250+ reviews on Google with an overall rating of 4.8 of 5. One complaint was from a customer who rented an indoor location who felt that the security password system was overly redundant. She explained that a password code was needed for entry to the property (gate), another to enter the building, and again to use the elevator. Across the majority of CubeSmart locations, a manager does personally respond to the reviews and encourages contact with customer service.
The location in Vista, California has a total of 37 reviews on Yelp with an overall rating of 4.0 out of 5 stars. Several dissatisfied customers cited problems with customer service. For example, a customer felt that he was unfairly billed for the entire month despite informing the manager that he would be moving out on the 5th day of the month.
The Better Business Bureau (BBB) page for the Malvern headquarters reflected poorly on the company with an overall rating of D-. Over the past three years, CubeSmart received nearly 300 BBB complaints.
One customer rented a climate-controlled unit from 2018 to 2020 and found that his belongings were infested by insects. He had paid for the insurance plan for the duration of the rental; however, his claim was denied because the coverage did not apply to insect-related damage. Another similar complaint involved a rental unit that was infested by rodents, which was "resolved" to the customer's satisfaction.
Should You Consider CubeSmart for a Move?
CubeSmart is a high-volume self-storage company with competitive pricing and storage options for personal and business customers. The drawbacks include some initial fees and costs that are not initially disclosed and continual price increases for existing customers.
Not what you were looking for?
Check out other categories that can help you find the information you need!
See All
Hide All