Moving Experience: Christian's Move with Safeway Moving
In the summer of 2022, Christian and his partner moved from Brooklyn, New York to San Francisco, California to start new jobs and be closer to their families.
Christian wanted the best mix of service, flexibility, and affordability to make the most of his $5,000 relocation stipend.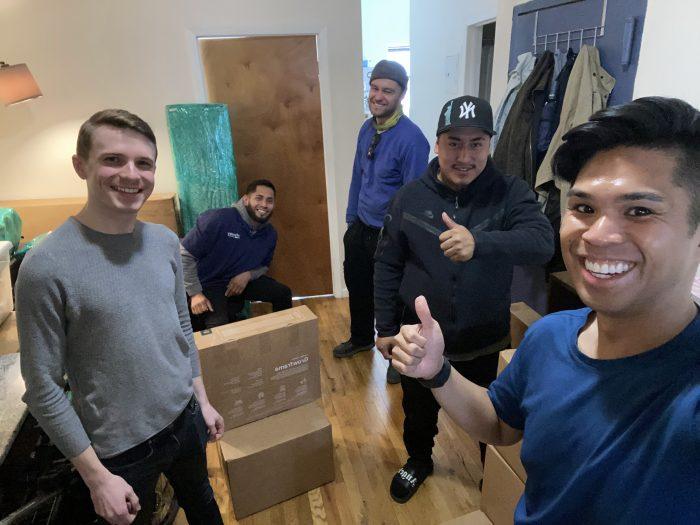 He was also eager to avoid hidden fees and last-minute price increases.
After considering his options, Christian hired  Safeway Moving.
Though Christian experienced a few minor issues along the way, overall, he had a positive experience with Safeway.
To help those considering a move like his, Christian participated in our Better Moves Project by documenting his experiences.
In this post, we'll focus on what Safeway did well, where improvements could have been made, and whether Christian would use the company again in the future.
Key takeaways for anyone considering Safeway Moving
Communication: Communication was generally good, but it could have been better while Christian's items were in transit
Pricing accuracy and transparency: Safeway's original estimate was accurate
Payment: The payment process was a little confusing because Christian had to deal with a broker and a mover
Professionalism: Christian was impressed with his moving crews, but Safeway's office staff didn't live up to his expectations
Timeliness: Safeway delivered Christian's household goods later than originally planned
Loss and damage: Christian experienced relatively minor loss and damage on his move
Would Christian use Safeway again? Yes, Christian felt like he got a good bang for his buck
Christian's move details at a glance
| | |
| --- | --- |
| Moving from | Brooklyn, New York |
| Moving to | San Francisco, California |
| Distance | 2,900+ miles |
| Moving company | Safeway Moving |
| Moving quote | $4,300 |
| Actual cost | $4730.52 |
| Quotes from other movers | $8,000+ |
Safeway's low bid saved Christian thousands
Christian began researching moving companies in early March to beat the peak season moving rush.
During the screening process, he:
Talked with friends who'd moved before
Did several Google searches
Compared prospective service providers on moveBuddha
After filling out an online inventory form and speaking with a helpful representative, Safeway came through with a $4,300 quote.
Christian also got quotes from American Van Lines and United Van Lines, which were well over $8,000.
Based on the company's positive reviews, professionalism, and rock-bottom pricing, the decision to use Safeway was an easy one.
How Christian prepared for his move
The company also sent a moving packet with links to helpful YouTube videos and contact information for a preferred packing supplies vendor.
Early on, Christian was most concerned about his musical instruments, standing desk, bicycle, and Dyson vacuum cleaner.
To maximize efficiency to ensure that they moved as little as possible, Christian and his partner prepared by:
Periodically packing boxes
Moving day was a positive experience
Christian's crew arrived at 10:00 AM in a 22-foot Penske truck.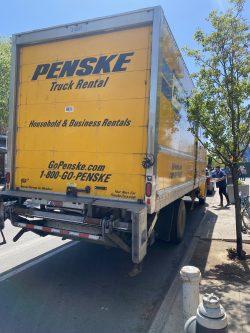 After a brief walk-through, the driver determined that:
There'd be an additional long-carry charge (the truck was more than 100 feet away from Christian's residence)
The crew had some last-minute packing to do
Once the contract was amended, the team got to work packing, wrapping, and moving everything to the truck.
The crewmembers were personable and efficient, and Christian was pleased that the driver prepared a detailed inventory.
To keep the movers happy and motivated, Christian and his partner bought donuts, played relaxing background music, and made sure they had clear paths into and out of the residence.
The crew was done by 1:30, but Christian was disappointed that his items would be stored in New Jersey until a truck bound for California showed up.
Moving vans need parking permits in San Francisco
Christian's household goods were eventually transferred to a tractor-trailer and shipped to California.
However:
The 18-wheeler was too large to navigate San Francisco's notoriously tight streets
The crew would have to rent a U-Haul and shuttle everything to Christian's new apartment
He needed to get a parking permit for the truck (even little moving vans need them) at least seven days before delivery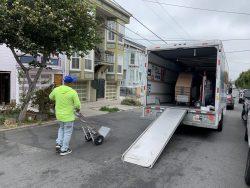 However, he couldn't get a permit because the movers weren't able to give him a firm delivery date.
This is common on long-distance moves because movers deliver within multi-day or multi-week "windows."
With so many variables involved, movers generally give customers only 24 or 48 hours of notice.
The situation was inconvenient for Christian, but in the end, everything worked out.
Delivery went more smoothly than expected
The movers arrived later than expected due to traffic issues.
Thankfully, the crew's demeanor and professionalism put Christian at ease, and everything was off the truck and into his new apartment in no time.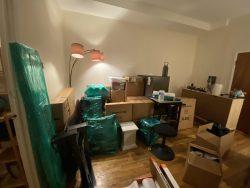 Luckily, the movers didn't get a citation for parking without a permit.
On the downside:
It took 60 days for Christian's items to make the cross-country journey
One box of posters and decorative prints was missing
A bar cart, a bike rack, and some glassware got damaged
Christian decided not to file claims for these items.
Safeway never followed up to see how Christian's move went.
The verdict – did Safeway make the grade?
All told, Safeway saved Christian big bucks and delivered everything in relatively good condition.
What Christian liked about Safeway:
Top-notch drivers and movers
His move came in under budget even with a few unexpected expenses
He experienced relatively minor damage and loss
What he didn't like:
Christian's broker and mover could have communicated more effectively
Christian's household goods were stored in New Jersey instead of California (he believes this is partly why he didn't get his things until two months later)
The boxes from Safeway's preferred vendor were more expensive and less sturdy than the ones he bought from U-Haul
The terms of the contract could have been more explicit (especially the additional services)
Christian's move wasn't perfect, but he'd consider using Safeway again in the future.
Christian's advice for anyone contemplating a move like his
Christian recommends Safeway for customers with modest moving budgets.
On the other hand, the company probably isn't a good fit for those with inflexible moving dates.
Before you go, check out these helpful moving resources:
Not what you were looking for?
Check out other categories that can help you find the information you need!
See All
Hide All