Moving Experience: Gabriela's Move With Mayflower
Gabriela needed help moving the contents of her two-bedroom apartment from Oakland, California, to Champaign, Illinois, in October of 2023.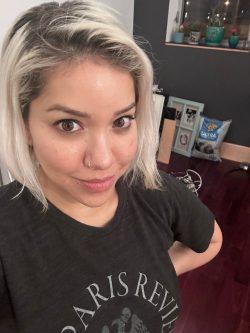 But this wasn't Gabriela's first rodeo. She had some less-than-great moving experiences in the past and wanted a reputable mover for her 2,100-mile relocation.
After a lot — and we mean a lot — of research, Gabriela decided to work with Mayflower. As a participant in moveBuddha's Better Moves Project, Gabriela agreed to share how Mayflower handled her move in exchange for a $500 moving stipend.
Curious to see how Mayflower stacked up? Below, Gabriela shares how she found a mover, recalls her experience, and offers some tips on preparing for a cross-country move.
Move day takeaways for Mayflower customers
Communication: Gabriela got all-star communication from her Mayflower team, the members of which were all proactive, friendly, and helpful.
Pricing accuracy and transparency: Mayflower gave Gabriela a binding quote, so she didn't pay a dime over her original estimate.
Professionalism: Mayflower was responsible, friendly, and professional. Gabriela truly felt like they took care of her.
Timeliness: Mayflower showed up when they said they would and stayed in touch with her about all timelines.
Loss and damage: Mayflower handled her belongings with care — and it showed. All of her things arrived in Illinois damage-free and on time.
Would Gabriela use Mayflower again? Absolutely! Gabriela says this was the most stress-free move of her life.
Gabriela needed help moving from Oakland, California, to Champaign, Illinois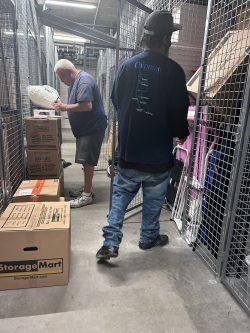 Gabriela needed to relocate to Illinois for a new job. She didn't need to move much — just the contents of her two-bedroom apartment and storage locker, which totaled around 25 boxes, or 1,800 pounds of stuff.
Candidly, Gabriela dreaded moving again. She had a nightmare move in the past in which a shady mover unexpectedly doubled its price and severely damaged a lot of her items.
After a not-so-great experience, Gabriela took much more time carefully vetting moving companies. She wanted a mover who would show up on time, stick to her budget, and minimize damage. Timeliness and great communication were also must-haves.
Gabriela's move at a glance
| | |
| --- | --- |
| Move date | October 4, 2023 |
| Moved from | Oakland, California |
| Moved to | Champaign, Illinois |
| Distance | 2,126 miles |
| Move size | Two-bedroom apartment, plus a storage locker |
| Moving company | Mayflower |
| Moving quote | $5,286 |
| Actual cost | $5,286 |
Gabriela got quotes from a mix of full-service movers and container companies
When Gabriela found out she needed to relocate for work, she looked for an apartment in Champaign, Illinois, for several weeks. Once she found the perfect spot, she spent a week researching movers.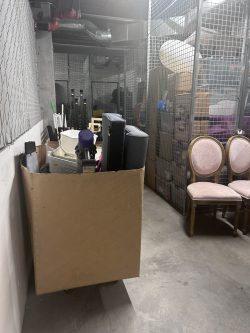 After a quick Google search, Gabriela consulted review sites like Yelp. But this required a lot of manual research, and she wasn't sure how trustworthy the reviews were, anyway.
Gabriela is so thankful she found moveBuddha, which made it easy to compare multiple movers at once. She read several Better Moves blogs to hear other customers' honest firsthand experiences.
Not one to leave a stone unturned, Gabriela also verified each mover on the Department of Transportation's (DOT) FMCSA database.
After verifying each company, she reached out for quotes. Sure, she got several options that were on the cheaper side, but Gabriela wanted A+ service for the money. She compared each mover's services and pricing to find a mover that made her feel comfortable and cared for.
| Company | Estimated volume/weight | Estimated cost |
| --- | --- | --- |
| Mayflower | 1,800 pounds | $5,286 |
| Pure Moving | 1,800 pounds | $4,500 |
| NorthStar Moving Company | 1,800 pounds | $4,583 |
| Upline Moving | 1,800 pounds | $2,450 |
| U-Pack | 1,800 pounds | $2,800 |
Gabriela chose Mayflower for their reputation
When Gabriela reached out to Mayflower for a quote, they sent an email telling her to expect a phone call. From there, Mayflower arranged a virtual video estimate and gave her a binding quote the same day.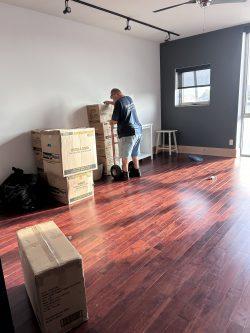 At just under $5,286, Mayflower wasn't the cheapest quote, but they gave her the most assurance that her move would go smoothly.
They offered:
Full valuation coverage of $20,000
A binding estimate
Guaranteed delivery windows
A single-container move (instead of a piggyback move).
Gabriela loved how communicative Mayflower was over the phone and decided they were the right mover for her.
Here are the services she purchased:
Loading and unloading
Transportation
Full valuation protection
Delay reimbursement
Between booking and moving day, Mayflower contacted Gabriela four times. Mayflower told her how to pack, when to expect the movers, and how to pay.
Gabriela prepped for her move by packing herself, placing items in her building's storage unit, and reserving a parking space and elevator for the movers.
Moving day was fast and hassle-free
Mayflower called Gabriela the day before her scheduled move to give her a two-hour arrival window for the next day. They told her what to expect and answered her questions. They also gave her their phone number to call for help when the movers arrived.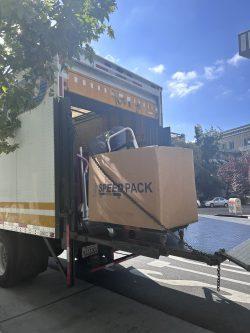 The next morning, the truck driver called when they were 10 minutes away and called again when they arrived. Mayflower arrived at Gabriela's apartment at 9 a.m. — right on schedule.
Gabriela had a great experience working with the movers. They handled all of her items carefully but paid extra attention to all boxes labeled "fragile." They also used lots of moving blankets to protect her items.
Gabriela first sat near the storage area and chatted with the movers, but soon felt like she was in the way. She went to her building's lobby to relax while the movers worked.
It took just two hours for the movers to load her stuff. Gabriela paid the binding invoice by credit card and gave the movers cash tips for doing such a great job. (Check out our movers tipping guide for expert advice on tips)
Delivery went smoothly
It took 15 days for Gabriela's stuff to travel from California to Illinois. Mayflower stayed in constant contact with Gabriela while transporting her items. They called her to let her know where her things were and to update the delivery window. They gave her the delivery date a week in advance and called the day before to confirm a two-hour window for delivery.
The movers arrived and got straight to work. They called out inventory as they unloaded so Gabriela could check items off her list. All her belongings arrived damage-free, which was a huge relief.
Mayflower called right after delivery to check in with Gabriela. They also emailed her a few days later to ensure everything was present and undamaged, which she appreciated.
Our take on the move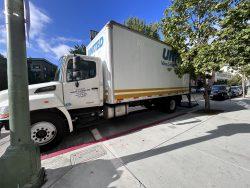 Poor Gabriela may have had some nightmare moves in the past, but her move with Mayflower came straight out of a sweet dream.
One of the reasons Gabriela's move went so smoothly was the time she spent researching movers. Not only did she look up reviews and first-person experiences, but she also verified each mover with the DOT. We always recommend checking movers' credentials, especially if you've never worked with them.
Mayflower gave Gabriela white-glove treatment from start to finish. Many Better Moves Project participants experience communication issues during their move, but Mayflower got top marks. They proactively stayed in touch with Gabriela every step of the way and gave her more peace of mind.
We do recommend being present when the movers are working. Understandably, Gabriela felt like she was in the way, but being there with the movers gives you more control over your move.
The verdict
Mayflower pleasantly surprised Gabriela with their accuracy, communication, and care. There were no issues or extra charges, and she felt they genuinely cared about her experience.
The move went better than Gabriela could have imagined. Actually, it's the least stressful move she's ever had!
In hindsight, Gabriela would have spent less time looking at more websites during the research process. She realized movers' Yelp reviews weren't always accurate, which made it hard to find reputable information. moveBuddha's Better Moves blogs taught Gabriela the pros and cons of each mover, helping her make an educated decision.
If you're planning a move, Gabriela recommends going with the most reputable company — not the cheapest quote. Mayflower cost more, but the peace of mind was priceless.
She also recommends that you take inventory of every box while you pack. Label each box with a list of contents to make unloading more manageable.
Gabriela also placed AirTags in her boxes to see the real-time location of her belongings. She didn't need to use them much, though, thanks to Mayflower's proactive communication.
Here's how Gabriela rated Mayflower's performance on a scale of 1 to 5:
Communication – 5
Timeliness – 5
Quote accuracy – 5
Overall experience – 5
Do you have an upcoming move? Share your moving story with the Better Moves Project to earn a $500 stipend. Sign up now.
Check out these helpful resources before signing off:
Not what you were looking for?
Check out other categories that can help you find the information you need!
See All
Hide All