Moving Experience: Alexander's Move with North American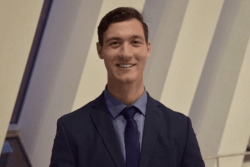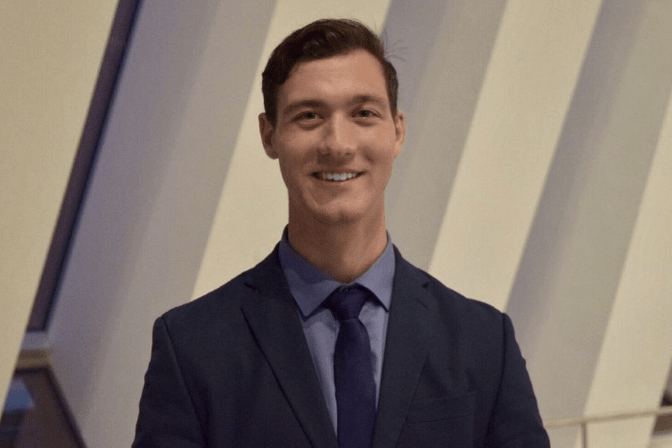 In mid-November 2022, Alexander moved from Louisville, Kentucky, to Boston, Massachusetts, to start a new job.
Alexander wanted his household goods moved safely, affordably, and efficiently, but he had a number of fragile items that needed special attention. In addition, the movers would have to hoist a few large pieces of furniture from a loft, shuttle everything from a small truck to a tractor-trailer, and make two extra stops along the way.
Alexander ruled out moving containers and renting a truck from a company like U-Haul because he had a busy schedule and wanted a full-service moving experience. After getting quotes from multiple companies on our list of Best Long-Distance Movers, Alexander hired Air Van North American. 
To take advantage of a $500 relocation stipend and help anyone planning a move like his, Alexander participated in our Better Moves Project by documenting and sharing his experiences. So did Air Van North American come through with top-notch service, or was Alexander unimpressed with the company's performance?
Let's find out.
Move day takeaways for Air Van North American customers
89% of users select this mover
Communication: Air Van communicated effectively throughout Alexander's move
Pricing accuracy and transparency: Air Van's quote was accurate down to the last penny
Professionalism: Alexander was generally impressed with North American's drivers, movers, and customer service representatives
Timeliness: Air Van delivered Alexander's household goods within the agreed-upon delivery window
Loss and damage: One television and a few pieces of furniture were damaged during Alexander's move
Would Alexander use Air Van North American again? He'd consider using Air Van North American again, but he'd explore other options as well
Alexander needed help moving from Louisville to Boston
Long-distance work-related moves with short turnaround times aren't for the faint of heart.
Thankfully, Alexander's shipment only included about 15 boxes and miscellaneous furniture that weighed approximately 4,000 pounds. However, he was concerned that his artwork, musical instruments, and flat-screen television would get damaged during the moving process.
To complicate things even more, Alexander wasn't able to start packing as soon as he should have because he had busy work and National Guard schedules to contend with.
Alexander's move details
| | |
| --- | --- |
| Move date | November 10, 2022 |
| Moved from | Louisville, Kentucky |
| Moved to | Boston, Massachusetts |
| Distance | 980 miles |
| Move size | One-bedroom, 920 square feet |
| Moving company | Air Van North American |
| Moving quote | $5,789 |
| Actual cost | $5,789 |
Alexander got quotes from six full-service movers
Alexander didn't find our moving cost calculator until after he'd started researching movers, but he got estimates from a number of companies he found online. Their prices were reasonable, but he wasn't sure if they were reputable and experienced because their reviews were all over the place.
Luckily, the screening process got easier when he found moveBuddha. Alexander recognized many of the companies on our Best Interstate Movers list, and he liked that he could easily compare prices, services, and coverage areas without jumping from site to site.
89% of users select this mover
Alexander was contacted by a friendly and knowledgeable Air Van sales representative after filling out an estimate request form online. During their virtual survey, the representative took a detailed inventory of everything that needed to be moved and generated a guaranteed price estimate.
After two weeks, Alexander had the following quotes from six full-service moving companies:
| Company | Estimated weight | Estimate amount |
| --- | --- | --- |
|  Two Men and a Truck |  4,088 pounds |  $14,676 |
|  United Van Lines |  4,084 pounds |  $7,031 |
| Air Van North American | 4,000 pounds | $5,789 |
| International Van Lines | Unknown | $5,200 |
| Mayzlin Relocation | 4,438 pounds | $4,446 |
| Safeway Moving | 3,409 pounds | $3,664 |
Air Van's guaranteed price quote included the following:
Door-to-door transportation
All applicable fees and surcharges
Packing service for Alexander's flat-screen television (he did the rest of the packing himself)
Shuttle service at origin (the tractor-trailer wouldn't fit in the parking lot at his apartment complex)
An extra stop at a storage unit in Louisville
Another extra stop in Massachusetts
Free full-value replacement coverage with no deductible (this Veterans Advantage benefit saved Alexander $138)
In addition to North American's competitive quote, Alexander appreciated that his pick-up and delivery dates were guaranteed and that he'd be compensated $100 per day if the company didn't live up to its service commitments.
Communication was good leading up to Alexander's move
Alexander had a lot of questions because he'd never moved out of state. In particular, he wasn't sure how his furniture would be moved down from the loft, who was responsible for removing the television from the wall, and how his fragile items would be protected.
Each time he contacted the staff at Air Van, they put him at ease by answering his questions and letting him know what to expect.
Air Van also sent a list of things movers can't pack or move and other helpful tips for making moving day as painless and efficient as possible.
Alexander prepared by buying cartons, paper, and tape, regularly packing boxes, and keeping his apartment organized and clutter-free. He also made arrangements for his dog to spend moving day elsewhere so it wouldn't get in the movers' way or cause an accident.
Two days out, Alexander's move coordinator called to confirm the following:
His contact information
What day and time the loading crew would arrive
Which services they'd provide
The origin, destination, and extra stop addresses
When and how payment would be made
Moving day went smoothly
Licensed
Insured
Price
rating
4.25 / 5
Get A Quote
(844) 950-2963
93% of users select this mover
At A Glance
Over 74 years in business
More than 1,800 trucks in the fleet
1,500 local agents covering all 50 states
Top major moving company in the U.S.
Highest rated agent van line among moveBuddha customers
read our full review
Get A Quote
(844) 950-2963
93% of users select this mover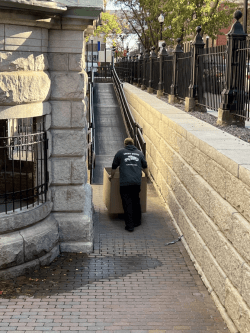 On the morning of the big day (Thursday, November 10th), the coordinator called to inform Alexander that the truck and crew were on the way. The movers arrived a few minutes later than expected at about 10 AM, but this was a blessing because it gave Alexander extra time to pack last-minute items that he hadn't gotten around to the night before.
After getting the shuttle truck situated as close to the building as possible, the crew introduced themselves, took a look around, and got to work.
Alexander was generally impressed with the loading process, but he thought a few pieces of furniture and his big-screen television could have been wrapped and packed more carefully.
At one point, it looked like everything might not fit onto the shuttle truck, but the crew rearranged everything and tightened up the load to prevent shifting during transit.
While the crew worked, Alexander answered their questions, tidied up, and tried to stay out of their way. Including packing, loading, and stopping at the storage unit, everything was done in about four hours.  Alexander didn't have to pay for his move until delivery day, but he gave the loading crew a cash tip.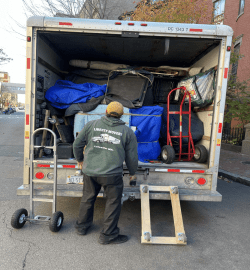 North American delivered Alexander's household goods on schedule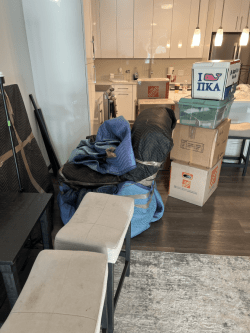 Alexander got two calls from North American during the eight days his things were en route and two more on the morning his household goods were scheduled to be delivered.
Parking for commercial vehicles can be a huge problem in Beantown, but the driver was able to find a decent spot near the loading dock at Alexander's building.
Instead of unloading everything at once, the movers broke the shipment into small batches, which they staged by the service entrance before moving everything up to Alexander's apartment on the elevator.
The movers worked quickly and efficiently, but the process took slightly longer than normal because someone had to stay with the items at all times to prevent theft.
All told, unloading took about three hours. Nearly everything went as planned, but the screen on Alexander's 65-inch TV got bent, and his kitchen table and entertainment center also had a few dents and dings.
Alexander thinks this damage could have been avoided if these items had been packed and padded more carefully, but it's also worth noting that damage is more common on moves with shuttles because items are handled multiple times.
In addition, Alexander suspected that the movers in Louisville may have been subcontractors and not employees of the local North American agent. He wasn't sure if this was the case, but part of the reason he hired North American was that the local agents had great online reviews.
The verdict – did Air Van North American make the grade?
89% of users select this mover
Alexander appreciated that North American lived up to its service commitments and didn't charge him a dime for packing a few boxes and supplying extra labor that wasn't included in the original quote. Most of Alexander's furniture and boxes arrived in good condition, but he wishes that the movers had taken better care of the items that got damaged.
At the end of the day, Alexander felt like he got his money's worth on his move between Louisville and Boston. He'd consider using Air Van North American again, but he'd also explore other options.
Here's how he rated North American's performance:
Communication – 4
Timeliness – 4
Quote accuracy – 5
Overall Experience – 3
We're a little surprised Alexander gave Air Van North American a 3 for overall experience, but as he stated in his post-move survey, the damage left a bad taste in his mouth despite nearly everything else going as planned.
Alexander's advice for anyone planning a long-distance move
Alexander wishes he'd started preparing for his move earlier. We hear this all the time, but it was especially true in his case because he had a job, National Guard commitments, and a small window between signing a new lease and hiring movers.
For anyone planning a move like his, Alexander suggests the following:
Assume there will be a multi-day (or multi-week) delivery window if you're moving more than a few hundred miles
Do thorough research and read lots of online reviews when vetting prospective moving companies
Ask for a guaranteed price quote and if your move will be handled by company employees or subcontractors
Get multiple quotes to establish a reasonable "market price" for your move
89% of users select this mover
Before signing off, check out these helpful resources:
Not what you were looking for?
Check out other categories that can help you find the information you need!
See All
Hide All