Overall Opinion
Van Lines Inc. is a national moving broker located in Southeast Florida
The brokerage works with vetted carriers that provide local and long-distance moving services
Customers are generally impressed with this company's top-notch service and attention to detail
Van Lines Inc. is unaccredited with the BBB but maintains a B+ rating
The company's website is missing some key information
Best for: Customers looking for good service and low prices
Not recommended for: those just looking for "ballpark" move quotes
For even more long-distance moving options, check out our list of the top interstate moving companies of 2022
How does Van Lines Inc. compare to other professional movers?
Jump to the Van Lines Inc. review section that you're looking for:
About Van Lines Inc.

Van Lines Inc. (U.S. DOT# 3551592) is a national moving broker headquartered in Fort Lauderdale, Florida. As a broker, they connect their customers with established carriers in their local area. The company uses economies of scale to offer customers the best deals on moving services, although they don't physically handle or transport belongings.
While the company started business in 2021, president Efraim Balila has worked his way up through the industry over the last 22 years. With Balila at the helm, Van Lines Inc. strives to set the standard for moving brokers across the country.
The moving broker works with highly rated carriers catering to local and long-distance moves. They help residential and commercial customers transport their belongings, regardless of size. In addition, most of their agents have experience moving large specialty items like pianos and hot tubs.
Local and long-distance moving services
Handle moves to Alaska
Free quotes
Holds its partner carriers to a high standard
Company president Efraim Balila has more than two decades of moving and storage experience
Unaccredited with the BBB
No "ballpark" quotes
Website missing some key information
Van Lines Inc. offers a broad range of services
Considering the company's short length of time in operation, it has a network capable of offering a variety of benefits.
Local moves: Van Lines Inc. works with local agents in the Southeast Florida region. This includes West Palm Beach, Boca Raton, and Miami. In addition, their vast carrier network allows them to handle local moves in many places across the country
Long-distance moves: The broker works with highly experienced shipping carriers to transport belongings across the country, including to Alaska
Corporate relocation: The company can help organize business moves of any size. In addition to standard moving services, they can plan the logistics of keeping the company running smoothly throughout the moving process. The broker can even relocate employees moving with the business
Packing and unpacking: Van Lines Inc. can schedule full and partial packing services for standard, fragile, and high-value household items
Short and long-term storage: The company has access to various storage solutions. They can schedule storage on short notice and even offer climate-controlled units for special items
How much does Van Lines Inc. charge?
Since no two moves are identical, those interested in working with Van Lines Inc. should ask about a detailed moving quote.
The moving broker offers free estimates on its website. Customers can fill out a simple form, providing their pick-up and drop-off locations, type of move, and contact information. While the website doesn't provide ballpark quotes, a customer service representative will reach out to help build an accurate estimate.
Alternatively, customers can inquire about free quotes using the phone number or contact form on the company's Contact Us page. They do not provide an email address.
Van Lines Inc. works with several shipping carriers across the country that provide different types of estimates. Customers should inquire about getting a binding estimate for final payment as close to their original quote as possible. Binding estimates lock in the amount due as long as move conditions haven't changed.
Factors that affect move cost include:
Date and seasonality
Distance
Size of home or apartment
Weight of belongings
Moving add-ons like custom crating and appliance services
Packing and unpacking
Storage
Moving valuation
It's worth noting that the company fails to explain important billing information on its website. When working with this broker, customers should ask about their cancellation policy and deposit requirements before booking a move.
To get a quote on your move and to find the best movers in your area, check out our moving cost calculator.
How is Van Lines Inc.'s customer service?
The moving broker makes an effort to communicate effectively with its customers. The company's business hours are from 9:00 a.m. to 7:00 p.m. from Monday to Friday, and 10:00 a.m. to 5:00 p.m. on Saturday. They are closed on Sunday.
Customers can ask about a free quote or book an appointment using the phone number or contact form posted on the company's Contact Us page. They do not have an email address listed.
The moving broker does not have pricing or on-time delivery guarantees. However, they do utilize economies of scale to offer their customers the best deals on moving services.
In its short time of operation, Van Lines Inc. has hit the ground running. Customers are generally pleased with their services, responsiveness and attention to detail. The company goes the extra mile and responds to every review.
Does Van Lines Inc. have a good online reputation?
In its first year of service, Van Lines Inc. is already setting the standard for moving brokers nationwide. On Google Business, the company holds a 4.3 out of 5-star rating with 85 reviews. Customers generally praise the movers in their network for their professionalism and timeliness.
The moving broker also does well on government and official databases. Van Lines Inc. is unaccredited with the BBB and holds a B+ rating.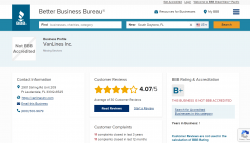 The moving broker has a 4.07 out of 5-star rating on the Better Business Bureau with 30 customer reviews. People are happy with the company's professionalism and communication.
In one instance, a customer had serious issues with a carrier in the company's agent network. Van Lines Inc. stood beside the customer and stopped using the carrier, displaying its integrity as a trustworthy company.
The moving broker received 11 complaints in the last 12 months. Many customer issues involve miscommunication between the customer and the carrier. Below is a breakdown of the types of complaints Van Lines Inc. received.
| | |
| --- | --- |
| BBB Complaint Types | Number |
| Sales or Advertising | 1 |
| Collections or Billing | 0 |
| Deliver-Related Concerns | 0 |
| Warranty or Guarantee | 0 |
| Product or Service Problems | 10 |
Van Lines Inc. received 18 official complaints on the National Consumer Complaint Database. According to the AI FMCSA website, customers have had issues with final charges, late deliveries, and items behind held hostage.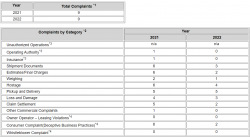 One issue customers may find when searching for this company online is its generalized name. A large portion of moving companies use "van lines" in their names, so customers looking for Van Lines Inc., in particular, may need to get specific in their search.
While it's not easy to find this broker online, they do have a good reputation with Consumer Affairs. The company has a 4.1 out of 5-star rating with 65 reviews from verified customers. People especially appreciate the customer service from the broker and the professionalism of their partner carriers.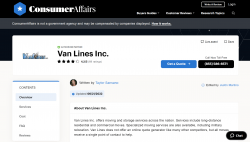 Is Van Lines Inc. licensed and insured?
The moving industry uses various databases to collect information about moving companies. When assessing a moving business, we check four databases to see what information is registered and whether the company has claimed its profile.
These databases are compared alongside company websites, social media pages, and review sites (such as Yelp) to determine the moving business's credibility and transparency.
| | |
| --- | --- |
| Database | Listed (Y/N) |
| AI FMCSA? | Yes |
| SAFER FMCSA? | Yes |
| Licensing Insurance FMCSA? | Yes |
| Better Business Bureau (BBB) | Listed but unaccredited |
The services and information stated on Van Lines Inc.'s website are mostly consistent with the information on these government databases. The moving broker is adequately licensed and insured. However, the company doesn't mention its broker status on its website and misinforms customers about its accreditation status with the BBB.
For more information on moving company regulations and why we choose to look at these databases, check out our post on how moving companies are regulated.
How are Van Lines Inc.'s website and social media presence?
While its website is clean and intuitive, Van Lines Inc. fails to mention its broker status. This is usually a red flag, but the company's reputation and positive customer reviews speak for themselves.
The broker makes it easy for customers to find its services and contact information. Though ballpark quotes aren't provided, customers can easily inquire about one with a service representative. The company also has a live chat feature, though it's not particularly helpful.
Should you consider Van Lines Inc. for a move?
Van Lines Inc. is a national moving broker located in Southeast Florida. They have an extensive network of shipping agents that provide local and long-distance services. They move both residential and commercial customers and can handle any size move.
As a proud business owner with decades of industry experience, Efraim Balila is confident in his company's ability to meet or exceed customer expectations. All employees are extensively trained to provide exemplary customer service. While the company's website lacks vital information, it makes up for it with industry-setting standards.
Customers are generally happy with Van Lines Inc.'s services. Customers almost unanimously praise the company for its communication, responsiveness, and attention to detail. The broker holds its carriers to high standards and does not hesitate to sever business ties when they provide substandard service.
Overall, you can trust Van Lines Inc. to connect you to top-rated shipping carriers while saving money.
For more help choosing the right moving company and getting free moving quotes, check our picks of the top-rated interstate moving companies.
Not what you were looking for?
Check out other categories that can help you find the information you need!
See All
Hide All