Moving Experience: Hassan's Move with PODS
In early April of 2022, Hassan received permanent change of station (PCS) orders from the Navy.
In less than a month, he and his family needed to make a 2,800-mile move from South Park, Pennsylvania to Bremerton, Washington.
Instead of letting the Navy handle his move, Hassan booked a moving container through PODS.
As a refresher, PODS pioneered portable moving and storage containers back in the '90s.
Known for competitive prices, nationwide coverage, and up to 30 days of free storage with each move, it's no wonder that PODS earned an A+ moveBuddha rating.
To help others contemplating long-distance container moves, Hassan participated in our Better Moves Project by sharing his experience with PODs.
Let's find out what went well, what didn't go so well, and whether Hassan would use PODS again.
Takeaways for customers considering PODS
Communication: PODS didn't communicate effectively during Hassan's move
Pricing accuracy and transparency: PODS' quote was accurate
Timeliness: Hassan's container was delivered much later than expected
Loss and damage: Nothing was lost or damaged
Would Hassan use PODS again: No, Hassan felt that he paid too much and waited too long for his household goods to arrive in Washington
Hassan's move at a glance
Moving from
South Park, Pennsylvania
Moving to
Bremerton, Washington
Distance
2,608 miles
Moving company
PODS
Moving quote
$4,500
Actual cost
$

5,090 (includes the cost of the movers Hassan hired in Washington to help with unloading)
Hassan needed help moving from Pennsylvania to Washington
Hassan learned about his PCS less than a month before his scheduled move date.
Luckily, he and his family were only moving about 4,500 pounds of boxes and furniture. But since Hassan was handling his move himself, finding a service provider quickly was a priority.
Hassan initially called local movers and checked out a few container companies online, after which he compared their prices and services on moveBuddha.com.
In the early going, he was most concerned about the cross-country drive and the safety of his valuables and breakables.
Hassan chose PODS for affordability and reputation
After hearing horror stories of loss and damage on Navy moves, Hassan was eager to avoid the same fate.
Moving containers were a natural fit because he could take his time loading and unloading and leave the driving to professionals.
After comparing quotes from three container companies, Hassan decided to use PODS based on price and the company's reputation. PODS' $4,500 quote included transportation and basic insurance coverage.
After reserving his container, PODS assigned a Navy Relocation Specialist to oversee Hassan's move.
Hassan was initially impressed with PODS' easy quote process and professional communication.
As move day drew near, he prepared by decluttering, packing loose items, and spending time with family and friends.
Hassan's "moving day" lasted four days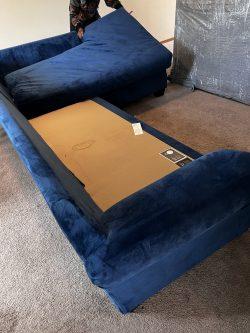 PODS delivered Hassan's empty container on schedule on April 22nd.
Because he had as much time as he needed to load the container, he and his helpers spread the process out over four days.
With the pressure off, the crew took its time disassembling, protecting, and loading Hassan's items into the container safely and securely.
On the afternoon of the fourth day, Hassan contacted PODS and scheduled a time to have his container picked up.
He rewarded his helpers with refreshments and post-move adult beverages for a job well done.
At this stage, nearly everything had gone according to plan, but that was about to change.
Things took a turn for the worse while Hassan's container was in transit
Communication with PODS became more tedious and less professional after Hassan's container was picked up.
Hassan called PODS multiple times to ask about delivery dates, but nobody seemed to know where his container was or when it would arrive in Bremerton.
After a tiring cross-country drive, this lack of concrete information made it difficult for Hassan and his family to make plans and get settled into their new place.
After 40 days, delivery was quick and easy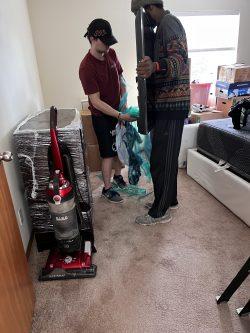 PODS delivered Hassan's container 40 days after it left Pennsylvania.
Since the late delivery had already inconvenienced Hassan and his family, he hired a 2-man moving crew in Washington state to speed up the delivery process.
The movers unloaded Hassan's container efficiently and put everything where he wanted it.
On the downside, unloading cost another $500+ that could have been avoided if Hassan's container had been delivered earlier.
What Hassan would have done differently
If he could do everything over again, Hassan would let the Navy handle his move.
Barring that, he'd hire a full-service moving company.
Waiting a whopping 40 days to get their household goods added significant stress to an already unpleasant situation.
Looking back, Hassan believes that other movers could have transported and delivered his items in half the time it took PODS to get the job done.
How did PODS stack up?
Sadly, PODS' services and communication fell short of Hassan's expectations.
But though his move could have gone better, most PODS customers have far better experiences.
For Hassan, the communication issues and delay in delivery were enough of an issue that he wouldn't use PODS again or recommend the company to someone contemplating a move like his.
Our Take
Between the delivery delay and communication issues, Hassan wasn't happy.
But is this the typical PODS experience?
Since the beginning of the pandemic, delivery delays have been the number one complaint industry-wide. The massive increase in online ordering and a shortage of truck drivers have caused chaos in the trucking industry.
On average, 71% of long-distance moves report some kind of delay. While delays have been the norm, the 40 days it took PODS to deliver is well outside the average. Hassan's aggravation is understandable.
We haven't seen a pattern of delivery delays comparable to Hassan's across other PODS reviews, so it seems Hassan's experience was not the normal PODS experience.
Before you go, check out these helpful moving container posts:
Not what you were looking for?
Check out other categories that can help you find the information you need!
See All
Hide All