Budd Van Lines Moving Review
Overall Opinion
With more than 40 years in the moving industry, Budd Van Lines has developed a solid operational structure.
The organization has introduced its proprietary systems that are innovative, such as their "Signature Standards" for employees and the "Eco-Crate System" for safely transporting fragile objects.
Feedback from customers was somewhat positive; however, they have a comparatively small number of customer reviews.
This relative lack of online feedback is surprising for a company that has been in this business for so many years.
How does Budd Van Lines compare to other professional movers?
Jump to the Budd Van Lines review section that you're looking for:
Budd Van Lines: Moving Services Available:
The organization was founded back in 1975 and recently celebrated the 40th anniversary. The company headquarters is located in Somerset, NJ. In recent years, operational and sales offices have been established across the country in California, Texas, Georgia, Wisconsin, Ohio, and Maryland.
They are an independent van line primarily focused on providing services to individuals who are relocating within the U.S. and internationally. They have historically not marketed their services to businesses or corporations; however, they have acquired at least one company recently that targets this segment operating in the Wisconsin branch.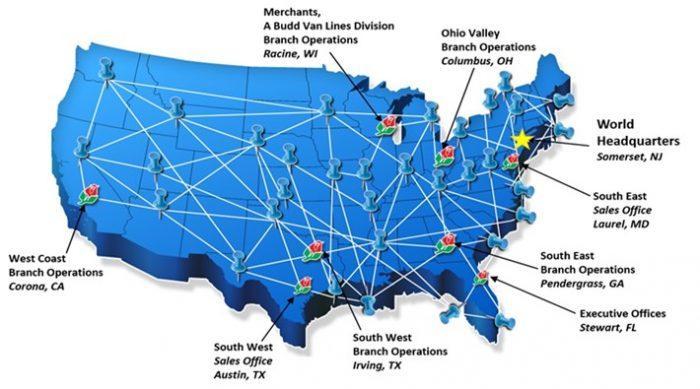 Corporate Executive Relocation: One of their specialized services is specifically geared to executives that are relocating. These individuals include corporate leaders and high-level employees of the federal government that reside in luxury properties.
Personal Moves: Budd Van Lines offers "personalized" residential moving services nationwide. A key competitive advantage cited by the company is continuity through having the same crew that initially loads the belongings also responsible for unloading the vehicle upon arrival at the destination.
International Moves: The company maintains a team of seasoned international agents. They recently implemented an application that delivers international shipment tracking data in real-time 24 hours a day. International services were recently enhanced with a partnership agreement with Aaversal Global Relocation. International customers benefit from improvements in freight forwarding, storage and warehousing capabilities, and stringent compliance with regulatory standards.
Specialized and Proprietary Standards and Programs
Budd Van Lines promotes several unique initiatives and business practices to differentiate themselves from the competition including the following:
System of Sustainability that Protects the Environment
The company is committed to protecting the environment. The Eco-Crate System is a means of transporting items using materials that are fully reusable and recyclable and prevents cardboard and other discarded packaging from reaching landfills. The organization has sought to partner with vendors that also adhere to "green" business practices.
The Eco-Crate System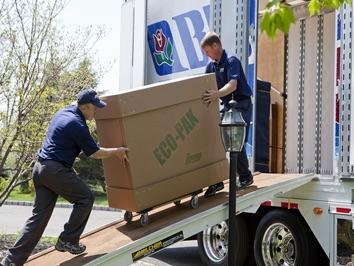 The Load it Once Program
After loading a complete trailer, it is promptly sealed and remains untouched until arrival at the destination. This is a value-added benefit for customers with concerns regarding the intrusion of viral contamination in light of the COVID-19 crisis. The organization has also recently begun testing a fogging product to disinfect trailers as part of their mitigation efforts.
Team Pack and Team Haul
The Team Pack and Team Haul Programs are part of a service model that seeks to avoid problems often encountered by moving companies who rely heavily on subcontracted drivers, labor, etc. Whenever possible, one driver and group of movers is dedicated to completing the loading and unloading of a move to maximize efficiency and reduce errors.
Signature Standards
Preventative efforts are made to protect against damage to possessions or property including:
Entryway preparation
Floor protection and carpet shielding
Railings and banisters are covered and more.
Customers have a designated company representative to coordinate the staff on each project.
The staff is subject to background screening, provided with training, and arrive in uniform.
They developed a logistical system that uses technology to maximize efficiency, track shipments, and ensure proper communication.
Corporate executives who are relocating will appreciate that the company provides this niche service.
A supervisor will create a detailed inventory of all items and label each box or package for any moves that cross state lines. This service is also available for customers in intrastate moves upon request.
In response to the COVID -19 pandemic, the movers are wearing facial coverings and gloves. Workers also will adhere to social distancing measures when possible and are equipped with sufficient supplies for cleaning and disinfection.
Customer feedback indicates that outsourced (subcontracted) workers are sometimes used. Third-party contractors also may be deployed for assembly and disassembly of certain items including grandfather clocks, pool tables, and gas dryers.
Some customers have had their belongings damaged during the loading, transportation, and unloading processes.
Several customers expressed dissatisfaction with the process of filing a compensation claim for damaged property.
In some instances, customers stated there was confusion or a lack of communication regarding which items the movers will reassemble upon arrival at the destination.
The Good: A Well-Established Operation Spanning a Nationwide Service Area
Budd Van Lines has added field offices stretching from the east coast to Wisconsin, Texas, California, and others. They have improved internal operations and established best practices such as the Signature Standards, Team Pack, and Team Haul initiatives. These quality measures involve maintaining high-quality employees, packing methods that reduce potential damage, and providing customers with a designated representative that oversees all aspects of the moving process.
The Bad: Subcontracted Labor Tends to Demonstrate Carelessness and Unprofessionalism
Unlike many moving companies that operate as a broker, Budd Van Lines is an independent carrier that generally uses its team of in-house staff to provide services. The "Budd Executive Difference" outlines their commitment to using professionally trained employees instead of outsourcing. A few online reviews contradict this claim stating that contracted drivers and labor were used and resulted in damage to transported belongings.
Customers can use the website template for entering the details of a potential move and will receive a follow-up call to obtain a price quote. Pricing is provided by a representative either in-person or remotely via an interactive video application. Budd Van Lines does not present its services as being the lowest cost in the moving market; rather, they focus on delivering personalized, dependable, and professional service.
Compare their moving cost with the best in the business.
Awards and Recognition
In 2019, the Relocation Managers' Survey on Household Goods Shipment named Budd Van Lines as having the Highest Average Satisfaction Score. In 2018, the Nationwide Relocating Employee Survey found Budd Van Lines to be the Top-Rated Independent Carrier.
Customer Reviews & Feedback
The Google reviews for the New Jersey location had an overall 4.1 out of 5 ratings. One customer complained that the driver badly damaged his lawn while operating a moving truck. Another customer stated that the movers created damage to their interior walls and doors.
The Google reviews for the Corona, California location had an overall 3.9 out of 5 ratings. A dissatisfied customer who filed a claim for damage to their belongings said the company acted indifferently and failed to promptly return calls to address concerns.
The Yelp Reviews for the Corona, California location contained comments from several customers that praised the professionalism of the employees. One disgruntled customer explained that the trailer containing her belongings was broken into when parked overnight and many possessions were stolen.
The Wisconsin location was rated by the Better Business Bureau as a B-.
Should You Consider for a Move?
The company presents itself very well throughout their website. They have a wealth of innovative specialty services, numerous industry awards, and plenty of press releases discuss the company's expansion.
The online reviews from their customers could be summarized as being average to good. In addition to having many unflattering reviews, they had a very apparent lack of reviews—positive or otherwise. This seems like a potential cause for concern for an organization that has been providing moving services for more than 40 years. The management seems very active in its nationwide and international company growth; however, they may be overlooking the quality of service needed to truly provide excellent customer satisfaction.
Not what you were looking for?
Check out other categories that can help you find the information you need!
See All
Hide All