Solomon & Sons Relocation Services Moving Review
Overall Opinion
This is an independent, family-owned company that has grown rapidly since its inception in 2014.
They are based in Fort Lauderdale, Florida; however, they provide moving and relocation services to the majority of the U.S. states and is capable of handling moves to international destinations.
They have a good overall reputation, but there seems to be a pattern of complaints related to disparities between quoted prices and the actual final price.
How does Solomon & Sons compare to other professional movers?
Jump to the Solomon & Sons review section that you're looking for:
Compare Solomon & Sons to the moving companies on our list of best interstate moving companies.
Solomon & Sons: Moving Services Available
Solomon & Sons is a truly "full-service" moving and relocation company. They operate in both the residential and commercial markets and also offer short and long-term storage and delivery services. They differentiate themselves from moving brokers by explaining they have a professional in-house staff, own a large fleet of vehicles, and are not dependent on potentially unreliable subcontractors.
Local, long-distance, and international moving services for residential customers
Local, long-distance, and international moving services for commercial customers such as businesses that are relocating
Packing services are offered
<li<>Furniture assembly, disassembly, and delivery
Secured short and long-term storage services
Solomon & Sons Service Area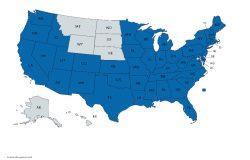 Employs an in-house staff of screened and trained movers rather than subcontractors
Capable of handling specialized moving services for automobiles, pianos, and oversized items
An excellent option for active military members who are frequently deployed, relocated, and have storage needs
Compliant and familiar with federal guidelines regarding freight transport and international customs requirements
Payment is required before the property will be delivered
Insurance coverage that exceeds the federal minimum must be purchased from a third-party source
Quotes and estimates are often provided over-the-phone rather than on-site, which are non-binding and frequently subject to change when the movers arrive and encounter unexpected challenges that are time-consuming or require special equipment
The Good: Complete Service Offerings and Vast Coverage Area
They have established a truly comprehensive approach that makes them a "one-stop-shop." Solomon and Sons is a suitable option for small apartment moves, large residential home moves, and corporate relocations. They have facilities that are secured and temperature controlled for interim storage needs.
Solomon & Sons offers local services in South Florida and interstate domestic service in 45 states. They also offer international moving services and have a customer service staff that speaks Russian, Spanish, French, and Hebrew.
The Bad: Lapses in Communication and Discrepancies in Pricing
The organization has experienced rapid growth and expansion to include staff responsible for sales, customer support, movers, commercial truck operators, and more. The majority of negative customer comments stem from a lapse in communication regarding scheduling and various financial details including price, fees, and coverage for damaged items.
Solomon & Sons: Cost / Affordability
The company provides baseline local moving prices within South Florida and interstate minimum moving price packages to six major metropolitan areas as follows:
Local South Florida Moves in Miami, Ft. Lauderdale, or West Palm Beach
1 bedroom starts at $450
2 bedroom starts at $599
3 bedroom starts at $899
Interstate Moves from South Florida: Basic Packages
To Atlanta, GA: $1,299
To Houston, TX: $1,399
To New York, NY: $1,499
To Chicago, IL: $1,599
To Los Angeles, CA: $1,699
To Denver, CO: $1,799
Compare the cost to move for top moving companies
The company website suggests that lower prices may be available for moves performed during weekdays compared to weekends. They also mention that prices may be reduced during "off-peak" months, which is the span from October through March.
It is important to note what is included and excluded from these posted offerings. All "standard" furniture is disassembled and reassembled and professionally wrapped. The movers will create a detailed inventory of all property and affix custom labels. Liability insurance of sixty (.60) cents per pound is included for each piece of property.
Solomon & Sons invites potential customers to receive an online estimate from their website. The company encourages obtaining an in-home estimate; however, a representative will provide an estimate over the phone based on responses to a series of detailed questions. They further explain that an in-home quote allows the customer to receive a binding estimate that is fixed instead of a non-binding estimate that is subject to change.
Upon making a reservation, a 20% deposit is charged to the customer's credit card. On long-distance moves, 50% of the balance must be paid when the movers arrive and the balance is due upon arrival at the delivery destination. The prices include fuel and mileage costs and most fees based on weight. For local moves, the cost will be calculated on a per-hour basis.
Be Sure to Check Current Available Discount Offers!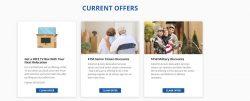 Customer Reviews and Feedback
They have 260 total reviews on Google with an overall 4.3 out of 5-star rating. Some negative comments were the result of items being damaged during transport. In the majority of the complaints involving shipping damage, it seems that this occurs primarily when the customer has packaged the items themselves.
They have a 4 out of 5-star rating on Yelp. Seems that the staff who handles the physical loading and unloading of the items is consistently described as being efficient and hard-working. Many of those who expressed having a negative experience were those who were moving out-of-state over long distances.
Solomon & Sons currently have an A-rating with the Better Business Bureau (BBB). As they do on other sites, the management team consistently demonstrates responsiveness to customer feedback—both good and bad. Many of the problems cited by customers related to damage that occurred to the property during the moving process and what appear to have been misunderstandings regarding fees.
Concerns Regarding Brokered or Subcontracted Services
One potential concern that was apparent in many customer reviews involved the usage of contracted labor and equipment, particularly in interstate projects. One of the core advantages that is marketed by Solomon & Sons is that they use in-house staff and retain a sizable fleet of vehicles. For example, their assertion that the movers are "screened, licensed, insured" and "in uniform."
While the company may use its employees exclusively for projects within South Florida, it appears that this has not been the case in many long-distance moves. Many of the less favorable reviews on Yelp suggest that the company does function as a broker in moves by contracting with third-party companies for labor, vehicles, and such.
Should You Consider Solomon and Sons Relocation Services?
Customer feedback regarding the performance of the company is largely positive. There is a small segment of customers that felt their sales representative provided them with an estimate that was considerably less than the final charges. Many of these instances may be the result of customers that fail to thoroughly read the written agreement.
Compare instant price moving estimates from multiple moving companies.
Not what you were looking for?
Check out other categories that can help you find the information you need!
See All
Hide All