USA Moving Solutions Review
Overall Opinion
USA Moving Solutions is a moving broker headquartered in South Daytona, Florida
The broker exclusively coordinates long-distance moves for residential and commercial customers
The company is relatively tight-lipped about service costs
USA Moving Solutions has some good reviews, but official data don't back them up
The company is unaccredited and unrated with the BBB
Best for: Customers looking for good deals on long-distance moves
Not recommended for: Local moves
For even more long-distance moving options, check out our list of the top interstate moving companies of 2022
How does USA Moving Solutions compare to other professional movers?
Jump to the USA Moving Solutions review section that you're looking for:
About USA Moving Solutions
USA Moving Solutions (U.S. DOT# 3726054) is a national moving broker located in South Daytona, Florida. As a broker, the company works with asset-based carriers to provide discounted long-distance moving services, but they do not physically handle or transport their customer's belongings.
While researching this post, we could not determine when the company was founded. The company's website appears to have been created in 2018, but its Better Business Bureau file wasn't opened until May of 2022.
Long-distance moving services for residential and corporate customers
Free quotes
Open 24/7
No moves to Alaska and Hawaii
Less than one year of experience in the moving industry
Insufficient information on the website
Unaccredited and unrated with the BBB
USA Moving Solutions offers a broad range of services
USA Moving Solutions strives to provide high-quality, low-cost moving services by focusing exclusively on long-distance moves.
Long-distance moves: USA Moving Solutions offers out-of-state and cross-country moves. They can guide their customers through the required paperwork and safely move their belongings. This does not include shipments bound for Alaska or Hawaii
Corporate relocation: The moving broker can organize business moves with capable carriers. They also offer logistics services to keep businesses running smoothly during the move process
Packing and unpacking: The company can schedule full or customized packing services for both residential and commercial customers
Short and long-term storage: USA Moving Solutions offers a variety of standard and climate-controlled storage solutions, even for customers who need storage at the last-minute
How much does USA Moving Solutions charge?
Since each move is unique, calculating costs accurately can be challenging. Those interested in working with USA Moving Solutions should inquire about an estimate.
The moving broker provides free quotes. While they don't have a form to fill out for a ballpark estimate, customers can use the phone number or email provided on the company's Contact page.
USA Moving Solutions works with various carriers that provide different types of estimates. Customers interested in ensuring their actual costs stay close to the quoted price should ask their representative about getting a binding estimate. This type of estimate locks in the price as long as items haven't been added and move conditions haven't changed.
Factors that affect move cost include:
Date and seasonality
Distance
Size of home or apartment
Weight of belongings
Moving add-ons like custom crating and appliance services
Packing and unpacking
Storage
Moving valuation
Before booking a move, customers should get the company's cancellation policy in writing. Those needing to cancel their moves must do so within 72 hours of booking to receive a 90% refund on their deposit. Those that cancel within 7 days of their move date won't receive a refund.
It's unclear exactly how much of a deposit is required at booking.
Though it may not be the case with USA Moving Solutions, many brokers that require large deposits also engage in deceptive business practices.
Check out our moving cost calculator to get a quote on your move and find the best movers in your area,
How is USA Moving Solutions' customer service?
Since company representatives are available 24 hours a day, 7 days a week, contacting USA Moving Solutions should be relatively easy.
You can inquire about a free estimate or book an appointment using the phone numbers or email addresses on the website. They have individual phone numbers for quotes and customer service so customers can get what they need quickly.
While USA Moving Solutions doesn't have pricing or on-time delivery guarantees, the company may be able to leverage economies of scale to find the best deals on moves. In some cases, customers can use their vast access to carriers to find the right services they need for their job.
In the company's first year of business, it seems to have impressed its customers with quality service. People frequently mention the attention to detail provided by the company's agents.
Does USA Moving Solutions have a good online reputation?
The moving broker seems to perform well for its customer in its first year of service. When searched on Google Business, the company has a 4.8 out of 5-star rating with 142 reviews. However, this number of comments is higher than expected for such a young company, and curiously, many people offering 5-star ratings have chosen to hide their reviews.
Without substantial data on government and official databases, determining the accuracy of public reviews is difficult. USA Moving Solutions is currently unaccredited and unrated by the Better Business Bureau.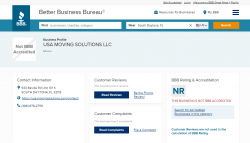 With no official reviews or complaints, we lack enough information to determine the company's legitimacy accurately. Customers should use their best judgment when deciding whether or not to work with USA Moving Solutions.
When attempting to determine the company's trustworthiness, we found their Trustpilot reviews to be the most telling. Many customers appreciate the quality of movers, while others share frustrations with final charges and delivery dates. The moving broker has claimed their business on the site and responds to all reviews in an understanding manner.
While the company's website looks clean and inviting, it lacks some valuable information. The moving broker does not have a disclaimer clearly stating its business model. It's also unclear how much of a deposit is required when booking a move.
The information provided is brief and relatively general. The website has an About Us page that offers no insights on the owner or company history. Customers looking for more specific details might not find them.

Is USA Moving Solutions licensed and insured?
The moving industry uses various databases to collect information about moving companies. When assessing a moving business, we check four databases to see what information is registered and whether the company has claimed its profile. These databases are compared alongside company websites, social media pages, and review sites (such as Yelp) to determine the moving business's credibility and transparency.
| | |
| --- | --- |
| Database | Listed (Y/N) |
| AI FMCSA? | Yes |
| SAFER FMCSA? | Yes |
| Licensing Insurance FMCSA? | Yes |
| Better Business Bureau (BBB) | Listed but unaccredited |
The services and information stated on USA Moving Solutions' website are consistent with the information on these government databases. The company has the proper authorizations and insurance to operate as a broker. While they mention their broker status on their website, USA Moving Solutions could make it more transparent for customers with a disclaimer at the bottom of the home page.
For more information on moving company regulations and why we choose to look at these databases, check out our post on how moving companies are regulated.
Should you consider USA Moving Solutions for a move?
USA Moving Solutions is a national moving broker located in East Florida. They exclusively offer long-distance services for residential and commercial customers. The company can coordinate various supplementary moving services with a sizable network of carriers and agents.
The broker isn't particularly forthright with its moving charges. They offer free quotes, but a phone call is required for any insight on costs. While its cancellation policy is reasonable, customers must ask about the company's deposit requirements.
The company appears to offer quality service to its customers, but its age makes it difficult to determine the legitimacy of reviews. The broker's BBB file was only opened a couple of months ago, and its Google Business page seems to have a swelled number of comments.
Overall, customers should use discretion when using USA Moving Solutions. While customers tend to have good things to say about their services, there isn't enough information to verify the validity of many reviews.
For more help choosing the right moving company and getting free moving quotes, check our picks of the top-rated interstate moving companies.
Not what you were looking for?
Check out other categories that can help you find the information you need!
See All
Hide All