New Leaf Moving Group Company Review
How does New Leaf Moving Group compare to other professional movers?
Company
Quote
Rating
Price

Safeway Moving

Best Overall Value

Get A Quote

American Van Lines

Best industry reputation

Get A Quote

International Van Lines

Best customer service

Get A Quote
Jump to the New Leaf Moving Group review section that you're looking for:
About New Leaf Moving Group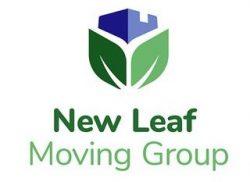 New Leaf Moving Group (U.S. DOT# 3423043) is a national moving broker based in Boynton Beach, Florida. As a broker, they help you book your move with an established moving company in your area. Established in 2020, they are legally operating under the Relocation Management Group, although their company name and branding are under "New Leaf Moving Group".
While South Florida is where the company retains its headquarters, they are long-distance movers specializing in interstate moves.
New Leaf is a family-owned and operated business that markets a stress-free move. They boast a commitment to creating the best moving process.
They have adopted a "green" marketing niche, encouraging eco-friendly moving habits such as recycling moving supplies and donating items that are rarely used when possible instead of moving them.
New Leaf Moving Group offers full-service local and long-distance moving services to both residential and business customers. Other benefits include packing, a variety of short and long-term storage options, and having experience in moving pianos.
Offer a wide range of services
Additional services such as piano moving.
Customer service and support representatives are available seven days a week
Supports "green" business practice including recycling, reusing, and repurposing.
No automobile transportation services
The company has numerous unresolved complaints from customers
Company is new (less than 2 years old)
No services to Alaska, Hawaii, or international transport options
Not BBB Accredited
New Leaf Moving Group offers a broad range of services
New Leaf offers a wide variety of moving services and pairs you with movers who can fulfill your needs. Here's a rundown of the primary services offered.
Local Moves: The company promotes itself as working with a dependable and responsible team of moving professionals. Local moving services within South Florida are available for both residential and commercial customers. The local service area includes Palm Beach County, Delray Beach, Boca Raton, Deerfield Beach, Highland Beach, Lighthouse Point, and others.
Long-Distance Moves: Cross-country moving services are available to destinations across the continental US using excellent logistical support.
Cross-Country Movers: In addition to moving within the state, they also offer interstate moves. They have many years of experience transporting to states including New York, New Jersey, California, and Texas.
Commercial Moving and Business Relocation: Businesses that are moving will receive personalized service for facilitating the project. This involves creating a detailed inventory of all items and placing transported belongings where you want them upon arrival at the destination. The company seeks to minimize downtime for business customers. The staff has experience in transporting IT equipment, cubicles, and other related business machines.
Packing Services: Professional packing services and labeling of all belongings are available using high-quality materials to prevent damage during loading or transport.
Storage Services: They offer storage solutions and ensure the storage facilities are safe, clean, secure with 24/7 surveillance, and weatherproof. They also offer climate-controlled storage units that are free of moisture and other causes of mold. Short or long-term storage is available
Specialty Services: New Leaf Moving now offers piano moving services designed to accommodate their weight and fragility. They also encourage donating unneeded items to Goodwill, local libraries, and other charities.
How much does New Leaf Moving Group charge?
The company doesn't market itself as being an economical option. They have described their commercial services as not the "cheapest corporate relocation company" option. However, we believe that quality service doesn't always come cheap.
Customers can obtain a free moving estimate by completing the website form, and a representative will contact them to provide a detailed estimate and review other factors. It doesn't appear that on-site (in-home or business) moving quotes or estimates are currently available.
When booking your move you'll be required to pay a deposit, which you can pay online using Visa, Mastercard, Discover, or via electronic check.
They do not specify what percentage of the total customers will pay for deposits. They say that deposits are refundable if a customer cancels their no later than five days before the first available date for pickup.
When the first available date for pickup is within five days of confirming the reservation, the deposit is not refundable. Refunded deposits are subject to a 5% cancellation fee, and for postponements, they will apply the deposit to a future move within the next 12 months.
To get a quote on your move and to find out about the best movers in your area, check out our moving cost calculator.
Does New Leaf Moving Group have a good online reputation?
When you Google the company, you notice that they have a Google My Business rating of 3.6 out of five stars. While their earlier reviews are promising, it's clear that they have faced a lot more customer issues in the last 6 months.
Feedback suggests that the company representatives were friendly and provided tremendous scheduling flexibility and overall affordability. However, the helpfulness of the customer service staff often did not translate into stress-free moves, with a lot of customers reporting very stressful and unsatisfying moving experiences.
New Leaf Moving Group is not currently accredited with the Better Business Bureau (BBB) but maintains an overall rating of C+.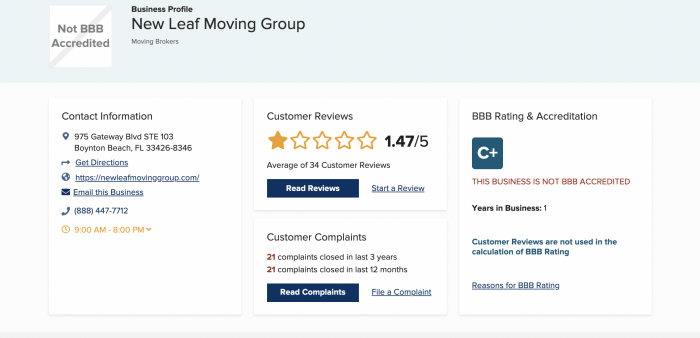 New Leaf Moving Group is not BBB accredited and has received 21 complaints since the company opened in 2020. Their BBB reviews currently stand at 1.47 out of 5 stars.
The following is a summary of the categories (nature) of the complaints received.
| | |
| --- | --- |
| BBB Complaint Types | Number |
| Sales or Advertising | 1 |
| Collections or Billing | 5 |
| Deliver-Related Concerns | 6 |
| Warranty or Guarantee | 0 |
| Product or Service Problems | 9 |
The company has a 1-star rating on Yelp. Numerous customers share similar experiences of the company delivering their belongings way behind schedule, being slow to communicate, or being unresponsive altogether.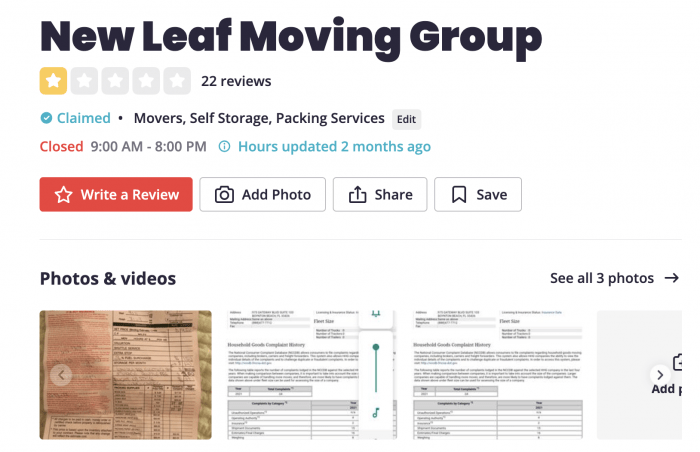 While they don't have a social media presence that we could find, they offer helpful blog posts on their website to help their customers have a better moving experience.
They also have a well-designed website that features useful information about the company itself. However, we would like to see more information about the owners and past experience in the moving industry.
Is New Leaf licensed and insured?
The moving industry uses a collection of databases to collect information about the various moving companies. When assessing a moving business, we check five databases to see what information is registered and whether the company has claimed its profile.
These databases help us see how credible the companies are and how the information stated on their website compares to the official databases' information.
| | |
| --- | --- |
| Database | Listed (Y/N) |
| AI FMCSA? | Yes |
| SAFER FMCSA? | Yes |
| Licensing Insurance FMCSA? | Yes |
| Better Business Bureau (BBB) | Listed (Not Accredited) |
For more information on how moving company regulations, and why we choose to look at these databases, check out our post on how moving companies are regulated. 
The services and information stated by New Leaf Moving Group on their website are transparent and consistent with the information listed in their company profiles. They clearly disclose that they are not carriers and do not personally transport their customer's household goods.
Should You Consider New Leaf Moving Group for a Move?
New Leaf Moving Group has had a rocky start since opening its doors in 2020. Countless negative experiences from unhappy customers make us reluctant to recommend them as a reliable option. Despite them responding to comments and trying to resolve customer issues, it's unclear whether they're making any internal changes to avoid these problems in the future.
Feedback suggests that they have a lot of work to do when it comes to vetting the household goods carriers that they work with and not making promises that they are unable to keep.
Overall, if you are planning a long-distance move, we recommend choosing a company from our list of vetted interstate movers, rather than risking having a negative experience with a company that is likely experiencing growing pains.
For more help choosing the right moving company and to get a free moving quote, check our picks of the top-rated interstate moving companies.
Not what you were looking for?
Check out other categories that can help you find the information you need!