Overall Opinion
Adams Van Lines is a national moving broker located in Florida
They work with established carriers to handle local and long-distance moves
The BBB issued an alert stating a pattern of customer complaints
Best for: Florida locals moving in-state who are looking for more knowledge of the area
Not recommended for: people moving long-distance who prefer to work directly with their shipping carrier
For even more long-distance moving companies, check out our list of the top interstate moving companies of 2021
How does Adams Van Lines compare to other professional movers?
Jump to the Adams Van Lines review section that you're looking for:
About Adams Van Lines

Adams Van Lines (U.S. DOT# 2886867) is a national moving broker based in Tampa, Florida. Moving brokers coordinate moves with established carriers, but play no part in the physical move process.
While the company opened in 2015, they claim to have nearly 20 years of experience in the moving industry.
The moving broker works with carriers in Florida area to coordinate long-distance moves around the country. They can even ship belongings to Alaska, Hawaii, and worldwide.
Adams Van Lines has seen turbulence with its customers in recent years. The Better Business Bureau issued an alert stating that the company has a pattern of complaint activity concerning billing, sales practices, and service issues.
In short, customers should be aware of this company's broker status as noted on its website.
Offers local and long-distance moving solutions
Customers can find a free quote on their website
Claims nearly 20 years of experience in the moving industry
Provides a live chat feature on their website
Does not ship vehicles
A pattern of complaints regarding final charges and responsiveness
Unaccredited with an official alert from the BBB
Adams Van Lines offers a broad range of services
Adams Van Lines works with various moving companies to provide the following services –
Local Moves: Adams Van Lines works with a number of established carriers to manage in-state, residential moves. Service areas include Miami, Tampa, Orlando, Daytona Beach, Fort Lauderdale, and Jacksonville. Local moves are considered anything less than 100 miles within the same state and can be completed in a few days
Long Distance Moves: Adams coordinates out-of-state moves as well. This includes packing, loading, and unloading. Customers moving long distances can expect their belongings to arrive in about 14 business days
International Moves: The company works with carriers to move people and businesses internationally. This includes Alaska and Hawaii
Corporate Relocation: Adam Van Lines hires capable moving companies to handle the logistics of relocating corporate employees. This includes creating a move plan, handling, and storage
Packing and Unpacking: The moving broker offers full-service packing, but does not sell packing material for do-it-yourselfers
Short and Long-Term Storage: The company offers climate-controlled storage options for residential and corporate customers looking to store their belongings
Adams Van Lines has a live chat option on its website for customers planning a local or long-distance move.
This is a great resource for those interested in getting answers to commonly asked questions, without committing to an appointment.
How much does Adams Van Lines charge?
While no two moves are alike, the company provides a free estimate option on its website.
However, customers interested in receiving a free estimate must share contact and general move information.
Customers can also receive a free quote using the phone number or email listed on the website.
Adams Van Lines is meticulous when informing its potential customers about moving costs. The moving broker breaks down the different payments associated with local and long-distance moves.
Local moves charges are based on an hourly rate plus additional services
Long-distance moves are charged based on weight, distance, and labor
In addition, customers will pay for optional services like packing, bulky articles, long-carries, and last-minute changes.
The company recommends a binding estimate for customers planning long-distance moves.
Binding estimate locks in the amount due, as long as the move conditions are unchanged.
Factors that affect costs include:
Date of the move and seasonality
Distance between residences
Size of the home or apartment
Weight of belongings
Moving add-ons
Packing and storage
Valuation
While Adams does not offer pricing or on-time delivery guarantees, they do provide ballpark estimates for customers moving within Florida.
For example, the company states that customers moving to Miami can expect to pay between –
$300 and $1500 for a local move
$2500 to $5000 for a long-distance move (depending on weight and distance)
Adams Van Lines provides ballpark estimates for Miami, Tampa, Orlando, Daytona Beach, Fort Lauderdale, and Jacksonville.
Customers should note that these are not actual estimates, and the company should not be held to these numbers.
To get a quote on your move and find out about the best movers in your area, check out our moving cost calculator.
What is Adams Van Lines Customer Service Like?
Adams Van Lines makes booking appointments and receiving free estimates easy.
Customers can contact a service representative using the phone number or email provided on the company's About Us page.
The broker's business hours are:
9:00 a.m. – 7:00 p.m. M-Th
9:00 a.m. – 5:00 p.m. F
Closed on Sunday
Adam Van Lines provides a unique chat service on its website. Customers can speak to a live representative to receive a free quote or set up a move. They can also have basic questions answered promptly without having to call.
Although the company makes it easy to contact them, customers share different experiences. Many people explain that the broker becomes challenging to reach once the move is in place. The Better Business Bureau has issued an alert stating a pattern of service issues.
Does Adams Van Lines have a good online reputation?
At first glance it seems that Adams Van Lines is highly reputable. When searching for the company on Google Business, they maintain a 4.2 out of 5-star rating with 206 reviews.
Some customers are satisfied with the broker's professionalism, responsiveness, and value, while others took issue with communication and final charges.
According to the BBB's website, Adams Van Lines is unaccredited and has an F rating.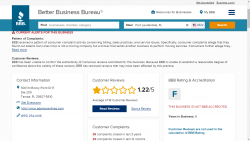 Adams Van Lines maintains a 1.22 out of 5-star rating on the BBB. The government database has removed several reviews submitted for the company due to their validity. Customers have expressed frustrations with damages, miscommunication, and final charges. The broker has responded to each review.
The company has received 38 official complaints on the BBB. Customers routinely mention issues with delivery and services. Below is a breakdown of the types of complaints the broker has received in the last three years.
The following is a summary of the categories (nature) of the complaints received.
| | |
| --- | --- |
| BBB Complaint Types | Number |
| Sales or Advertising | 1 |
| Collections or Billing | 8 |
| Deliver-Related Concerns | 13 |
| Warranty or Guarantee | 0 |
| Product or Service Problems | 16 |
The moving broker has received 21 official complaints from the National Consumer Complaint Database on the AI FMCSA. Customers note difficulties with final charges, delivery, and deceptive business practices.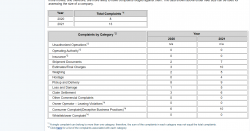 Adams Van Lines holds a 4.7 out of 5-star rating on My Moving Reviews. Customers continually mention the broker's professionalism and responsiveness. One customer explained problems with miscommunication and damages.
Is Adams Van Lines licensed and insured?
The moving industry uses databases to collect information about various moving companies. When assessing a moving business, we check four databases to see what information is registered and whether the company has claimed its profile.
These databases are compared alongside company websites, social media pages, and review sites (such as Yelp) to determine the moving business's credibility and transparency.
| | |
| --- | --- |
| Database | Listed (Y/N) |
| AI FMCSA? | Yes |
| SAFER FMCSA? | Yes |
| Licensing Insurance FMCSA? | Yes |
| Better Business Bureau (BBB) | Listed (Not Accredited) |
The services and information stated on Adams Van Lines' website are primarily consistent with the information on these government databases. The moving broker directly states the type of company it is on its website, although there's no mention of what it does.
The company also claims to have nearly 20 years of experience in the industry despite having started business in 2015.
For more information on moving company regulations and why we choose to look at these databases, check out our post on how moving companies are regulated. 
How is Adam Van Lines' website and social media presence?
Adam Van Lines has a simple and easy-to-navigate website. The company provides links to its services and blogs. They also share a list of recommended shipping carriers in the local Florida region. Customers considering Adams Van Lines might take a look at some of the carriers to know who they may be working with.
While little is known about the company history or its owner, they do provide a background on their About Us page. Customers can also learn more about what the company does through the live chat feature.
Customers can also find Adams Van Lines on social media. Those interested can learn more about the company's services and read customer reviews on the broker's Facebook and Instagram pages.
Should you consider Adams Van Lines for a move?
Adams Van Lines is a national moving broker located in Florida. They work with established moving carriers to provide local and long-distance moving solutions.
While many reviews about the company are positive, the Better Business Bureau issued an alert stating a pattern of complaint activity concerning billing, sales practices, and service issues.
Overall, customers moving locally in the major Florida areas might consider working with Adams Van Lines. While customers have mentioned issues with communication and final charges, the moving broker provides many resources for Florida locals to prepare for their moves.
For more help choosing the right moving company and to get a free moving quote, check our picks of the top-rated interstate moving companies.
Not what you were looking for?
Check out other categories that can help you find the information you need!
See All
Hide All