The Ultimate Guide to Getting Discounts on Moving Services
Moving into a new home can be quite expensive.
If you are moving into a home that you have just purchased, your financial reserves may be low after paying for all the costs associated with buying a new home, such as down payments and closing costs.
If you think that haggling or asking for discounts is embarrassing, the chances are that you haven't seen the Claremont Graduate University Study, which concluded that "coupons elicit physiological reactions similar to having a positive social interaction." In the year when the study was done, over 90 million Americans used online coupons, saving over $2.9 billion (Source).
What this shows is that discounts are not as bad as those of us who are embarrassed to ask for them may think.
It also proves that there's hardly any need to pay the full price for anything, including moving if you can get a discount.
In this article, we've rounded up a list of services with discounts to help make your move a little easier on your pockets.
To make things easy, we've arranged the discounts into demographic categories, so you can sift through the list, or just head straight to the discounts for your demographic.
Also, check out our moving cost calculator to get a good idea what your move might cost.
Table of Contents
Tips to Ensure you Secure your Discount
Before we look at the specific discounts, here are a few tips on how to get the most from the available discounts:
Check if you meet the conditions
Double-check if you meet the conditions or requirements set by the companies offering discounts. For instance, you'll waste your time if you go chasing after a discount deal provided for seniors if you are nowhere near that age. For military personnel, have your service I.D., veteran card, or other relevant forms of I.D. ready before applying for a military discount.
Always ask
Don't be afraid to enquire about discounts. Many companies that help people with moves will offer discounts if asked, but they may not want to make this public knowledge.
Sometimes the person at the front desk or call center may turn down a request for a discount because they do not have the authority to give one. Ask to speak to the person in charge. Most managers would have the power to offer a discount, even if the frontline employees don't know.
Learn more about negotiating with moving companies.
Look out for scams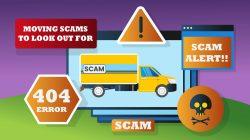 While the overall idea is to save money, you could also lose money and property if you get involved with scam artists.
Always work with reputable or verifiable moving companies.
Remember that if it sounds too good to be true, it probably is.
Check out some common moving scams.
Use discounts to get discounts
If you have already been offered a discount, use the offer to get a better discount from someone else. Be ready to show them proof, such as a copy of the quote. However, some businesses have a policy that they will not be involved in a price war. So, you may be offered a discount in other non-financial ways.
Get an app
Attempting to find moving discounts online can be overwhelming because of all the information available. An app may be a great way of getting notifications about deals on specific services like moving.
The Coupons.com app has discount coupons for almost anything in the world, including moving services and supplies.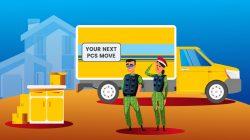 Whether it's a duty assignment, a change of station, or any relocation, military personnel also need a painless and cost-efficient move.
After all, these gallant sons and daughters of America put their lives in danger to ensure that we all live the American dream.
Active and discharged soldiers, including veterans, can also access discounts on moving and related services.
Here are a few examples:
Penske Thanks Military Veterans for Their Service
Penske Truck Rental offers discounts to military veterans who want to hire a truck for a move. Members of the military can use the code MILITARY* to get a 10% discount. The company also has an army connection at each Penske call center for do-it-yourself moves. The toll-free number is 1-844-4TROOPS (1-844-487-6677).
Hundreds of Military Shipping and Storage Discounts
The website MilitaryBenefits.info has a 2020 veterans and military discount list that has information on "hundreds of companies that offer military discounts to service members, retired military, veterans, spouses, and their families" (Source).
For your next move, check out the truck rentals discounts on some of the companies listed on MilitaryBenefits.info, such as Budget Truck Rental, and get your next truck rental for 20% less if you use the code USMIO.
The Dealhack Military & Veteran Discounts Guide
The Dealhack Military & Veteran Discounts Guide calls itself a "result of our quarterly survey of brands that offer active-duty military and veteran discounts."
According to Dealhack, they "independently verify each and every store on this list."
For a discount on your next truck, visit DealHack.com and check under Car Rental Discounts.
PODS Serving the Men and Women who Serve our Country
PODS Moving Services says that it is "proud to serve the men and women who serve our country. Active, retired, and veteran members of the military receive a 10% PODS military discount."
Members of the military that want a discount for PPM/DITY moves or storage during deployments can call the company on (866) 556-9574 and use the promo code SERV10 (Source).
Just like military members, we can't possibly thank our teachers enough for their service, especially since they shape the future of the nation.
In honor of our educators, several moving services companies offer discounts to teachers who need to move, for both professional and personal reasons.
Car and Truck Rental Companies Recognize Teachers
Budget Truck Rental:
Offers "20% discount on local moves and a 15% discount on one-way moves" for U.S. teachers. To use this discount, you can book using the discount code 'TEACH' (Source).
E-Z Rent-A-Car: Up to January 31, 2030 (yes for ten years), teachers and school employees who want to hire any vehicle from E-Z Rent-A-Car for any form of a move can get a 10% discount if they use the Coupon Code: 827B9. All you need to do to get this discount is to present identification at any rental counter (Source).
While collective bargaining is the core business of the labor unions, they also work with companies to ensure that the salary increments they get for their members stretch even further.
Budget Truck Rental's Whole Moving Package
Budget Truck Rental helps union members and their families to make their move more manageable with a whole package of moving services. The company provides up to 20% off on truck rentals at any of their 2,800+ locations across the U.S.
The discount covers a range of moving services, including a wide selection of easy-to-drive trucks, 24/7 roadside assistance, moving kits, boxes, and moving supplies, car carriers and towing, and optional insurance plans.
Want to take advantage of the Budget discount for union members? Make your truck rental reservations here.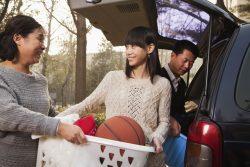 Students have found themselves having to change plans or move at short notice during this coronavirus era.
For example, the New York Times reports, "When universities abruptly shut down last month [March 2020] because of the coronavirus pandemic, many students returned to their parents' homes" (Source).
For international students, returning to their parents' home may not be easy, which leaves then with no option but to move to cheaper accommodation.
Some may be downgrading because their parents have lost their sources of income or maybe moving in with friends to share costs.
Sites like BrokeScholar.com provide a variety of student discounts to help with your move and everyday college life.
A few companies have put together discount schemes for students affected by the crises. Here are some discounts on moving services that can help cushion your overall spend:
Travel and Transportation Discounts
The website TheSimpleDollar.com lists a total of 60 student discounts.
We checked out some of the listed discounts linked to moving and transportation and found a few.
If you don't have a lot to move and want to use a bus, check out the Student Advantage Discount Card, which could save you up to 10% of your move on coaches like Greyhound. You could also check out the Coach USA discounts.
U-Haul's 30 Days Free Self-Storage
When vast numbers of students started being increasingly forced to move out of college residences in March 2020, and head back home in the wake of the coronavirus pandemic, the moving and storage company U-Haul, started offering a free 30 days self-storage service for any student that suddenly had to move.
As part of the offer, the students can also use the company's portable storage and moving containers and file them at any of its 22,000 locations across 50 U.S. states and 10 Canadian provinces.
Even though it looks like this assistance was available when colleges initially closed in March 2020, who says that they will not listen to you if you ask for a discount today.
Get more information about the program by calling (866) 269-4887 or sending an email to [email protected].
Car Rentals

Another company that responded with discounts for students to the coronavirus crisis is Enterprise. The firm is making it easier for college students aged 18-24 to return to their families.
Enterprise is waving rental fees for its fleet of minivans, pick-up trucks, cargo vans, and full-size cars rented by students during the coronavirus crisis.
We know that this offer ends on May 31, 2020, but who says that they will not listen to you if you ask when colleges open again when the whole crisis is over.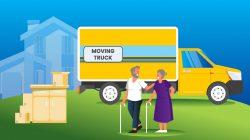 Planning a move can be quite daunting for seniors.
Several professional moving services companies honor seniors by providing moving discounts.
Here are some of the companies you may want to check out if you are looking for moving discounts as a senior:
ProfessionalMovers.com Recognizes an Important Generation
If you are a senior community member and planning a move, the company ProfessionalMovers.com has a message for you: it's "time to recognize how important your generation was to the creation and preservation of our company. After all, it was your generation who made the brave sacrifices for the better good of our country" (Source).
The moving services firm will give a 5% discount on the total cost of your local move if you are above the age of 50 (Source).
If you're making a long-distance move, the company offers what it calls a New Beginnings Program, which gives a 10% – 30% discount on a hotel room, among other services. Check out what else you can get from this program here.
We are living through trying times when the unemployment rate in the U.S. has jumped to above 14% (Source).
Many of the folks losing their jobs may find themselves with no choice but to move.
If you find yourself in this situation, you may want to check out some discounts on moving services so you can hold on to as much of your cash as possible.
Also, with more people losing their jobs, many companies are doing what they can to keep the customers they have. So, there is no better time to ask for a discount than now.
Get $50 off at Public Storage Inc.
Public Storage Inc. is a California-based moving and storage company offering a $50 discount to laid-off professional workers.
If you don't live in California and have just lost your job, you will lose nothing by enquiring about a discount for your move. Many companies will be happy to give it to you even though they may not want everyone to know.
Loyalty programs and discount sites can help reduce overall moving costs.
Savvy deal hunters know too well that promo codes, deals, and coupons can save you a significant amount of cash on various products and services.
Updater is Connecting Movers to Deals
The good news is that you no longer have to subscribe to a hundred different deal sites that'll pump a bunch of emails into your inbox every day.
Download the Updater app and join what the app developers say are "millions of happy movers who saved money, time, and effort." According to the service, you will save an average of $325 on your move.
The app caters for your pre-moving discounts from truck rentals, self-service storage, and cardboard boxes, to removal, and packing and unpacking services.
Visit the American Automobile Association before you Move
Membership to professional bodies and special interest associations can also make you eligible for discounts from certain service providers, including moving companies.
For instance, the American Automobile Association (AAA) provides its members with emergency assistance, as well as unique discounts and deals from hundreds of service providers, like hotels, restaurants, insurance companies, and moving companies.
If you go to the AAA website in your region, you'll find a "Moving and Storage" section where you can check out any moving discounts in your area.
Whatever you do, always inquire about that discount, as the money you save could go a long way toward getting the stuff you need in your new home.
Not what you were looking for?
Check out other categories that can help you find the information you need!