Overall Opinion
Pricing Van Lines is a moving broker based in Southeast Florida
The company works with a network of carriers and agents that handle local and long-distance moves
Customers are generally pleased with Pricing Van Lines' services, but some were unaware of the company's broker status
The company is unaccredited with the BBB but maintains a B rating
The broker has one of the strictest cancellation policies in the industry
Best for: Cost-conscious customers looking for the best price
Not recommended for: Last-minute and short notice moves
For even more long-distance moving options, check out our list of the top interstate moving companies of 2022.
How does Pricing Van Lines compare to other professional movers?
Jump to the Pricing Van Lines review section that you're looking for:
About Pricing Van Lines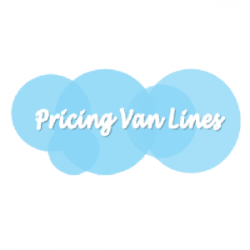 Pricing Van Lines (U.S. DOT# 2569749) is a national moving broker headquartered in Miami Beach, Florida. Pricing Van Lines works with established carriers to offer competitive pricing, but as a broker, the company does not physically handle or transport its customer's belongings.
With seven years of industry experience, Pricing Van Lines offers a variety of services in addition to handling local and long-distance moves for residential, commercial, and military customers. They also provide special discounts for military personnel, the elderly, and the disabled.
Pricing Van Lines has performance guidelines for the agents in its network. Carriers working with this broker must have:
Proper licenses and insurance
The right tools and equipment
Experienced, professional drivers
Supplementary service offerings
A strong code of ethics
Local and long-distance relocation services, including moves to Alaska and Hawaii
Residential, commercial, and military moves
Free web quotes
Discounts for military, elderly and disabled customers
Strict cancellation policy
Unaccredited with the BBB
Customers are sometimes unaware of the company's broker status
Pricing Van Lines offers a broad range of services
Pricing Van Lines works closely with experienced carriers to provide the following services:
Local moves: The moving broker has a dedicated network of local agents that can handle moves in Southeast Florida including West Palm Beach, Boca Raton, Fort Lauderdale, and Miami
Long-distance moves: Pricing Van Lines works with carriers to provide long-distance moves for residential and corporate customers. They can move you anywhere in the country, including Alaska and Hawaii
Corporate relocation: The company has experience working with corporations relocating facilities and employees. In addition to standard moving services, Pricing Van Lines coordinates the logistics of business relocations while focusing on minimizing downtime
Packing and unpacking: The moving broker provides various packing services for both standard household goods and unique, fragile, and high-value items. They may also be able to find deals on packing supplies for customers who are doing their own packing
Long and short-term storage: The company offers various storage solutions regardless of move type. They can store items on short notice and have climate-controlled units for items that are sensitive to temperature and humidity
Military moves: Many of Pricing Van Lines agents are authorized to work with the General Services Administration (GSA) to handle domestic and international government and military moves. NOTE: If you're planning a military move, make sure to confirm that your carrier is GSA approved
Auto transport: The moving broker works with carriers capable of transporting personal and fleet vehicles. They can drop your vehicle right at your door or coordinate a suitable alternate location when this isn't possible
How much does Pricing Van Lines charge?
Since moves are difficult to price, "ballpark" quotes can be inaccurate. Those interested in working with Pricing Van Lines should inquire about a free quote.
The moving broker offers free estimates on its website. Customers can click the button on the front page to fill out a form, where they'll need to enter:
Pick-up and drop-off locations
Move type
Contact information
Customers can also request a free quote using the phone number or email provided on the company's Contact Us page at the bottom of the website. The broker also provides a convenient chat feature to connect with a representative.
Pricing Van Lines works with various carriers offering different types of quotes. For the most accurate estimate on your move, it's worth requesting a binding estimate.
Binding estimates lock in the amount due as long as items haven't been added and move conditions haven't changed. Adding items and services will increase move costs.
Factors that affect move cost include:
Date and seasonality
Distance
Size of home or apartment
Weight of household goods
Moving add-ons like custom crating and appliance services
Packing and unpacking
Storage
Moving valuation
Pricing Van Lines has one of the least flexible cancellation policies in the industry.
For customers to receive a refund on their deposit, they will have to cancel within 24 hours of their move. Cancellations after the grace period will only receive credit toward another move, and any cancellations within seven days of their scheduled pick-up date will not receive a refund.
To get a quote on your move and find out about the best movers in your area, check out our moving cost calculator.
How is Pricing Van Lines' customer service?
Pricing Van Lines representatives are available 24 hours a day, 7 days a week.
You can request a free quote or book an appointment with a customer service representative using the phone number or email listed on the company's Contact Us page. You can also ask questions or plan a move using the company's convenient chat feature.
While they do not offer pricing or on-time delivery guarantees, the company does have discounts for military, elderly, and disabled customers. Talk with your customer service representative to see how you can save money on your move.
Pricing Van Lines works hard to provide top-notch service, and customers generally respond positively. While some customers feel misinformed about the company's broker status, most are left pleased with their agent's professionalism.
Does Pricing Van Lines have a good online reputation?
In the company's 7-year history, it has established a good reputation with its customers. When searched on Google Business, Pricing Van Lines holds a 4.4 out of 5-star rating with nearly 320 customer reviews. Some customers share frustrations with miscommunication regarding their broker status, but most appreciate the company's attention to detail and overall value.
Their performance on government and official databases is consistent. Pricing Van Lines is unaccredited with the Better Business Bureau but maintains a B rating.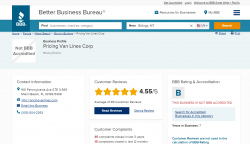 The moving broker holds a 4.55 out of 5-star rating on the BBB with 89 customer reviews. Several people have issues regarding communication about the company's broker status, and one claimed bait-and-switch practices. Still, most customers appreciate the value and quality of their services, and Pricing Van Lines responds to reviews and offers feedback.
The company received 35 official complaints in the last three years, with 15 received in the previous 12 months. This is relatively low for moving brokers, which speaks volumes about the company's efforts.
The following summarizes the categories (nature) of the complaints received.
| | |
| --- | --- |
| BBB Complaint Types | Number |
| Sales or Advertising | 3 |
| Collections or Billing | 5 |
| Deliver-Related Concerns | 3 |
| Warranty or Guarantee | 0 |
| Product or Service Problems | 24 |
Pricing Van Lines has 20 official complaints filed on the National Consumer Complaint Database. According to the AI FMCSA website, the moving broker has had issues with final charges, delivery issues, and deceptive business practices.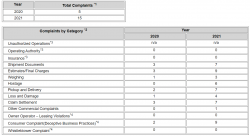 The company also performs well on public review sites. Pricing Van Lines holds a 4.5 out of 5-star rating on My Moving Reviews with 229 reviews. Customers note issues with damages and final charges, and the moving broker reaches out to help come to a resolution. Other customers appreciate the high level of customer service and professionalism.
Is Pricing Van Lines licensed and insured?
The moving industry uses databases to collect information about various moving companies. When assessing a moving business, we check four databases to see what information is registered and whether the company has claimed its profiles.
These databases are compared alongside company websites, social media pages, and review sites (such as Yelp) to determine the moving business's credibility and transparency.
| | |
| --- | --- |
| Database | Listed (Y/N) |
| AI FMCSA? | Yes |
| SAFER FMCSA? | Yes |
| Licensing Insurance FMCSA? | Yes |
| Better Business Bureau (BBB) | Listed but unaccredited |
The services and information stated on Pricing Van Lines Corp's website are consistent with the information on these government databases. The moving broker has all the necessary licenses and is adequately insured. The company directly states its broker status, although some of the content on the website may make it seem as though they're a carrier.
For more information on moving company regulations and why we choose to look at these databases, check out our post on how moving companies are regulated.
How are Pricing Van Lines' website and social media presence?
The moving broker's website is relatively challenging to navigate. At first glance, it is unclear where to find information about the company's services or contact information. Customers will have to scroll to the bottom of the home page to find specific pages.
However, the company tries to provide its customers with as much info as possible. They have a consistent blog with an extensive list of posts over the last 5 years. They also have a convenient chat feature for those who prefer dealing with another person.
Pricing Van Lines is also active on social media. Customers can find the company's Facebook page for examples of their work process as well as further customer reviews. They also manage a Twitter and Youtube account, although they are less active on these platforms.
Should You Consider Pricing Van Lines for a Move?
Pricing Van Lines is a national moving broker located in Southeast Florida.
The company works with a network of vetted shipping agents to provide local and long-distance moving services to residential, commercial, and military customers.
The moving broker uses economies of scale to provide the best prices on moves. Though the company provides a variety of supplemental services and offers multiple discounts, it has one of the industry's strictest cancellation policies.
Pricing Van Lines is open 24/7, and customers can contact them using the phone number and email listed on their website. They also have a live chat feature for those with quick questions about their services. Despite all this, some customers struggle with miscommunication regarding the company's broker status.
Overall, Pricing Van Lines is a moving broker that you can trust to find you great deals on your upcoming move. While they don't physically handle or transport your belongings, their experienced agents provide a wide variety of moving services. However, those moving at the last minute may want to consider other options.
For more help choosing the right moving company and getting free moving quotes, check our picks of the top-rated interstate moving companies.
Not what you were looking for?
Check out other categories that can help you find the information you need!
See All
Hide All