First National Van Lines Full Review
Not sure if First National Van Lines is the right mover for you? Our review of prices, services, online reputation, and more should help you decide.
Overall Opinion: First National Van Lines has pretty good online reviews and offers price matching which makes it a great option for someone looking for full-service movers on a budget. They are a broker, which means prices and services will vary depending on which moving company you get matched with, but if you're willing to take that risk, First National is a good way to book a full-service mover at a discount.
See our list of the best moving companies to see all your options and to compare with First National Van Lines.
Based in New York, First National Van Lines has been offering interstate moving brokerage services all over the country for 37 years. That means its experience is on par to compete with other moving companies that have been in the industry for generations.
First National Van Lines is a broker, which means it doesn't have its own fleet of moving trucks and staff of professional packers and movers. Instead, a broker works as a middle man between you and a bunch of different moving companies, shopping around a low rate and getting you a good deal since there are multiple moving companies competing to get the job. Using a broker to book a move often means getting a better price than booking directly with a moving company yourself, but the downside is you give up a lot of control over your move (but more on that down below).
If you're considering using First National Van Lines to book your move, our review has the pros, cons, service list, prices, and more information you need to know first. Read on for all the details.
First National Van Lines Review: The Good and the Bad
There's no such thing as a perfect moving company. Like any other choice for your move, First National Van Lines has pros and cons. Here's what you need to know.
The Good: They Offer Guaranteed Price Matching
If you're trying to move on a tight budget, First National is a great choice because of their already lower prices for being a broker, and their price matching guarantee. It'll take some legwork on your part, but if you can get a price quote in writing from another company for the exact same move that's lower than what First National estimates, they'll match that price and you'll get the First National service people rave about.
That's the other thing we love about First National: Their customer service. Moving is stressful no matter what, and having a friendly, helpful agent to help you through it can make all the difference. First National provides that.
The Bad: The Quote Process Is a Pain In the Neck
Before we get into this, it's important to note that getting a quote from any full-service moving company is generally a lengthy, multi-step process. That being said, First National doesn't do anything to make it easier on you. In fact, their website claims they offer instant quotes, but there's nothing instant about them at all.
In order to get a quote, you'll have to first hand over your email address and phone number, which means you're going to get an absolute barrage of texts, calls, and emails. Then, you need to create and submit a full inventory list of everything you plan to include in your move, then go over it with an agent on the phone. Only then will First National give you a dollar amount for your quote, and it's still subject to change depending on the actual shipping weight of your belongings.
Again, many moving companies make you jump through all the same hoops to get a quote, so First National is far from the worst in this respect. We still wish they made it easier and faster so you could more easily compare their quote with quotes from other moving companies.
First National Van Lines: Other Pros and Cons
Those are our favorite and least favorite features, but there are more pros and cons you may want to consider.
Pros
Cons

Great customer service.
Price match guarantee.
30 days of free storage included in all interstate moves.
Nationwide service coverage.

Using a broker means giving up a lot of control over who does your move.
Getting a quote is a lengthy and complicated process.
Their website is missing a lot of key information.
First National Van Lines Review: Services Offered
According to their website, First National offers:
Local moves
Long-distance moves
Corporate relocation
Packing services
Storage in transit
Because First National is a broker and has access to numerous moving companies with different types of expertise, it's likely they can handle whatever moving needs you throw at them and match you with a mover who will take your piano or fine art move in stride.
First National Van Lines Online Reputation and Reviews
First National has built up a pretty impressive online reputation, with a lot of people raving about the friendly, helpful customer service it provides. First National has good reviews from happy customers across multiple review sites and a high rating from the Better Business Bureau.
Bad reviews do happen, even to the companies with the best customer service available. When reading through First National Van Lines' reviews, we saw several negative reviews that mentioned quoted prices going up on moving day, which is definitely something that can happen, since the actual cost of your move is based on the weight of the shipment once it's loaded on a truck. There are also multiple negative reviews from people who say they were asked for a large deposit upfront, so that's another thing to keep an eye out for.
First National doesn't appear to have an official Facebook page where people can leave reviews and share their experiences.
On Yelp, the company has received 51 customer reviews and has an average rating of 4 out of 5 stars. First National has claimed its Yelp listing, which means information about the company that's listed on Yelp should be accurate. Yelp does warn visitors to First National's page that there have been reports that the company "may have tried to abuse the legal system in an effort to stifle free speech, for example through legal threats or contractual gag clauses."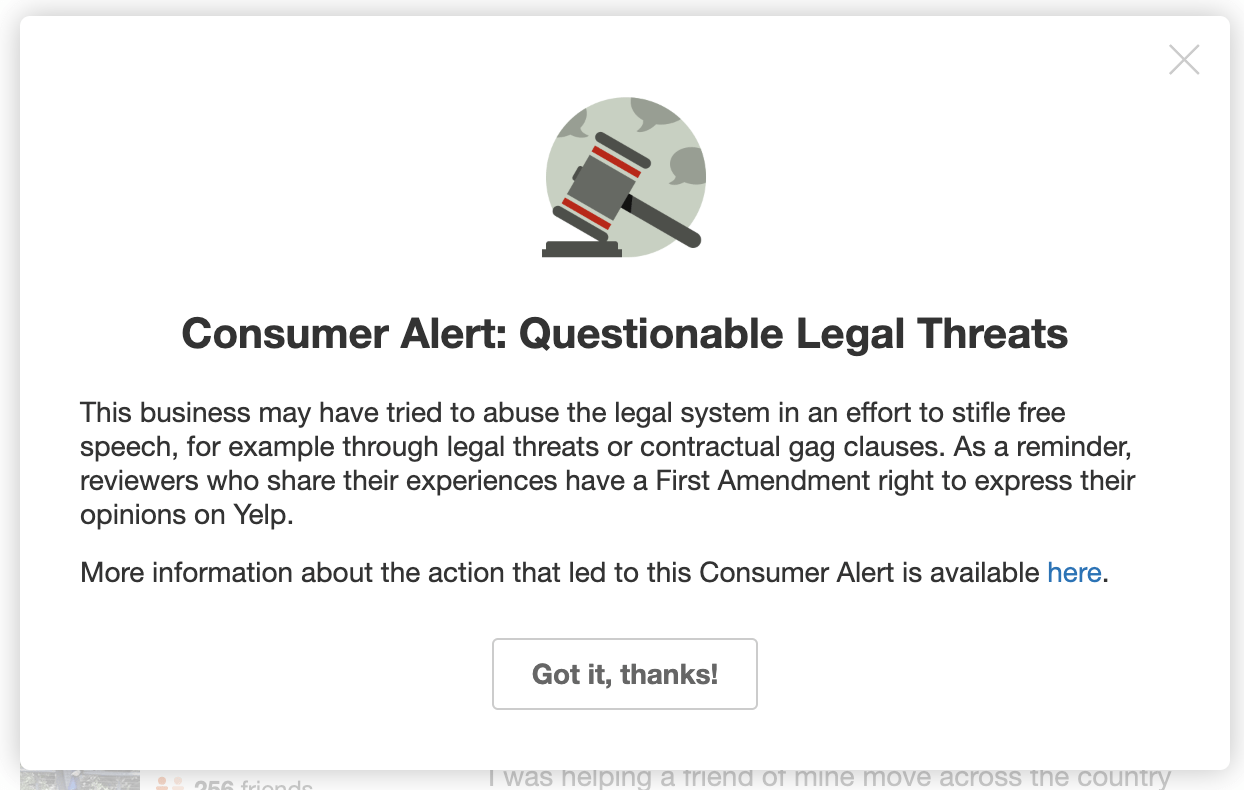 Source: https://www.yelp.com/biz/first-national-van-lines-new-york
One thing we like to see is that it appears that representatives from First National Van Lines attempt to contact customers who leave negative reviews to try to make things right.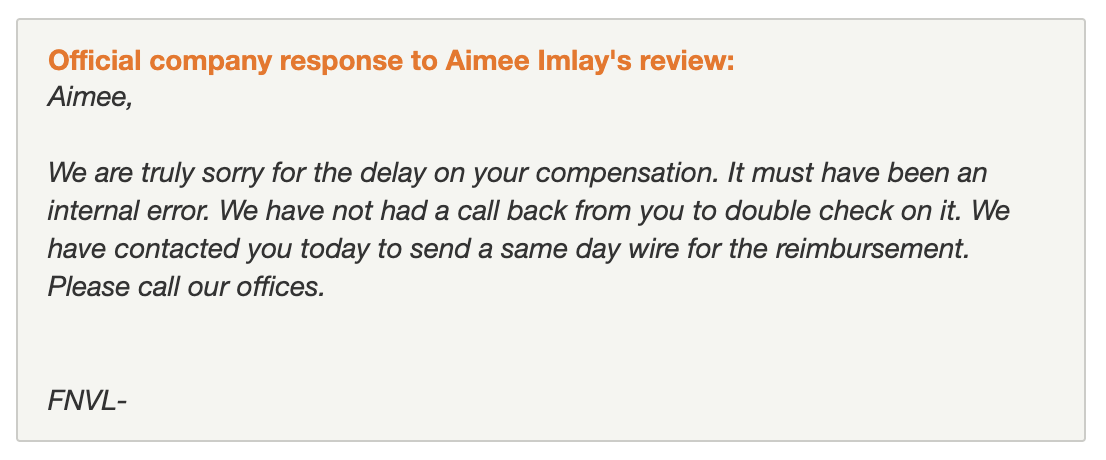 Source: https://www.mymovingreviews.com/movers/first-national-van-lines-8037?order_by=worst
First National Van Lines is not accredited with the Better Business Bureau. Businesses don't have any obligation to become accredited, but doing so shows they've made a commitment to doing their best to do right by their customers. Even though they're not accredited, First National has an A rating from the BBB. In the last three years, they've received just six BBB complaints, which is low compared to similar-sized companies in the same industry. Of those complaints, five are related to problems with a product or service, and one is related to a problem with billing or collections. First National's A rating reflects how the company has answered all of its complaints in a way the BBB finds to be in good faith.
First National Van Lines is registered with the U.S. Department of Transportation, and in the last two years, has received a total of 15 complaints to the USDOT. Reasons for those complaints include estimates and charges, pickup and delivery, loss and damage, claim settlement, and deceptive business practices.
It's important to keep in mind that because First National is a broker, complaints about the companies it works with may not show up on First National's pages.
First National Van Lines Review: How Much Does a Move Cost?
Booking with a broker like First National Van Lines means prices are extremely variable — even more than when you book directly with a moving company. It's important to get a personalized quote from First National before you make any decisions about whether to book with this company based on costs.
Brokers often offer you the opportunity to get a lower price than you could if you worked directly with a moving company yourself, and First National's price matching offer means you're likely to pay the lowest price you can find if you book with this company. But keep in mind that price quotes are always subject to change, and you may have to pay a deposit when you book with First National, especially if you're moving a particularly long-distance.
To get a quote with First National, you can start by entering your contact information and a little bit of information about your move on their website. Keep in mind that you won't get a dollar amount for your estimate until you complete an inventory list of everything you plan to move. And the quoted price based on that inventory list still might change, since the actual moving cost will be based on the weight of all your belongings.
You have the option of paying for extra add-on services with First National, like insurance or packing services. Whether you choose to purchase any extras or not, make sure you get everything related to the price of your move in writing and ask for a detailed breakdown of how every aspect of your move is priced so you can accurately compare First National with any other movers or brokers you might be considering.
First National Van Lines: Is It Right for Your Move?
Only you can decide what type of moving company is right for your move.
Booking your move with a broker like First National Van Lines has its advantages and disadvantages. You might get a great price, but you also have to give up some control over what company handles your move. Before booking with a broker, you should carefully weigh the pros and cons to be sure you're comfortable with the business model.
And before you book a move with any type of company — broker, full-service, container, or truck rental — you should compare all your options. Start your search with instant quotes from multiple moving companies you can trust at MoveBuddha.