Stevens Worldwide Van Lines Company Review
Overall Opinion
Stevens Worldwide Van Lines is a national and international carrier headquartered in Indianapolis, Indiana
Stevens has a large network of agents that handle various move types
The company focuses exclusively on long-distance and international relocations, but individual agents handle local moves as well
Stevens has earned a solid reputation with its customers
The company is unaccredited with the Better Business Bureau and holds a B- rating
Best for: Those planning long-distance moves or shipping high-value items
Not recommended for: Those looking to save money on in-state moves
For even more long-distance moving companies, check out our list of the top interstate moving companies of 2021
How does Stevens Worldwide Van Lines compare to other professional movers?
Jump to the Stevens Worldwide Van Lines review section that you're looking for:
About Stevens Worldwide Van Lines

Stevens Worldwide Van Lines (U.S. DOT# 70719) is a national carrier headquartered in Indianapolis, Indiana. As a carrier, the company physically handles and transports its customer's belongings. As one of the largest van lines in the country, Stevens' fleet of more than 1,000 vehicles logged nearly 30 million miles in 2020.
The historic company was founded in Saginaw, Michigan in 1905. The carrier joined Wheaton Van Lines in 2019. The company's 386 vetted agents cover much of the United States.
Stevens Worldwide Van Lines uses its agent network to handle local and in-state moves. This allows the company to focus exclusively on long-distance and international shipments. As a result, Stevens Worldwide Van Lines is a leader in these market niches.
The carrier takes an active role in its community by supporting various charities and non-profit organizations like the National Breast Cancer Foundation.
Stevens Worldwide Van Lines has earned endorsements from several industry associations. The carrier is a Promover with the American Moving and Storage Association and has ties to a number of national senior organizations. Other businesses that work with the company include RE/MAX, Berkshire Hathaway, and Loyalty 360.
A leader in long-distance and international moves
Free web quotes and "ballpark" estimates
Established in 1905 – one of the oldest moving companies in the country
More than 380 authorized agents
Unaccredited with the BBB
Stevens Worldwide Van Lines offers a broad range of services
Local moves: The company uses its extensive network of agents to facilitate local and in-state moves nearly anywhere in the country
Long-distance moves: As one of the company's specialties, you can trust Stevens Worldwide Van Lines to safely and professionally transport your belongings across state lines, including to Alaska and Hawaii
International moves: The carrier works with sister company Stevens International to handle moves anywhere globally. The company offers several relocation services in addition to moving, including intercultural training, language learning, and logistics
Commercial moves: The carrier has experience efficiently relocating businesses of all sizes while minimizing downtime. They can even facilitate employee relocation for individuals being transferred
Packing and unpacking: Stevens Worldwide Van Lines offers full-service and customized packing options for residential and commercial moves. They can pack kitchen supplies, wardrobes, and fragile and unique items. The carrier also sells packing materials for do-it-yourselfers
Short and long-term storage: The company offers a variety of storage solutions for all move types. Stevens has climate-controlled storage units and can store items in multiple states on short notice
Vehicle transportation: The company works with specialized auto transport companies that can provide door-to-door service. In cases where they can't, the carrier will organize a suitable dropoff location
Government and military relocation: The company has proper approval from the General Services Administration (GSA) to manage government and military moves. The company is thorough, providing government personnel with several resources to plan their relocations. If you are planning a military move, take time to confirm that your carrier has GSA approval
Specialty services: The carrier can professionally move unique items such as medical equipment, pool tables, and pianos
How much does Stevens Worldwide Van Lines charge?
Those considering working with Stevens Worldwide Van Lines should contact the company directly to schedule a virtual or in-home estimate.
Stevens Worldwide Van Lines offers free quotes on its website. You will have to provide your pick-up and drop-off locations, type of move, and contact information for your free estimate. Stevens may provide a "ballpark" estimate for pre-move budgeting purposes before providing a more detailed quote.
Customers can also receive a free quote using the phone number, email, or contact form listed on the company's Contact page.
When working with Stevens Worldwide Van Lines, ask about the types of estimates their carrier agents use. While some will differ, customers will find the most consistency with binding and not-to-exceed estimates. As long as move conditions haven't changed, customers can expect to pay close to the estimated amount.
Factors that affect move costs include:
Date and seasonality
Distance
Size of home or apartment
Weight of belongings
Moving add-ons like bulky articles, crating, and appliance services
Packing and unpacking
Storage
Moving valuation
The carrier accepts a wide variety of payment methods. Before unloading belongings, Stevens Worldwide Van Lines require full payment in cash, money order, traveler's check, or cashier's checks. They also accept all major debit cards, including MasterCard, Visa, Discover, and American Express.
To get a quote on your move and find out about the best movers in your area, check out our moving cost calculator.
How is Stevens Worldwide Van Lines' customer service?
The carrier does its best to provide customers with ample time to contact them. Stevens Worldwide Van Lines has regular business hours from 8:00 a.m. to 5:00 p.m. between Monday and Friday. The company is closed on weekends.
Customers can receive a free estimate or book an appointment with a customer service representative using the phone number, email, or contact form provided on the company's Contact page.
The company introduced virtual estimates for customers concerned with safety. Customers can sign up for a virtual estimate on the company's website. Alternatives to in-home estimates include surveys via:
Telephone
Video
Artificial intelligence
Stevens Worldwide Van Lines does not generally offer pricing or on-time delivery guarantees. However, customers may inquire about them when scheduling a move with one of their local shipping agents. The company works hard to provide quality service, and its customers seem to appreciate it. While some people have issues with damages and final charges, others praise the company's responsiveness and attention to detail.
Does Stevens Worldwide Van Lines have a good online reputation?
Customers tend to agree that Stevens handles most moves with expertise and professionalism. When searching for Stevens Worldwide Van Lines on Google Business, the company holds a 4.5 out of 5-star rating with over 200 reviews.
Many people are happy with the service provided, stating the agents they worked with were very professional. One customer claimed issues with damages after the end of the move. Stevens Worldwide Van Lines tries to respond to every review.
The company's performance is slightly more critical on government websites. Stevens Worldwide Van Lines is unaccredited with the Better Business Bureau and hold a B- rating.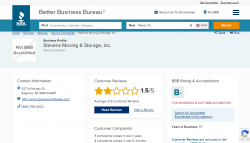 The company holds a 1.5 out of 5-star rating on the BBB with eight reviews. While this number isn't enough to tell the full story, customers are unanimously disappointed with damages and final charges. One customer had issues with an international move.
The carrier received seven complaints in the last three years, two of which were filed within the last 12 months. Customers tend to have issues with the company's delivery services.
Below is a breakdown of the complaints Stevens Worldwide Van Lines has received in the last three years.
| | |
| --- | --- |
| BBB Complaint Types | Number |
| Sales or Advertising | 0 |
| Collections or Billing | 1 |
| Deliver-Related Concerns | 4 |
| Warranty or Guarantee | 0 |
| Product or Service Problems | 2 |
In addition to its complaints on the BBB, the company has 19 more filed with the AI FMCSA. Similarly, customers mainly have issues with damages. For a company with over 1,100 fleet vehicles, the low amount of complaints suggests a history of good performance.
Is Stevens Worldwide Van Lines licensed and insured?
The moving industry uses databases to collect information about moving companies. When assessing a moving business, we check four databases to see what information is registered and whether the company has claimed its profile.
These databases are compared alongside company websites, social media pages, and review sites (such as Yelp) to determine the moving business's credibility and transparency.
| | |
| --- | --- |
| Database | Listed (Y/N) |
| AI FMCSA? | Yes |
| SAFER FMCSA? | Yes |
| Licensing Insurance FMCSA? | Yes |
| Better Business Bureau (BBB) | Listed but unaccredited |
The services and information stated on Stevens Worldwide Van Lines' website are consistent with the information on these government databases. The carrier directly mentions its agent network and how it handles different types of moves. The company is one of four carriers under the Wheaten Worldwide umbrella company.
For more information on moving company regulations and why we choose to look at these databases, check out our post on how moving companies are regulated.
How are Stevens Worldwide Van Lines' website and social media presence?
The company's website is clean and easy to navigate. Customers will have no issues learning more about the company's services, frequently asked questions, or contact information. The company goes into detail on its history and its executive staff on its about page.
The company provides more information and connects with its customers on its social media pages. Stevens Worldwide Van Lines shares move victories and more reviews on Facebook and Twitter. They also introduce their customer service representatives on their Youtube.
Should you consider Stevens Worldwide Van Lines for a move?
Stevens Worldwide Van Lines is a national and international moving carrier located in Indiana. They have a vast network of agents that help them serve local communities across the united states. The company specializes in long-distance and international moves.
The carrier is one of the oldest companies in the moving industry. They are highly active in their community and support many non-profit organizations. They are highly reputable, receiving endorsements from other industry leaders.
The company maintains a positive reputation with its customers. While a few people have issues with damages and claims, the majority appreciate the company's professionalism and responsiveness. They even go so far as to respond to complaints.
Stevens Worldwide Van Lines is worth considering for those considering a local, long-distance or international move.
For more help choosing the right moving company and getting free moving quotes, check our picks of the top-rated interstate moving companies.
Not what you were looking for?
Check out other categories that can help you find the information you need!
See All
Hide All