Stevens Worldwide Van Lines Company Review
Overall Opinion: Stevens Worldwide Van Lines is a good option for interstate and cross-country moving projects for residential and commercial customers. The company does claim to cover "97% of the marketplace." This may be a highly exaggerated assertion, as the "find a local agent" tool showed no presence in Arizona, Kentucky, Iowa, Louisiana, Maine, Nebraska, Nevada, New Mexico, West Virginia, and others.

Compare Stevens to the moving companies on our list of best interstate moving companies and the best international movers.

Jump to the Stevens Worldwide Van Lines review section that you're looking for:
Stevens Worldwide Van Lines: Moving Services Available:
Stevens is owned by Wheaton World Wide Moving, which is headquartered in Indianapolis, Indiana, and also owns Bekins Van Lines. The companies have a similar business model and offer much of the same services, but the local agent network is different.
Residential Moves: A local agent will handle local moving services that include various options for packing, unpacking, loading, etc. They will move everything from a small apartment to a large house. Customers are encouraged to ask their local agent about expedited shipping options.
Long-Distance Moves (Interstate): Prices for cross country and other long-distance moves are based on the weight of the shipment, the distance between the origin and destination, and more. Stevens is experienced in moving pianos, pool tables, and other challenging items.
Commercial Relocation Services: A personal relocation consultant is assigned to each account and serves as a central point of contact. International business relocations are among their specialties.
International Relocation: Moves to locations abroad are facilitated for residential or commercial customers. Both short and long-term storage is also available as needed. The company encourages those moving abroad to secure traveler's insurance.
Government Relocation: Government relocation projects are completed according to the General Services Administration (GSA) standards. Other customers include the Department of Defense (DOD) and active duty military members that are being relocated.
Packing Services: Professional packing and unpacking services are available and the staff will create customized transport options including crates. The Stevens Home Protection Kit consists of pads for door jambs, handrails, carpeting, and floor protection.
Storage: They currently offer short and long-term storage options for residential and commercial customers that are properly secured and monitored. Storage-in-transit (SIT) service is available as a temporary option.
Supplies and Boxes: Moving boxes, packaging supplies, and much more are sold through the agents
Unique Moving Solution: Move-add-change (MAC) services are available for businesses with a central point of contact, IT support, and much more. They have experience in handling projects for hotels and others in the hospitality industry.
Vehicle Transportation: They offer transportation services for a variety of different vehicles such as cars, boats, etc.
Stevens Worldwide Van Lines: Pros and Cons Summary:
The Good: Innovative Contactless Options for Receiving Estimates
Although in-home estimates have long been preferred, the COVID-19 pandemic has resulted in their development of new remote solutions for completing this process using some of the latest technology. (see image below)
Summary of "Virtual" Quote Process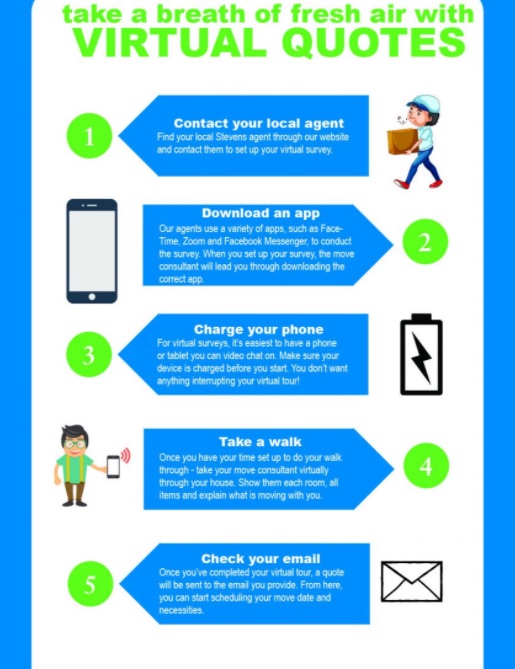 The Bad: Lacks Local Agents in Many of the States and Large Metropolitan Markets
Some of the states that have no agents include North Carolina, Arizona, New Mexico, Louisiana, Kentucky, and West Virginia. Some of the larger U.S. cities that lack a local agent include Cincinnati, Boston, Buffalo, Philadelphia, Baltimore, New Orleans, Houston, and San Antonio.
The concern is that the organization may use subcontracted labor that may perform poorly.
---
Pros:
In response to COVID-19, the company has new policies in place to protect the safety of customers and employees.
Measures include practicing social distancing, regularly washing hands, and more.
The organization is active in supporting charitable causes including cancer, worldwide hunger, and others.
Those moving internationally may use a variety of special resources that include immigration-related services, assistance with finding a home, and rental furniture.
Cons:
Items that are packed by customers may not be covered by the standard (included) liability coverage.
Many of the posts by disgruntled customers suggest that some of their movers may be careless when loading and unloading breakable furniture and other items.
Several metropolitan areas don't have a local Stevens agent, which may pose problems or create limitations.
Some customers responded as if they weren't made aware of the insufficiency of the basic (included) coverage for items that are damaged. This may be a failure in the sales process or a result of customers who are not taking the time to review and interpret the terms of these agreements.
Stevens Worldwide Van Lines doesn't promote itself as being the lowest price in the market; rather, they emphasize their ability to deliver excellent "service, quality, value and customer care."
Types of Estimates
Ballpark: These are very generalized quotes that are available online to give prospective customers some idea of the price range.
Non-Binding: Based on a likely or approximate cost calculated by the carrier and that is adjusted according to the final weight.
Firm-Binding: If the estimated weight of the shipment is different from the actual weight then adjustments are made to the price.
Option Binding: Also known as a "not-to-exceed" estimate, the maximum total cost is established (worst case scenario). The cost may reduce accordingly—but will not exceed the cap.
Insurance Protection
The included coverage, known as limited liability, is a federally mandated minimum that is calculated at sixty cents (.60) per pound for each article. Customers are encouraged to add Full Replacement Value Protection (FRVP) for enhanced protection, which is $6.00 per pound for each article.
Jewelry, antiques, and other items of extraordinary value must be identified and generally require additional coverage. This applies to items estimated as exceeding $100 per pound.
Customer Reviews & Feedback
The corporate listing on Google has more than 160 reviews and an overall rating of 4.5 out of 5. The reviews are a compilation of experiences with local agents in many states. Most of the negative feedback was related to items being damaged during the move and that the claims process was moving slowly.
Stevens has a rating of A+ with the Better Business Bureau (BBB) and has been accredited since 1997. The majority of complaints were from more than a year ago. Several customers found that the process of unloading the container and verifying receipt against the inventory to be rushed and potentially inaccurate. This presents a problem because the customer is supposed to sign the completed inventory form, which states that all items arrived–although many items are yet to be accounted for.
In each case where a complaint was made, it appears that a representative from Stevens made a reasonable effort to review the details and issue refunds or otherwise resolve the problems.
Should You Consider Stevens Worldwide Van Lines for a Move?
Stevens is a member of a merger of leading companies in the U.S. market that includes Wheaton World Wide and Bekins Van Lines. This allows them significant economic strength, logistical support, and a potentially significant transportation network. The local independent agents handle local and regional moves themselves under their own branding; therefore, Stevens is exclusively a long-distance and international carrier (see image below).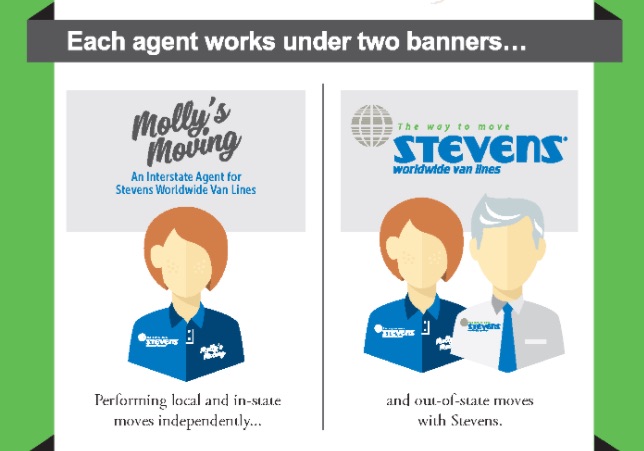 Further, the company's assertion that it covers 97% of the U.S. market is questionable. They have no local agents in more than 20% of the states or several critical markets including Boston, Philadelphia, Houston, New Orleans, and northern Florida.