Wheaton World Wide Moving Company Review
Overall Opinion
They are a well-established national and international moving company that offers many services.
Some customers have had their belongings damaged during moves.
Overall, the majority of customers are satisfied with them.
Compare Wheaton to the moving companies on our list of best interstate moving companies and the best international movers.
How does Wheaton compare to other professional movers?
Jump to the Wheaton World Wide review section that you're looking for:
Wheaton World Wide Moving: Moving Services Available:
The organization has been in existence since the 1950s, is headquartered in Indianapolis, Indiana, and asserts they have more than 300 U.S. agents. Wheaton's local agents are independently-owned moving companies that perform local and intrastate moves on their own, but partner with Wheaton for state-to-state moves. Wheaton employs some drivers themselves in certain regions that assist local agents with transportation.
Household Moves: The local Wheaton agent will provide local moving services that are customized with options for packing, loading, etc. The Wheaton Priority Relocation Service is a premium option for residential customers in need of accelerated service often on short notice. This upgrade features a specified delivery date that reduces any uncertainty about arrival time but maybe pricey.
Long-Distance Moves: For state-to-state and cross country moves Wheaton assigns two of their agents–one at the origin and one at the destination.
Commercial Moving and Relocation: Wheaton will assist businesses based on their needs. For example, they will assist you and your employees with the packing and loading process or handle this process entirely. Corporate administrators may choose to have Wheaton dispose of their outdated electronic equipment. The organization has identified eco-friendly solutions for devices and equipment such as buyback programs, recycling, and more. Corporate employee relocation services are also available.
International Moves: Moves to locations abroad are conducted in partnership with Crown Relocations, an international moving group. Short and long-term storage options are available for most international moves.
Military and Government: Wheaton is among the premier companies for moving military members and government relocation projects. Wheaton is qualified for the General Services Administration Centralized Household Goods Traffic Management Program (CHAMP) program for federal agencies.
Packing Services: Their staff will provide professional packing and unpacking services to maximize efficiency and ensure items arrive safely.
Storage: They currently offer storage-it-transit service for those needing their belongings securely held for up to 180 days. They also provide local long-term storage in clean and monitored facilities.
Supplies and Boxes: Moving boxes and supplies are sold locally through the agents and aren't available for online purchase through the corporate site.
Specialty Item Moving: They have expertise in piano moving, transporting expensive items, and custom projects for the hospitality industry. Wheaton Logistical Services is also available for specialized projects that involve medical equipment, heavy machinery, and other sensitive articles.
Automobile Transport: Wheaton does offer transportation services for passenger vehicles using in-van service, which means the automobile is transported on the truck along with their belongings.
Wheaton World Wide Moving: Pros and Cons Summary:
The Good: Wide Range of Services and Discounts
Wheaton offers a very comprehensive list of residential, commercial, and international moving services. Also, those looking for deals should review their many available discounts.
The Bad: Inconsistent Quality Movers
Many of their local dealers have workers that don't take the necessary precautions to prevent items from being damaged.
Wheaton supports a host of charities including Move for Hunger, Indiana Children's Wish Fund, and was designated as a "Green Business" by the Indiana Chamber of Commerce.
The company has established various safety protocols since the COVID-19 pandemic that include "virtual" survey options, social distancing, and the use of personal protective equipment.
They offer good insurance (valuation) coverage plan flexibility
In response to many complaints, the company responds with excerpts of fine print from the customer agreement. It seems that the representatives who provide estimates should more thoroughly explain many of these details up-front.
They have certain metropolitan areas without a local agent including Denver, Buffalo, Pittsburgh, Cleveland, and Jacksonville.
Some agents have movers that load the belongings carelessly, which often leads to damage.
Three Types of Estimates
Non-Binding: This is based on an anticipated or approximated cost at the discretion of the carrier and will be adjusted based on the final weight.
Firm Binding: Here, the carrier (or agent) and the customer agree on a specific cost for the move.
Option Binding: Also known as a "not-to-exceed" estimate, the maximum possible cost is established, which may be reduced if the weight was underestimated.
The "Ballpark" Estimate
They offer an online tool for obtaining a general pricing estimate. The following table shows some of these pricing estimates with and without Full Replacement Value Protection (FRVP).
| Origin | Destination | Size of Move | Range | With FRVP |
| --- | --- | --- | --- | --- |
| Cleveland, OH | Atlanta, GA | Two Bedroom | $3,096 to $4,002 | $3,431 to $4,442 |
| Chicago, IL | Dallas, TX | Two Bedroom | $3,323 to $4,349 | $3,658 to $4,789 |
| Dallas, TX | Los Angeles, CA | Three Bedroom | $6,875 to $8,353 | $7,445 to $9,013 |
| Los Angeles, CA | Baltimore, MD | Three Bedroom | $8,438 to $10,230 | $9,008 to $10,890 |
| Baltimore, MD | Orlando, FL | Four Bedroom | $6,468 to $7,985 | $7,128 to $8,795 |
| Orlando, FL | Boston, MA | Four Bedroom | $7,520 to $9,299 | $8,180 to $10,109 |
Insurance (Valuation) Coverage
The standard included liability coverage is sixty cents (.60) per pound for each item. For an additional cost, the Full Replacement Value Protection (FRVP) is available that raises the coverage to six dollars (6.00) per pound for each item. Customers should consult with their representatives regarding current deductibles that can be applied. Items of extreme value are inventoried separately for these purposes.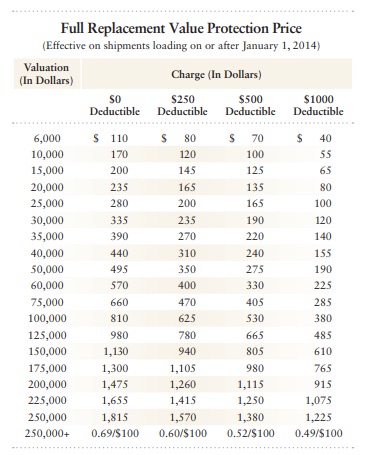 Discounts
The company offers discounts for every imaginable organization including the American Association of Nurse Practitioners, Wisconsin Alumni Association, and many more. Wheaton's Moving Performance Program is a discount available for off-season moves from September 1 to April 30 each year when FRVP coverage is purchased; however, it has some shipping weight-related limits.
The Indianapolis headquarters listing on Google has an overall rating of 4.4 out of 5. Many of those who had on-site (in-home) estimates praised the representatives for being very friendly and professional. Some of the complaints involved items being damaged during the transport and movers that were unmotivated.
Their Atlanta-area agent NetMove has an overall rating on Google of 4.9 out of 5. The posts are overwhelmingly positive and many customers stated that the estimates provided were straightforward and reasonable.
On Yelp, the company has an overall rating of 2 stars out of 5 based on roughly 120 reviews. Posted feedback was consistently poor, as many customers had their belongings damaged during the move, and complained about the slow claims process.
Their Better Business Bureau (BBB) rating is currently an A and they have received roughly 10 complaints in the past 12 months. The majority of the complaints involved damaged articles and miscommunications regarding the potential for changes to a non-binding estimate. A company representative personally responded to each complaint and made an effort to resolve the problem.
Should You Consider Wheaton World Wide Moving for a Move?
Wheaton is among the leaders in long-distance moves in the U.S. When problems do arise, they have shown a commitment to addressing these issues and working toward a resolution. Those will very fragile items should consult with the local agent to determine whether these articles can be safely moved.
Not what you were looking for?
Check out other categories that can help you find the information you need!
See All
Hide All