Empire Moving Group Company Review
Overall Opinion
Empire Moving Group is a national moving broker headquartered in Southeast Florida
The broker works with multiple carriers to handle local and long-distance moves, including household goods and vehicles
In its first few years in business, the company has struggled to please some of its customers
Empire is currently unaccredited with the BBB and maintains a B- rating
Best for: Local moves in the Southeast Florida area
Not recommended for: Time-sensitive moves or shipments with high-value items
For even more long-distance moving companies, check out our list of the best interstate moving companies
How does Empire Moving Group compare to other professional movers?
Jump to the Empire Moving Group review section that you're looking for:
About Empire Moving Group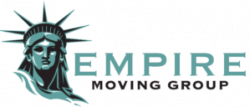 Empire Moving Group (U.S. DOT# 3304546) is a national moving broker headquartered in Boca Raton, Florida. As a moving broker, the company coordinates moves with local shipping carriers. Empire uses economies of scale to provide its customers with the best possible deal. However, moving brokers are intermediaries and do not physically handle or ship belongings.
Empire Moving Group was founded in 2019. With two years of industry experience, the company focuses on providing basic local and long-distance moving services, excluding shipments to Hawaii or Alaska. Their supplemental services include packing and storage, and the company also works with select carriers to transport vehicles.
Empire Moving Group appears to have some affiliation with All Coast Moving Group. This partner company is unaccredited with the BBB and has an F rating. For more information on this company, check out their BBB file.
Handle local and long-distance vehicle and household goods moves
Provide a free web quotes
Listed on every government database
Don't handle shipments to Hawaii or Alaska
Only two years of moving industry experience
Unclear broker status
Unaccredited with the BBB
Empire Moving Group offers a broad range of services
Empire Moving Group focuses on providing its customers with the major services most commonly requested in the moving industry.
Local moves: Empire Moving Group works with carriers based in Southeast Florida. They offer residential moving services, including packing, loading, and transportation. The broker serves people moving to the West Palm Beach, Fort Lauderdale, and Miami areas
Long-distance moves: The moving broker works with experienced carriers to coordinate and handle interstate moves, excluding those to Hawaii and Alaska
Corporate relocation: In addition to standard moving services, Empire Moving Group can help businesses relocate offices and employees with minimal disruption
Packing and unpacking: The broker offers customized packing solutions for its residential and commercial customers. They can pack kitchen supplies, wardrobes, and unique and oversized items. The company sells packing supplies as well
Long and short-term storage: The company offers a variety of storage solutions for its customers. Empire Moving Group can cater storage for moves of any length or size. They even offer climate-controlled storage options
Vehicle transportation: Empire Moving Group works with specialized carriers with experience transporting personal and fleet vehicles. Depending on budget and circumstances, they may offer door-to-door service or pick-up and deliver vehicles to suitable locations near their customer's new residences
How much does Empire Moving Group charge?
Because no two moves are the same, "ballpark" pricing is often inaccurate. Customers interested in working with Empire Moving Group should inquire about an estimate.
Fortunately, customers can receive a free quote from the broker. Those requesting a free estimate can fill out a form on the company's website. On the form, they'll provide:
Pickup and dropoff locations
Type and size of the move, and
Contact information
Customers can also request a free estimate using the phone number or email provided on the company's Contact page.
Because the broker works with several different companies, customers should be clear about which type of estimate they prefer. Those who prefer guaranteed quotes should ask about getting binding estimates for their moves. Binding estimates lock-in charges as long as move conditions haven't changed.
Aspects that can affect estimates and move costs include:
Date of the move
Seasonality
Distance of the move
Size of the home or apartment
Weight of belongings
Moving add-ons like crating, appliance services, and extra stops
Packing and unpacking
Storage
Valuation
While Empire Moving Group does have a detailed cancellation policy, it's not explained clearly on the website. If you need to cancel or reschedule your move, you'll have to ask your service representative about how to do it properly.
To get a quote on your move and find out about the best movers in your area, check out our moving cost calculator.
How is Empire Moving Group's customer service?
The moving broker offers its customers several avenues to contact them. The company has office hours from 9:00 a.m. to 5:00 p.m. on Monday through Friday, and 10:00 am to 3:00 p.m. on Saturday. They are closed on Sunday.
To request a free quote or to book an appointment with a customer service representative, customers can use the phone number or email listed on the company's Contact page. Customers also have the unique option of texting the company.
While Empire Moving Group does not offer pricing or on-time delivery guarantees, they do use economies of scale to secure valuable discounts for their customers. Inquire with the broker regarding the most affordable shipping carriers in your area.
While the company claims to provide high-quality customer service, many previous customers disagree. People unanimously share frustrations with understanding Empire Moving Group's broker status. They have also mentioned a misunderstanding with the company's cancellation policy.
Empire Moving Group could improve its customer service with more deliberation toward explaining its broker status. Providing a simple broker disclaimer at the bottom of the company website could result in fewer incidents of miscommunication.
Does Empire Moving Group have a good online reputation?
Empire Moving Group has fallen short in the two years it's been in business. When searching the company on Google Business, Empire Moving Group maintains a 3.7 out of 729 reviews. This is an exorbitant number of reviews for a company with such a short history.
While many Google reviews rave about the moving process, several customers claim the company didn't explain their broker status. The company quickly responds to positive reviews but does not respond to negative ones.
Its performance on multiple government database tells a more accurate story. Empire Moving Group is unaccredited with the Better Business Bureau and maintains a B- rating.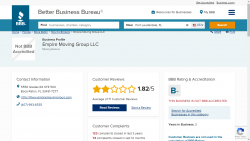 The moving broker has a 1.82 out of 5-star rating on the BBB with 71 customer reviews. Some customers praise the company for its communication and professionalism. Others had issues with final charges and miscommunication, specifically regarding the company's broker status.
The company has received 123 complaints since it started business in 2019. The Better Business Bureau states that this is an unusually high number of complaints for such a new company. Many customers have issues with final charges and customer service.
Below is a breakdown of the complaints Empire Moving Group has received.
| | |
| --- | --- |
| BBB Complaint Types | Number |
| Sales or Advertising | 20 |
| Collections or Billing | 27 |
| Deliver-Related Concerns | 7 |
| Warranty or Guarantee | 0 |
| Product or Service Problems | 69 |
Empire Moving Group has received 110 official complaints filed on the National Consumer Complaint Database. Broken down on the AI FMCSA, the company has issues with final charges, shipment documents, and deceptive business practices.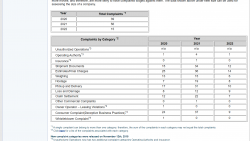 he company has struggled on public review sites. Empire Moving Group maintains a 1 out of 5-star rating on Yelp with 58 customer reviews. The company has claimed its profile but does not respond to complaints.Customers overwhelmingly mention the company's failure to explain its broker status. Many people have issues with final charges and delivery times. Others mention difficulties with communication following their moving appointment.For more reviews on the company, take time to review government databases and public review sites.
Is Empire Moving Group licensed and insured?
The moving industry uses databases to collect information about various moving companies. When assessing a moving business, we check four databases to see what information is registered and whether the company has claimed its profile.
These databases are compared alongside company websites, social media pages, and review sites (such as Yelp) to determine the business's credibility and transparency.
| | |
| --- | --- |
| Database | Listed (Y/N) |
| AI FMCSA? | Yes |
| SAFER FMCSA? | Yes |
| Licensing Insurance FMCSA? | Yes |
| Better Business Bureau (BBB) | Listed (Not Accredited) |
The services and information stated on Empire Moving Group's website are consistent with the information on these government databases. The moving broker explains its role in the moving process, though not as directly as possible.
For more information on moving company regulations and why we choose to look at these databases, check out our post on how moving companies are regulated.
How are Empire Moving Group's website and social media presence?
The moving broker has a simple yet general website. They tend to give surface-level explanations regarding their mission, services, and broker status. Potential customers will not find a broker disclaimer or a cancellation policy on the site.
Empire Moving Group has an About Us page, but it doesn't include information on the company's history or owner. However, the Contact page includes the company's phone number, email, and text option.
Empire Moving Group has a Facebook page but does not actively post.
Should You Consider Empire Moving Group for a Move?
Empire Moving Group is a national moving broker located in Southeast Florida. They coordinate with local shipping carriers to handle local and long-distance moves. They can manage corporate relocation and even offer vehicle transportation.
The moving broker uses economies of scale to offer valuable discounts to its customers. However, many people have expressed misunderstandings regarding the company's broker status. Additionally, many customers have issues with their final move charges.
We recommend using a thoroughly vetted, top-rated company to handle your next move. With so many complaints in the broker's recent past, working with them may be risky.
For more help choosing the right moving company and getting free moving quotes, check our picks of the top-rated interstate moving companies.
Not what you were looking for?
Check out other categories that can help you find the information you need!
See All
Hide All