Empire Moving Group Company Review
Overall Opinion of Empire Moving Group: Customer feedback indicates that many of those who entered moving agreements with the company have very poor outcomes. The company's salespeople do an excellent job of appealing to customers during the initial estimate; however, things often take a turn for the worse.
Many customers have accused the company of intentionally submitting below-market prices to secure the agreement and obtain the deposit. After that, the third-party carrier will arrive and notify the customer that the cost will be significantly higher than was determined by Empire. The customer has already paid a deposit to Empire; therefore, has little leverage in these disagreements.
Other problems include delays in arrival at the original location and problems with belongings being badly damaged during the moving process. The Better Business Bureau has received a host of complaints regarding its sales practices. Representation from the company does respond to address these concerns in most cases.
Compare Empire Moving Group to the moving companies on our list of best interstate moving companies.
Jump to the Empire Moving review section that you're looking for:
Empire Moving Group: Moving Services Available:
This organization is a licensed moving brokerage based in Boca Raton, Florida that promotes being a provider of "stress-free" moving services at affordable prices. They have a very simplistic website that has considerably less detail compared to others in the industry.
Residential Moving: Residential customers are encouraged to contact them regarding local and cross-country moves. The estimates are customized based on the needs of the customer. Options include labor for loading and unloading, packaging, and others.
Commercial Moving: Businesses that are large or small may contact Empire for personalized moving and relocation services. A representative will personally assist commercial customers with office relocations and transporting special items.
Automobile Transport: Vehicles such as cars, motorcycles, boats, and others will be efficiently and safely transported to the destination. Automobile transportation carriers offer open-air transport as their lowest priced option or the vehicle can be moved in a fully enclosed unit.
Packing Services: Professional on-site packing services are offered to both residential and commercial customers. They use a host of specialized materials including wardrobe units, dish boxes, and more.
Furniture Assembly/Disassembly: Representative will include professional assembly and disassembly of furniture items including beds, tables, and entertainment centers. They emphasize securely packing delicate belongings to ensure they arrive at the destination without damage.
Moving Supplies: Most types of moving-related supplies are available from the carriers including moving boxes, bubble wrap, furniture pads, packaging tape, and customized crating solutions.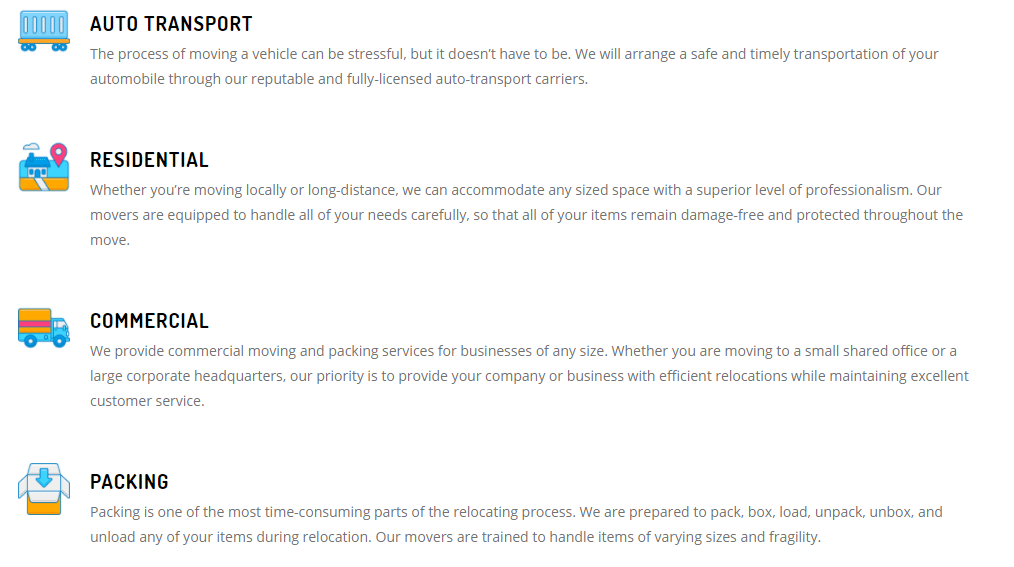 Empire Moving Group: Pros and Cons Summary:
The Good: Offers Full-Service Moving Options Nationwide
They offer fully-customized services for residential and commercial customers that include local and long-distance transport, vehicle transportation, packaging, loading, unloading, and other services. As a broker, Empire Moving Group has no U.S. service-area limitations. They coordinate with carriers at the origin location and/or destination for completing moves.
The Bad: The Carriers Performing the Moves Are of Inconsistent Quality
As a broker, Empire Moving Group is relying on the performance of a third-party carrier for a successful outcome. This arrangement commonly increases the chances for lapses in communication, inconsistent worker quality, and a host of other uncertainties.
---
Pros:
They have established a network of local, regional, and national carriers and contacts for executing moves across the U.S.
A live personal customer support staff is on-hand to provides price estimates, provide shipment tracking information, address billing concerns, and more
Their website contains a detailed listing of tips and best practices for better ensuring a successful move
Cons:
Salespeople have a habit of "under-estimating" prices that results in unhappy customers
No "ballpark" moving estimates are available on their website and require speaking to a sales representative
They make no mention of obtaining a quote remotely using visual technology as many of those in the industry have adopted
It doesn't appear that the company currently offers international moving and relocation services.
No storage services such as self-storage units, storage-in-transit, or mobile transport containers are currently available
Empire promotes its ability to facilitate affordable moving services by negotiating with various carriers; however, pricing will vary on a case-by-case basis. They don't list what options (if any) are available for insurance protection coverage.
Discount Opportunities
An email from a Senior Relocation Specialist suggested that they are offering discounts for military members, government employees, and senior citizens. Those who make reservations well in advance of the move date may also qualify for a discounted rate.
Customer Reviews & Feedback
On Google, they have an overall rating of 4.0 out of 5 based on more than 300 total reviews. Some customers complained that the sales representative failed to explain the concept of non-binding versus binding estimates. Many customers felt that the sales representative gave them a "low ball" initial price to secure an agreement, which was significantly inflated by the carrier onsite.
Several customers complained that the movers showed up with trucks that lacked the space needed to move the entirety of the belongings to be moved. In one case, items were left behind at the origin location and the customer was unaware of it for several days.
The process of estimating (quoting) is a common area of concern. They don't have an option for on-site estimating and customers are routinely infuriated when the contracted carrier tells them that the price is going to be hundreds (or thousands) more than the original estimate.
On their Yelp page, they have an overall rating of only 1.5 stars out of five. One disgruntled customer posted a lengthy letter to the Better Business Bureau accusing the company of committing interstate wire fraud by intentionally providing him with a much lower quote to secure the agreement. He states that the salesperson gave him an "ultra-low" pricing estimate to secure his deposit and then the moving carrier arrived and informed him that the price was going to be significantly higher.
Their rating with the Better Business Bureau (BBB) is a mediocre C-. The BBB has received 29 complaints in the past 12 months and 32 over the past 36 months. Some of the complaints involved significant delays in arrival for the move and items that were damaged resulting from poor packaging and improper loading of boxes etc. A representative from Empire does respond to the majority of these complaints in writing to resolve these concerns.
BBB Complaint Summary
| | |
| --- | --- |
| Related to sales or advertising | 3 |
| Billing-related | 3 |
| Delivery or transport concerns | 3 |
| Involving warranties or guarantees | 0 |
| Problems with products or services | 23 |
Should You Consider Empire Moving Group for a Move?
Empire Moving Group is a moving broker that struggles to deliver customer satisfaction. Far too many complaints exist across many web platforms that accuse the company of wrongdoing. Also, many of the third-party carriers that they contract with to perform the moves have staff that tends to be careless in the loading and unloading process.
Carelessly loaded trucks often result in shifts that damage fragile items. Unfortunately, the damage is often not discovered for days (or weeks) after the move has been completed when customers unpackage all of their belongings. Here, the carrier and the broker (Empire) both tend to shift the blame and create lapses in resolving the complaints that further frustrate the situation.