All Coast Moving Group Review
Overall Opinion
All Coast Moving Group is a national moving broker located in Southeast Florida
As a broker, the company coordinates residential and commercial moves with asset-based movers
While easy to reach, the company does not disclose the details of its services
The broker has a disproportionately high number of negative reviews
All Coast Moving Group is unaccredited with the BBB and maintains a D+ rating
Best for: Those looking for good deals on small local moves
Not recommended for: Out-of-state moves
For more long-distance moving options, check out our list of the top interstate moving companies of 2022
How does All Coast Moving Group compare to other professional movers?
Jump to the All Coast Moving Group review section that you're looking for:
About All Coast Moving Group
All Coast Moving Group (U.S. DOT# 3369008) is a national moving broker headquartered in Boca Raton, Florida. As a broker, the company leverages economies of scale to provide customers with the best deals on moving services, although they do not physically handle or ship belongings.
The company was founded in late 2020, but it's unclear if it ever operated under another name. All Coast offers local, long-distance, residential, and commercial moving services, as well as packing, storage, and vehicle transportation.
Residential and commercial moving services
Free web quotes
Website lacking key information
High number of complaints for such a young company
Unaccredited with the BBB and hold a D+ rating
The company's name was changed on Yelp
All Coast Moving Group offers a broad range of services
Local moves: The moving broker works with various carriers to provide comprehensive local and interstate moving solutions. The company's local service area includes West Palm Beach, Fort Lauderdale, and Miami
Long-distance moves: The company specializes in long-distance moves. They work with experienced carriers to move residential and commercial customers anywhere in the country, excluding Alaska and Hawaii
Corporate relocation: All Coast Moving Group can organize moving services for companies of all sizes. In addition to handling and transportation, the company works hard to minimize downtime during company moves
Packing and unpacking: The broker connects customers to full-scale or customized packing and unpacking services. Carriers can provide the materials to pack belongings, including kitchen supplies, wardrobes, and fragile and unique items
Long and short-term storage: The company offers a variety of standard and climate-controlled storage solutions to fit most customer's needs
Auto transportation: Besides standard moving services, All Coast Moving Group can coordinate the shipment of personal and fleet vehicles. Carriers can deliver the vehicle right to your door or can organize a suitable drop-off location when this isn't possible
How much does All Coast Moving Group charge?
Since each move is unique, internet pricing can be inaccurate. Those interested in working with All Coast Moving Group should contact the company for a detailed estimate.
The moving broker offers free quotes on its website. Customers must complete a simple form by providing their pick-up and drop-off locations, move type, and contact information. Those looking for a free estimate can also use the phone number or email address on the company's Contact Us page.
As a broker, All Coast Moving Group works with carriers that may provide different estimate types. Binding estimates are preferable to non-binding estimates because they lock in costs as long as move conditions haven't changed.
Factors that affect move cost include:
Date and seasonality
Distance
Home or apartment size
Weight of belongings
Moving add-ons like packing, unpacking, and appliance services
Storage
Moving valuation
Since the company's cancellation policy isn't listed on the website, customers who need to cancel their moves at the last minute may lose their deposits.
Customers must cancel their moves within three business days of scheduling to receive refunds. All refunds are subject to a 10% processing fee. Any move canceled within 14 days of pick-up is ineligible for a refund.
Check out our moving cost calculator to get a quote and find the best movers in your area.
How is All Coast Moving Group's customer service?
All Coast Moving Group maintains regular business hours between 9:00 a.m. to 5:00 p.m from Monday to Friday and 10:00 a.m. to 3:00 p.m on Saturday. The company's office is closed on Sunday.
Customers can receive a free estimate or book an appointment using the phone number, email, or contact form provided on the company's Contact Us page.
The moving broker does not provide pricing or on-time delivery guarantees. However, they use an extensive network of shipping carriers to provide discounted moving services.
Despite attempts to provide quality service, many customers are displeased with their moves. While service representatives generally respond quickly, many customers have issues with their bills increasing as many as three times the original quoted price.
Does All Coast Moving Group have a good online reputation?
The young company has had a hard time meeting customers' expectations. On Google Business, the broker has a 4.9 out of 5-star rating with nearly 800 reviews. However, many of these reviews may not be legitimate.
The company's reputation becomes more apparent after searching official databases. All Coast Moving Group is unaccredited with the Better Business Bureau and maintains a D+ rating.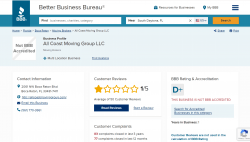 Out of 50 reviews, the moving broker has a 1 out of 5-star rating with the BBB. Customers have issues with inaccurate estimates, final charges, and damaged items.
The company received 83 complaints in the last three years, with 77 filed in the previous 12 months. This is a substantial number for a one-year-old company. Many people have stated issues with poor business practices, including final charges.
Below is a breakdown of All Coast Moving Group's complaints.
| | |
| --- | --- |
| BBB Complaint Types | Number |
| Sales or Advertising | 15 |
| Collections or Billing | 17 |
| Deliver-Related Concerns | 3 |
| Warranty or Guarantee | 0 |
| Product or Service Problems | 48 |
The company received 73 official complaints on the National Consumer Complaint Database. According to the AI FMCSA, customers have issues with pick-up and delivery, final charges, and deceptive business practices.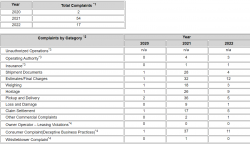 While they boast great reviews from some websites, the moving broker fails to share ratings from more commonly used sources. On MyMovingReviews, the company has a 2.8 out of 5-star rating with 63 reviews. Customers share photos of damages and explain additional costs to their moves.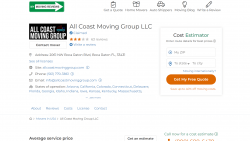 One concerning insight when searching for their Yelp page is that the company name is unlisted. For unknown reasons, it appears as though they've changed their name to Two Brother's Moving Company: a Connecticut carrier. Check out this Yelp page to verify this claim.
Is All Coast Moving Group licensed and insured?
The moving industry uses multiple databases to collect information about moving companies. When assessing a moving business, we check four databases to see what information is registered and whether the company has claimed its profile.
These databases are compared alongside company websites, social media pages, and review sites (such as Yelp) to determine the moving business's credibility and transparency.
| | |
| --- | --- |
| Database | Listed (Y/N) |
| AI FMCSA? | Yes |
| SAFER FMCSA? | Yes |
| Licensing Insurance FMCSA? | Yes |
| Better Business Bureau (BBB) | Listed but unaccredited |
The services and information stated on All Coast Moving Group's website are consistent with the information on these government databases. The broker is fully licensed and insured. While the company mentions its broker status on its website, its role may not be evident to some customers.
For more information on moving company regulations and why we choose to look at these databases, check out our post on how moving companies are regulated.
How are All Coast Moving Group's website and social media presence?
All Coast Moving Group has a clean and sleek website. Getting a free quote is easy, and the company actively promotes its high ratings. However, upon further inspection, there's very little information regarding services and practices.
The company does mention its broker status, although not on the front page. No information about history or the company's owners is provided. In fact, customers may have a difficult time finding even the most basic contact information.
At this time All Coast Moving Group does not have an active social media presence.
Should you consider All Coast Moving Group for a move?
All Coast Moving Group is a national moving broker located in Southeast Florida. They connect customers with carriers that provide local and long-distance moving services. The company can handle residential, commercial, and automobile moves.
The moving broker is easy to contact, but its website lacks some key information. The company's broker status is mentioned, but it may not be evident to some customers. In addition, those who hire All Coast Moving Group may pay more than expected or even lose their deposit when canceling a move.
The broker's reputation leaves much to be desired. Customers regularly share frustrations with final charges and damages. Some of their practices show similarities to deceptive business practices, with bloated reviews and a name change on at least one popular review site.
Overall, we only recommend All Coast Moving Group for customers planning small local moves. With a large number of complaints for such a young company, you might find yourself taking a risk with your hard-earned money.
For more help choosing the right moving company and getting free moving quotes, check our picks of the top-rated interstate moving companies.
Not what you were looking for?
Check out other categories that can help you find the information you need!
See All
Hide All