Home Depot Truck Rental Company Review
Overall Opinion of Home Depot Truck Rental: The Home Depot vehicle rental program offers a good selection of late-model vehicles, particularly with the Penske trucks being available now. The prices are a pretty good value and the majority of customers are satisfied.
Compare Home Depot Truck Rental to the moving truck companies on our list of U-Haul Competitors.
Jump to the Home Depot Rental review section that you're looking for:
Home Depot Truck Rental: Moving Services Available:
The Home Depot, Inc. was founded in 1978 in Marietta, GA, and has grown to become the largest retailer of home improvement products in the U.S. In recent years, they began renting vehicles used for moving and construction and partnered with Penske for a box truck rental program. The following vehicles are currently being offered:
F250 Flat-Bed Trucks: Offers significant towing capability and a flatbed for transporting larger items locally. They can carry up to 3,000 pounds and have seating available for three. A $150 deposit is due upon pickup and payable only with a credit card.

Penske Moving Truck Rentals: Penske truck rentals are available in sizes including 12, 16, 22, and 26 feet. Depending on the location, they may need to be returned to the original store of rental, but one-way rentals are also available. The 22-foot is a good fit for a three-bedroom move and a 26-footer is needed for four or five-bedroom moves. They are capable of being used for towing and have a ramp that is secure for handling up to 1,000 pounds. Penske rentals are covered by a 24/7 roadside assistance plan. No deposit is required on one-way rentals; however, a $150 deposit is required for roundtrip rentals.

Cargo Vans: These enclosed cargo vans are used for local moves and must be returned to the store where they are rented. They have an interior space capacity of 277.7 cubic feet and can transport up to 3,000 pounds. A $150 deposit is due upon pickup and payable only with a credit card.

Home Depot Box Trucks: These HD box trucks have a capacity of at least 515 cu. ft. and a weight limit of 3,850 pounds. They may be equipped with a towing hitch. A $150 deposit is due upon pickup and payable only with a credit card.
The Load N Go Program: Home Depot pickup trucks and cargo vans are rented for $19 for 75 minutes
Towing Trailer Rentals: Trailers are available for rental in 3×5 foot and 5×8 foot sizes
Moving Supplies and Equipment: Customers can purchase small, medium, or large moving boxes. Specialty packing options include wardrobe boxes, TV boxes, bubble wrap, mattress bags, and more. Equipment options include dollies, hand trucks, and moving carts.
Home Depot Truck Rental: Pros and Cons Summary:
The Good: Very Simple Process and Transparent Pricing
The way the rental vehicles are presented on the website is extremely straightforward and all costs that are the responsibility of the customer are fully disclosed
The Bad: Customer Service Concerns
Home Depot is a big box store with many employees and departments. The staff is sometimes short-handed and faced with the stress that often results in poor customer service.
---
Pros:
They have compiled a tremendous library of how-to guides available online such as How to Pack Shoes for Moving, How to Move a Pool Table, and Properly Packing a Moving Truck.
In response to COVID-19, Penske is using CDC-recommended sanitizers to disinfect rental vehicles, particularly at common contact points including seats, steering wheels, door handles, knobs, and more.
The online moving calculator tool is very useless for estimated space requirements and the number of boxes and packaging materials.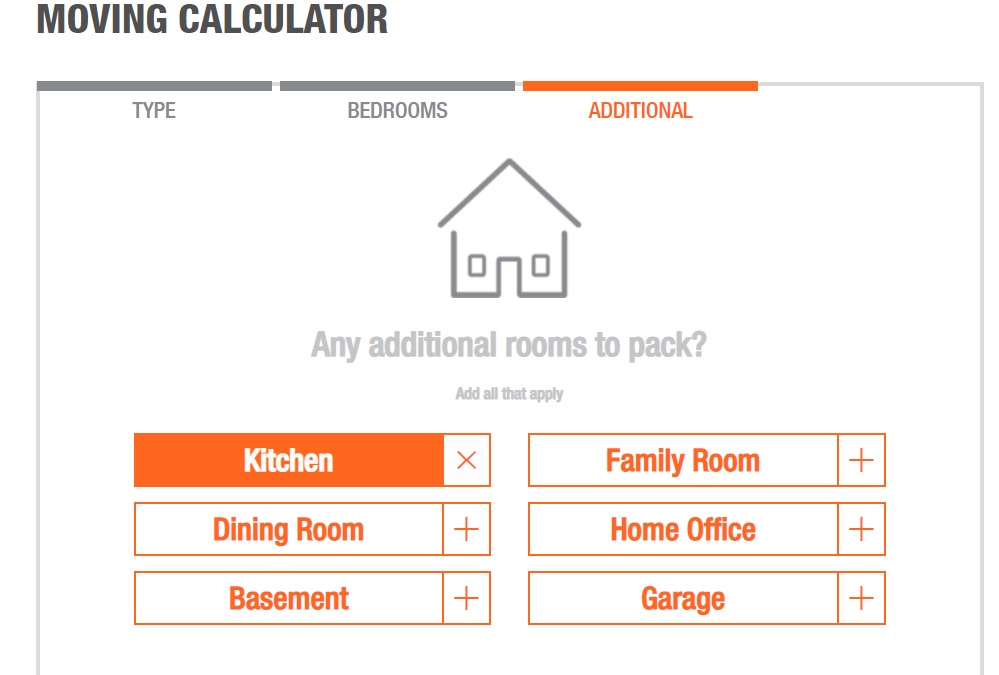 Cons:
Some customers felt that the fees (penalties) for returning a truck a few minutes late are unreasonable
Many locations don't allow for reserving a vehicle for local use in advance
Sometimes the locations are understaffed and don't answer phone calls and appear inpatient and rude
Necessary Documents
Home Depot vehicle rentals require the customer must be 21 years old and have a driver's license in the U.S. or Canada and proof of liability insurance. For Penske rentals, the age requirement is 18 years old and additional drivers may be added for $10 each.
Insurance Requirements
Proof of liability coverage is required or may be purchased.
Penske Trucks
Limited Damage Waiver (LDW): The LDW protects the renter from liability for any losses or damages
Personal Accident Insurance (PAI): This coverage includes accidental death and medical coverage for the renter and any passengers riding inside the passenger compartment.
Supplemental Liability Insurance (SLI): Provides coverage from third-party claims for accidents while operating the rental vehicle that results in bodily harm or property damage.
Cargo Insurance: Covers any belongings lost or damaged while the vehicle is operating up to $15,000. (excludes damages resulting from loading or unloading)
Towing Insurance: This is collision coverage that results from damage created while the dolly or carrier is being towed.
Methods of Payment
Payments are made using a major credit card and a $150 deposit (refundable) is required
Available Discounts
Discounts are typically available for members of AAA (12%), active military personnel (10%), and college students (10%).
Pricing Estimates
| Model | Pick Up / Drop Off | Rates / Per Mile Charges |
| --- | --- | --- |
| Penske 26-Foot | Cleveland, OH (same store) | $129 per day / .99 per mile |
| T250 Flatbed Truck Rental | Cleveland, OH (same store) | $19 for 75 min / $129 per day / unlimited miles |
| T250 Flatbed Truck Rental | Los Angeles, CA (same store) | $19 for 75 min / $129 per day / unlimited miles |
| Cargo Van | Los Angeles, CA (same store) | $19 for 75 min / $129 per day / unlimited miles |
| Penske 26-Foot | Baltimore, MD (same store) | $199 per day / .99 per mile |
| Home Depot Box Truck | Baltimore, MD (same store) | $29 for 75 min / $139 per day / unlimited miles |
| T250 Flatbed Truck Rental | Orlando, FL (same store) | $19 for 75 min / $129 per day / unlimited miles |
| Cargo Van | Orlando, FL (same store) | $19 for 75 min / $129 per day / unlimited miles |
Towing trailer pricing estimates range from $20 to $44 per day or $80 to $170 per week. All rental vehicles must be refueled upon return.
Customer Reviews & Feedback
An HD rental location in Atlanta, Georgia has roughly 16 customer reviews with an overall rating of 2.7 out of 5. Many of the negative posts were relatively minor. For example, a customer purchased a 75-minute rental special for $20, which she returned after 85 minutes and was charged $5 extra per 5 minutes ($10 fee). Another customer was disgruntled because of additional charges incurred after keeping a rental overnight.
The HD rental location on W. 87th Street in Chicago has an overall rating of 3.9 out of 5. Feedback was largely positive with one customer who explained that the process of renting a truck was very fast and efficient.
A Cleveland, Ohio area location had a few complaints on Yelp. One customer expressed dissatisfaction that the location only rents vehicles between the hours of 9 am and 5 pm.
Another customer at a Columbus, Ohio location complained that although a rental truck was parked in the store lot not being used, she was told that it has already been reserved. The customer replied that she thought these trucks were unable to be reserved. The employee told her that although reservations are not taken for rental vehicles at the location that someone had "called ahead" to book the truck.
Should You Consider a Home Depot Truck Rental?
Customer feedback suggests that the rental program generally meets or exceeds customer expectations and is recommended.
Not what you were looking for?
Check out other categories that can help you find the information you need!
See All
Hide All