24/7 Logistic Services Company Review
Overall Opinion
24/7 Logistic Services is a national mover located in Southeast Florida
The company handles local and long-distance moves and provides a variety of additional services
Customers generally appreciate the carrier's professionalism and attention to detail
24/7 Logistic Services is accredited with the BBB and maintains a B+ rating
Best for: Local moves in and around Southeast Florida
Not recommended for: Large relocations or moves to Hawaii
For even more long-distance moving companies, check out our list of the best interstate moving companies
How does 24/7 Logistic Services compare to other professional movers?
Jump to the 24/7 Logistic Services review section that you're looking for:
About 24/7 Logistic Services

24/7 Logistic Services (U.S. DOT# 3005919) is a national carrier headquartered in Hollywood, Florida. As a carrier, the company physically handles and trans7ports its customer's household goods. The company was established in 2017, and in 2021 its fleet of seven trucks logged more than 700,000 miles.
24/7 Logistic Services handles both local and long-distance moves. Specifically, they have a strong presence in and around Hollywood, Florida. The carrier specializes in small apartment moves and has extensive experience relocating senior citizens.
The company can handle bulky items and offers discounts to customers moving pianos.
While the carrier does not seem to be affiliated with any professional moving organizations, it does play a role in the local community. 24/7 Logistic Services offers its trucks and transportation services to local businesses in the Hollywood area.
Free web quotes
Approved military mover
Handle moves to Alaska and Canada
Can safely handle and transport pianos
Accredited with the BBB and maintain a B+ rating
Do not ship to Hawaii
May struggle with damage claims and refunds
Difficult to navigate website
24/7 Logistic Services offers a broad range of services
24/7 Logistic Services has established itself as a competent carrier and has expanded its services to cover a wide area.
Local moves: 24/7 Logistic Services offers residential moves in the Southeast Florida region. They offer full-service packing and additional services for apartment and senior moves
Long-distance moves: The shipping carrier can handle moves across the country as well as to Canada and Alaska
Commercial moves: 24/7 Logistic Services can manage large commercial shipments to and from Florida. This includes packing and storage, as well as pre-move planning to keep businesses running smoothly throughout the move process. The company also relocates employees
Packing and unpacking: The shipping carrier offers customized packing services. They offer a full range of boxes and other packing supplies. The company will even pack kitchen supplies, wardrobes, and large items such as pianos
Short and long-term storage: The company offers a range of storage solutions for both residential and commercial moves. They have climate-controlled facilities and offer storage discounts on their website
Military moves: The shipping carrier claims to have permission from the General Services Administration to handle government and military moves. Service members preparing for a relocation should ensure that their mover is authorized to work with the military
24/7 Logistic Services offers convenient incentives for their customers. Those interested in working with this shipping carrier will find a live chat option on the company's web page as well as various discounts on their services.
How much does 24/7 Logistic Services charge?
Since no two moves are exactly alike, "ballpark" pricing can be inaccurate. Those interested in working with 24/7 Logistic Services should inquire about a quote.
You can receive a free quote using the form on the shipping carrier's website. They'll ask you about move type, origin and destination locations, and for your personal contact information. You can also receive a free estimate using the phone number or email provided on the company's Contact Us page.
24/7 Logistic Services offers binding estimates which lock in the amount due, as long as move conditions haven't changed.
Factors that affect move cost include:
Date and seasonality
Distance between old and new residences
Size of the customer's home or apartment
Weight of belongings
Moving add-ons like custom crating and appliance services
Packing and unpacking
Storage
Moving valuation
The carrier offers a variety of protection plans for your move at an additional cost. Contact your customer service representative for more information on the company's full-value protection plan and free released-value option.
The company offers an on-time delivery guarantee for those who need their belongings delivered on a specific date.
24/7 Logistic Services has a variety of discount coupons on its website. They offer substantial discounts on storage as well as local, commercial, and piano moves.
To get a quote on your move and to find out about the best movers in your area, check out our moving cost calculator.
How is 24/7 Logistic Services' customer service?
Customers claim that 24/7 is relatively easy to reach. Though not open around the clock as its name implies, the company does have extended business hours. 24/7 Logistic Services is open from 9:00 a.m. to 8:00 p.m. Monday through Saturday. They are closed on Sunday.
You can request a free estimate or book an appointment using the phone number or email listed on the company's website.
24/7 Logistic Services provides its customers with adequate information on the moving process. The company answers a number of frequently asked questions and features a blog, youtube videos, and social media pages containing standard industry information.
The carrier also offers a live chat feature for customers with specific questions who prefer immediate responses.
With all the work 24/7 Logistic Services has put into its customer service, it seems its customers are appreciative. The carrier frequently receives positive reviews, many regarding its responsiveness and professionalism.
Does 24/7 Logistic Services have a good online reputation?
The shipping carrier has put in a lot of effort, and their work has paid off. When searched on Google Business, the company maintains a 3.8 out of 5-star review with nearly 250 customer reviews.
Many customers praise the shipping carrier for its professionalism and responsiveness. Other customers have issues with damages and claims. The company generally responds to customers who leave positive reviews.
The sentiment is shared on government databases. 24/7 Logistic Services has done its due diligence, holding accreditation with the Better Business Bureau and maintaining a B+ rating.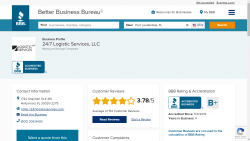 The shipping carrier has a 3.78 out of 5-star rating on the BBB with over 150 customer reviews.
Customers typically share positive experiences regarding professionalism and quality of service. One customer praised the company's attention to detail when moving their senior parents.
24/7 Logistic Services has received 62 complaints in the last three years, 26 of which have been in the last 12 months. Customers typically have issues with billing and customer service.
The following is a summary of the categories (nature) of the complaints received.
| | |
| --- | --- |
| BBB Complaint Types | Number |
| Sales or Advertising | 5 |
| Collections or Billing | 13 |
| Deliver-Related Concerns | 4 |
| Warranty or Guarantee | 0 |
| Product or Service Problems | 40 |
The carrier has received 18 official complaints on the National Consumer Complaint Database in the last three years. According to the AI FMCSA, the company has minor issues with final charges, deceptive business practices, and delivery.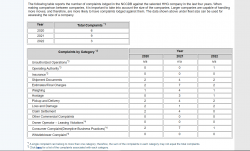 The shipping carrier is criticized harshly on public review websites. 24/7 Logistic Services maintains a 2 out of 5-star rating on Yelp with 126 customer reviews. Several customers share frustrations with final charges, especially regarding claims and refunds. Others appreciate the company's professionalism.
The company owns its Yelp profile but does not respond to reviews.
Is 24/7 Logistic Services licensed and insured?
The moving industry uses a compilation of databases to collect information about various moving companies. When assessing a moving business, we check four databases to see what information is registered and whether the company has claimed its profile.
These databases are compared alongside company websites, social media pages, and review sites (such as Yelp) to determine the moving business's credibility and transparency.
| | |
| --- | --- |
| Database | Listed (Y/N) |
| AI FMCSA? | Yes |
| SAFER FMCSA? | Yes |
| Licensing Insurance FMCSA? | Yes |
| Better Business Bureau (BBB) | Listed and accredited) |
The services and information on 24/7 Logistic Services' website are consistent with data on these government databases. The carrier has accurately explained its role in the moving process and has logged 725,000 miles with seven fleet vehicles in the last year.
For more information on moving company regulations, and why we choose to look at these databases, check out our post on how moving companies are regulated.
How are 24/7 Logistic Services' website and social media presence?
The company's website can feel a little overwhelming. The home page is packed with information and finding what you're looking for can take some time.
In addition, the dropdown menu isn't particularly use friendly. It may take some time to find the particular service you're looking for or to discover where the company's FAQ page is located.
24/7 Logistic Services has an About Us page, although it does not mention the company's owner or history. Customers can easily find a phone number and email on the company's Contact Us page.
The shipping carrier has also taken on several social media accounts. Customers can discover industry news as well as reviews and photos on the company's Facebook, Twitter, and Instagram pages.
Should you consider 24/7 Logistic Services for a move?
24/7 Logistic Services is a national shipping carrier with experience in long-distance moving and close ties to the Southeast Florida region. They particularly love assisting in small apartment moves and catering to seniors.
The shipping carrier has great customer service, with extended business hours and a live chat feature. They offer on-time deliveries upon request and even provide discount coupons for moves and storage services.
Across the board, customers are pleased with 24/7 Logistic Service. The company is accredited with the BBB and has fewer complaints than usual. Customers are frequently impressed with the shipping carrier's professionalism and attention to detail.
Overall, we would recommend 24/7 Logistic Services to anyone looking for a reputable shipping carrier. This company provides extra benefits for those moving locally in the Southeast Florida region, but they can also handle moves anywhere in the country.
For more help choosing the right moving company and to get a free moving quote, check our picks of the top-rated interstate moving companies.
Not what you were looking for?
Check out other categories that can help you find the information you need!
See All
Hide All