24/7 Logistic Services Company Review
Overall Opinion of 24/7 Logistic Services LLC: Customer feedback shows that many problems exist. The salespeople have a track record of under-estimating the cost of the move and then abruptly increasing it once they have secured a deposit and the crew of movers has arrived to load the belongings. As a somewhat newer company, 24/7 may be experiencing some growing pains and hopefully will improve.
Compare 24/7 Logisitic Services to the moving companies on our list of best interstate moving companies.
Jump to the 24/7 Logistic review section that you're looking for:
24/7 Logistic Services: Moving Services Available:
The organization has only been in business for a few years and is based in Hollywood, Florida. They are a freight carrier; however, they do subcontract out a significant amount of work similarly to how a broker would.
Local Moves: 24/7 does mention that local moving services are available; however, doesn't offer any details regarding this service offering.
Long-Distance Moves: Moving services are available between any locations in the U.S. (except Alaska and Hawaii). Customers can choose whether to have assistance with packing, unpacking, and short or long-term storage options. They will create custom crating solutions for oversized or otherwise challenging items that need to be moved.
International Moves: Those moving overseas are aided by 24/7 Logistic Providers International. As is the case with local moving, they don't provide any detail regarding their international moving program.
Commercial Moving and Corporate Relocation: Commercial customers are assigned a moving specialist that will assist with moves for businesses large or small. The options are fully customizable with partial or full packing and unpacking services, trash removal and cleanup, and storage options. Storage-in-transit is offered as a short-term option during the relocation process. They have experience packaging and transporting PC and IT components, medical equipment, trade-show booths, and more for commercial customers.
Moves for Military Members: 24/7 has experienced military moving consultants that have completed moves for members of all branches of service.
Storage Options: The company boasts of having "state-of-the-art" warehouse sites with options for climate-control and others. They also employ digital surveillance equipment, a system for creating a detailed inventory, and an easy-to-use tracking system. Storage-in-transit is short-term that doesn't exceed 90 days.
Vehicle Shipping: Their website briefly mentions that that will facilitate transportation of automobiles, but no detail is provided.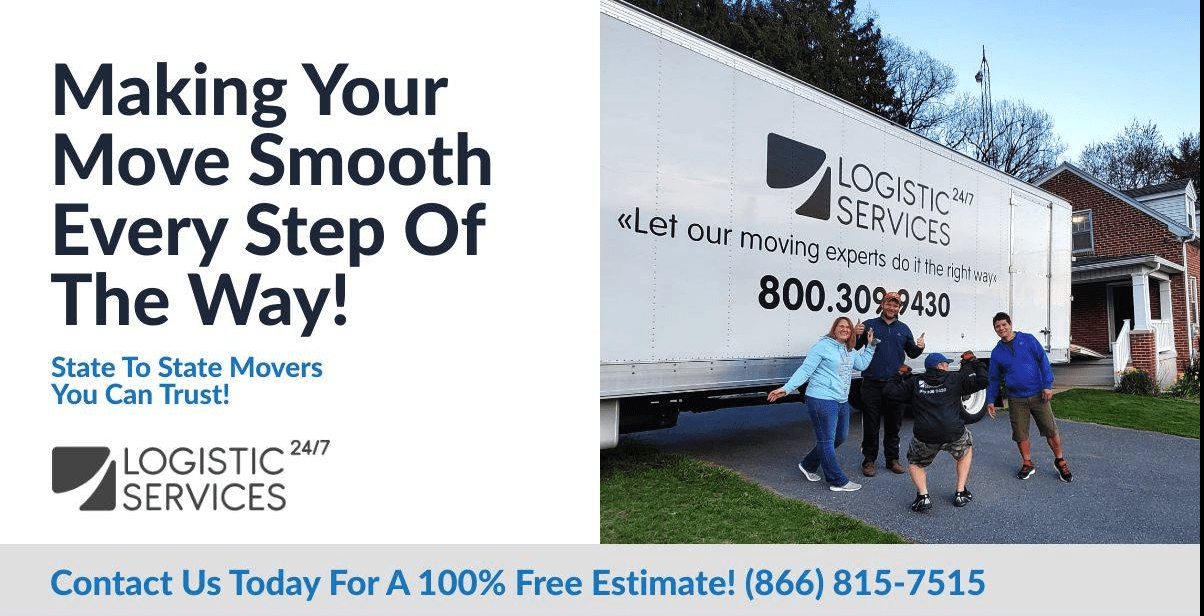 24/7 Logistic Services: Pros and Cons Summary:
The Good: They Provide Moving Services in All U.S. States (except Alaska and Hawaii)
Long-distance or cross-country moving services are their primary focus, as local moving services are not promoted. Reviews confirm that moves are conducted throughout the country.
The Bad: Far Too Many Disgruntled Customers
In looking through reviews on Google, Yelp, and others it becomes apparent that this company has unethical sales practices, has some operation inefficiencies, and routinely uses local laborers that are careless when moving fragile items. The company appears to have been established in 2017 or 2018; therefore, it is possible that outcomes may improve as they continue to gain more experience.
---
Pros:
They provide services in all U.S. states except for Alaska and Hawaii
Shipment tracking is available using their website tool by entering the order number
Cons:
They add a 4% "convenience fee" for paying by credit card using their online payment tool
The company's website lacks sufficient detail and could be described as rather "generic"
Their written contracts (customer agreements) are described as being many pages long and filled with confusing fine print
In reviewing 24/7's website we noticed three references to Mayflower International, a well-known national moving company. No explanation is giving regarding whether there is any affiliation between these organizations. (see excerpt below)
The website has a Free Moving Quote Form that requires entering some basic information regarding the potential move. It is necessary to speak with a representative to obtain pricing information. The organization does promote itself as offering "exceptional moving services at low prices" and having among the "best rates" for local and long-distance moving projects.
The company cites several factors that influence the price of interstate moves including mileage, weight, boxes and packaging supplies necessary, utilities, any waiting period, and additional expenses. They have an online payment tool that accepts Visa, Mastercard, or Discover.
In looking at the terms, they impose a 4% convenience fee for using their online payment system.
Defining a Binding Estimate
The company explains that a binding price quote is generated before a move and they are valid for up to one month. They further explain that binding estimates may change based on factors such as the actual weight.
Insurance/Protection
24/7 describes their "moving loss and damage protection options" as either Full-Value Protection or Released Value Responsibility, yet doesn't define these forms of coverage further.
Available Discounts
The site encourages potential customers to inquire regarding available discounts, yet no specifics are made.
Customer Reviews & Feedback
On Google, they have an overall rating of 3.5 out of 5 based on more than 130 reviews. MANY of the negative posts involved a strikingly similar pattern. It involves the sales process that generally goes smoothly where the customer receives a very attractive pricing estimate and a deposit is paid. After the movers arrive to load the belongings, the customer is informed that the original quote was significantly underestimated and has the customer "trapped" to pay the extra amount or risk losing the deposit.
Many other problems are persistent, such as lengthy delays in arrival at the destination and items arriving that are damaged. Also, many customers claimed that items, assumed to be belongings of other customers, are unloaded. The company routinely uses subcontracted laborers that are of inconsistent quality. A "representative" from 24/7 does respond to the majority of complaints posted on Google; however, many of them seem to be "canned" or "template-based" responses that are extremely general.
On Yelp, they have roughly 85 reviews with an overall rating of 2.5 out of 5. The majority of disgruntled customers complained of items that were seriously damaged during the moving process. The responsiveness of the customer service department is also commonly mentioned as a problem. Several customers who were provided with an estimated date of arrival had difficulty getting any updates back after that date had passed.
Posts on Yelp confirmed that 24/7's hiring of subcontracted local labor is the norm for either the loading or unloading process on most moves.
Many customers were subjected to various tactics designed to unexpectedly increase prices during the moving process.
24/7 has an overall rating with the Better Business Bureau of B+. They have received approximately 21 complaints over the past year and 39 over the last three years. There were some positive reviews, as several customers found that the moving process went well. The majority of the posts were negative. The complaints from customers involve a wide range of problems including unexpected price increases, movers not wearing facial coverings, dodging customer phone calls, damaged items, misrepresenting transit times, etc.
Should You Consider 24/7 Logistic Services for a Move?
Not currently a viable option. In an industry known for having a tarnished reputation, 24/7 Logistic Services is well-below average. Across multiple websites, their customers consistently post scathing reviews. Until online customer feedback improves, this company is not a recommended option.